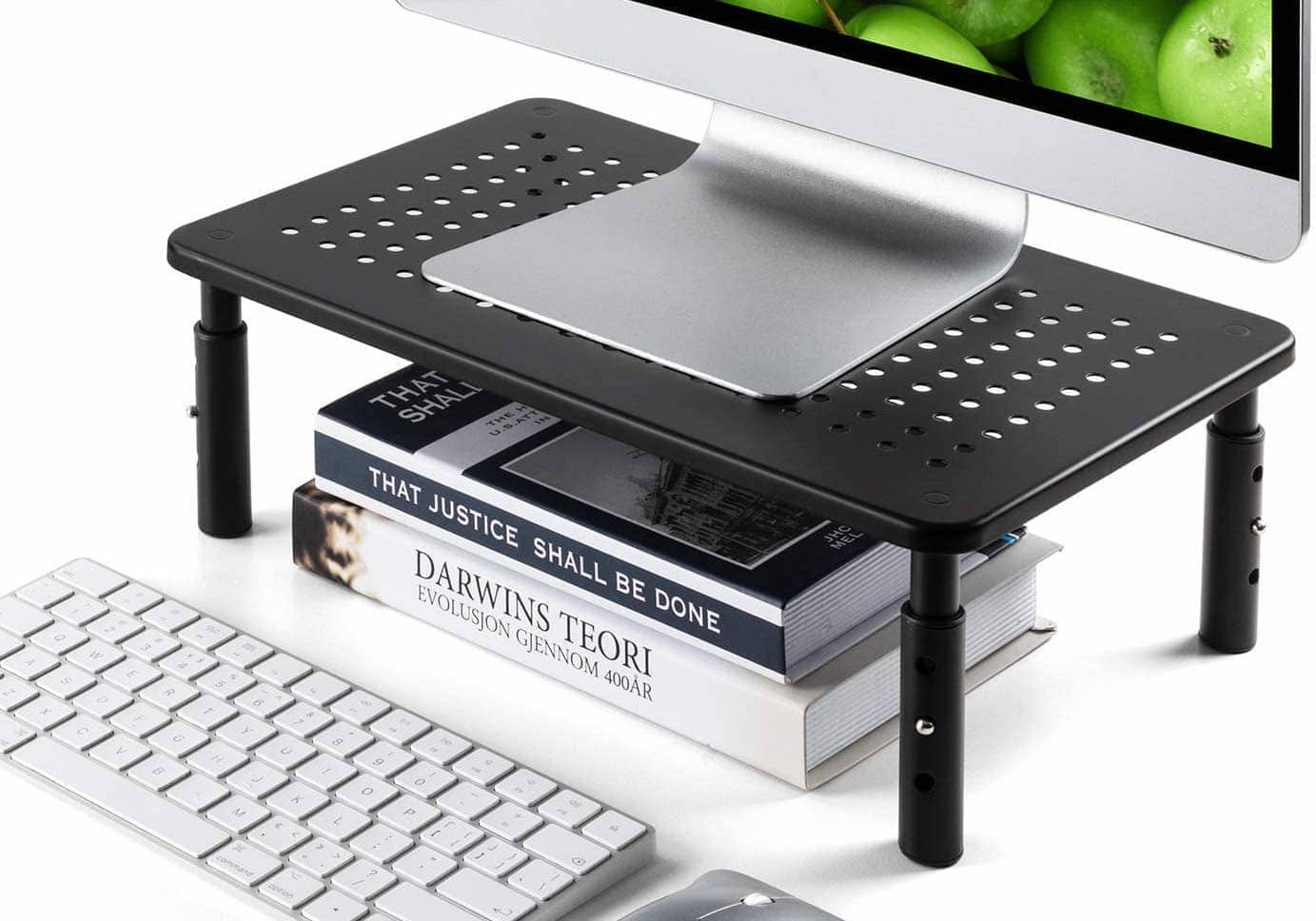 Monitor stands or desk risers can help you maintain a good posture while working on your computers. It keeps the monitor at eye level, so you will not sarin your neck. And to solve this problem, many users make use of a monitor arm. You can adjust the height, tilt, or angle of your monitors. That's why more users prefer them over a monitor stand or desk riser.
Though monitor arms have more freedom of movement, you need to drill holes on your table to install them. And not all of us want to do that, So desk risers can be a good option for those who do not want to do DIY or drill holes into their expensive wooden desks. And we are going to review the Loryergo monitor stand. We will let you know what we think about this product.
What makes them a buy
Compared to monitor arms, monitor stands seem to have several limitations. But let us also take a look at the features and benefits of the lory ergo desk riser
And these are the features that we liked the most.
Easy to assemble
The Loryergo is very easy to assemble. Like most desk risers, it's like building blocks or LEGO, you don't have to drill holes as you would with monitor arms. You do not need drills. So this is a great option if you do not want to make any alterations to your desk.
And the problem with installing articulating arms, the stability of the unit can be compromised. When not properly installed, it can be too shaky or wobbly. There's a risk then of your monitors falling and dropping to the ground. Monitor stands, on the other hand, do not present this disadvantage. Since It's very easy to put together, you will not go wrong with it
Extra storage space
The Loryergo monitor stand is two-tier. You have a second open shelf where you can store some of your gadgets, books, notebooks, or anything that you need close to your workspace. So it can free up space on your desktop. With the additional storage space, it will also be easier to make your desk clutter-free. 
And also, you have an option to use it as a 1 tier or 2 tier desk monitor stand. So you can customize your workspace better. It's a bit similar to the Elloven monitor stand of IKEA. it also features a second storage area, but it's closed storage and more like a pull-out drawer. 
Decently stable
The Loryergo monitor stand is made from MDF wood. It's not the most premium or it doesn't have the highest quality. But it is decent tonight to hold a 44 lb monitor. So the rated weight of the product is indeed true, there is no marketing fluff.  
Has a cable management hub 
You don't need cable ties or clips to make your workspace clean and tidy. This unit area comes with a cable management hub. And oh, it has a cellophane slot holder too. So that can be pretty convenient if you need to work on your phone and computer at the same time. Though it lacks bells and whistles, it still does offer some accessories that can make your work more efficient. 
Quite durable
This is one of the few single desk risers that have a higher weight capacity of 44 lbs. So you'll be able to place your heavier monitors. And as we have mentioned above, there isn't any marketing fluff, it functions as it is. 
Some not so good bits about the Loryergo monitor stand
This desk riser is not long enough to accommodate a large MSI computer. We don't have any qualms with the weight capacity. However, we do find the legs of the computer hanging from the edge of the stand. So even if it can accommodate the weight of 44 lbs, there might not be enough space to accommodate the entire legs of a large monitor. Though this will not affect the stability of the unit. But it doesn't look neat and can be an eyesore. 
And oh, this will not be able to hold two monitors. So some users opt to get two of these units and place them side by side. Though this can be an option, it might look messy for some. So if you have two monitors that you need to mount, dual monitor stands such as the Groovemade wood dual stand will be a better option.
Also, you will not be able to adjust the height of this monitor stand. Actually, a lot of products of this type are stationary and are not adjustable. Though there are a few that are. So if you are looking for an adjustable desk riser, the 3M monitor stand is a better choice. The legs or feet are in the form of segments that you can stash on top of one another or remove as you need. You just have to make do without additional storage. And oh, we do not like how it looks, it looks like a filing mesh tray.   
Some users wanted to use the bottom part of the stand to store their keyboards. That can be an option too. But this desk riser is not long enough to accommodate longer keyboards. The dimensions of the stand are quite narrow and not long.
Loryergo monitor stand – is it good for you?
The Loryergo monitor stand, just like most desk risers in the market, offers a basic solution. It lets you increase the height of your computer a few inches from the table. With that being said, the Loryergo is a very basic monitor stand that has a removable second tier for storage purposes. No more no less. It will not have anything else. 
It's not height-adjustable, it's pretty basic So if you are looking for more features, this isn't for you. Or a monitor stand may not be for you if you need something more ergonomic.
But in terms of aesthetics, we love how it looks. It doesn't look like a filling tray. And it even looks more permeable than the Amazon basic monitor stand. So this unit can prettify and organize your work area. It just offers a basic solution. Keep that in mind so you can manage your expectations. 
Where to buy
Alternatives to the Loryergo monitor stand
If you want a desk riser but not loving the features of Loryergo, here are our suggestions. 
I

KEA ELLOVEN
We just love the entire look of this desk riser. It looks clean, posh, and more modern compared to the Loryergo. The combination of the white laminate and MDF wood works a lot. Compared to the Loryergo, this features a closed storage area. So you'll be using it as a pull-out drawer. This is a great choice if you need to store small items such as pens or keys without them falling off the tier. But unlike the Loryergo, the tiers are not removable. So it is what it is. 
AmazonBasics adjustable monitor stand
This is one of the few desk risers that can be adjusted height-wise. The segmented legs can be adjusted from 4- 8 inches. So you have options to stack the segments on top of one another or not use all of them. And while this presents a more ergonomic solution, it does not offer any storage space. And the product looks a bit flimsy with its all plastic material. 
So if you need one that's height-adjustable and affordable, but don't mind the plain aesthetics, this can be an option.
Jelly Comb monitor desk riser
If you find the Loryergo a bit narrow or small, this is the best alternative. The Jelly Comb desk riser is almost twice the size of the Loryergo. It does not have second-tier storage, but it does have several "pocket storage" where you can keep your gadgets. You have two small slots at each end of the riser and a thin drawer at the right side where you can keep your tablets. And it also has a cellphone slot holder.  
And oh, the best part is, the height and the width of this monitor stand can be adjusted according to your needs. So it's quite ergonomic compared to the other brands on our list. 
Ameriergo dual monitor desk riser
If you have two monitors to set up and you do not want to purchase two Loryergo desk risers, this is the best choice. The Ameriergo dual monitor stand has a lot of room for 2 large monitors. Also, it has several storage spaces. So it can accommodate a very busy workstation. It even has a wide space at the center where you can keep knick-knacks or even plants.  
Though this might not be a two-tier desk riser, you can make use of the space below the stand to store your laptop and notebooks. And oh, like the Loryergo, it is thoughtfully designed. 
Final Say
Monitor stands are more known as desk risers. And compared to articulating arms, this might not be as ergonomic. But if you need a storage space where you can organize your things and just need your computer to be a few inches from the desk, This is a viable option. And Loryergo is quite durable and it can amp up the look of your desk.