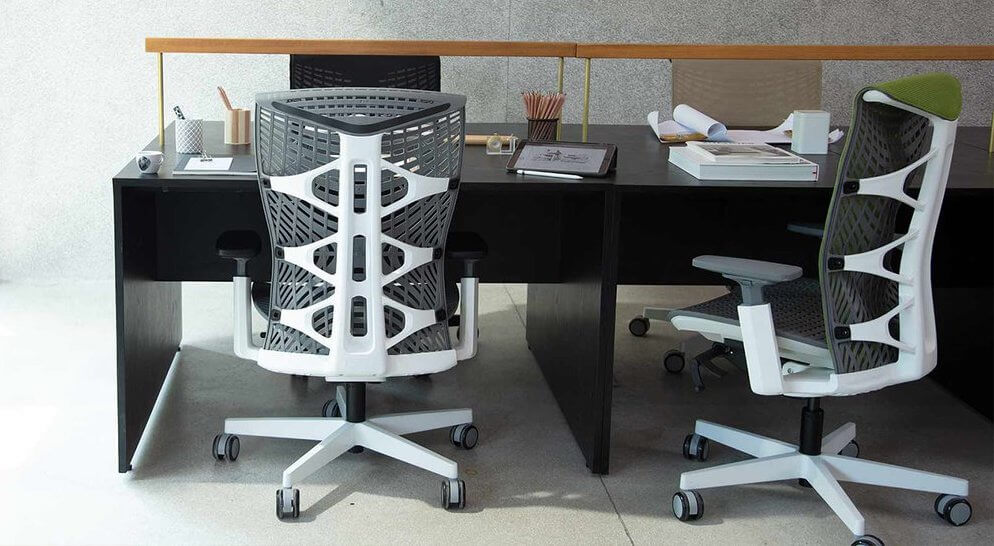 Even if you're working in your home office or have a day job, office chairs are something really personal to you. And you might have grown tired of those cushiony seats that promise utmost comfort. So it's time to explore other chairs that might not be cushiony but can give your back a rest.
The Autonomous Erogchair Pro+ (formally known as Kinn Chair) has a different take when it comes to lumbar support. Even the entire build and materials used are far different from other ergonomic chairs on the market. We've been hearing raves on how this unique chair offers great lumbar support. So we're here to test it out ourselves. 
Autonomous has placed this Kinn chair on a pedestal for being one of the best ergonomic chairs in the market today. Let's see just how ergonomic this chair is.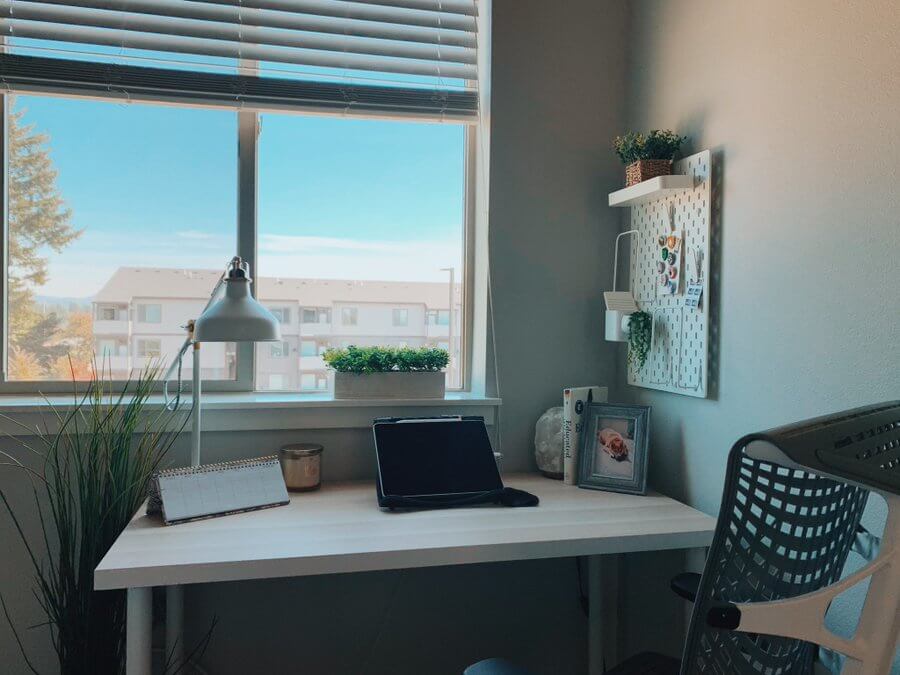 Materials and design
The Autonomous Ergochair Pro+ makes use of rather unique materials. While most ergonomic chairs have steel frames, the only metal part in this chair is the screws.
The brand makes use of a different type of material for its entire chair. TPE or thermoplastic elastomers is a unique material that combines plastic with a special type of rubber. And since it's rubber, we're expecting this chair to be quite flexible. It's actually an ingenious idea to use such material. Since you need a chair that flows with your every movement, a flexible material would serve that purpose.
It's practically made of all plastic but it has a substantial weight to it (35 lbs). And even if it's all plastic, it doesn't feel cheap or flimsy at all. We find the plastic material quite solid. 
The backseat has a unique S-shaped curve structure. And the back is designed in such a way that it looks similar to your vertebrae. It has a central spine and supporting "ribs". So it really looks like a human spine. 
The seat itself is also made of the same material. And the bottom of the seat has several coils planted in rows. Now this catches your weight and makes sure that it is evenly distributed throughout the seat. That's why we felt so comfortable and supported.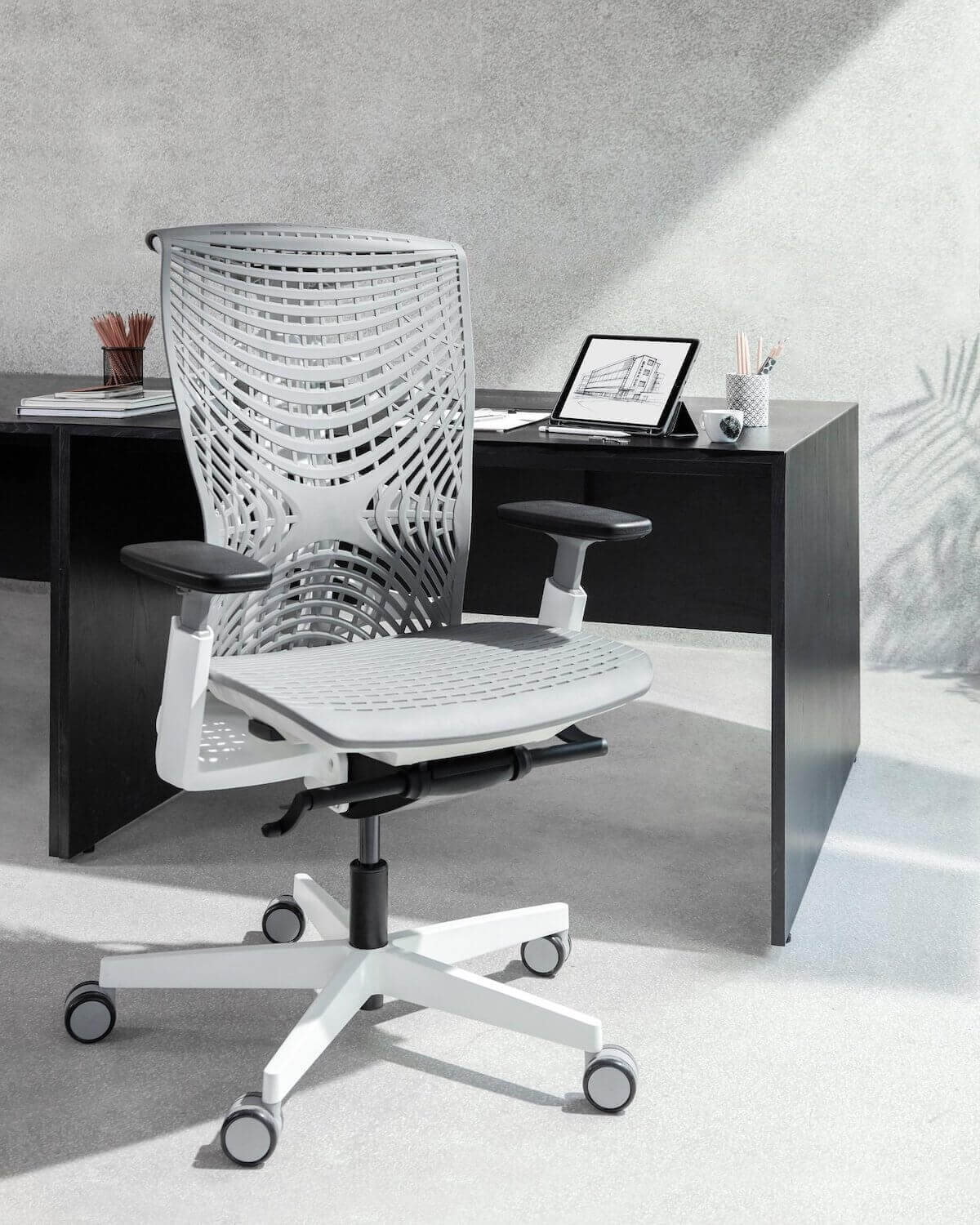 We find the design unique and it looks futuristic too. There's more than just great aesthetics, it has a functional design. Each component is designed in a way to give you the utmost comfort. Which we are going to discuss later in the next section.
And the Autonomous Kinn chair comes in two types. You have an option to buy in its bare form or you can choose the one wrapped in a mesh covering. The Autonomous Kinn chair in all its bareness and glory looks more pristine. 
And it's easier to clean and it's odor resistant too. But the trade-off is that it can be too firm for some. Especially if you don't have much meat on your butt cheeks, you might feel something poking on your butt. As for us, it's too firm. 
The mesh covering, on the other hand, is a bit thin for us. We were concerned about how it would hold up in the future. But in terms of comfort, the Kinn chair is more comfortable with mesh covering than without. 
You also have a lot of options in terms of colors. You can choose a different color for the base and another shade for the seat itself. You can choose a white base and mix it with a nice dark hue for a pop of color in your office. 
Overall, we're happy with the design. The futuristic and modern design is somewhat similar to a Herman Miller Sayl with that central backbone design. The mesh-covered Autonomous Kin chair also looks similar to a Herman Miller Embody.  
So if you want the same spin-like backrest but want more cushion in your office chair, the Herman Miller Embody is a great alternative. 
Lumbar support and comfort
The Ergochair Pro plus is quite firm, especially the bare naked type. But surprisingly, it feels so nice on your back. Several features make this chair one for the books, for your office in that case.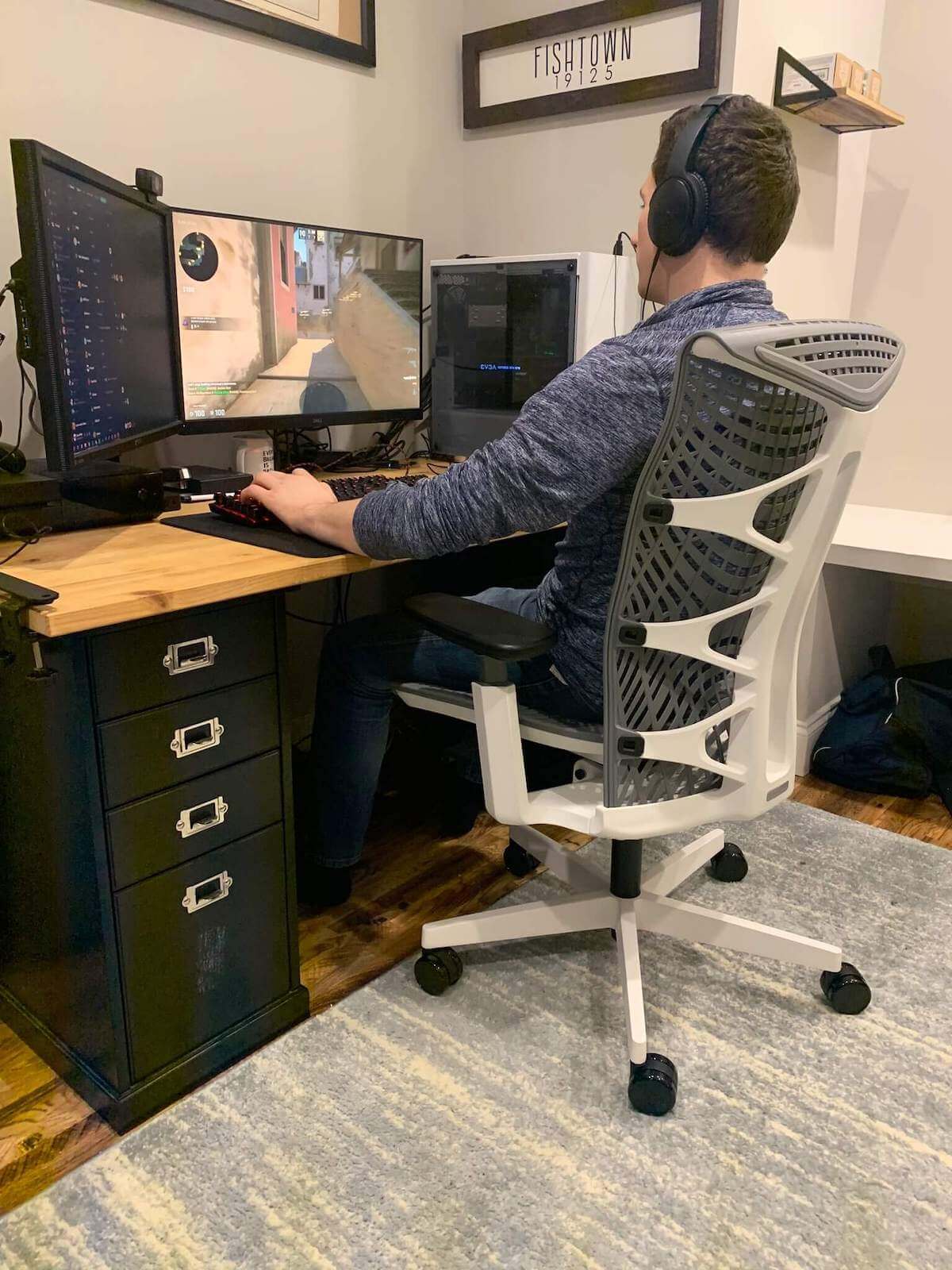 One. The TPE material is flexible. So this chair follows your every movement. It can bounce and rock back and forth. But you still have an option on how firm you'd want your backrest to be. The tension in the backseat can be adjusted via a crank located at the bottom of the chair. It just needs to be turned more than a couple of times to get to the extreme end.
If you want more bounce or if you want the backrest to have more firm tension, it's easy to adjust it. And it can be securely locked with the tension locks located at the other end of the seat.
Though the lumbar support can't be adjusted, there's no need for adjustable lumbar support. The material and the shape of the chair make it adjustable in itself. It can follow every movement of your spine. Thus providing great support. 
Secondly, you can adjust the height of the seat from 17-21 inches. Also, you can adjust the seat forward and backward. So if you want to be more relaxed you can pull the seat forward.
And third, the armrests are adjustable too. You can move it up and down. You can even adjust the width by moving the armrests to the side. So it has a little leeway for those who are a bit wider around the waist. Though, the armrest feels too firm for us since there's no option to have it covered with mesh or any soft material.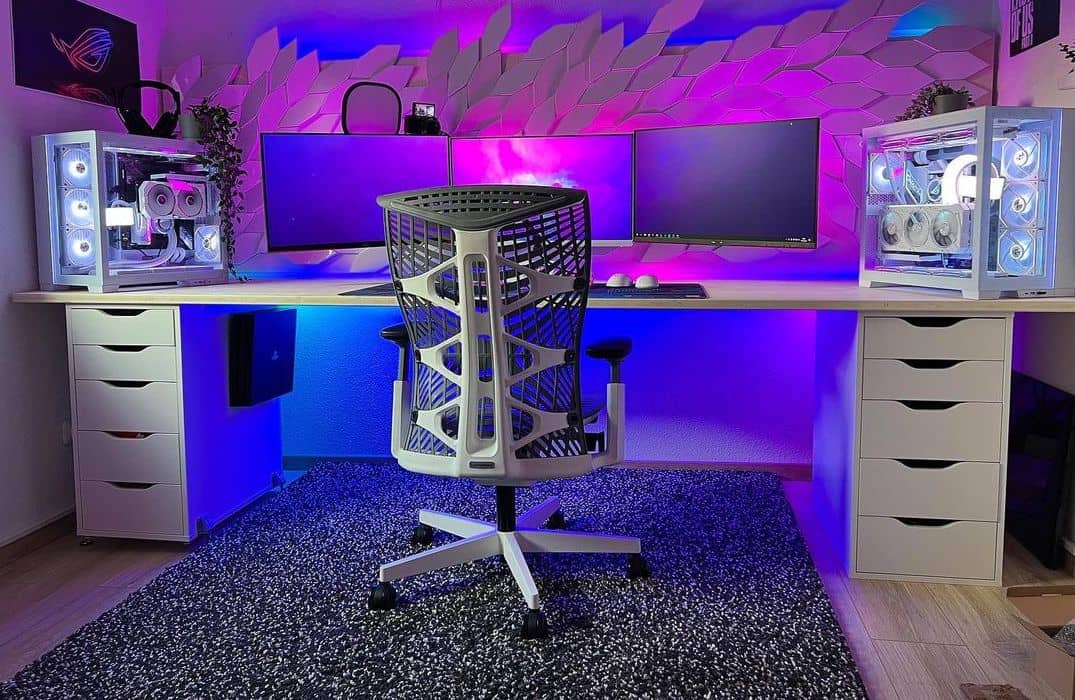 As for the mesh materials, it's not like cloth that tends to slip. It even encourages you to keep an upright position.
So all in all, it's two thumbs up for the lumbar support. As for comfort, if you're not too keen on having a too firm seat, it's best to go for the chair covered with mesh fabric. Now that one feels really comfortable for us.
And It's a highly adjustable chair. It's rare to find all of these adjustable features in another chair. It almost has the same ergonomics as a Herman Miller Embody chair.
But there's one thing that is missing the headrests. Though we thought that it was not that needed since we find the backseat already comfortable and supportive as it is. But some people might need a little bit of cushion around the neck.
The Balt Butterfly Executive chair is a great option if you're looking for decent lumbar support with a curved headrest. 
Assembly
The Autonomous Kinn chair comes neatly packed. And it doesn't contain too many pieces. Also, the instruction was straightforward and clear. So we were able to fully assemble it in under 15 minutes. 
We just encountered a few challenges. One, you need some amount of force in installing some of the parts. So if you're physically challenged, you might need someone to help you set up this chair. And two, we had difficulty aligning the bolts.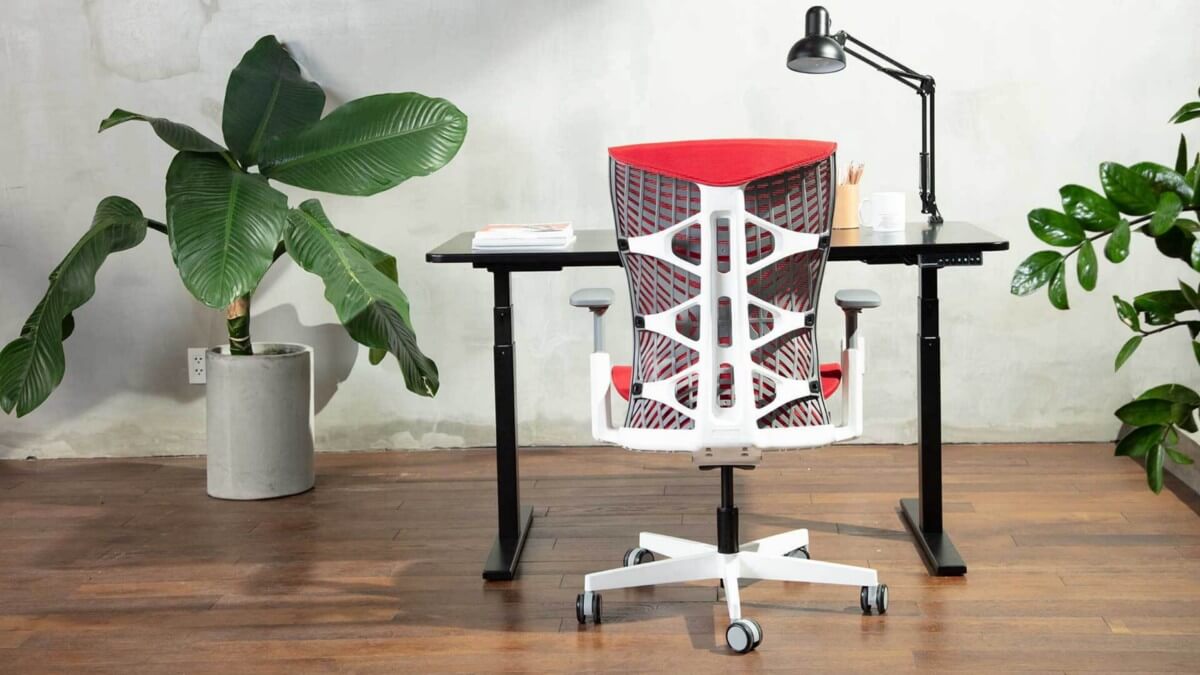 Durability
This fishbone type of chair is strong and pliant. It has a weight capacity of up to 350 lbs. Upon sitting on it you can already tell that it's solid and has a strong build. So we were able to test it for 8-9 hours with our heaviest teammate at 250 lbs. And everything still felt stable at the end of the day. 
The durability is at par with a Steelcase Leap or a Herman Miller Aeron. These two brands are just a bit more than the Kinn chair. 
Price
For less than 800 bucks, it's a mid-range chair. It's a real value for your money considering the great lumbar support 
It's in the same price range as a Herman Miller Caper multipurpose chair. Though it has some advantages with more adjustable features.
Caster wheels
It comes with 5 caster wheels. But the wheels aren't that mobile and sometimes it gets stuck. We only wished that it has rollerblade wheels instead so that it could move more freely. 
And so the brand gives you an option to upgrade it to rollerblade wheels. And these types of wheels glide smoothly across any type of material. But of course, that's an additional expense on your part. 
Which is better – Ergochair Pro or Ergochair Pro Plus (Kinn chair)?
Another popular Autonomous chair is the Ergochair Pro 2. So which Autonomous chair should you buy? We just have a few concerns with the lumbar support. It felt like it was pushing a bit towards the lower back. The lumbar support felt soft at first but we got a bit of a sore back after sitting on it for 8 hours. 
With the great lumbar support we got with the Kinn chair, we didn't feel any back pain at the end of the day.
With Ergochair 2 (or Pro),  you can feel the plastic parts at the bottom of the seat. And if you're a little heavier you can feel something poking at your butt. We also felt that uncomfortable poking with the bare naked Kinn chair. Though the mesh-covered lessened it.
And in terms of adjustability, both chairs are on point.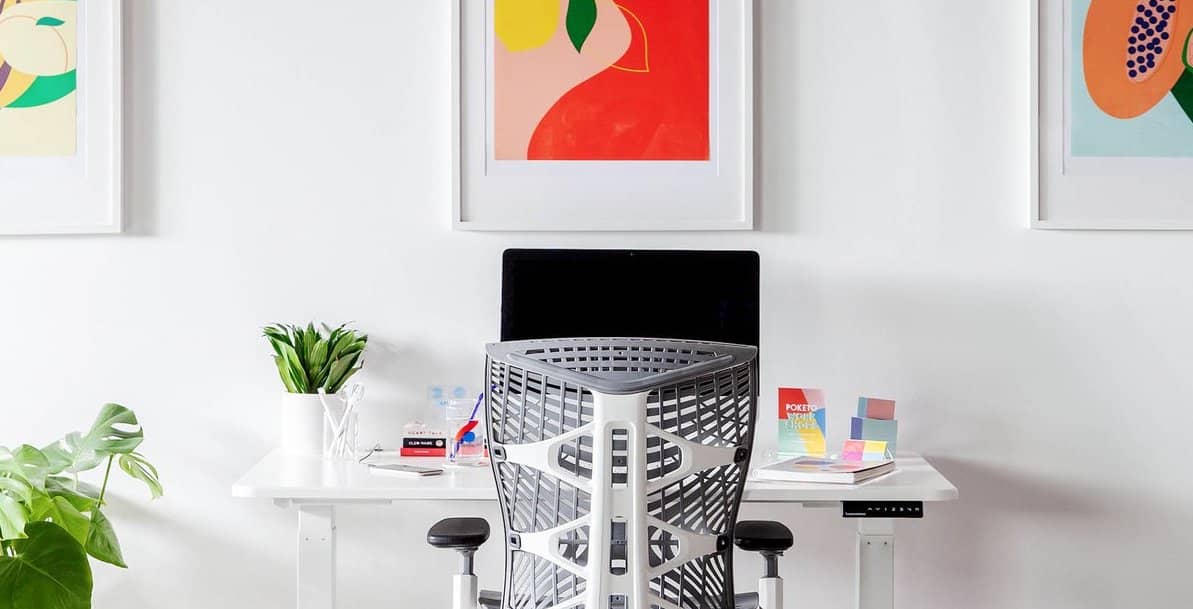 Conclusion
The Autonomous Ergochair Pro+ encourages you to maintain proper posture. So it really veers away from the soft dreamlike cushion most find comfortable. It's firm but can be too firm for some. But it really does provide great lumbar support.
So it's a great fit for you if you want to try something more firm. And the design looks perky too. It can be a pop of color in your home office. Overall, we can say that the Autonomous Kinn chair is rather liberating. It'll set your back pain-free.