This Serta chair may be one of the more comfortable executive chairs that we have tried. So we've heard how a lot of people are raving about it. And from the looks of it, you could comfortably take a nap. But we will not take their word for it. As always, we will be testing this chair for ourselves to see if the hype is indeed true.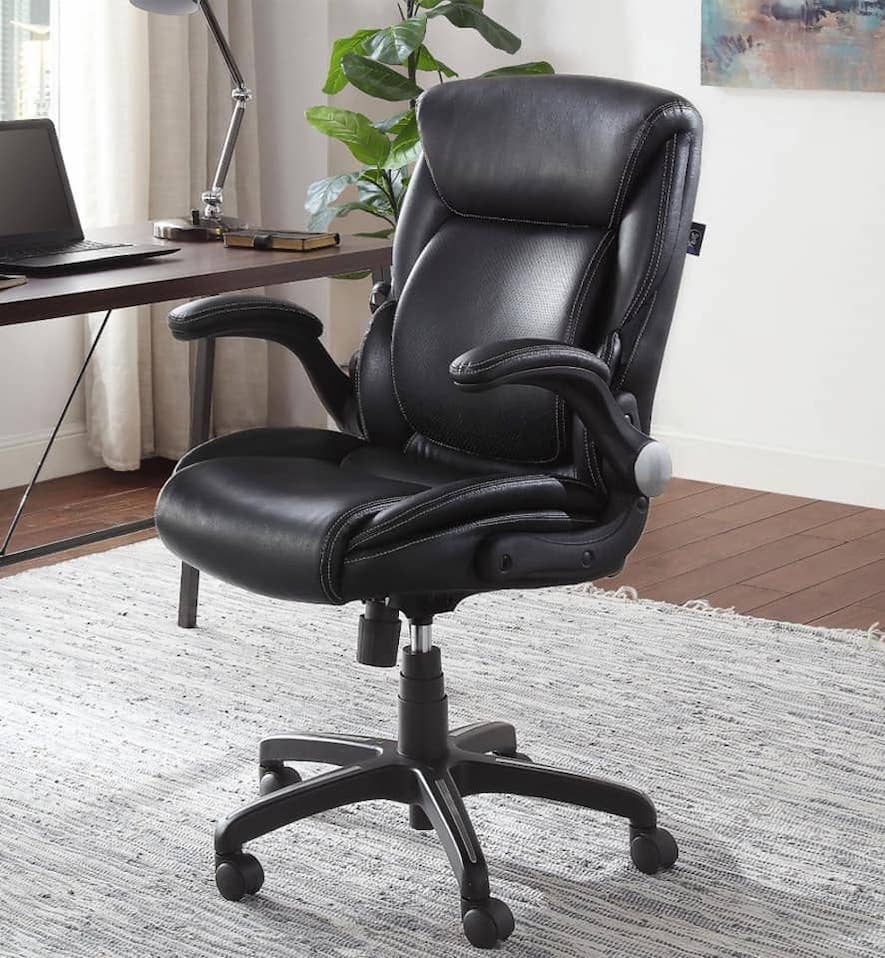 So keep reading to see if this executive chair was able to keep up with the expectations. Might be high because it was already set a bit high haha.
Is it really dreamy plus comfort?
We have come across several executive chairs that are plush comfort for the butt. There's a range of executive chairs from La-Z–Boy. And we do have a favorite ergonomic office chair when it comes to butt comfort, the Fern office chair. Though it's not plush comfort like the padded La-Z–Boy, it's more comforting compared to most of the ergonomic chairs that we have tried. 
So break the bubble, yes, this is perhaps one of the more comfortable executive chairs that we have tried. If you're tired of sitting on too firm cushions or too tough mesh office chairs, this will solve your dilemma. 
This has very thick padding. And compared to other cheap foams of some executive chairs, this Serta chair has individual coils and memory foam embedded in the entire chair. 
As we know, memory foam is bliss when it comes to back pain relief. And the entire chair is strategically stuffed with memory foam. Well, this chair had us with memory foam. It's just a sublime retreat for your butt and back. You might not want to get off the chair or find it hard to do so.
The cushion is generously and meticulously placed. And another thing worth mentioning is that this chair has a unique lumbar sport. It's referred to as air lumbar support. And it's actually a pocket placed on the lower back section of the chair. 
You can even amp up the comfort and stuff the "lumbar pocket" with memory foam. And we did find it such a treat. It helped us last longer on the chair. Some of our team members even wet took a nap and don't want to be bothered haha. 
We guess it's called lumbar air support because of the pocket-like feature. You also have the option not to put in the memory foam cushion if you already find bare better. 
Premium materials mean comfort
The brand made this chair with comfort as its main priority. But the overall build and quality are not left behind. The chair is made from premium materials- aluminum, metal, steel, and leather. There isn't anything flimsy or shabby about it. And this is also what made this Serta chair extremely comfortable.
And because of the strong foundation, the tilt holds. And the rocking motion isn't too tight nor does it have too much give. It's just the right rocking back and forth motion that can help your back take a breather. 
The entire seat is covered in bonded leather, and not just any cheap leatherette material. So your skin will be able to instantly tell that the leather material is not something you'd find in an executive chair wannabee.
Well made and nice craftsmanship
The chair looks pristine and well made. When you inspect the stitching on the cushions, everything is double stitched and all stitches are aligned. There are no loose threads as well. The armrests are also padded and double stitched.
Everything is well made and it feels like the chair is going to be an investment. It will be able to last for a long time. We don't see the cushions sagging anytime soon or the stitches loosening.
It's comfortable but it is less ergonomic
This Serta executive chair has several ergonomic features. The seat height can be changed, you can tilt the chair, and there is a subtle rocking motion. But the armets are the flip-up type. So if it doesn't fit well with your dimensions, the only option left to do is to pull the arms up out of the way.
Now, this can be nay or yay. Those who are used to resting their elbows and arms might find it limiting to go armless. But luckily, Serta has a wide range of seat height options. So it will be able to cater to more users.
Also, one advantage of the flip-up arms is that if you are thicker around the waist, you can always flip the arms up. And this will provide you with an easy way to get in and out of the chair. Also, it's a better alternative if you want to enjoy a wider seat. There will be no plastic parts that can get in the way. 
The flip-up arms can also make it possible to move the chair through tight doors. You can flip it up so that it can get through a narrow door. 
Overall
We are going to rundown several things to like and not like about this Serta chair. 
The setup is very fast and straightforward. We were able to install the chair in 15 minutes tops. 

It can bend back 30 to 45 degrees. And it feels sturdy and well-balanced that you will not feel that you're going to tip over.

This is also a great chair for chilling and Netflix marathons! It's uber comfortable.

It can swivel smoothly 360 degrees. The caster wheels would glide nicely on the floors, it does not catch on anything, even rugs. 

Is the chair breathable? We were also worried about that since it's leather. But to our surprise, it's not as hot as we expected it to be. The backrest has perforations to allow for the exchange of air. Though it's not as cool as mesh, it's not as hot as most leather executive chairs. 

Though the Serta air lumbar support executive chair can fit most people, it will not be sufficient for those who are tall and heavy. 
Best Alternatives to the Serta Lumbar Air Support executive chair
Here are some executive chairs that can also give you a dream-like plush comfort.
This is the best Serta alternative if you are big and tall. If you still fancy a chair from the brand but find the air lumbar support chair too small, this is highly recommended. It has features similar to the air lumbar support chair. It is thickly cushioned, has smooth caster wheels, and can swivel. And oh, it also has that lovely layer of memory foam that cushions the entire chair. 
What we did not like about it are the armrests. It is also sufficiently padded, but it is held by plywood material that connects to the backrest. 
La-Z-BoyDelano Big and Tall
As we have mentioned in the intro of this article, the La-Z–Boy is also one of the executive chairs that we do find comfortable. And the Big and Tall Delano chair from the brand is a great alternative to the lumbar air support Serta chair.
Similar to the craftsmanship of the Serta, this executive chair is also well padded. And from the first glance, you can tell that it's made of premium materials and it feels so. The foam is strategically placed inside the chair and covered by soft leather material. And oh, it does have memory foam as well. That explains why the comfort is similar to the Serta. Though the leather material is softer and will not snag your skin. 
Amazon high back executive chair
This is perhaps our budget-friendly favorite. So you can experience almost the same plush comfort but at a cheaper price. This is more of a basic executive chair. It may not have a memory foam layer, but it is sufficiently padded.
The high backrest will also lend full support to your back. And the arms are basic but comfortable.
BOSS Tall and Heavy chair
This heavy-duty executive chair looks a bit different from our other recommendations.  But it does exude that certain authority. You can instantly tell that this chair is a boss chair. From the rich black color, the stitching, to the sufficient padding, it doesn't look like it belongs to the rank and file
Though it's not memory foam, the cushion is extra padded. The entire cushion is also enveloped by very soft leather material. 
Final Say
So is the hype true? We're not the type to just jump into the bandwagon. But it is indeed true. The lumbar support is not new actually. It's like a removal lumbar cushion/ back support pillow you'll find in most gaming chairs. But what made it unique is the way it was strategically placed in the chair and the material used. 
We really love how the cushion is made from memory foam. It even feels like a massage chair sometimes. Well, as we have said, it got us at memory foam.