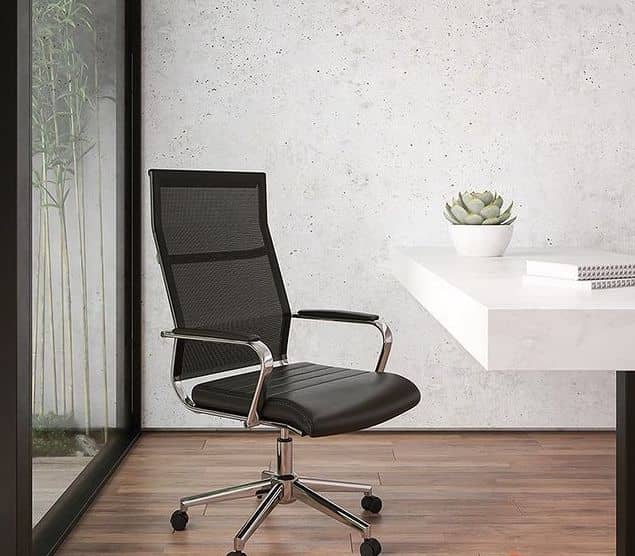 The Flash high-back office chair seems tempting? This mesh back chair looks modern and subtle with a headrest and built-in lumbar support. And oh, it's rather inexpensive too. So shall you grab it? Let's find out
What to like about the Flash furniture high back office chair
Heads up, this part is going to be a rather short one. It's a pretty basic office chair. So you'll not be able to find anything that will excite you. These features, however, do work for the chair.
Simple and modern style
Yes, it does not look fancy, but it doesn't look too shabby either. It can easily blend in a group of black mesh office chairs. So this can also make up for minimalist-style home offices. 
Decent seat height adjustment range
The chair does offer a pretty decent seat height range. It can go high enough to sit a taller person. And with the high backrest, it will be able to support a tall person's entire back. But this is where everything stops.
From here, everything goes downhill. So you'll see below several of the things that we did not like about the chair.
Complaints
The chair does have some nice features if you'll see the advertisement. And the price tag makes it rather tempting. Plus it's a mesh chair and everyone is looking for a more breathable chair nowadays. But we will not be rooting for this chair. Our main complaint is that it can fall apart in just 6 months of use.
The tilt function will become unstable. When you recline it, it feels like you're sitting on a very unstable base. If you are on the heavier side, you can expect this chair to give up on you even before the 6 months. 
The main complaint here is durability. Even if you're going to shell out a little money upfront, you will definitely be spending more as you need to buy a replacement very soon. And apart from the durability, here are other things that we did not like with the chair.
Headrest doesn't offer much value
Yes, it does have a headrest and it can be relaxing to momentarily lean your neck on it right? And since not all ergonomic chairs have one, this might seem like a real treat. Well, it will be if it was properly constructed and built into the chair. And in this case, the headrest did not seem to offer much value. You're even better off without it.
It does not rise high enough. And with a little effort, the angle of the headrest changes easily. So it's quite unstable and you'll not be able to find a sweet spot to nestle your head and rest on. It will just splay out and irritate you.
The seat pan does not move forward enough
Though you can extend the seat pan forward, it seems to be lacking. We are not able to extend it enough to be comfortable for taller users. And we didn't quite figure out how we were to push the seta pan back. So it's kind of a stationary one, which is different from what it was advertised as.
Also, the seat is very shallow. The size of the seat pan will not be comfortable for those who are bigger. You'll be having your knees too much extended beyond your feet. And this can spell bad news for your back. 
Mesh material too tight
The mesh material of this Flash furniture high back office chair is strong and more durable than any other part of the chair, it seems too firm on the back. It's so tight that it can't really provide much comfort and support for your lumbar. 
So after sitting on it for a few hours, we already felt a numbing sensation on the lower back. So this is not something you'll want to work on for more than 2 hours. And if you have back and lumbar issues, forget about it. 
Adjustable lumbar support not doing anything
One of the features that might entice you to choose this office chair is its adjustable lumbar support. As per the advertisement. you'll be able to change the height of the lumbar support.
So it will be easier to find a sweet spot for comfort for your back right? Not really. Like the headrest, the lumbar support isn't doing anything good for the chair. We did even feel any decent back support. It was just built onto the chair.
The seat cushion easily rips open
As we have mentioned earlier, everything about the chair, except the mesh back, is of poor quality. The seat cushions start to rip open. The stitches on the sides will give away after a few months of use. And we reckon that the cushion will have a max of 1-year life.
The seat comfort isn't too bad though, but it can be too thin and shallow for some.
Poor overall built and construction
This is a chair that could have been decently comfortable if it had been properly built. Well, looking at the features that it offers, it might seem to offer a more ergonomic solution. With the adjustable seat pan, the high mesh back, adjustable built-in lumbar support, and headrests, many may think it's a steal or its price. But it's quite the opposite.
Despite the nice features, they did not do anything for the chair. It's like they were just put into the chair without any connections or network. That's how we felt when we sat on it. Because we can't feel the comfort that these features are supposed to give, this chair might have been just put up together.
And you can instantly tell that it's a cheap China-made office chair.
Top 2 the best Alternatives
If you worry about the chair, here are few suggestions that can fit your room with the same budget
Flash Mid-back mesh chair
But not all is bad when it comes to a Flash office chair. We did a great alternative. The mid-back mesh chair of the brand looks a bit similar to the high-back office chair that we have just reviewed above. Except that it doesn't have a headrest and the built-in lumbar support is not adjustable.
This is considered more of a task chair really. But It could suffice for those who are not looking for many adjustability options.
And compared to the high back mesh chair of the brand, this feels like it can keep up for more years. The seat is also a bit wider, but we still recommend it for light to average-sized users.
Because even this chair is more stable, it's not for those who are on the heavier side. It will be able to give a decent seating experience for lighter users. And it also costs less than the high back mesh office chair. So if you are on a budget, better consider this one over the high-back mesh chair. You will still be able to get your money's worth. 
This mesh back office chair sits at almost the same price range as the Flash high back mesh chair. And it's a great budget-friendly option if you're tall and heavy. 
This office chair looks rather thick and feels decently solid too. So this can pretty well hold up for those who stand 6 feet. Unlike the high-back mesh chair, this can last for years. It has a nice solid build. 
And oh, it has a 400 lbs capacity and the seat is pretty wide. So this is indeed made for the big league. And if you are on the lighter side, you may be able to cross your legs while seated on this chair.
In terms of ergonomics and adjustability, it has lumbar support that works. Though it's not adjustable, it can provide decent support for your back. Though the armrests are pretty basic.it can be adjusted just up and down. There's nothing more to it but for its price, you will have to agree to settle. 
And oh, the base of this office chair is made from metal, so that accounts for its robustness. The seat cushion is also well padded. It feels okay, not too thick or too thin. But we love that it feels sturdy enough and will not easily deform. So it is indeed built for those who are on the heavier side. 
Overall
So for whom is the Flash high mesh back office chair suitable? Considering its weak construction and the chair is poorly built, we only see it suitable for lighter individuals who do not need a fully ergonomic chair. 
The features may seem promising at first. But once you sit on the chair, you'll find that it was just like it was put there and it does not complement the chair. So they do not do anything for the chair. 
And this can be used more of a task chair rather than something you'd want to work on for several hours.