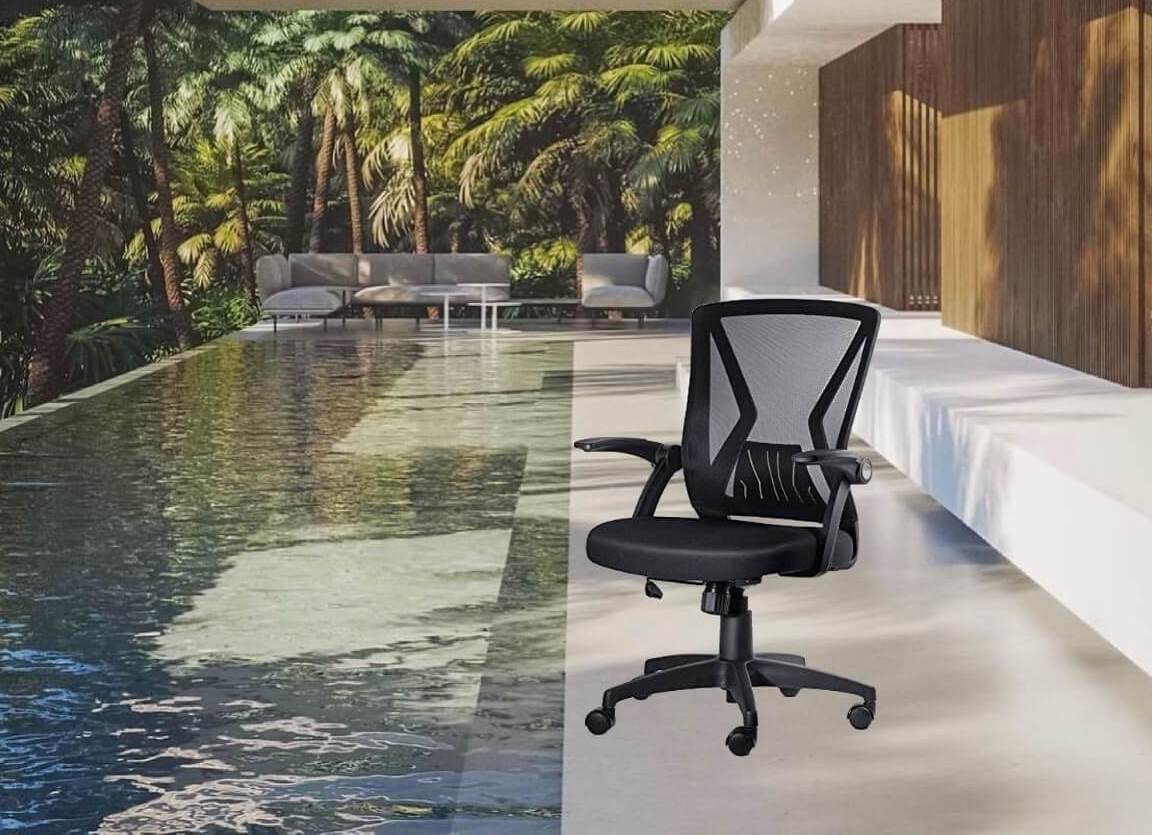 The Kolliee office chair is a mid-back mesh chair that is very light on the pocket. These types of office chairs have increasingly gained popularity because they offer cooler and comfortable seating even in the hot summer. 
So let's take a further look into it. 
Is Kolliee a good brand?
The Koillee office chair may seem a bit small. The mid mesh back seems like the chair will not be able to support the entire back of a full gown 5 '10" adult. We also thought the same, but surprisingly the chair felt nice and comfortable, both on the cushion and the back support. And once you sit on the chair, you can tell that it has a sturdy and stable build. There is not any annoying creak that you sometimes get when you try to squeeze yourself into a small chair.
But it can be a love and hate relationship. For those average size users who stand max 5:10", they might be able to find the Koillee office chair comfortable. But go larger around the waist or taller than that, you'll really feel like an adult sitting on a kid's chair. 
The armrests are flip-up. So they are not adjustable. We find the chair more comfortable without the armrests. Though the armrests are covered with thin padding, the lack of adjustable features doesn't make it work for most users. 
Where to buy this chair
Comfortable back design for a small budget chair
This may come as a surprise to most. It's not every day that you buy a 100-dollar chair and find that it has great lumbar support. And that's the case with the Kolliee office chair. It has built-in lumbar support, so it is not adjustable. 
Mention those words and you'll cringe at the idea. Because it's not often that a chair with stationary lumbar support can provide adequate support. Unless it's an intuitive chair like the Freedom chair or the Titan with the unique integrated back design.
But for something that costs less, great back support is a great value for your money. Even those with persistent lumbar back pain will find the chair comfortable for sitting for longer hours. 
The mesh back material is also soft. It's not too scratchy or abrasive on your sin. So even if you're wearing sleeveless, it will not scratch your skin. It has a decent amount of giving, it's not too tight when you push your back against it. But it's not that flexible so to speak
Comfortable cushion… for now
As for the cushioned seat, the foam padding sits between too firm and soft. So it can appeal to what most users find comfortable. It also has a waterfall seat edge design that amps up the comfort of your legs. 
We do find the seat decently durable and comfortable. But we are not really sure how long it will be able to hold its shape. It seems like it does not deform easily. But we cannot tell if it can last for years. We are still erring on the side that it is extremely affordable, so there might be a catch in this chair.
Some concerns
The caster wheels are not flimsy and don't necessarily look cheap. But they do not look like high-quality castor wheels. So we aren't sure if overtime will catch up on your medium pile rugs. It does glide smoothly on wooden floors. But it seems to have a bit of resistance on thicker carpeted floors. Though it's not much to stop the chair from moving, there's this inkling feeling that it might soon.
Notes to consider before buying the chair
The Kolliee office chair is not heavy, so it's easy to move or roll around in any direction. But you have to be careful when rolling it along with high pile carpets. There might be a risk that it can get caught in your lush carpets.

It's easy to put the chair together, it will not take you longer than 02 minutes. So you can set it up on your own. And considering that it's not hefty, you will not have problems carrying the spare parts and connecting them. Connecting the chair also seems like an IKEA-like experience. So it is rather straightforward too. 

The seat is narrow and small. So even if it has great back support and a nice cushion, not everyone will feel comfortable in this chair. Skinny and lightweight users will find it the most comfortable though. 
Those with average weight may also find it comfortable. If you prefer a cradling experience, then you'll find it nice. Otherwise, you will feel too cramped. Heavy users, especially those who are larger around the waist will not fit into the chair. You can try to flip the arms up to give yourself more room. But the backrest might be too short or narrow for you. Some even complained that this chair is not made for adults. Yes, it is not made for taller and heavier adults. 
Also, note that this chair does not allow for a tilt, even a little bit of it. And of course, there's the "no recline function." But it's more of a basic office chair that has great back support. So if you want to sit back and relax, this is not the chair for you. It can push you to sit upright with the integrated lumbar support. But it will not indulge you in a tilt or recline position. 

When asked about durability, it is decently sturdy. And we felt that it could last for years. It feels tightly connected and nothing feels loose or wobbly. But the thing is, the chair doesn't have a heft to it. So these aren't thick steel leg frames. So there is still a risk of the chair breaking apart after just several years. But at least it does feel strong and sturdy. 
Top 3 Alternatives to the Kolliee office chair
Here are office chairs that have almost the same features and functions as the Kolliee mid-back mesh chair.
Modway articulate ergonomic chair
The Modway articulate ergonomic chair looks almost the same as the Kolliee with its properly cushioned seat and mesh backrest. The difference is that it has more adjustable features. You will be able to adjust the armrests and it also features a tilt system. It's a bit pricier than the Kolliee chair, hence the additional ergonomic features. 
It also feels sturdy and strong upon seating on it, with no wobbles or shakes. And it also has the same weight capacity as the Kolliee chair. 
Also, the cushioned seat is plusher and thicker, so it will have a more cradling experience for your butt. But in terms of the lumbar support, it doesn't have any. So the Kolliee chair will offer better back support while the Modway chair will offer better bum support, pun intended. 
Branch task chair
The Branch task chair is also more ergonomic than the Kolliee. With adjustable armrests, you can also adjust the width of the armrests. It also has adjustable lumbar support, more people will be able to find this chair comfortable compared to the Kolliee office chair. 
This chair is also very indulging for several hours of working. You can change the angle of the seat. You can also adjust the height of the seat relative to the backrest, so more users will find their comfortable spot with the Branch task chair. 
Flash furniture mid back swivel
The Flash furniture mid-back swivel can pass off as the Kolliee chair's twin. It has flip-up arms, the back is mesh, it has a nicely padded waterfall edge seat, and it has integrated lumbar support. 
One of the advantages, however, is that you will be able to enjoy a tilt function. And a recline too. And for an office chair just above 100 dollars, the chair has a nice set of features. That's provided that you don't mind the flip-up arms, then you'll find this chair very comfortable. 
Also, take note that the arms will bump against your desk. So it can't be tucked easily underneath your desk. So it might eat up space since you will not be able to sneak it underneath your desk when not in use. Or you can pull the arms up so that you can place them under your desk. 
It feels like a functional chair. You can even rock it back and it will still feel stable and sturdy. 
Final Say
The Kolliee office chair is a comfortable office chair for skinny to average-size adults. Though it lacks adjustable features, the lumbar support is surprisingly comfortable and supportive. So if you don't find the chair too narrow, then you'll find this comfortable.