Vari Corporation manufactures Vari standing desks and other office solutions. The brand is based in Texas. The Vari monitor arms are a midrange unit that can be an alternative to the more expensive and premium brands. The brand is known for their adjustable sit and stand desk. So let's see what they have to offer for their line of monitor arms.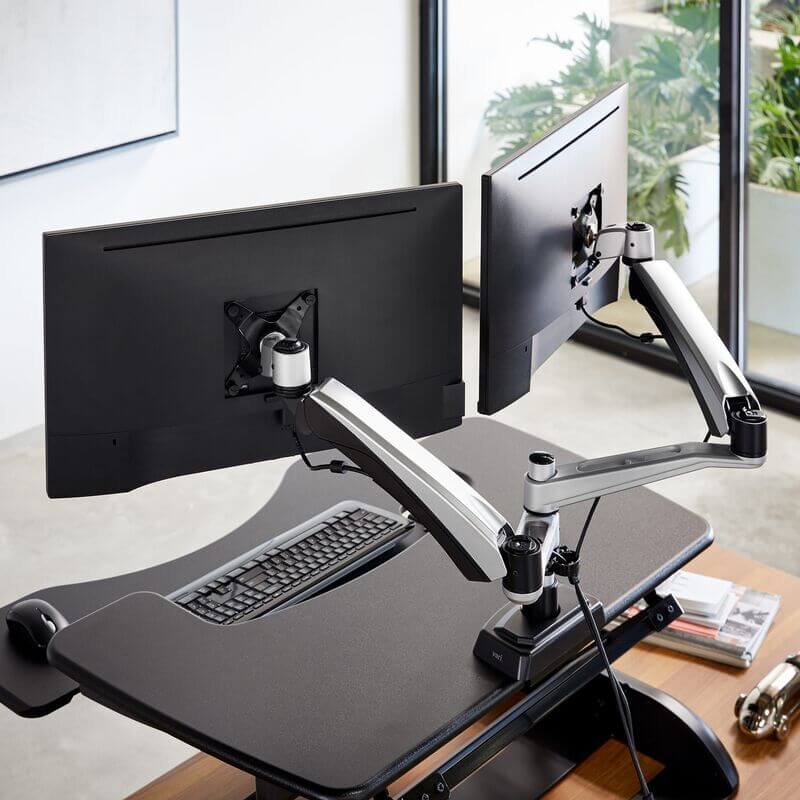 Best features of Vari Monitor Arm with 360-degree
There are two notable qualities the Vari has that make it a versatile one. One, it has a 360-degree rotation that also ensures more range of movement. It's the same convenient feature that you see in the more expensive Ergotron dual monitor arms. And it shares the same adjustability prowess with a Mount-It monitor arm.
And two, it has a spring dual full motion arms, hence it can give you a full range of articulating motions. The arms each offer a height adjustment of 30.38 cm. And it can extend up to 58.4 cm. 
These make the Vari dual monitor arm highly ergonomic. And since it has a wide range of adjustments and extensions, tall and short users alike can find a comfortable position. 
I find it very comfortable when working for a long period. You can extend, tilt, or change the position of the monitor pretty much anyway. 
It's quite easy to rotate the arms since it's pretty flexible. And you won't feel any friction. Plus, your monitors stay here where they are mounted. 
All in all, The 360-degree rotation and fully adjustable arms make it ergonomic and highly customizable.
Strong base
Having fully adjustable arms and 360-degree rotation is just the icing on the cake. The base is strong and sturdy. It can pretty much hold monitors and LCD impressively. The maximum carrying weight is about 9 kg per arm. Some brands may have adjustable arms but if they have substandard or a weak base, it can feel like your monitor is dangling like a banana waiting to fall.
It's also sturdier and stronger than a Philipins monitor arm which has less than 9kg weight capacity. So I felt pretty confident that my monitor will stay mounted. The aluminum stand is indeed built for the bigger leagues. And since it's aluminum, it's resistant to corrosion too. 
Packaging and assembly
The item is in a small package. It's neatly packed and I'm happy that all the parts were separated. I find it pretty easy to install. 
And since the parts were separated, you don't have to figure out which parts belong together. So that speeds the time of the setup. 
It was also easier to install compared to other flimsy cheap generic brands in the market. 
Also, you can find hex screws on each section. Though you don't necessarily touch this, it can come in handy. So whenever you want to tighten the screws of a loose section, it's easy to do so with the hex screws. 
What I wished were better
The base is strong, that's true. But it has some limitations. It can hold two monitors without wobbling. But that is if you aren't typing yet. So you'll encounter some wobbliness issues with the Vari dual monitor arms once you begin to use the keyboard.  
Though it is not too shaky, some users might feel distracted with it. There are some solutions, however. The solution is to adjust the screw arms to be made a bit more tighter. You might want to routinely do this as the screws can unloosen themselves over time. You can also add brushing of the joints to lessen the vibrations.
Despite that, I still love its sturdiness. How come? Because it doesn't shake off when someone accidentally bumps into it. I've had experiences with generic monitor arms. Some are in the same price range while some are dirt cheap. But both dangle wobble whenever you bump into them.
The monitor screws that came with the package were a bit long. So it kind of protrudes to the back. It might not be a biggie. And it can be resolved easily. Either you get to use a different screw or you just buy plastic caps at the hardware to cover the exposed ends of the screws.
The silver swivel may be a bit challenging to move. The solution, instead of pulling down from the front, move it to the sides to make it more manageable. Though some users still find the ball a bit hard to push.
The Vari dual monitor arm might not work with sit-stand desks that are thicker than 1 inch.
Vari is relatively new in the business, with its first venture in 2013. So you can expect the upper management that is still learning the ropes. So the customer service may not be the best yet. The brand could work on their sense of organization and improve response to customers. 
What is if for
Overall, the Vari looks solid and sturdy. It works best with a 27-inch monitor or LCD. Though the carrying capacity is at 9 kg per arm, you won't be able to install monitors that are bigger than 27 inches. It's pretty stable, except for some wobbliness when you're typing already. But that can be easy to resolve.
There is, however, one major limitation of this monitor mount. It's precisely designed to fit into Vari sit-stand desks.
Though you can try to mount it on other standing desk brands. But you might encounter some annoyance. The wide metal clamp that slides onto the desk doesn't have any adjustments. So if you're going to mount it on a different desk brand, it may or may not fit snugly. But if you're going to mount it on a Vari sit-stand desk, it will fit snuggly. 
And it's a lovely addition to your Vari sit and stand desk. It can make your workstation look more professional plus it frees a lot of space for you at the same time. It can increase ergonomics and will improve mobility, especially if you're working with two monitors. 
If you want to use this dual monitor arm on other desks, it may fit decently on a thin enough desk. It has to be much like the desk of the brand. But you won't be able to mount it at least decently on a thick desk.
Other Vari monitor arms
The dual monitor arms are the brand's bestseller. Let's take a look at the other units
The construction, build, and overall look so similar to the Vari Dual monitor arm. The difference is that instead of 360-degree rotation, this model offers only 180 degrees. 
This unit is perfect for monitors that are flushed against a wall or a cubicle. So, albeit the 180-degree rotation, it still works for some users depending on their circumstances. It also works great for those who have tight desk space. You'll be able to realign the monitor without it touching the walls.
And each arm can carry around 6kg. So take note of that if you're keen on getting this model for your desk.
Overall, it's a space-saving alternative to the Vari dual monitor arm with 360-degree rotation And if you don't have much use for 360-degree rotation, you can save a bit on the expenses since this unit costs a bit less.
This single monitor arm from Vari boasts of a silver finish. It looks neat and classy at the same time. And it can make your desk look more expensive. 
The mechanism of the single desk monitor is the same as that of the Vari dual arm monitor. The difference is that it can only hold one LCD, hence the name. But you also get the impressive 360-degree rotation and the fully adjustable arms. 
And it also has the same sturdy metal construction.
Wrapping up
So the overall quality of the Vari dual monitor arm is two thumbs up for me.  
It can have a large scope of users. But you have to get a suitable standing desk to mount on. I give it an 8/10 because of the wobbliness that you may encounter during typing. But a least, you can still do something to fix it.