Mesh office chairs are becoming more and more popular. Mesh looks classic and more minimalist, they are also more breathable. But are they comfortable overall? 
We've come across  HBADA, a brand that offers mesh ergonomic chairs. Let's take a look at one of the brand's offerings and let's also see how the brand will perform.
About the brand HBADA
HBADA is a Chinese brand but is quite popular in Europe. In fact, their sizing features European standards. And the brand also offers a full money-back guarantee should you decide to return the chair within an agreeable period. So this can set them apart from other cheaper China-made office chairs and desks. 
One common denominator of HBADA gaming and office chairs is the mesh material. People either love it or hate it. Well, the mesh isn't really for all. But how does it fare with other China-made chairs in terms of durability? This Is a common issue with chairs made in China. So let's find out. We'll be focusing our review on one of the brand's offices chairs. But it will pretty much give us an idea of how the brand will fare overall. 
Hbada ergonomic high back office chair Review
Comfort
In terms of comfort, we don't have anything to say but good comments with this office chair. Let's take it from the top. The backrest and headrest are both made from the same mesh material. The headrests are a nice addition as you can lean your neck and head you get tired. It's fully adjustable and can be rotated. You can also change its height. 
But what impressed us initially is how comfortable the mesh felt on the backrest. It's soft yet has firm support. And since it's all mesh, it's more breathable. It also has a slight S Curve that fits nicely on the curve of your back. We didn't mind sitting on the chair for 8 hours. It cradles the back well. And to relieve the pressure points, It has a synchronized tilt system that allows you to recline up to 155 degrees. The synchro tilt system felt like an upgrade from an office chair of this price range.
This kind of tilt system feels more effortless and it allows your feet to maintain contact with the floor all the time. So you will not feel numbness or pain on your thighs or your legs. So you can enjoy a relaxed position without your feet hanging from the floor. And this can spell a lot of comforts. This amped up the comfort level for us. And not all ergonomic chairs feature this kind of tilt system, most high-end chairs do. But you'd rarely find this in the mid-range and lower price office chairs. 
Moving forward, the seat is padded and has a decent cushion. But it feels kind of flat and does not have a concave shape that most users find more comfortable. And the cohesion is also leaning on the firm side. So the combination of a firm and flat seat may not be everyone's slice of cake. Though if you like very firm support, you'd be happy with this one. 
In addition, the lumbar support is also adjustable. So a lot of users can find the sweet spot for their back. 
Durable and heavy-duty base
Upon unboxing the chair, we noticed that the bulk of the weight was because of the base of the chair. The rest of the parts were easy to carry from the first floor to our sound floor home office. We're not complaining though, this is actually a good thing for us. A hefty and rock-solid base means that the chair has a good foundation. So you will feel safer and more assured whenever you tilt the chair far back to 155 degrees.
We have tried several affordable office chairs and most of them have a very lightweight base. With loosening screws, and creating sounds, it really did not feel that stable
Thus, we can say that with a more solid foundation, the HBADA office chair will not wobble or shake.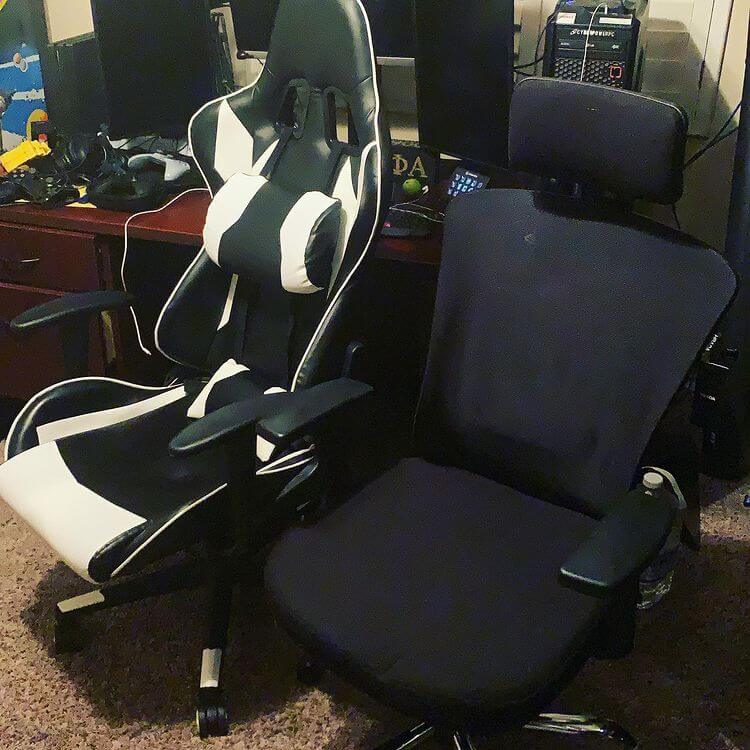 Design and aesthetics
This HBADA office chair features a sleek minimalist style. It has that modern vibe and design-wise, there aren't really any big flaws. But it doesn't have the bells and whistles either.
It's a simple ergonomic chair. Though it does not look like a big fancy office chair, the mesh material of the backrest and headrest made it look a bit classier. Also, we have noticed that the brand used a different type of mesh material. It does not look cheap nor does it feel flimsy unlike those generic mesh chairs sold at Costco or Walmart.
Thus, it can easily blend in a minimalist space. And since it's sleek it won't occupy too much space in your home office. 
When compared to other brands, it looks a lot like the mesh chair from Smugdesk.
Adjustability and installation
This office chair offers a range of adjustable features. Apart from the basic ones such as the seat height, headrest, 2-way arms, and lumbar support, you can also enjoy the synchro-tilt feature that we have mentioned earlier.
HBADA chairs are very easy to set up. Even a beginner will not spend more than 20 minutes assembling the chair. The directions also have pictures so in case you can't fully comprehend the fine print, you can always refer to the illustrations.  
What we wished were better
Yes, the armrests are adjustable so you can adjust it to your height requirement, but we wished it were a little bit more comfortable. They are padded, but we find them too thin. This is perhaps our least favorite feature of the chair. Over time, your elbows kind of dig into the thin cushion. So you mostly have to lay your arms flat to avoid this.

The overall adjustable height of 8 cm is quite narrow. We wished it could have offered a wider range. 

Thus, the height of the chair is quite low. It can't go high enough for those who stand 6 feet or more. Your knees will bend in an awkward position. And they will tend to go up.

In line with this, those with average height and petite users will find the chair the most comfortable. 
Summary
This particular HBADA office chair is the brand's offering for petite and average users. It can go low enough for small users. Thus, if you stand 5'10 to 6 feet it won't be suitable for you. You can look elsewhere such as the Sadie Mesh chair. Or you may also opt to go for the brand's offering for taller users, the High Back Racing Style chair. It has almost the same features as other HBADA office chairs, with just a few additional ones.

A mesh chair is not everyone's cup of tea. So either you love this chair or hate it. But as far as the mesh is concerned, it's one of the more comfortable chairs we have tried. From the backrest to the earth, it feels rather comfortable for working longer hours.

The comfort of the seat is firm. So you'd love it if you need more firm support and you won't like it. You want a soft cushiony seat, the kind that hugs or cradles your butt. This seat is also rather flat.

Customer service is excellent. And with a full money-back guarantee, you don't have anything to lose.

The chair was neatly packaged and installation was one of the easiest.

In terms of durability, we had to debate it. As mentioned earlier in the article, the base of the chair has a lot of heft to it So you'd know that it has good support and can stand out from a sea of lightweight China-made office chairs. . But that's just as far as the base goes. We can't say the same for the rest of the parts of the chair. 
HBADA chairs have a lot of adjustable and nifty features that make the chair more comfortable for most users. The features are even at par with higher-end ergonomic chair models. But when we are speaking of durability, we have to consider the longevity of the entire chair, not just the base. And this where the HBADA chair, in general, came in short. Even if the base is sturdy, the lifespan of the entire chair is only 1-2 years. Though we find it more sturdy than another china brand office chair with the same price range such as Songmics, they aren't really far from one another. 
Other HABAD chairs share the same mesh material. They also have the same score for durability.
Where to buy
Final Say
The HBADA chairs are simple and minimalist. But they do offer several convenient features. While we focused on one of the brand's office chairs, it's no doubt that there is a strong sense of cohesiveness with the brand's line of office chairs. 
HBADA chairs are really comfortable, we don't have any complaints. But like most Chinese-made office chairs, the durability of the chair is in question. What's surprising is that you won't really be able to say in a few months of using it because the chair does not look cheap. And it does not feel flimsy at all. You'll be able to notice the deterioration of the functions more so in a year. And it can be abrupt.