Which Premium Brand is Worth the Steep Price?
When it comes to quality, craftsmanship, and design, you can never go wrong with these two premium brands. These Steelcase and Herman Miller offer the best warranties, with just minor differences. These two brands have a pretty good range of office furniture ranging from chairs, standing desks, tables, storage spaces, and tons of accessories.
So let's see what else makes them similar and what sets them apart too.
Tables and desks
If you're looking for more than just a table or a standing desk,  both brands have a 
decent selection of desk systems. Steelcase refers to these as collaborative furniture. For instance, the Lagunitas focus nook is a combination of a desk and a privacy screen that can stray away from distractions. You can also see this same privacy screen in a range of furniture offered by the brand, something you can also use for the living room and guest room.  So if you're looking for a centerpiece or a lung or a cushion for your living area, you can also find one in Steelcase. This is the more basic one, this brand has more to offer. 
When it comes to the liberty to make your own space and synchronize accessories, you have more freedom. We're speaking of the Steelcase Flex system. This series comes with tons of accessories, desks, and tables from which you can build your own desk system. It's a superstore in itself, you can get the works from standing desks, screens, carts, tables, and a lot more.
So if you refer to a more dynamic workplace and a more collaborative one, Steelcase has more of these seating options up its sleeves. They have a wider range of desks that can be fused and used as a collab workspace.  
Herman Miller also offers a system of desks such as the Layout Studio. This can be used for meetings and collaborative purposes.
But when it comes to a more modular desk system, more choices, and more liberty to customize your own, Steelcase has more going for them. We can see Herman Miller offering the basics whereas Steelcase has an upgraded one. 
Herman Miller also features a myriad of accessories, the brand even has lamps. But it's not like a cohesive collection, unlike the Steelcase Flex series. You just pick and go, so you better have a knack for design and stuff.
But when it all boils down to quality and craftsmanship, these are in the same boat. Also, Steelcase desk systems look more modern and kind of more inspiring to work at. 
What about standing desks?
Steelcase and Herman Miller are not necessarily the king when it comes to sit-stand desks, These two have one of the best in terms of quality and service,  but they have a very few selection of standing desks, about, only two to three in their list. Steelcase has more products in this range than Herman Miller, one of them is the Solo. Quality and stability-wise, we have no complaints. But for a standing desk that is priced too steeply, it kind of lacks smart features and options for customization. And it has more of a rather boring old-school design, very different from the collaborative desk systems it offers.  
Let's see one of Herman Miller's sit-stand desks, the Nevi. It costs less than Solo, but still at a high price compared to desks of other brands that have more to offer, considering that it has a lower weight capacity. Aside from the quality materials and stability, it does not have much going for it.
Nevi is handsomely made with high-quality materials, it is also pretty stable. But apart from that there is not much to expect. Though the Nevi is one of the more affordable pieces at Herman Miller still too steep for what you can do with it. 
But on the other hand,  Herman Miller acquires the Fully Jarvis bamboo standing desk. And this changed the entire game. This is perhaps the better choice if you are to choose between a Herman Miller and a Steelcase sit-stand desk.  Fully bamboo, with its price and value, can offer so much more. It might not have the same grade quality materials as Solo and Nevi, but it is more functional and also has a more modern inspiring look. You'll also be able to customize it a whole lot better.  
Standing desks
Height range
Weight Capacity
Available sizes

Herman Miller Nevi

Extended 22.5"- 48"

Standard 28.5- 47.25

165 

48" and 60"

Jarvis Bamboo

3-stage 25.5"-51"

3 stage low 22.9"- 43.2"

2 stage 30"-49.3"

350

47", 55", 63"

Steelcase Solo

22.6"-48.7"

350

48" and 60"
How about the office chairs?
These two brands offer some of the more ergonomic seating options. And when you are looking for more innovative chairs, you have a smorgasbord of choices waiting for you. Let's see the similarities and differences.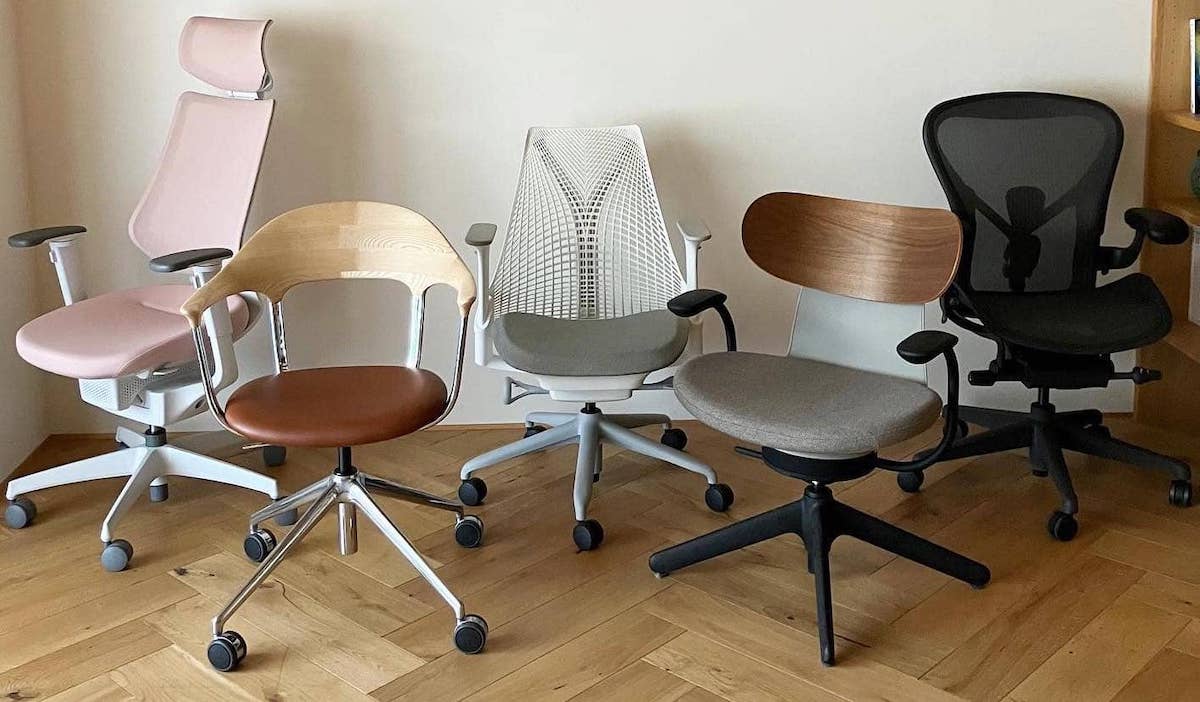 Premium quality and craftsmanship
If you have not noticed yet, Steelcase and Herman Miller are among the brands that are pushing for more ergonomic chairs. These brands are quite serious about finding solutions to help their clients have better posture no matter how long they need to sit in front of their PCs. 
The construction and craftsmanship of these two brands are also quite exceptional. You may even buy refurbished and pre-loved Steelcase and Herman Miller and still love them. You'll still feel quite comfortable in them and they may even for a reasonable amount of time. That's how these office chairs are built, quite like a tank if we must say.
Let's dabble on some differences
Which is more sustainable

?
Steelcase has a sustainable foundation for most of its chairs. You'd see more greener options. Though you also have sustainable options with Herman Miller, like the iconic Aeorn, Steelcase is more of a pioneer in this category. But they are soon to step on the same tiering since Herman Miller is also making leaps in terms of sustainability. So we are seeing more " greener chairs " soon from both brands.
Which is more innovative?
And when we speak of design and innovation, Herman Miller rises above. The brand is quite exceptional in manufacturing chairs that are both ergonomic and have a very unique design. Some are even too pretty to be called an office chair. The brand was able to combine function and aesthetics, on a very different scale. Some even compared it to the ones you see in a museum. For instance, the Sayl and Mirra are very creatively designed while bearing unique innovation at the same time. 
Even the Embody. It might seem very simple from the front. But once you take a glance at how intricately designed the backrest is, you'll just be wowed. And once you sit on it, it feels even much better than it looks. And the network of skeletons is not just for show, it renders the entire chair very flexible and comfortable.  
Steelcase chairs are also masterfully made. The brand also makes use of innovative technology that renders the chairs very comfy for long hours of use, even for the entire day. But they have a more straightforward design. Also, if you'd notice, most of the Steelcase chairs are lighter than most Herman Miller chairs. This is because the brand opted to use more sustainable plastic materials. This makes them lighter despite having more knobs and levers. Though the downside is, some units may have a feeling of being more plasticky, which is not everyone's cup of tea. 
Which is more adjustable? 
Both chairs are backed up with one of the most modern technologies you can see in an office chair. The LiveBack technology of the Steelcase chairs and the backrest of the Sayl that was designed after the Golden Gate Bridge are something you don't see in a lot of office years. These are unique innovations that make the chairs ergonomic and generally more comfortable.
But the distinct difference is the adjustability. Generally, Steelcase chairs are more adjustable than Herman Miller units. 
Steelcase offers more options for adjusting every feature of the chair. It has more levers and knobs that you can tinker through. It gives you more options to dabble through each knob to find the perfect spot for your back.
Another example is the Leap vs the Embody, the Embody is more adjustable than Aeron. But looking at how you can change the position of the arms, you have more liberty with the Leap than the Embody. The Steelcase chair is also more hefty with a higher weight capacity.
On the other hand, Herman Miller may have fewer knobs or levers. It is less adjustable compared to the Leap. But you may also be able to buy the Aeron in three sizes, which amps up the adjustability score. 
Then you have the Embody. Compared to Aeron, Embody is more adjustable, that's why it may also appeal to more users. But generally speaking, most Steelcase chairs are highly adjustable compared to Herman Miller. 
A more adjustable chair may seem like the better option, right? It's not always that way. How so?
Highly adjustable chairs will feature more knobs and levers. It also makes each unit heavier. But Steelcase was able to find a solution to this. The use of more plastic materials makes these highly adjustable chairs lighter. But not all are up to the task of tinkering through a plate of options. With more levers and knobs, it can be overwhelming. But if you have a knack for discovering things, you'll be happy to journey through each adjustable option.
Also, the lack of adjustable options doesn't necessarily make a chair less ergonomic. Take Sayl for example. The backrest is not adjustable, it has very few levers and knobs. But for the right group of people, this is a very comfortable chair. The materials used and the way the backrest was designed can be very sublime for petite users.  
If the dimensions of the Herman Miller chair work for you, you will be able to use it for the whole day, and with lesser knobs and levers, you will save time trying to find the sweet spot for your back. The chair can somehow adjust to you instead of you adjusting the chair to your needs. 
These can be seen as less complicated chairs, which work for a specific group of people.
Which has a larger scope of users?
Despite both chairs having the latest innovation and technology, Steelcase has a more traditional approach. When it comes to comfort, many will be more familiar with the type of indulgence it can give. It also has a more traditional design and can look quite similar to some office chairs in the market. And even from afar, you can tell that Steelcase may look more old-fashioned. It can even get lost in the middle of a bunch of office chairs. But once you sit on it, you will be able to tell the difference. 
Most Steelcase chairs have cushioned padding, which is what most people are accustomed to. And Herman Miller has more unique materials like the pellicle mesh. While it is comfy, not everybody will instantly love it. Some even find the material of the Aeron too firm for their liking. And some needed time to get used to how it feels. 
So when it comes to aesthetics, Herman Miller is a show stopper. There is just something about how these chairs were designed. These are just sublimely gorgeous chairs. Have one in your home office and you don't need much decor, it can stand out on its own.
Which premium chair is more suited for me?
Now the big question is, which can be more comfortable for you?
A highly adjustable chair is not necessarily the most comfortable. And so is a more uniquely designed one. 
Steelcase will be better suited if
You want a more traditional design and comfort

You don't mind more plastic components

A flexible chair does not work for you and you need to be able to manually control it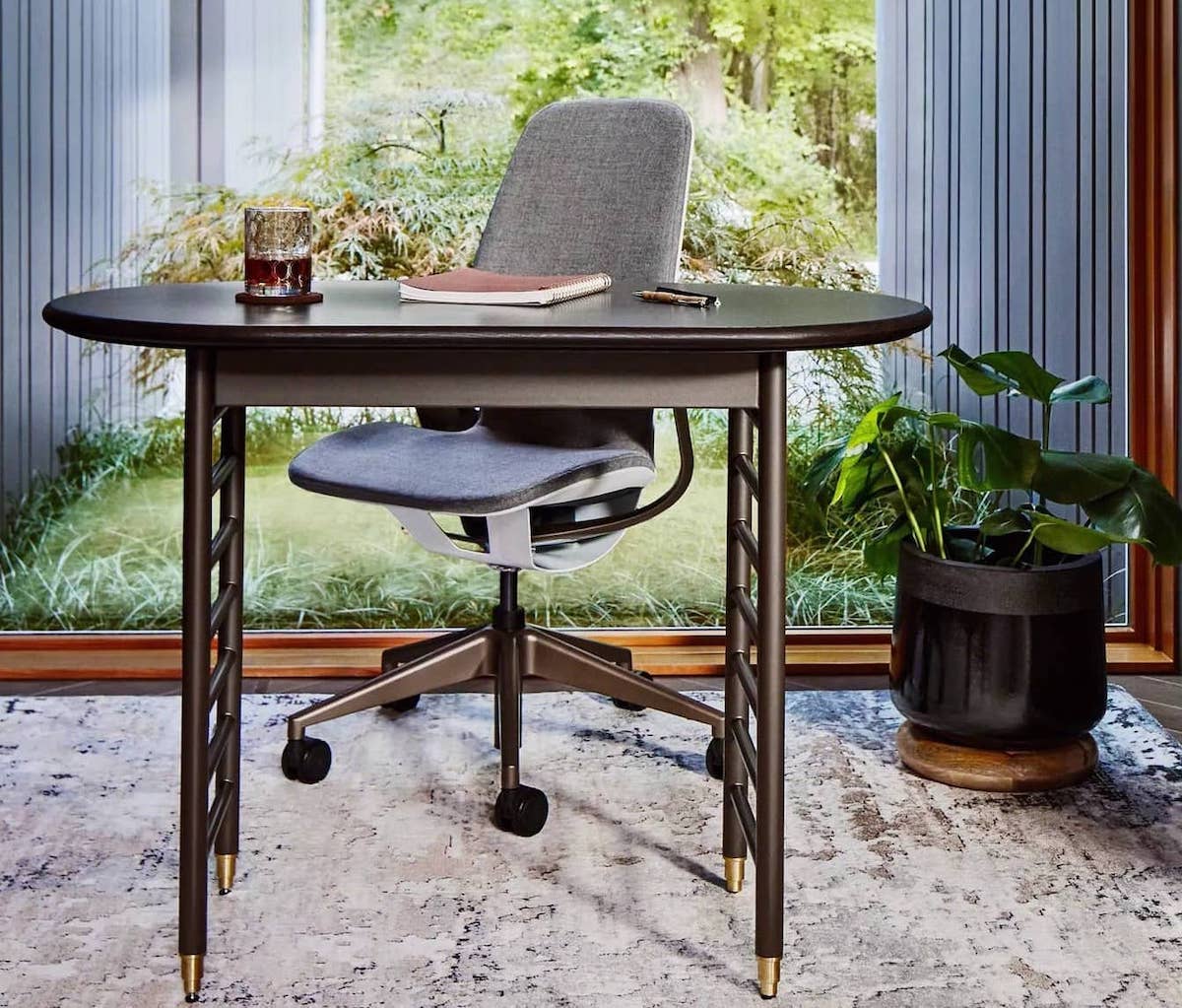 Herman Miller is for you if
A more aesthetically yet ergonomically designed chair appeals to you

You hate to tinker through a lot of knobs and levers

You don't like the plastic feel
Traditional vs Modern comfort
If you can afford to splurge, both Steelcase and Herman Miller can be great seating solutions for your back. But to get the best choice, hover through what each unit can offer. Steelcase will have the more old-fashioned comfort most are used to while Herman Miller has a more innovative design. Both are ergonomic but they may feel different. 
How about the cost
Both brands are almost in the same price range, they can set you beyond your budget so to speak. But overall, Steelcase products cost a bit more compared to most Herman Miller units. 
Herman Miller is more generous when it comes to warranties
As we have mentioned above, these two brands are one of the more generous ones, but with minor differences.
They offer the same 12-year coverage and have almost the same replacement and refund complaints, Herman Miller is more lenient. The brand has lesser restrictions on its chairs, components, parts, and upholstery compared to Steelcase. 
Pick your Premium product
It is hard to choose between the two. So depending on what unit or furniture you need, that is where you should make the choice. 
For standing desks, Steelcase units are just too steeply priced for what they can offer. We're looking for more than just quality materials and stability when it comes to standing desks.  We're looking for something more functional, but at the same time, stable enough for its price. That's why we chose Herman Miller for this one simply because they acquired the Fully bamboo.
For the ergonomic chairs, it has to depend on what type of comfort you want and need. Steelcase offers a more traditional material and type of comfort. These chairs can also look a bit plain and boring.  But if you want more innovative features and materials, not to mention a more aesthetically unique chair, then Herman Miller is where you should go.
For other furniture and collaborative spaces, Steelcase has a better and wider range. They are also more functional and more inspiring to look at.