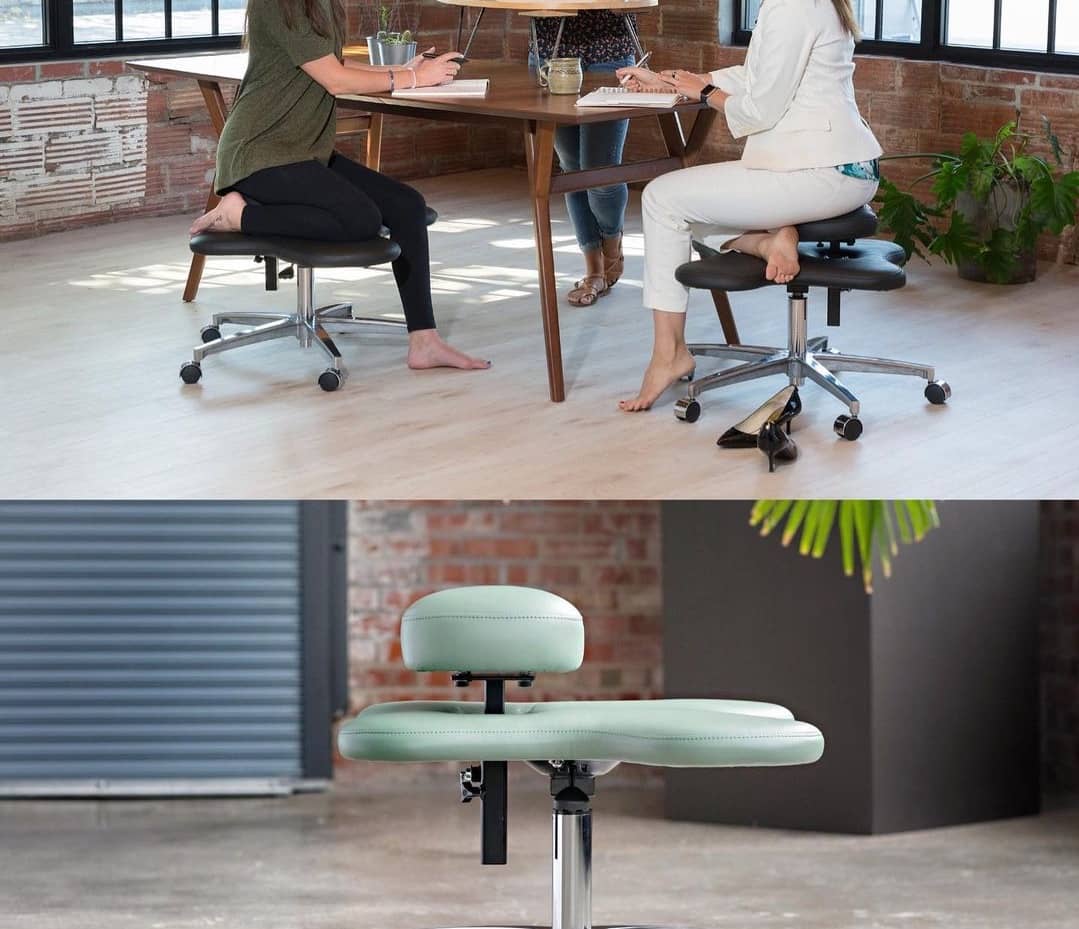 Cross-legged office chairs? These allow you to sit while having your legs crossed at the same time. These chairs do not necessarily conform to how one should sit while working, but some like to be a bit of a rebel. 
Two chairs can be used for this purpose, those that are specifically designed for this, and armless chairs. Let's see how they fared. 
What to Look for in the Top Cross-Legged Office Chairs 
What made us choose these five chairs from the rest, here are some factors that we have considered. And you should too when buying chairs that allow you to be more free with your legs.  
The design and style of the chair
Chairs with two platform designs are made specifically for this. They are designed to satisfy these purposes. But not all may have a backrest. And it does take a while to get used to sitting on these things. And without the backrest, you have your own spine to rely on.
And chairs with such design can also be more costly. So we have another set of chairs that is best for those who want a more conventional and more affordable choice.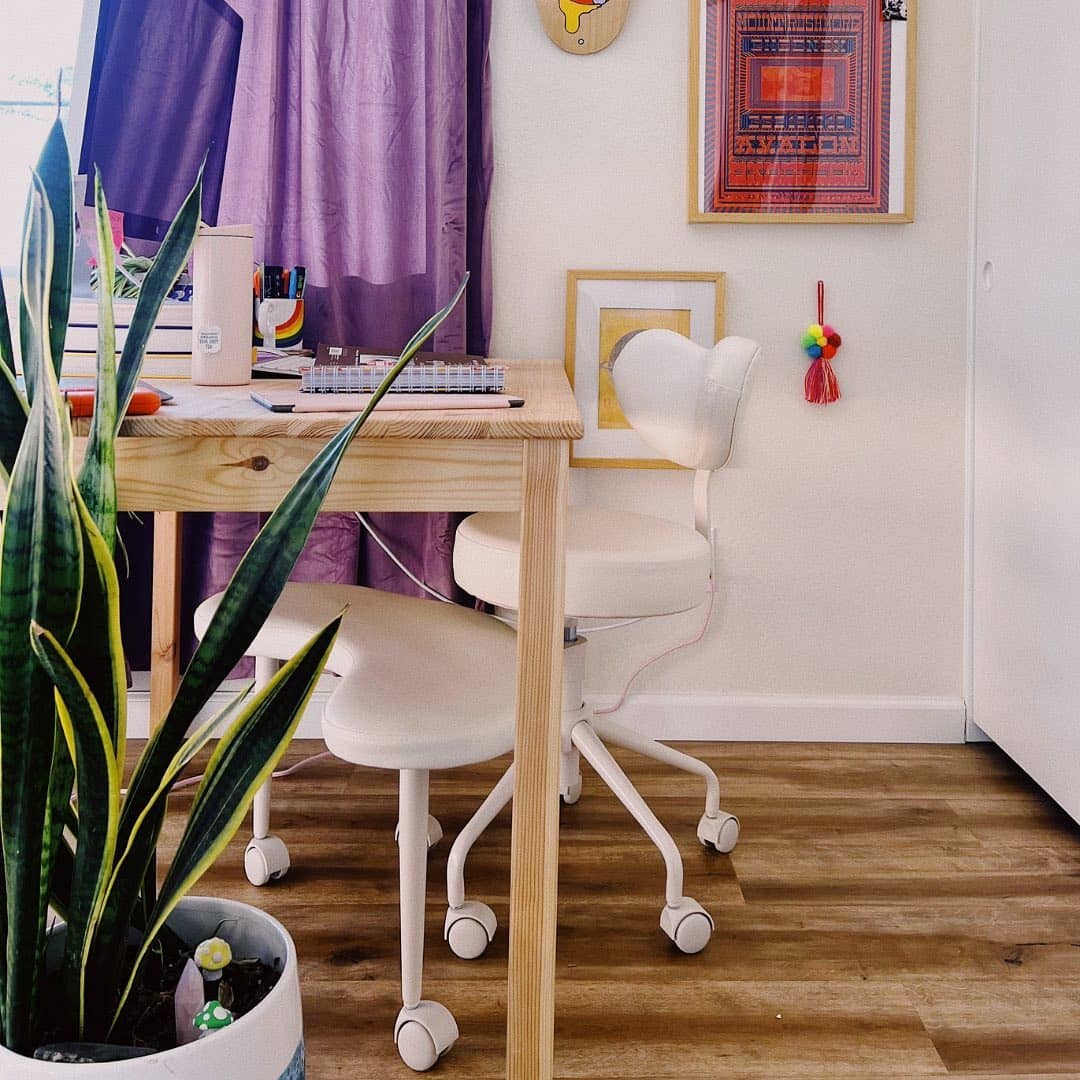 Adjustability
Technically speaking, chairs that allow you to cross your legs are not the most adjustable ones, they often lack this feature. So the more basic thing to look out for is the seat and leg platform height. Then other adjustability features such as a tilt, recline, and swivel are all bonuses.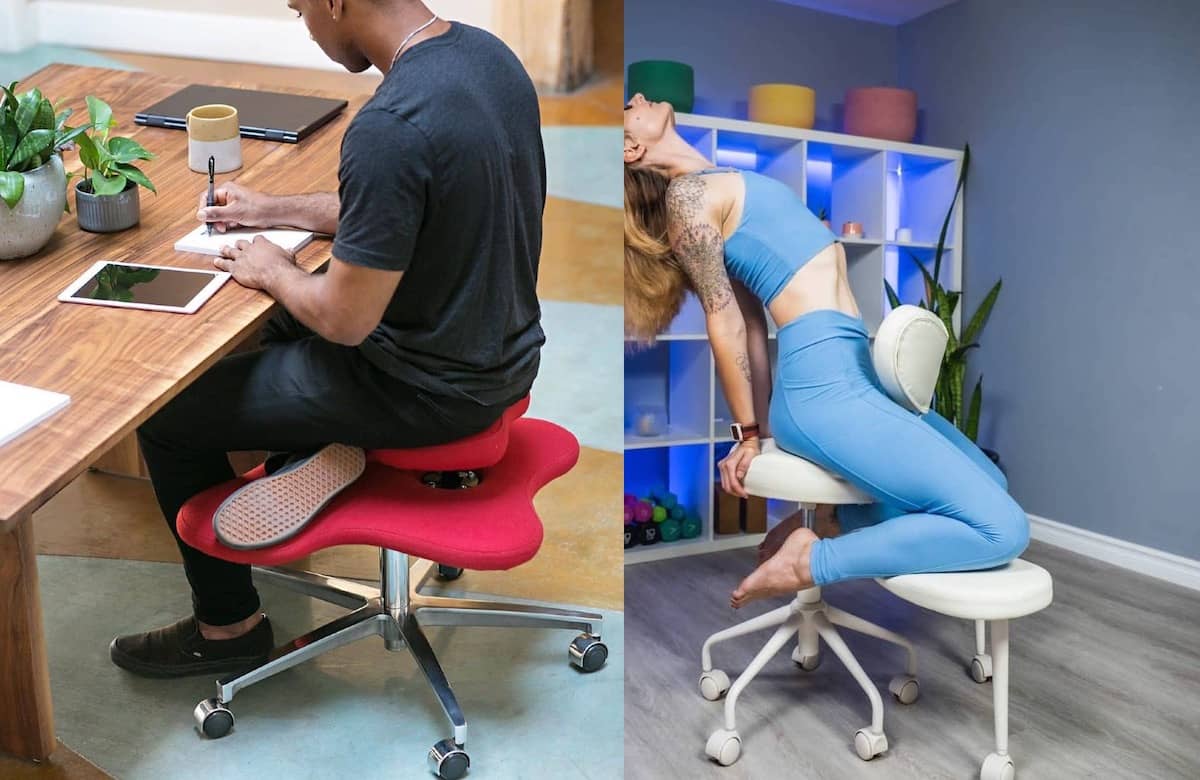 Keep this in mind too, meditation chairs will be more ergonomic than armless chairs. 
Material and build
Chairs that give you more liberty with your legs are workhorses. Having your legs on the seat rather than them hanging from the seat can add to the entire weight that it should carry, right? As such, you would want to look for chairs that are not only made from durable materials but should also be well-built. Everything should feel solid and stable. 
Our top 5 Cross legged office chairs
Soul Seat
This chair reminds us much of when you're doing Sukhasana or the Easy Pose in Yoga. Well, it could be since this chair is basically designed with yogis and yoginis in mind. Also, the creator himself has been practicing and studying yoga for years so this chair can have something surprising up on its sleeves.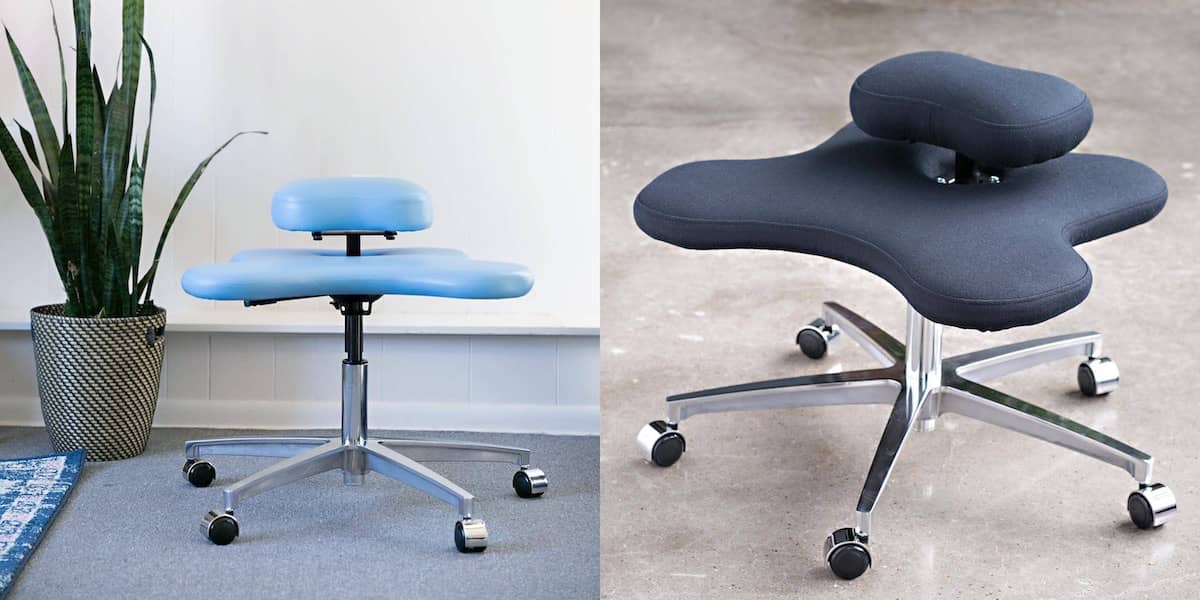 At first glance, it mimics a stool, only that it has a perch and a separate platform where you can place your legs. 
When used properly, this can help tilt the pelvis forward, open the hips, and help realign the spine in a neutral position, much like when you're doing an Easy Pose in your yoga class.
The downside is, this type of seat takes a while to get used to. As with attending your first few yoga sessions, you may not be able to get that neutral spine alignment at first. And since it's a stool without any backrest, you have to be mindful not to slouch your back. 
Thus, this chair is more suitable for those who can already sit on a stool without slouching. Otherwise, you will not be reminded to sit up straight.
Pipersong Meditation Chair
This is a cute and dainty office chair that can accommodate your fancy to cross your legs and yet still have support for your back.
Like the Soul Seat, it can open up the hips and push the pelvis forward. But this unit is more versatile and can be used in more than two ways. The backrest will help prevent you from slouching so even beginners may find this a more suitable option. Also, you have the option to sit on the top perch of the chair and have your chest pressed against the backrest.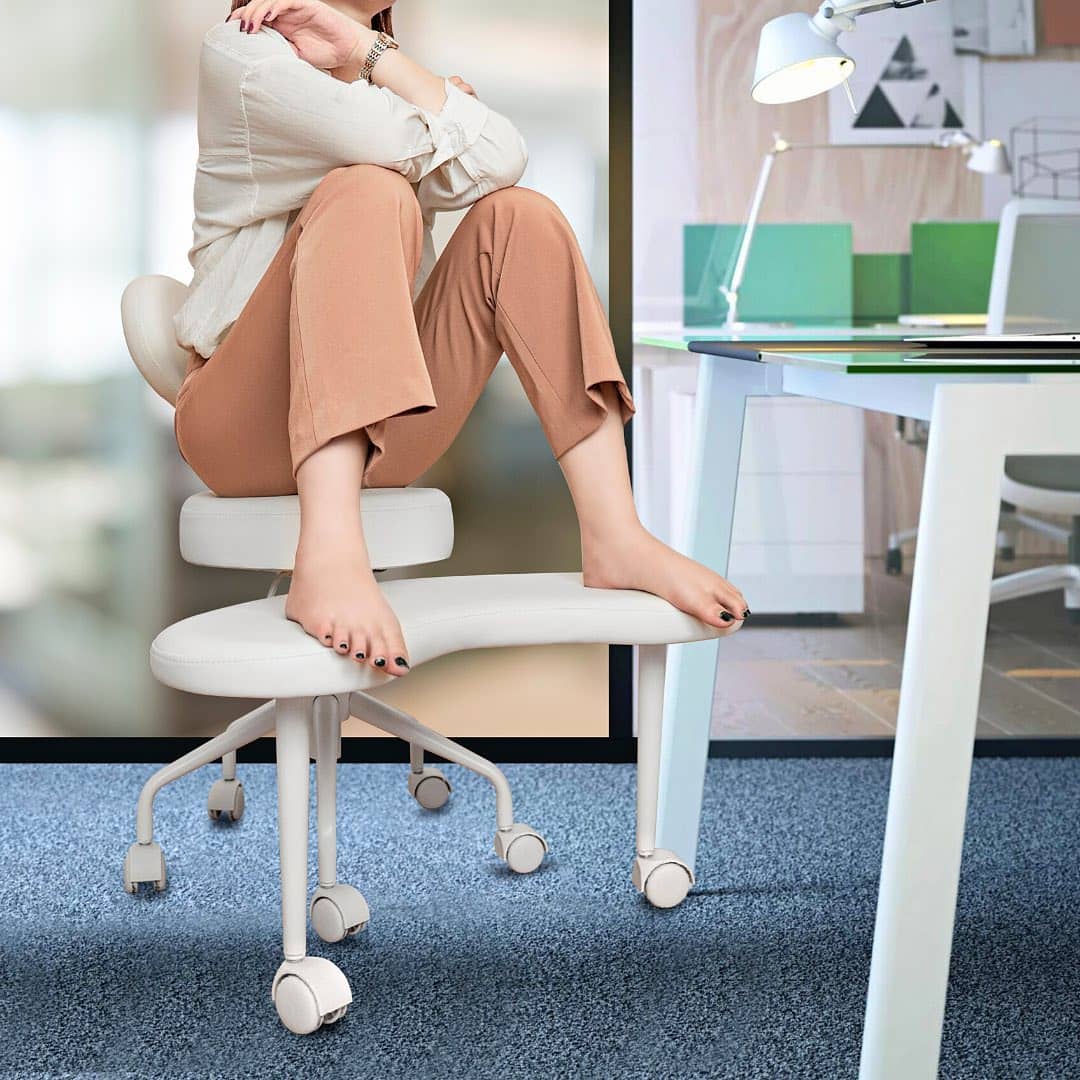 This is very nice for those who want to move around a lot. They can find more dynamic ways to sit on a chair, feel supported, and have fun at the same time. It's also not hard to change sitting positions, you'll find that you can do it seamlessly and fluidly. 
The seat also has a swivel function, so you may use it as a regular stool with a backrest if you don't want to use the leg platform. Thus, this chair offers numerous ways how you can sit. But keep in mind that it does not have a 360 swivel, the seat stops to swivel at about 45 degrees, so you have to swivel it around the back. 
The platform, or the seat where you can place your legs is also pretty roomy and wide. So this will also suffice for those who are tall and have chunkier legs. Also, this is one strong and chunky chair, the hydraulic lever of the chair feels robust and very stable. 
However, as with us, most find the chair quite stiff on the first few days. It normally would take a few days before the dense foam starts to soften a bit. So there is that break-in period that you have to consider, which may take several days too. 
Topay Kneeling chair
This has a quite similar design to the Soul Seat. You can have both platform heights adjusted so it can help you find that more comfortable spot for working. 
It has a heavier weight capacity, about 350 lbs, so this is quite heavy-duty. The chair seems to be well-constructed and feels very solid. But we did hope both of the platforms had a bit more cushioning to them, some will find it quite thin and lacking.  
But despite that, it can feel very generous and comfy for those who are used to a firmer seat. The two platforms are quite roomy, and given the weight capacity of the chair, this can be used by taller and slightly chunkier folks. 
But here is something to consider. Though both of the platforms can be adjusted, it did take us a while to do that, especially for the upper perch. It seemed stuck at first and took more time than standard to get adjusted.
SMUG home office desk chair
Now let's veer away from those stylish meditation-type chairs. Some may not be up to these genuine seating solutions. Some may find the breaking-in period a hassle and would rather sit on a conventional office chair. Also, these are packed with more cost since they have a more innovative design. So if you want to sit cross-legged on something similar, more conventional, and less expensive, an armrest chair with a wider seat will suffice. 
Though this is best used by petite and light users, the chair will not be able to go high enough for taller dudes.  
Though the seat is not as spacious to sprawl your legs as our other more expensive seats, it does have a slightly wider seat than the average office chair of its range. And sans the arms, you can raise your legs and not have your knees banging against it. 
WOOKEN
Another armless chair is up on our list, the posh-looking WOOKEN. It is a larger take on the SMUG desk chair and with a more roomy and accommodating seat too. The seat is pretty huge, even larger than the more premium innovative chairs above. 
This chair also screams luxury, though price wise it's still affordable, it is well cushioned, quite thick and plush actually.   
WOOKEN's seat can also be adjusted, but it may not be able to go high enough for taller users. As such, this is a luxurious option for petite users, they will be able to find it the most comfortable. But it does have a higher weight capacity, so those with chunkier hips and legs are well welcomed in this chair. 
Meditation chairs vs armless ones – Our conclusion
Should you want to sit more unconventionally, chairs designed to accommodate this are at the top of the list. But we also have more conventional armless chairs for those not ready to dive into something peculiar but still want to sit with their legs crossed. But they may feel less ergonomic than those who are designed for this purpose, so that is one thing to keep in mind. Thus, they will allow more freedom of movement.
Ultimately the choice between conventional and unconventional chairs all boils down to your budget and your need for movement.