Flexispot is known for its standing desk with heavy-duty frames, such as EC1 or EN1.  As for ergonomic office chairs, it's not really most people's go-to brands.  We usually mention Herman Miller, Haworth, SIHOO or Steelcase, not Flexispot
But there can be a hole-in-a-wall kind of chair that can be surprisingly comfortable and of more value than expensive ones.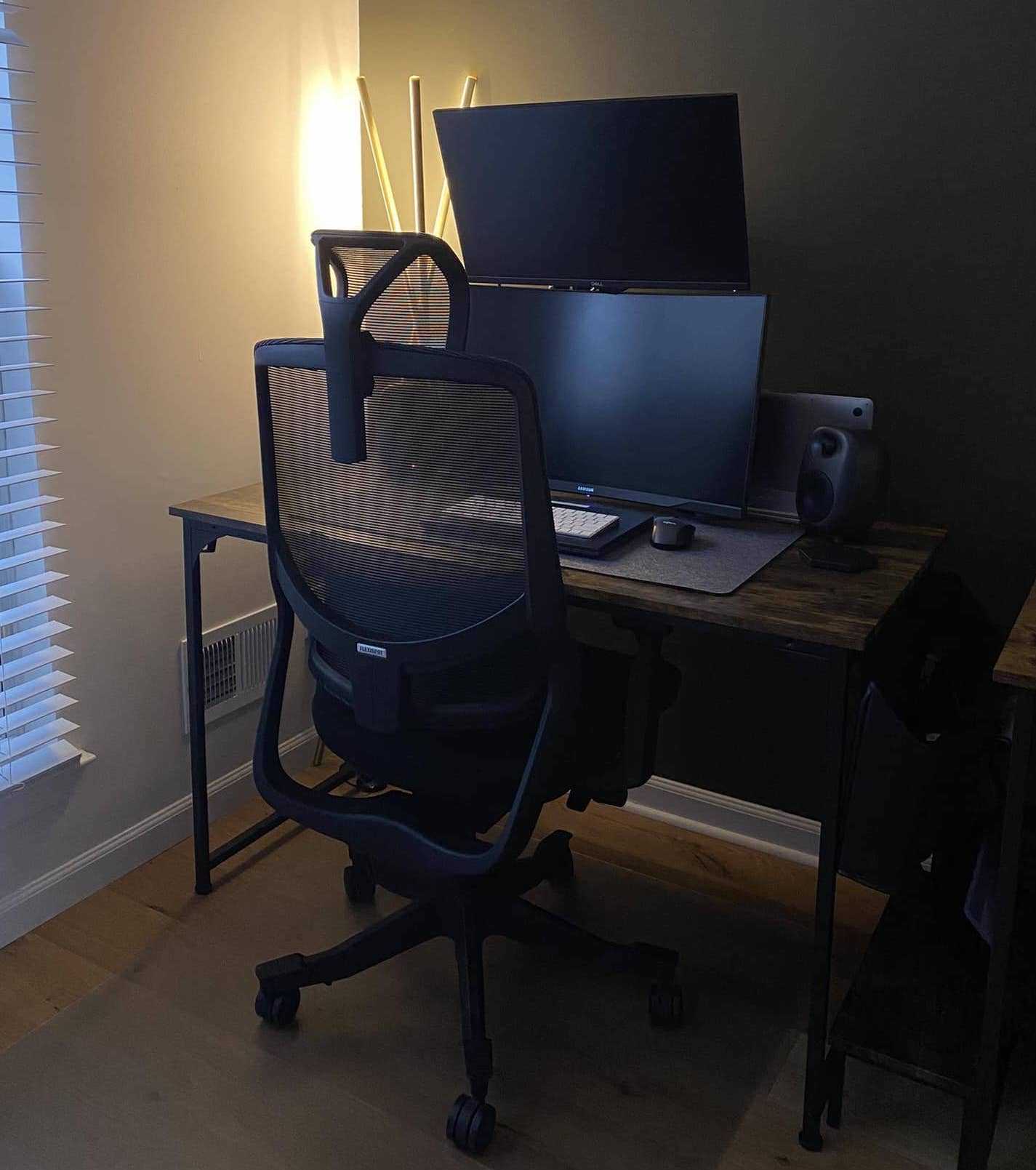 So let's see if the OCc3B can be a decent option for your standing desk.
It can provide decent back support even without the adjustable lumbar feature
One of the things that makes the OC3B different from other mesh chairs is this. It feels quite nice on the back and can provide adequate support for your lower back even without the adjustable lumbar support. 
The way the backrest was shaped and the type of mesh material used is alone to support the back, thus it's more of passive lumbar support.  
However, if you need a more pronounced lumbar support you might find it lacking. 
The adjustable lower back feature of the chair will not, in any way, offer you this. There is a huge gap between the back and the backrest, thus it's going to be hard for your buck to make contact with it. You will also need to exert more pressure to feel the plastic bar, or you'd have to lay down your back a bit more, which can result in slouching. 
The gap of 2 inches between the back and the lumbar bar is too much. The brand suggested fiddling through the height adjustable lumbar to find a comfortable spot. But since it's only height adjustable, it will do nothing for this problem. 
So this is one important thing to consider because if you need more back support. You will not get the support that you need and you might end up with a painful back at the same time. 
Thus, if you just need average support for your back and you will not use the chair for the entire day, then you will find it useful. 
Despite the almost non-existent lumbar support feature, the shape of the backrest is enough. And the chair also has a lot of adjustable features for an item of its price. So that sort of makes up for it. 
It will not be that useful for task works
For some reason, the chair does not seem to be able to go vertically up. Though the backrest has a more pronounced S shape that can push your body forward, the standard setting is a bit reclined or tilted compared to its contemporaries. Thus if you are to do task work, typing jobs, or anything that requires your body to be pushed more towards the desk, then this is not the chair for you, 
Also, despite having average support for those with chronic back issues, we do not see this as a chair that you'd want to sit on for the entire day. More on this below.
You will not be able to use the OC3B comfortably for the entire day
Upon sitting on the OC3B, you can tell that it is quite supportive. 
The mesh material is different from other cheap mesh chairs that are catchy and rough on the skin. But still, it doesn't feel premium like what those expensive mesh chairs have. And mesh chairs, unless the premium ones have a notorious reputation of being too firm and not indulging in an 8-hour sitting job. 
It's not a premium mesh, so you might feel the material digging into your flesh after a while. And that's the same case with the OC3B. The consolation though, the mesh of the OC3B feels "better and more flexible" for its price. 
Also, the seat can't be higher than the edges of the frame the mesh is attached to. Thus, you'll feel the frame pressing against your shoulders. You might also notice that the cushion extends beyond the seat frame. This often happens if you've been in the chair for more than 5 hours. So 3-4 hours is the sweet spot of comfort.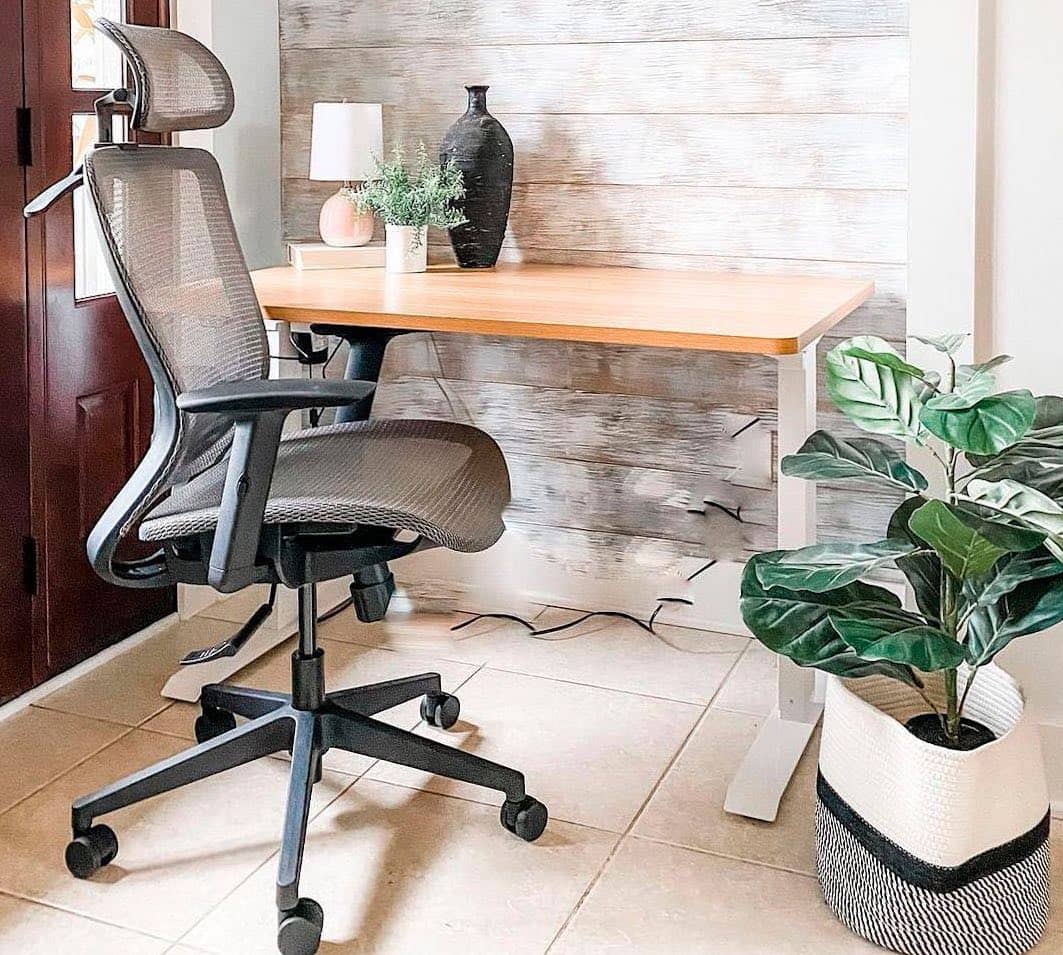 This is not a heavy-duty mesh chair
The OC3B is not heavy-duty, but luckily it's not a chair that you'll feel can rip apart in just a few months. Though there are caveats on its build and construction.
The entire build of the chair feels like it has 70 percent plastic parts. Thus, if you are heavier, you will not feel comfortable or be assured that you will not fall off the chair and face plant. Though the advertised weight capacity of the OC3B is 330 lbs, we recommend it best for those who are skinny or of average weight.  
Over time, the chair, especially the seat, tends to slide side to side. Shaking and wobbles may be inevitable. 
The wobbles can become more noticeable as the year's pass. Thus, if you weigh heavier, you will experience wobbles early on. 
How does it differ from the Flexispot Soutine?
Let's go to the similarities first. 
These two Flexispot chairs are not ideal if you need to sit in for 8 straight hours. Even if the mesh material is better and looser than other cheap mesh chair brands, it is still not comfortable for long hours.
 It is not intuitive and will not be able to support your body in every movement. 
The lumbar support of the Soutine is more pronounced and you can tell that it's there compared to the almost nonexistent bar of the OC3B. But if you've been sitting on the chair for a long time, the lumbar bar tends to press too much against your back. That's also the reason why you will not be able to sit on the Soutine for longer hours. So it can be an affordable solution for those with a pronounced need for back support, but you must not use it for a long time.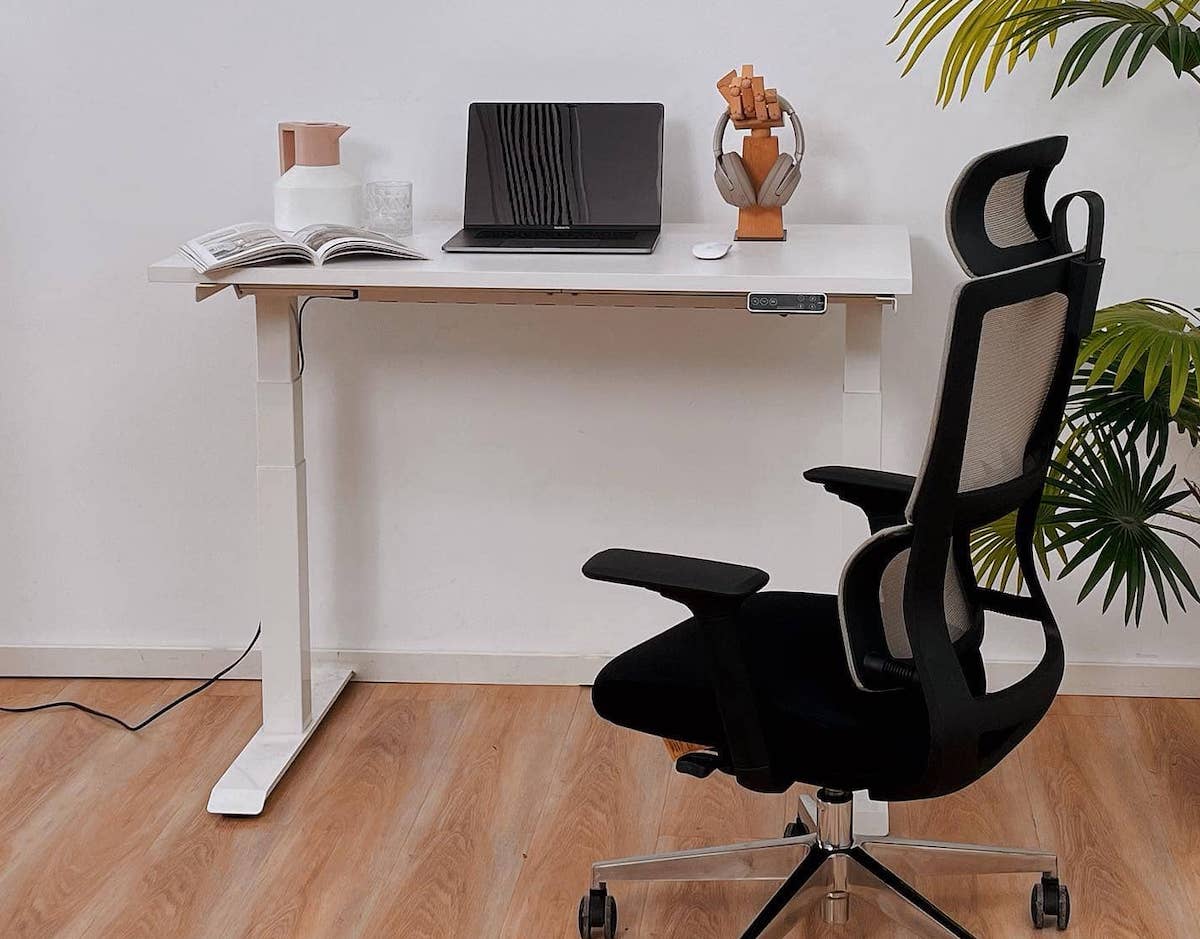 Who can use the OC3B better
Overall, the OC3B is a great choice for a standard office chair with average support. 
For its price, it has lots of adjustable features and the range is pretty good. The biggest caveat, however, is the lumbar support. But since the mesh is loose, some just make do by pressing their back more against the backrest. 
Though that can be an option, we don't really recommend doing that as it can put a strain on your back. So you have to be comfortable enough with the ergonomically shaped backrest if you're having your eyes on this unit. Thus, it is better to try the chair for yourself than buy it online. 
Thus, the bar of so-called lumbar support is just like an added piece of plastic. The chair could have done better without it. 
This chair also has an adjustable headrest. So that can give an added comfort. But this chair is best for those of average height. It's not for taller people despite having a functional headrest. If you are a tall guy, make sure you check this list of best office chairs for tall people
So if you're 5'2"- 5'9", then this is one of the few decent mesh office chairs that you can use.
The price range of the OC3B also makes it an attractive option for those who need to feel supported for a couple of hours. This can still feel like an upgrade from the cheap and rough mesh chairs. But if you need a chair that can support you for the whole day, this is not it. 
And to answer the question earlier, if the Flexispot OC3B is just another mesh chair hype, it's not really. It does have something unique to offer, but it also has its shortcomings. 
If you want to buy this chair in Flexispot's official website, here is the link with discount! Good luck!