If you're looking for a premium-looking chair that's not going to put a hole in your wallet, you might find what you're looking for in the Aloria office chair by Oak Hollow Furniture. Let's see if there's truth to this claim.
About the brand
Oak Hollow Furniture is a new player in the market. It was just introduced to the market in early 2023. One of the key missions of the brand is to manufacture high-quality ergonomic office chairs without the steep price.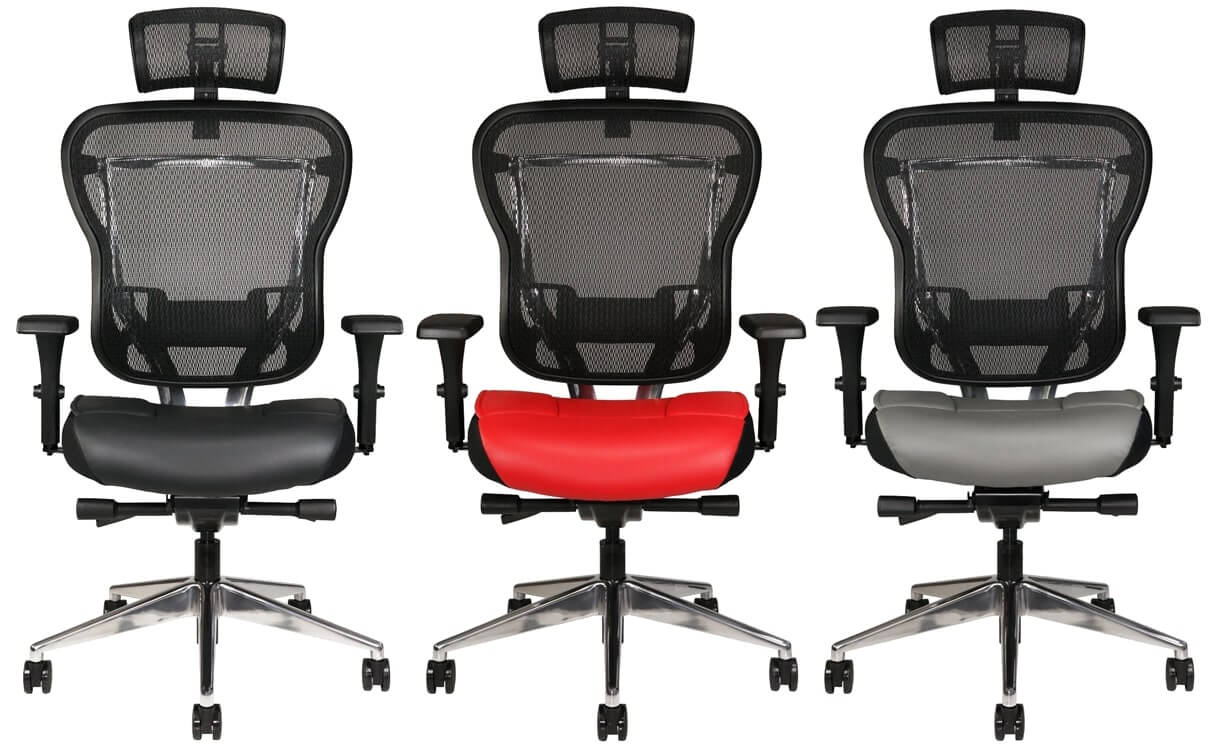 Oak Hollow Furniture Aloria – Overall look
The Aloria office chair by Oak Hollow furniture has a modern contemporary look. It looks sleek, slender, and has a nice polished accent. The chair looks premium and expensive too. It's streamlined and looks rather sexy.
The mesh back adds a sophisticated touch to the chair. And of course, it makes this office chair more breathable. In terms of the impression, it's at par with premium office chairs such as the Herman Miller Aeron or the Embody. 
You would instantly know that this is a durable chair even if you haven't sat on it yet. Everything about this chair looks and feels premium.
Comfort
I have to give it two thumbs up for comfort. One, the mesh back is breathable. The cushioned seat is padded. It's made of high-density foam and feels luxurious too. Though you won't sink in too much because it can still provide decent support. It feels plush enough that you'd want to sit on it for hours.
I don't feel any numbness or pressure in the buttock since It cradles the butt well. The upholstery of this office chair is made of premium materials. And you can see that it's made to last long. It's meant to be sat on for a long period too if I must say. The cushion is quite similar to the padded seats of Steelcase Leap and Gesture, The Steelcase chair only has a more contoured seat while the Aloria chair is a bit padded by several inches. 
I reckon this office chair would also be comfortable for gaming with its plush and padded seat. And even if you're wearing shorts, the material is comfortable on the skin. It's not abrasive nor would it leave marks on your skin when sat on for longer.
Back support
This Aloria chair has adjustable lumbar support. You just need to slide it up and down to adjust it. So you can find the most comfortable spot for your back. The chair also gives me mobility so back pains are bouncy. The mesh material is stretched taut in the frames, so it can give a subtle bouncy movement. Overall, it feels great on the back. 
The polished aluminum frame at the back not only provides structure to the chair, but it also provides a bit of support for the back. 
Adjustable features
This Aloria office chair by Oak Hollow furniture offers enough adjustable features you might want in an office chair. As mentioned above, it has adjustable lumbar support. It also has a seat depth adjustment. So this chair can accommodate those with longer legs.
And even if the Aloria Series chair is already made for taller users, it offers maximum comfort for those with longer legs via the adjustable seat depth. And only a few office chairs have this feature such as the Steel case Leap.
Another feature that you'll love is that it has 4 tilt options. It's one of my favorite features in an adjustable office chair as it also allows you to relax momentarily. If you're working long straight hours, the liberty to tilt your chair is pure bliss. It feels like you can stretch your lower back without having to get off the chair. 
This office chair also has a tilt lock. Or if you want a subtle rocking motion, leave the tilt lock open to enjoy the bounce.
And if you want something to support your neck, you can upgrade it with a headrest. And if you want a more sleek look, you can choose to go for the leather padded seat instead of the fabric one. Though the fabric feels comfortable, the leather can get hot during the warmer months.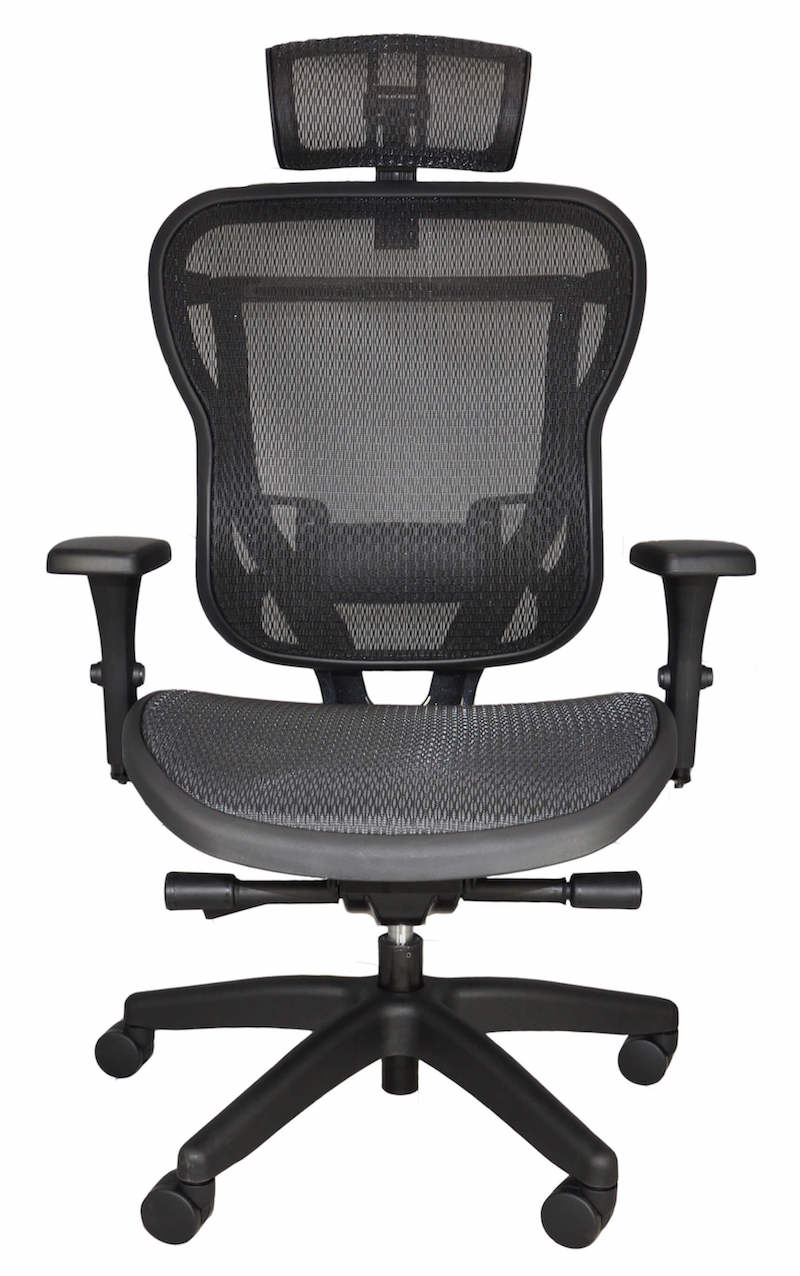 Assembly
The setup is pretty easy. The steps are pretty basic too and the instructions were not hard to follow. It also included an Allen wrench. so you don't have to scour through your utility box for one. All you need to assemble the chair is included in the package. It actually comes pre-assembled already, so all you have to do is connect the large components. And it will take you less than 40 minutes or faster if you're a pro-DIYer.
Though you might find attaching the caster wheels the most challenging part of the assembly. You have to use a specific amount of force to make sure it's fitted properly. 
Height settings
Even at the lowest height setting, this office chair is quite tall. Unless you stand over 6 feet or you're going to use this with a sit-stand desk, it's quite tall. The remedy here is to install the shorter cylinder so that you can still get a comfortable height. It also comes with the package
This office chair is ideal for tall people since it can accommodate users who are as tall as 6 '9. It's heavy-duty too and has a carrying capacity of 300 lbs. 
My favorite features
First off, I love the fact that the brand threw in 2 sizes of cylinders. It comes with the standard one which can accommodate taller users, and the shorter one. The shorter cylinder is perfect for those who stand 5 feet and 2 inches. 
This is by far the only office chair that I've come across that throws in 2 sizes of pneumatic cylinders. So that is a real plus. This makes the office chair more suitable for a lot of users. 
Another one of my favorite features is the padded seat. It has the right combination of support and plushness. It feels great on the butt that you won't notice that you have been sitting for hours already. The plushness can be associated with a couch, only that it doesn't sink in too much. You might even want to binge-watch on this office chair.
In addition, you can also enjoy the adjustable armrests. You can pivot it in and out. It's also adjustable up and down.
And lastly, the chair is mostly made of metal parts. There are only a few plastic parts. So you can instantly tell that this is a solid and durable office chair that can last for a long time. 
What you Have to consider
The 2 pneumatic cylinders make this chair suitable for taller and shorter users. Though the height of the chair can be adjusted, the width of the seat cannot be narrowed. So shorter users might find the chair too wide and the armrests too far apart. I don't have any complaints about a wide seat, only that the armrests go with it.
For an average-sized person, I find the armrest already too far apart. So what more for those who are shorter and more petite? You might find that you have no use for the armrests since it's too far to lay your elbows on. 
The tension of the recline is quite a stuff. Even if set to the loosest setting, you can still feel some resistance. Some may be okay with this. But some would want it to be a bit relaxed.
Final thought
Overall, it's a real value for your money. Though it's not cheap it doesn't have a premium price tag. And the mesh backing is something you'll also see in the more expensive Aeron chair. 
Design-wise, I'll give it 8/10. I loved the way it looked. Classy and streamlined. And the polished accent, I have a love and hate relationship with it. Sometimes I love it, sometimes I don't, hence the 2 points.
For comfort, if you're a tall user, it's a 10/10. But if you're shorter, you might find the armrests too far apart from each other. Though it has adjustable features that can make it suitable for short users too, there's nothing that can be done about the width of the armrest.
And lastly, it gives a high-end feel. It feels like you're sitting on an Aero or a Steelcase office chair. The build and quality are almost at par with the premium office chairs on the market. It looks like a high-end office chair but without the high-end price.
Where to buy it with Check: https://amzn.to/3ko3Yzv