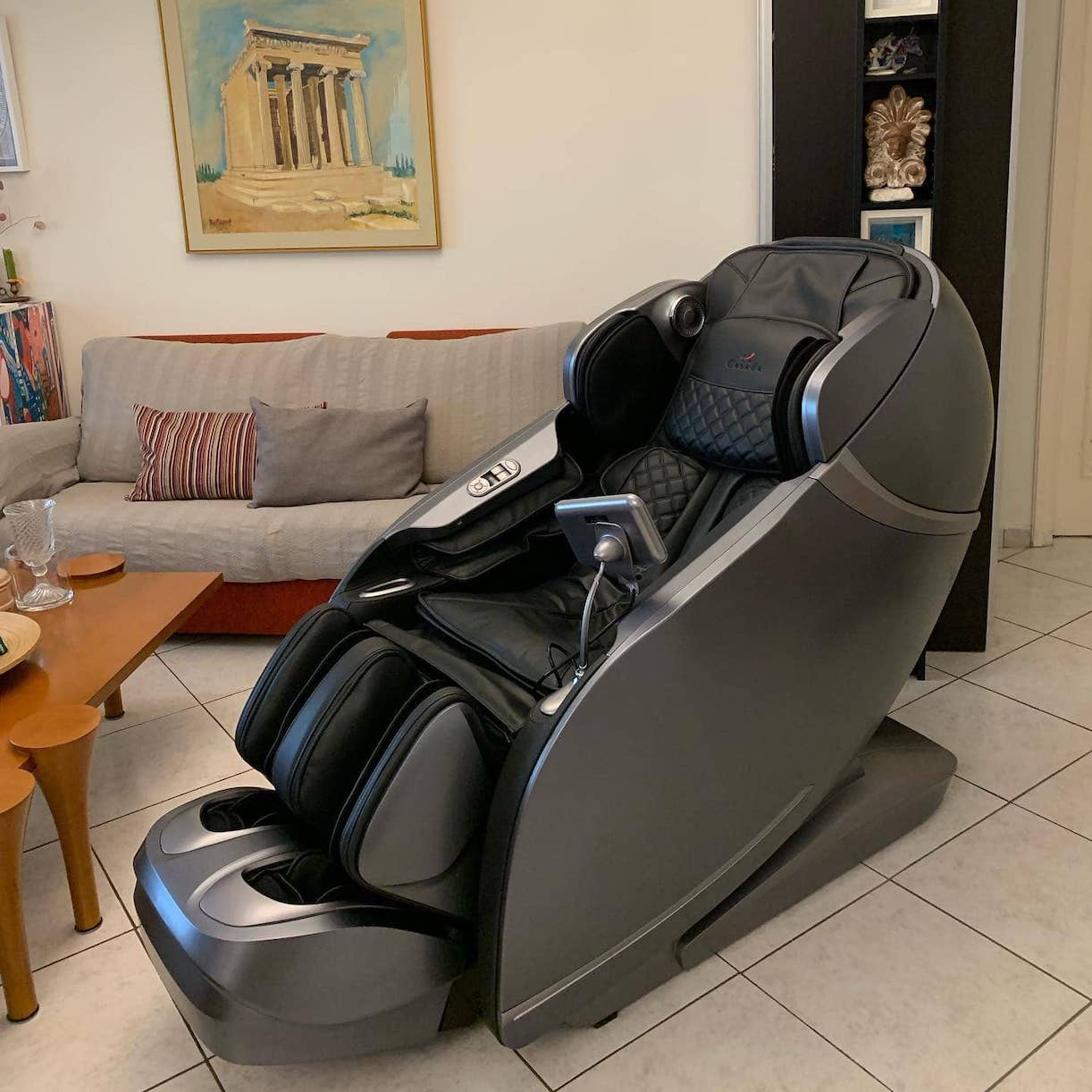 Having your own massage chair can be bliss. They have improved in leaps and bounds, giving you more customizable massages. 
The most important part, you do not need to go to your favorite spa or schedule a session with a masseuse. All you have to do is turn the unit on, pick your preferred massage program, and relax away.
That's why these are becoming more and more popular (and more difficult for the new buyer to choose an ideal one).
How to Spot Your Massage Chair?
Here's the short Buying Guide
Size and space
When we speak of size, we have two points to consider. One is the dimensions of the massage chairs. And two, the weight and height capacity.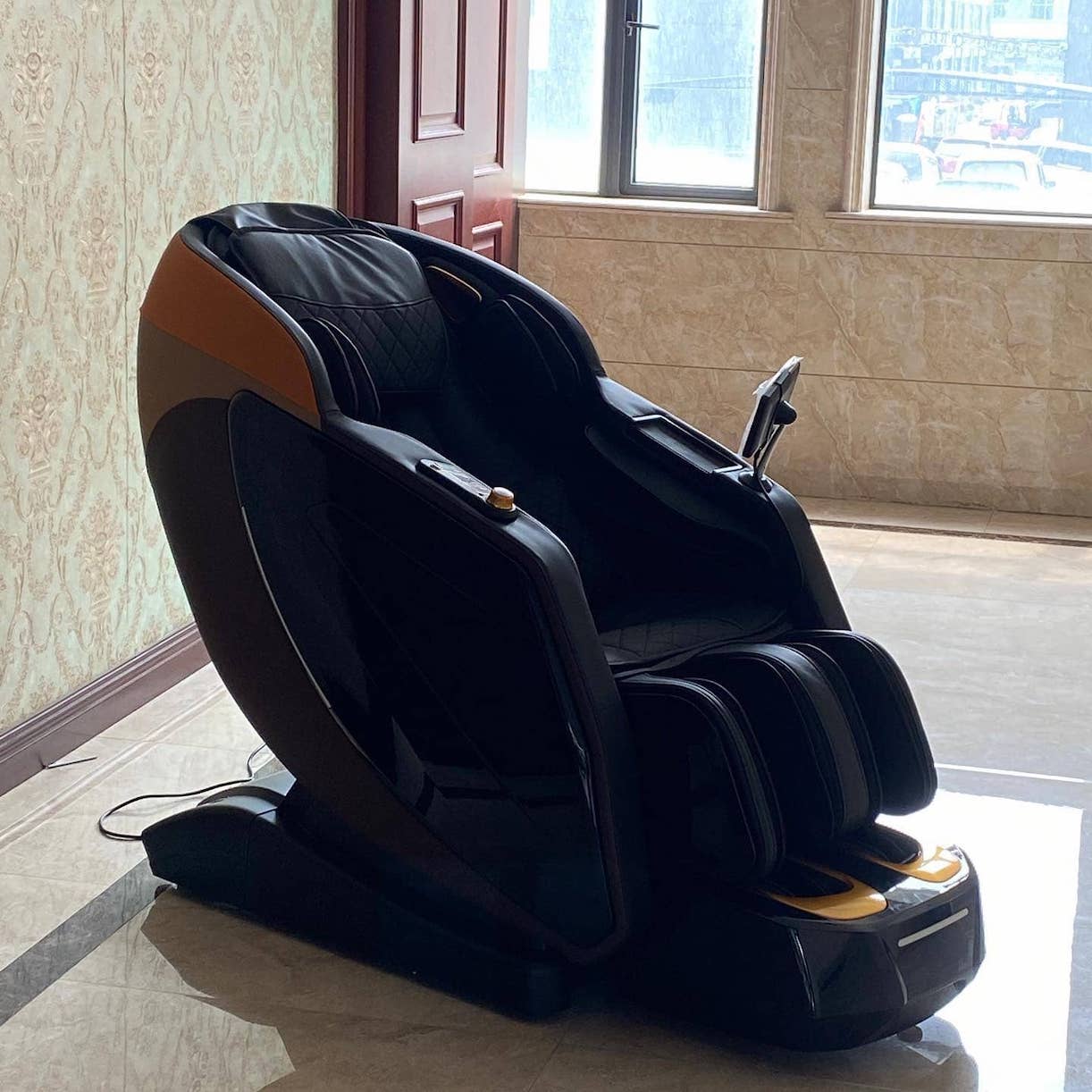 Most massage chairs can be quite big and bulky. So before anything else, space should be a  primary consideration. Otherwise, you will not be able to comfortably use it.  Because trying to squeeze it in a small area can defeat the purpose of making a zen corner in your home, you will feel cramped and not relaxed at all. If you are living in lofts, studios, or small apartments, you have to get a more compact one. The good news is, there is such a thing as a compact massage chair such as the Insignia compact.
On the other hand, if you have a larger one, you might be interested in getting a bigger one to optimize the space and take advantage of a Zen Nook.
You should also consider the height and weight capacity. Generally, massage chairs can accommodate heights up to 5'8" or 5'9" and weights up to 250 lbs. These are the key numbers. So if you stand taller or weigh heftier than that, check the specs diligently.
Functions
These are what massage chairs can offer you. Most come with a combination of more than two features, but some can also be a whole rounder. 
Massage areas
This refers to what areas of your body you want to have the message focused on. Technically it has 3 classifications, the L track, the S track, and the J track. 
The L-track extends from the neck to the butt muscles. The S-track runs from the neck through the lower lumbar region. So this is shorter than the L track. Keep that in mind. Then the J track combines the range of the L-track with the stretching capabilities of the S-track.
That's why you may find the most suitable massage chairs mostly having the L track, as it can reach more areas of the body. 
Heated massage
Not all full massage chairs come with heated technology. This function is specifically beneficial for those who often have tired and aching muscles. The heat helps repair worn-out tissues and tired muscles. It also amps up blood circulation, which hastens to heal.
And it also comes in different varieties. Some may have their massage pads located on the lumbar area. While some may have the entire chair heated. 
Recline function
A massage chair that can recline can offer more relaxation. Especially if you go for sub-zero or the sensation of weightlessness when the knees are placed above the head. This offers a different level of bliss. And we have several units that can indulge you with this, whether you want a high-end or a budget massage chair. 
Programs
A variety of programs allows you to customize your massage experience. The more variety of programs there are, the more combinations of strokes and kneading you can make. Often massage chairs offer   4 to 8 options.
But if you want a next-level kind of massage, you can go for a unit that has as many as 20 to 30 programs, we have that in this list. The beauty of this is you can get not only one but a couple of combinations that can be sublime for you. Though having more programs means more learning curve. So pick your poison. 
Ease of use
Let's discuss this learning curve more.
A massage chair that requires a longer learning cure isn't necessarily bad. It can mean, though not always,  that there are more possibilities for bliss. 
The problem begins if you don't have time to dive into each one. Then it becomes a liability. If this is you, go for one that is less complicated to use. Maybe one that offers fewer programs will be more beneficial for you.  
Upholstery and aesthetics
Often, massage chairs are made of synthetic material. This makes them easier to clean and less resistant to sweat and spillage. Also, the heat generated by the equipment demands a more resistant material, which is synthetic.
This usually isn't a concern, not unless you are allergic to it.  
——–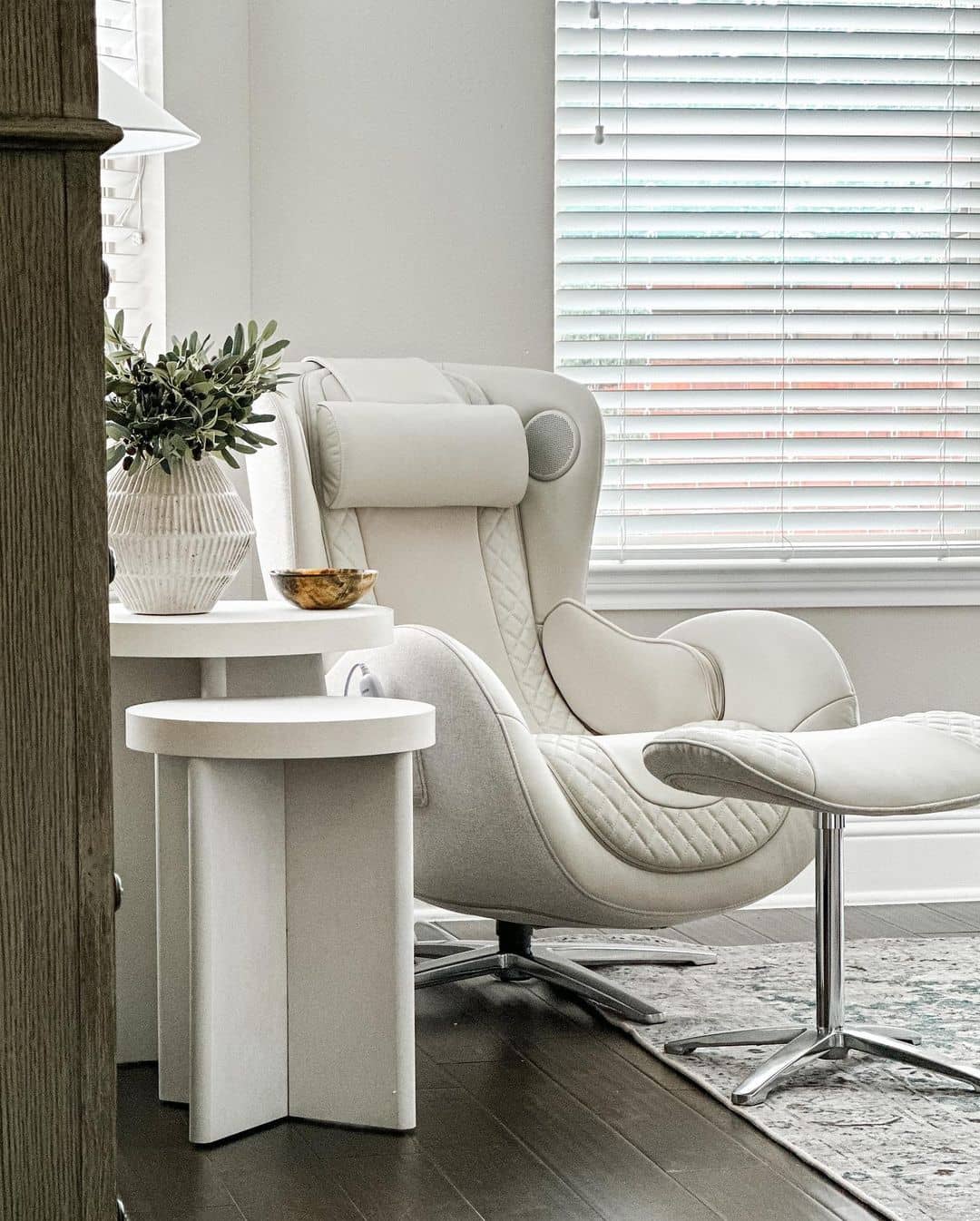 And so the hunt begins for the best full-body massage chairs. And here are our top picks. 
10 Best Full-Body Massage Chairs for your Zen Nook
OSAKI OS CHAMP
This full-body massage chair will give you that akin to zero gravity comfort. With weightlessness, your body will be able to be at its most comfortable. There isn't pressure on the joints or bones, and the muscles feel relaxed. You will be able to mimic this sensation of weightlessness with this massage chair.
It boasts 2 stages of zero gravity options. So the knees are placed high above the chest and this can improve blood flow. It can give your skin glowing and can also replenish the organs and entire body with fresh blood. And this can make everything operate more efficiently.
To top it off, it also has heating options. The heated pads are located on the lumbar area, this perfect placement also helps enhance blood circulation. So you'd feel like getting the work from your favorite massage parlor. 
You can also choose from 5 auto massage options, so you have plenty of a handful of different strokes and pressures to choose from. And it need not be silent since you can connect your phone to the music via Bluetooth speaker. 
Human Touch whole body
We've got lots of good stuff here. Like Osaki Champ, this also features zero-gravity massage options. But what sets it apart is that it can be very particular in the calf area. It has this so-called CIRQLATION technology that sends wavelike massage motions. And this can enhance blood flow. 
We find this perfect for those who just had an intense leg day. Or it can be a great relaxing and rejuvenating technique for runners and athletes who are always up on their calves. 
It has 5 program options so you can choose the best that you feel can bring you the most comfort. Another nice feature is the orbital massagers. This feels very fluid and seamless. There is no pinching sensation that you usually experience with standard full body massage chairs. 
The caveat is that this has some learning curve. You will need time to get used to finding the perfect massage option for you. 
iRest 
Like our number two mentions above, this also presents 5 message options and techniques. You can choose from finger pressing, kneading, tapping, tapping, and kneading at the same time. But what sets it apart is that the robot hands can do a full massage, from the neck to the legs. 
It is also hi-tech and makes use of A1 voice controls. So you don't have to press a button or lift a finger to course through the entire session. Simply relay your wishes and requests via voice, that amps up a blissful experience. 
HOMEDICS SHIATSU
If you need something more portable, then this is it. Full-body massage chairs can offer a relaxing whole-body experience. But they can be really heavy and bulky. So once you have placed it in a specific room. There can be no moving. 
So if you need a full-body massage chair that can be removed easily from room to room, This is a great choice. Say you are sharing it with several family members who would also want a self-service massage in their own bedroom, you can easily move it.   
And for a portable massage chair, this is phenomenal. It massages the neck and shoulders, as well as the upper and lower back as the heavier and bulky types can. It also has heating features for better and faster muscle repair and relaxation. 
But keep in mind that this has to be strapped on an existing chair. Also, since it cannot be reclined, it will not offer an anti-gravity massage feature.
As for the program options, it can come with fewer than 3 settings. But for a portable massager, this is already a lot. Also, it offers a kneading shiatsu massage, hence the name. You will not find this feature on all full-body massage chairs.
Svago ZGR
Like HOMEDICS, this also offers a shiatsu-like massage. You now have two options in case you're a fan of this message type. 
It ticks a lot of the things that you may want in a full-body massage chair. It has a heating pad for better relaxation. You will also be able to recline it so you can have the knees placed above the head. This makes for better blood circulation. 
This massage chair also has Bluetooth connectivity. So you can enjoy your favorite music while relaxing. What better way to enjoy a massage than with calming music right?
You can swivel through the massage options via the remote control. You will also be able to adjust the headrest angle. But keep in mind that you will not be able to change the angle between the seat and the back. So if you like to sit upright on occasion, not happening.
This is also a slimmer and sleeker option. But it is quite hefty and durable.
Insignia 3D
This perhaps has the most customizable massage options that a massage chair can offer. It has over 21 combinations of roles, heat therapy, and air pressure. So you can tinker through a lot of combos to find several, not just one treatment, that can give you the perfect technique.
This is actually our luxe pick, it is teeming at the sleeves with the tons of upgrades that it can offer you. But keep in mind that doesn't come at a cheap price. 
The brand claims that this massage chair, and adjusts to your measurement. So you can just sit back and watch it work its magic on your sore and tired muscles. And indeed it did not disappoint. It gave a very dreamy, very customizable type of massage. That's why this comes at a rather hefty price.
Also, it doesn't only massage your sore muscles. It also seems to help align the spine and correct posture. 
Nouhaus Classic Massage Chair with Ottoman
If you want a massage chair but not a bulky exterior, this is a striking option.
We said striking because it is deliciously designed. The aesthetics are impeccable and you will not initially recognize that this is a massage chair. A lot say that it is sexy compared to other massage chairs. And we find this to be true. 
It doesn't look like your standard massage chair at all. You may even be able to use this as a daily seating option. This can also be a great accent in your living room area. It looks futuristic and posh at the same time. It has this modern half-dome shape with a stylish base. Aesthetics-wise, nothing seems to be comparable to it.
Then we dive into the functions. Beyond the stylish chair, can it even deliver? 
This is equipped with 4 robust rollers on a heavy-duty frame to knead tight muscles from your neck to the back of your thighs. You can also choose to make it either fast or more of a percussive tempo for a massage. You can also adjust the head cushion to intensify the neck massage and ensure that your spine is properly aligned. 
Don't forget the Bluetooth speakers that allow you to enjoy your fave sounds while in this dreamy massage chair. 
The caveat is that adjusting the rollers takes some learning curve. You have to be patient to be able to hit the right spot. Also to ensure that you maximize this feature, you should not be taller than 5'11". So shorter and average-sized people will be the ones to maximize the benefits.
Ugears BL1
We head on to more affordable options. This massage chair does not run much of a cost but it also offers zero gravity incline. It has this SL- track massage that can scan and detect the curves of your body. This allows the machine to give you a better and more customized massage, 
You can also enjoy heat treatment through the waist and back. The SL track is longer and can reach from your shoulder blades to the bottom of your butt. But keep in mind that it does not reach your thighs. Thus, the heat feature is just limited to the lower back region, hence the cheaper cost.
But if you are not keen on getting a heat treatment, you'll find the zero gravity massage akin to what the more expensive units offer. 
And another caveat is, though it does not directly affect the quality of the massage, it's more of an inconvenience. When you operate the chair it goes into a default program. And you cannot select a different program or make any changes until it reaches its reclined position. So patience is a virtue here. 
OSAKI TITAN
Another massage chair that can hit the items on your wishlist, is. You get the SL tracking for better spinal alignment. It also has heat treatment for the back area, a 3D massage option, and zero gravity massage.  
The 3-dimensional massage is its prime offering. It's something that its competition may lack. This offers a more sublime and blissful massage. It creates a more human-like touch. So to speak
This is quite heavenly for releasing tension and pressure in the lower back area. So if you are finicky and need a massage chair that can address this area more, then you've got gold here. 
Though a downside is, it can be a bit confusing to navigate through, so there is more of a learning curve and the instructions can be very confusing. This is also larger and heavier. Well, it has to be to squeeze in all those amazing functions in one unit. 
Esright
We picked this massage chair for its spot-on heat and vibration combo that can lull you to deep sleep. You will also be able to enjoy a zero-gravity massage to top it off. But keep in mind that this doesn't have rollers and relies on the vibration for the strokes.
This is also competitively priced, so you don't have to splurge to get one within your budget. We also have this better option for getting better sleep, thus a great choice for troubled sleepers. The vibrations sublimely hit the nerves and joints and just force them to relax so you get a good nap.
But what makes it unique and relaxing can also be a caveat. The lack of foam rollers may not be okay with other people. This might not help you keep your spine aligned all the time. So keep this in mind if you have your eyes on this unit.
But it does make up for the reclining feature, you can recline it as far back as 140 degrees. And the forest supports your legs and feet as you kick back. 
This is also very easy to use, with no learning curve whatsoever.
Insignia Compact
This is a more compact solution for those who have limited space to spare for their relaxation nook. This is petite and can fit in smaller spaces or studios. But as with small equipment, this petite massager might not be comfy for those who are taller, around 6 feet. Heavier people who weigh more than 225 lbs will also not fit into this. 
It may be smaller, but it still has the essential features that you need. It has an S-track to hit pressure points and a cushioned backrest and seat for lumbar support that adjusts to the curves of your body.
It also offers customizable settings so you can choose from 3 massage techniques. It has three target zones too, so you can get those tired and sore muscles treated the right way.
But keep in mind, along with the smaller dimensions, this also lacks a recliner or a zero gravity feature. But given the compactness and the cost, it comes off as fair.  
What to Choose for your Zen Nook
While it's important to get the budget and the dimensions of the massage chairs in check, always pay attention to the extras. Take time to nitty gritty all that the chair offers. This way, you'll be able to make the best comparison if you are torn between two massage chairs. 
If you don't really need tons of functions and programs, then you can go for the more cost-effective ones that have just basic offerings.