If you are in the UK and you are looking for an office chair that can fit your tight budget you must not settle for less. Setting for fewer means having to endure back pains and a bad posture. So is it still possible to feel comfortable even if you are on a budget?
Yes, it is
If you are shopping for a budget gaming chair in the UK, here are functional and decent brands to consider. Take note that these may not offer the works,  but they can suffice. These gaming chairs under 300 are surprisingly comfortable. Provided you're not looking for a gaming chair with the bells and whistles, then you'll be happy with any of our top picks.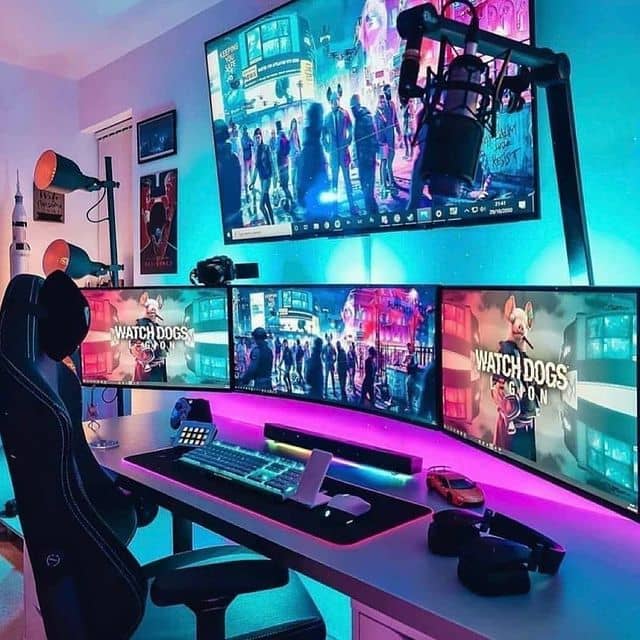 Top 5 Best budget gaming chair in UK (updating…)
GTPLAYER gaming chair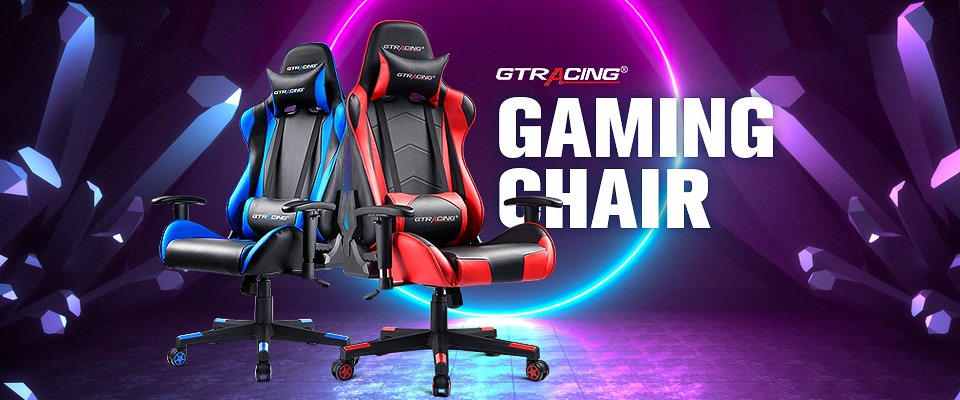 This gaming chair satisfies your need for a bucket seat-style gaming chair that's also comfortable at the same time. And it's also one of the more affordable racer-style seat gaming chairs that do not feel too constricted. This chair is pretty large, both the seat and the backrest. So even if it has a racer seat style, it feels roomy enough for those who are on the larger side.
And of course,  we find the chair durable enough. It can accommodate those who weigh  300 lbs, so this is a big and heavy gaming chair too.  
The cushion is not too thick like you would see in other expensive gaming chairs such as the RESPAWN 110, but it's not too thin or firm either. It is decently comfortable like the DEVOKO gaming chair. And many of our team members find the padding enough to be categorized as comfortable.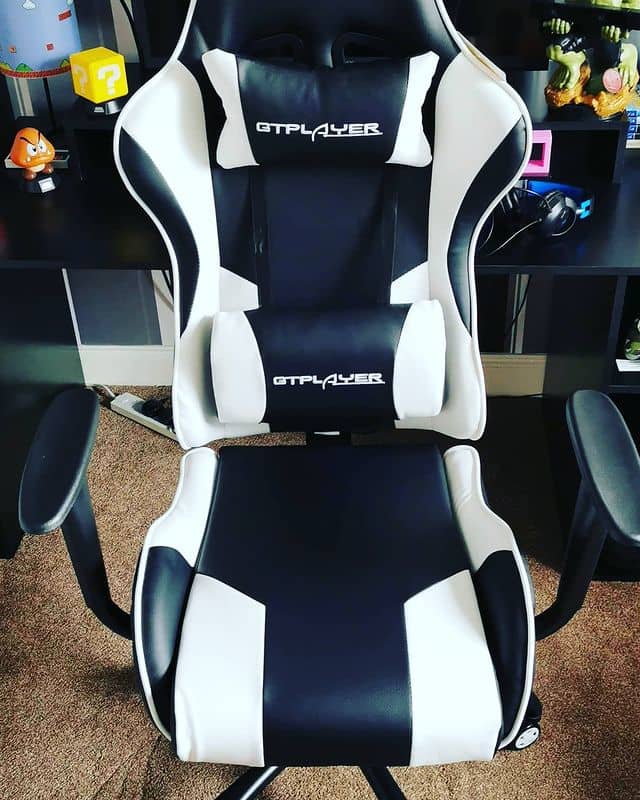 As we have mentioned above, the GTPLAYER gaming chair satisfies the basic needs of a gamer- a roomy, comfortable seat and sufficiently cushioned comfort.  So if you are looking for just these basic comforts, this is the chair for you.
To manage your expectations, here are some of the shortcomings of the GTPLAYER. One, the arms are well, yeah, pretty basic. It just goes up and down. This is not a major concern as other more expensive gaming chairs have the same basic armrests. There are a few gaming chairs with more ergonomic armrests such as The Secret Lab Titan Series. But you have to shell out more money to enjoy these.
Two, it doesn't recline as much. You may be able to push it back a bit though. But if you are looking for a 150 – 180 degree recline, this is not the chair for you. 
And oh, we missed a treat that this chair has in store for you. It does include a foldable footrest that may suffice for the loss of the more adjustable functions. 
Overall, if you're not looking for a gaming chair with all the bells and whistles, a basic functioning one will suffice. And this gaming chair will give you the best value for your purchase.  We also tried using this chair for working, watching movies, and chilling. And it was able to provide a comfortable seating experience. So we also find it rather versatile.
RESPAWN SIDEWINDER gaming chair
Like the GTPLAYER, the RESPAWN SIDEWINDER also has the basic comforts of a gaming chair. Only that it may have a few more features to boot.  
The cushion of the RESPAWN SIDEWINDER is quite thick and cushiony. So if you find the DEVOKO or the GTPLAYER gaming chairs too thin of foam, this is a great option. The foam is gearing towards the plush comfort that you often see in other premium chairs such as RESPAWN 110. Read more: Respawn Gaming Chairs: Which One is the Best & why it's worth your money?
Another nice feature of this gaming chair is that it has adjustable lumbar support. So it is more ergonomic like the DEVKO. So when you combine the lumbar back support and the plush comfort, it will be some kind of seating experience.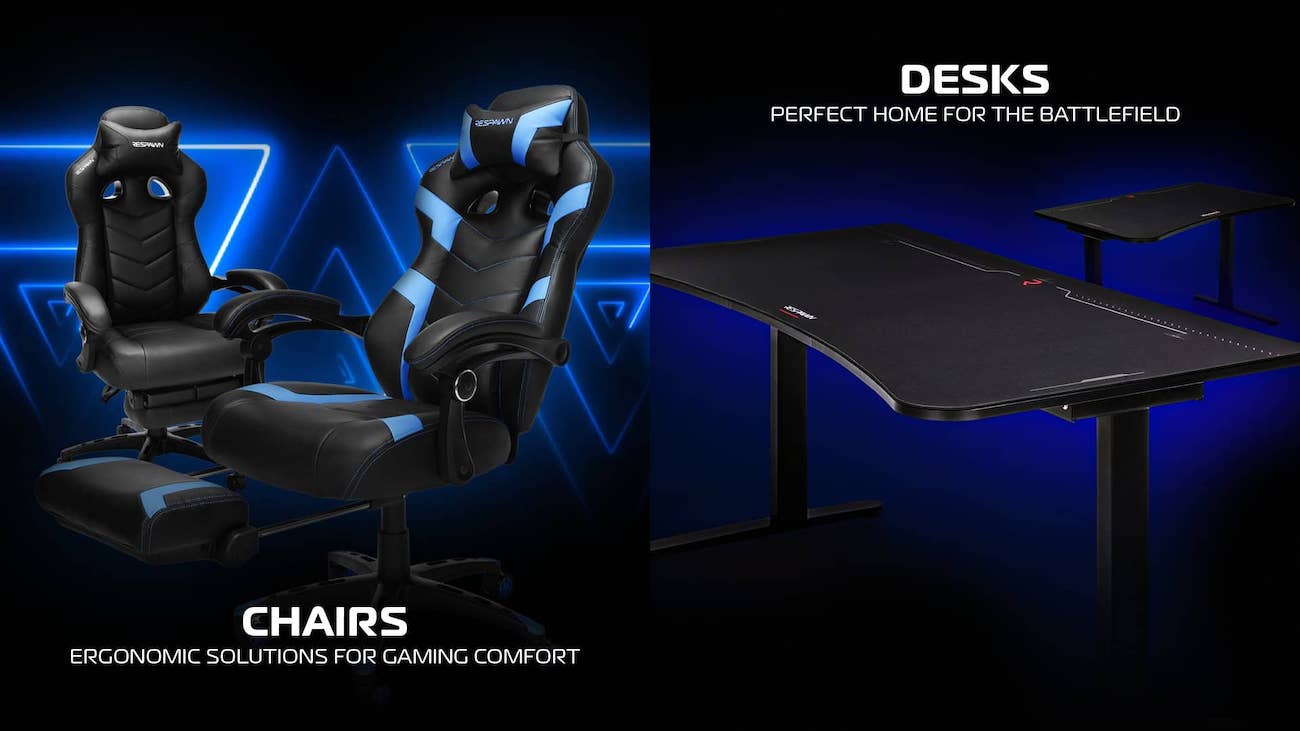 We also love how sturdy it is for a gaming chair, it's pretty solid. We did not feel any wobbling for shaking. 
Also, this chair is suitable for you if you don't want that confining racer seat style. It does not have side bindings and the seat is pretty roomy. So it veers away from the infamous bucket seat style. 
One of our could have been better is the ease of assembly or set up. This chair is quite challenging to put together. Like the GTPLAYER, the screw holes do not line up, so we had to spend time trying to fuse things. 
DEVOKO gaming chair
The DEVOKO gaming chair is one of its kind. Out of the gaming chairs we have listed above, this is the most ergonomic. It's a bit difficult to find an ergonomic gaming chair that has the same price tiering as this one. It costs less than a hundred bucks but you'll be able to enjoy more than just the basics.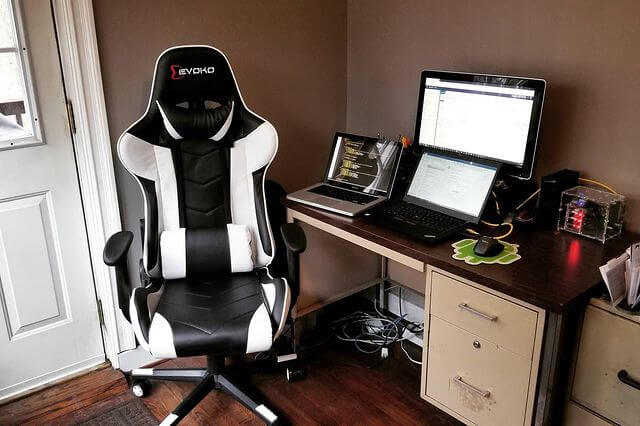 One of the more adjustable features of this gaming chair is the lumbar and neck pillow. You will be able to find a more comfortable spot for longer gaming sessions. Initially, we thought this chair would feel wobbly and flimsy, but we were surprised to have experienced the opposite.
Upon sitting on the chair, it feels decently solid and sturdy. It doesn't feel like a high-end gaming chair. But it doesn't feel like a cheap one either. In terms of durability, it can pass off as a mid-price gaming chair. So you will be able to use it for a couple of years.
And now for the bad bits. One, the armrests are not adjustable, it even has the least adjustable armrest out of the other budget and mid-priced gaming chairs we have tried.
Secondly, the cushion of this gaming chair is not sufficient. It's gearing towards too firm support. So it will not give you that luxe comfort that most gamers are into
Also, we find this chair quite troublesome to assemble. It's because the screw holes aren't lined up.
Overall, this is a great option if you want to veer away from the plush comfort of thickly cushioned gaming chairs. And if you want to have better lumbar support while you are playing for longer hours, you'll be happy with this chair.  
Despite the shortcomings of this chair, we actually cannot complain much. It offers more than the basics. The lumbar support and decent build and construction are what sold us.
OFM gaming chair
And for our light-duty option, we have picked the OFM gaming chair. This is perfect for those lightweight to average-weight gamers.
What also sets it apart from the other chairs on our list is that it uses a combination of PU leather and mesh material. And this makes this chair more breathable.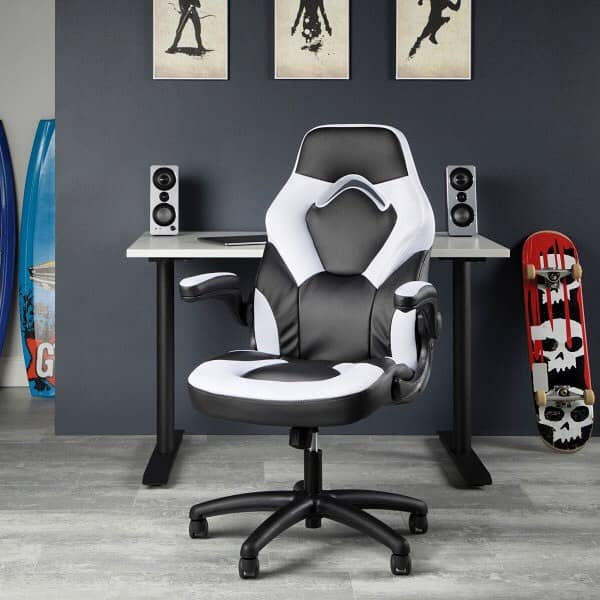 Most people have a love-hate relationship with the flip-up armrests. Flip armrests are not adjustable. So either it fits you or it does not. But if you fit into the chair. you'll find the flip-up armrests rather convenient. Just stow it up and you can easily get out of the chair.  The armrests are also cushy like the seat and the backrest.
So we instantly felt comfortable when we sat on this chair. And even for several hours, it still felt comfortable. And because it has a mesh material, It did not feel too hot. 
One of our complaints was that the chair seemed to be done in a hurry. There were loose ends and the stitching was rather bad.  So in terms of aesthetics, it's not the best. The loose stitches made it look unpleasant. 
Though compared to the other gaming chairs above, this is the easiest to assemble. It only took us less than 30 minutes. 
Overall, with its 250 lbs weight capacity, this is perfect for light to moderately sized gamers. And if you love a cushioned comfort but don't mind the flip-up armrests, then this is a great option. 
RESPAWN RSP 800
This RESPAWN RSP 800 is the best if you're playing on your console. It allows you to get lower and closer to the display. This gaming chair is also referred to as a rocker. So it has a stationary trumpet-style base, but it still swivels to 360 degrees.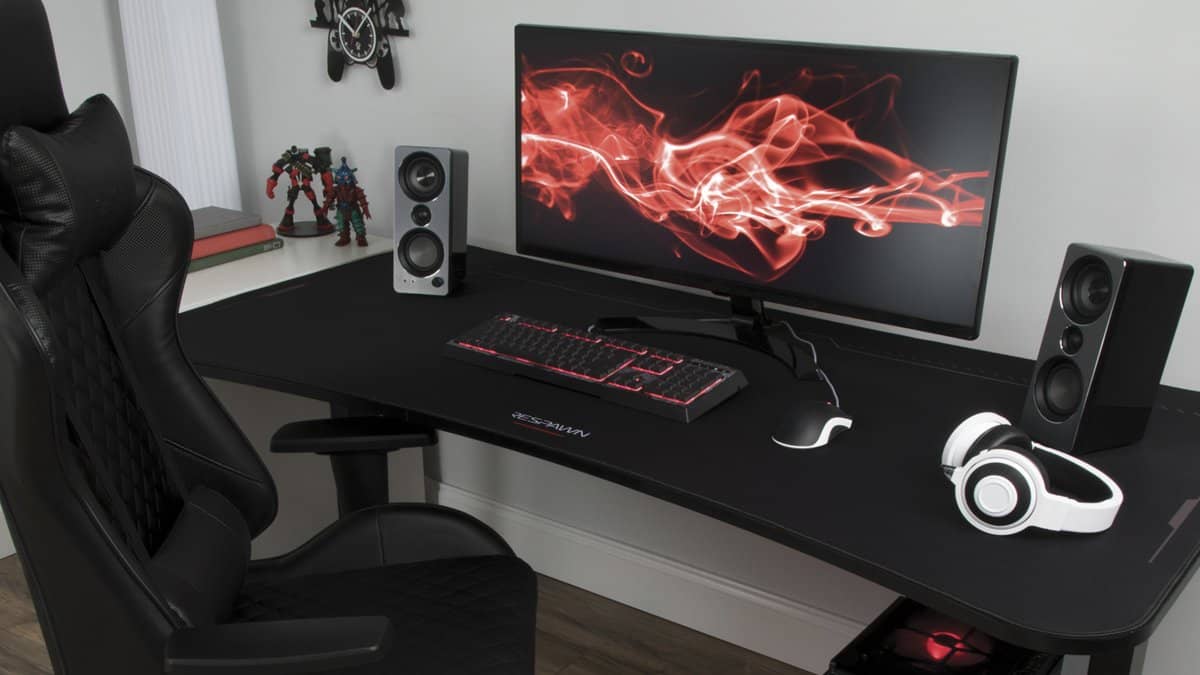 We also find this a great pick if you are looking for a different type of gaming chair.  As odd as it may look, we love how comfortable it is. Though it's not as ergonomic as the other brands on our list, this allows you to rock to your heart's desire. That's why it's called a rocker. 
And we also find the foam cushy and comfortable. The seat and backrest are also thickly padded. So if you want a luxe retreat while gaming, this chair will not disappoint you.
And here are some shortcomings though. The armrests are not ergonomic, it's a flip-up address so it either fits you or it doesn't. 
It also has a footrest, but we find it too loud and clunky when we taking it out. It sounds a bit irritating. You also have to use a bit of force to put the footrest back into its position. So even if the footrest can make you comfier, it kind of defeats the purpose. 
Things to consider when choosing a budget office Gaming chair in the UK
We are going to jot down several things on what you have to consider when buying a budget office gaming chair. A budget office chair doesn't necessarily have to lead to back pain. And it should also be not just for settling. So read the guide below.
What to look for when buying an office chair with a cheap price (if you're living in the UK)
A cheap price does not necessarily mean a cheap and poorly constructed office chair. There are "you get what you pay for" chairs. But some are worth the value for your money. 
So the next time you're going to buy a budget office chair, here are some things to consider.
1) How tall is your desk or how tall are you?
There are several budget ergonomic office chairs. But one of the limitations of chairs of this range is that they can have fewer height adjustments. Thus, it's either it can't go high enough for you or low enough for you. 
Also, it should be able to support your entire back. So if you're taller, a high back office chair will work for you the most. 
It's important to determine the height of your desk. You can still find a suitable cheap office chair that's sturdy and functional. But it's rare for these office chairs to have all the features that you're looking for, considering the cheaper price tag. 
Example – Mesh back chair from Symply Stuff 
This office chair will be able to accommodate those who are taller. This mesh chair can completely support your back. Also, it has a great recline function so you can take a breather from a full day's work.  

2. Does it have decent lumbar support?
You really can't expect a budget chair to have superb lumbar support as an Aeron or an intuitive Freedom chair. But it doesn't have to be something that will break your back. Albeit the affordable price tag, it should still be able to give you at least decent back support. 
Example 2 – Yaheetech mesh chair
It offers comfortable lumbar support. Though it's not plush comfort, it feels supportive on the back. It also features a reclining option and it can swivel, so that's cherry on your ice cream.
Example 3 – COMHOMA office chair
The COMHOMA office chair lets you choose between two lumbar options. So yes, it is one of the more ergonomic budget options units that you can see in the market. 
3. What are the style and overall aesthetics?
You'd be surprised that several budget office chairs can give other mid-range or expensive chairs a run for their money. But do take note that the overall comfort of the chair should not be sacrificed for beauty.
Example 4 – COMHOMA office desk chair
This chair looks sleek and sultry. It doesn't only look posh, it is rather comfortable too. The arms are thickly padded as well as the seat. So your bum will be in for a treat. As for the lumbar support, it has this nice curved backrest that gives sufficient back support. And it's also two-way adjustable. This office chair is a great choice if you're looking for something that can offer a comfortable seating solution. Plus it has the looks to boot.
Example 5 – Euco office chair
This faux white leather office chair looks rather small, but it makes up for its personality. It lacks adjustable features and only the seat height can be changed. So it's either you fit in this chair or you don't. But if you do, it is decently comfortable. And this is more of a task or desk chair so this is not ideal for working long hours. But this can suffice for short meetings and brainstorming sessions. And this will make[your office look cool and hip. 
4. Are there enough adjustable features?
When buying budget chairs, you can't expect them to have bells and whistles. But you do not always have to sacrifice adjustable ergonomic features for the price. For instance, affordable office chairs such as the Euco and the Himola velvet chair may look posh and classy, but they lack adjustable features.
So it's very important to see what features a budget chair offers, especially if you have a particular need. Sometimes, you don't need everything to be adjustable for a chair to be comfortable.
Example 6 – Alvar Faux leather office chair
It can tilt, swivel and it has an adjustable seat height. It also offers comfortable seating because of the thick lush padding. It has several adjustable options, though the lumbar support is not pronounced, but decent enough. 
Example 7 – COMHOMA office chair
Not only is this chair sleek and classy, but this can also give you great value for your money. It's comfortable. And it combines a mesh backrest and a padded seat. The mesh material is not too firm nor too soft, it just sits in between. And the seat is thickly padded so it can offer more comfort for your tush.
This office chair can also tilt and swivel. And it offers a decent range of seat height adjustments. And among our other options. This offers adjustable lumbar support. Though it's not much as what you'd see in an Aeron chair or Steelcase unit, you still get to choose between two lumbar support height settings.  
Example 8 – SIHOO M18 gaming chair
Sitting at less than 200 pounds, this SIHOO office chair has a decent number of adjustable ergonomic features. It even has adjustable features similar to midrange and some expensive office chairs.
It might even tick most of the items on your list. It can recline, swivel has a seat height adjustment range, and has adjustable lumbar support. And did we mention that it also has a headrest that you can adjust as well? So you're pretty much looking at an almost complete package.
5. How many hours a day will you be working on the desk?
This is perhaps and maybe the deciding factor on which budget office chair you'll choose. 
To determine if you're going to work for 1-2 hours, 3-4 hours, or for the longer duration of the day. If you're going to work for more than 6 hours, a lovely task chair may not offer a comfortable seating solution even with an adjustable seat height.
If you're going to work on your desk for more than 8 horses, you'll surely need to find one that has at least several ergonomic features. 
Example 9 – SIHOO M18's -best for long hours
This is M18'S second time on our list. And it's no wonder because this has more ergonomic features than any other office chair that we have recommended above. So it can offer a more comfortable seating solution if you're going to work longer. And the combination of the mesh backrest and cushioned seat can give you a more balanced experience,
Example 10 – The Life Carver mesh chair – best for 1-2 hours
This office slash task chair retails for less than 50 pounds. This is a sleek mesh chair that you can buy with or without the arms. One of the things that you can adjust is the height of the chair. All the parts are pretty much fixed. But it does offer a nice seat and back support if you're going to use it for just a few hours. Longer than that, you might need to stand up once in a while. 
Final Say
So if you're wondering if a budget option office chair can be comfortable, yes it is. And buying budget chairs does not mean that you have to settle for anything less. We have listed several options that will fit your requirement. Whether you're looking to use the chair for a few hours or the entire day, you'll find these units rather comfortable.  
The key is to know what is your priority. Since it is uncommon to find a budget office chair that can give you all the things and features you need, you sometimes have to identify your main concern.