Working efficiently is important to all of us. Getting down to business is almost impossible when you have a million distractions. At your home office, you have your mailman or dogs barking. At work, you deal with phone calls and other employees walking in. 
That is tough enough and you don't need your chair to be one more issue. Otherwise, all that work could leave you reaching for the aspirin. 
That's why finding the right high-back office chair can help you get down to business and back to your family again. 
You've come to the right place! You can use this guide to learn more about Wayfair's high-back office chairs and what different options you have when shopping.
This will help you look for high-back office chairs to make work more efficient and provide ergonomic support for your body.
Wayfair has a number of styles, from traditional options to modern masterpieces for your workspace, but here are the top 3 picks: Cyrus Executive Chair by Serta at Home; Heinrike Caressoft Plus Conference Chair by Comm Office and XL Ergonomic Mesh Task Chair by Symple Stuff
These three high-back office chairs vary in appearance, specifications, features, price point, color availability, and etc. and we'll discuss each chair to help you decide what the best pick is for you. 
CYRUS EXECUTIVE CHAIR
Enhance the look of your home office or workstation decor with the Serta at Home's Cyrus Executive Office Chair. This office chair has a modern design that makes it suitable for different types of office spaces. 
Where to buy:
If you work from home and you need a chair that you can sit in for multiple videos and phone calls throughout your 8-hour workday and you don't want anything too fancy, then Cyrus can be your answer.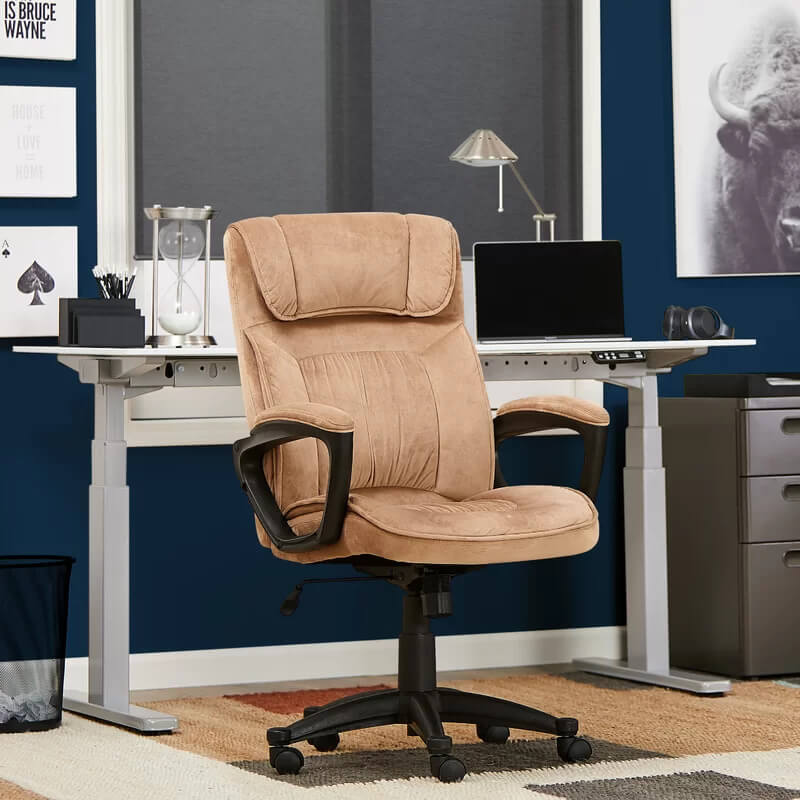 Many have bought this chair with comfort in their minds, but what surprised them is it's even more comfortable than it actually looks online. The lumbar support provided by this office chair makes it ideal for people with back issues. It even eases arthritic back pain. Amazing! 
To highlight its other ergonomic factors, its armrest and headrest are beautifully sculpted with a contoured shape and padded cushion, giving your head, neck, and arms the support through a long workday.
Of course, it is not only those body parts that need the support and thus, the body pillows used in the chair contain deep-layered foam for added comfort. 
This chair, among the three, is the most affordable. It is under 150 buck and has the vibrant color of Beige/Black. It is available in nine elegant finishes that improves overall aesthetic appeal, but do note that the Black, Glacial Gray, and Fawn Tan colors come in different prices. Light Gray, Ivory, Beige, Blue, and Gray are currently not in stock. 
Check out Cyrus Executive Office Chair's height, weight, and other dimensions.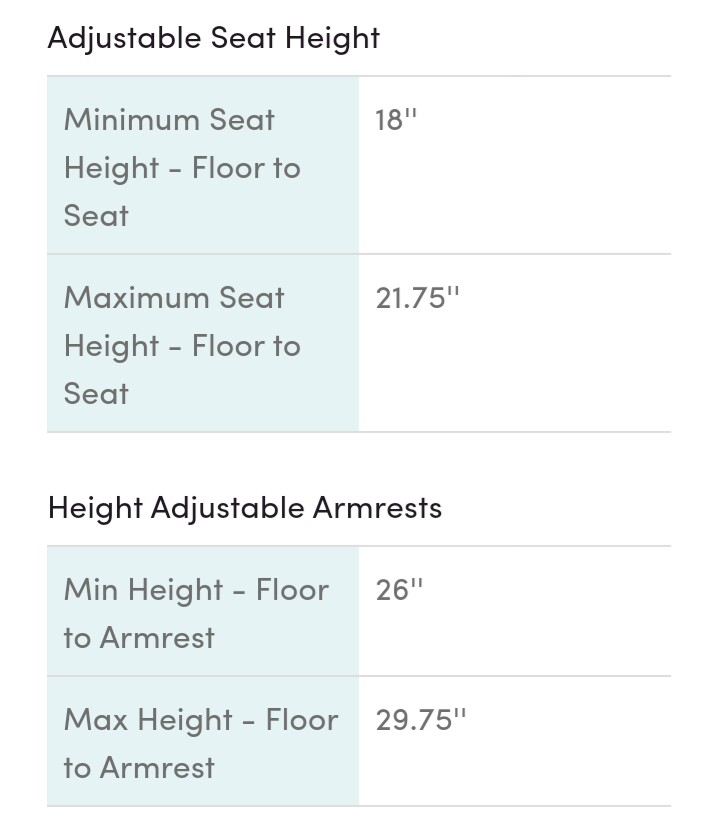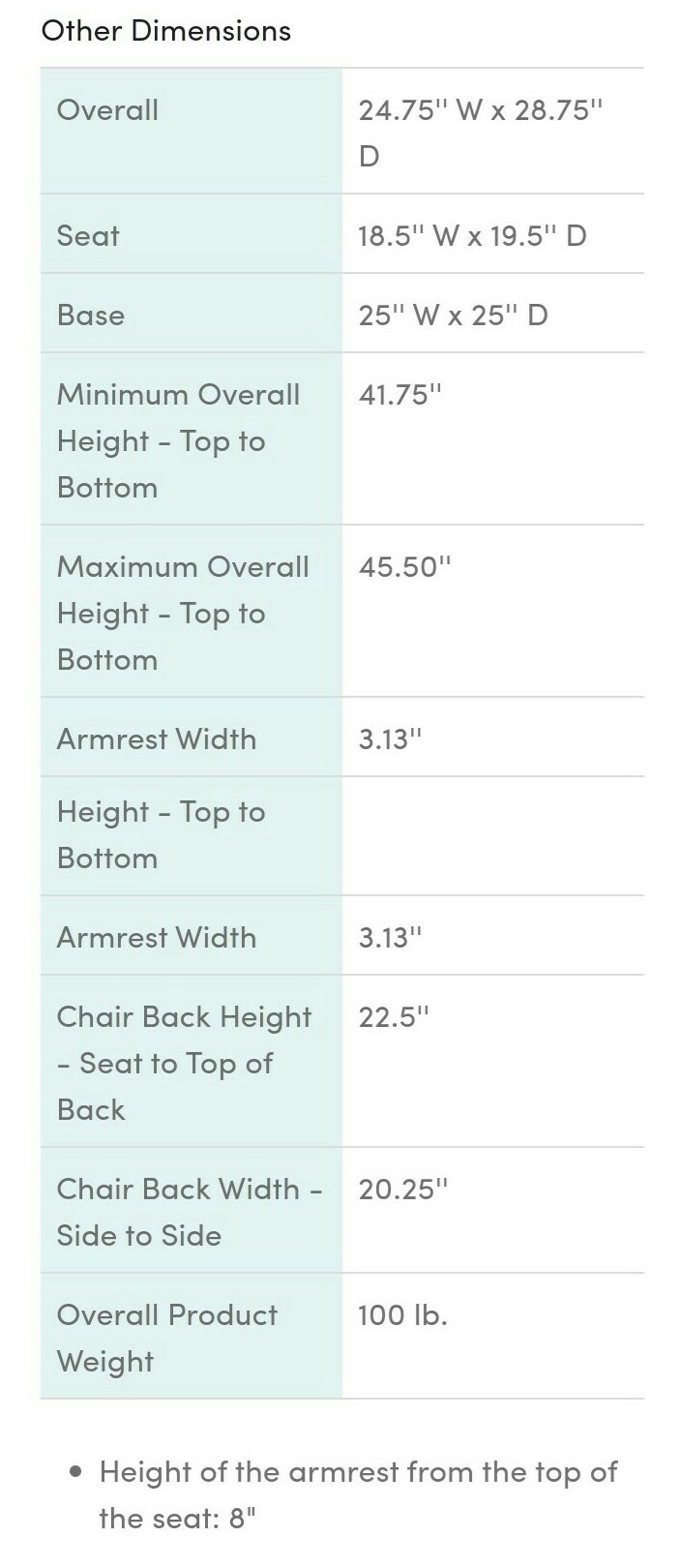 For the comfort and convenience of the users, the height of the chair can be easily adjusted. 
Convenient easy-to-reach controls are made available for ergonomic comfort. 
The legs of the chair are equipped with casters that ensure the mobility of the chair. These casters are ideally suited for hard floors to ensure easy mobility. 
The ergonomic design of the waterfall seat edge offers comfortable relief, preventing pressure to your back and legs. This increases circulation and reduces fatigue, helping to boost productivity.
We've heard great things. Now, let's talk about the few issues that verified customers experienced. 
It claims that you can easily wipe the chair off with a cloth for convenience in cleaning, but that isn't true. With its material, it would definitely stain. 
Also, the arms don't hold as high up and to some customers, this seems to be a downfall.
To some, assembly was relatively easy. Even a 70-year old woman was able to put it together by herself! There were also some who struggled a bit with the assembly, especially with the arms. It even required two people. 
HEINRIKE CARESSOFT PLUS CONFERENCE CHAIR
Get to work in your office with confidence in this contemporary executive chair.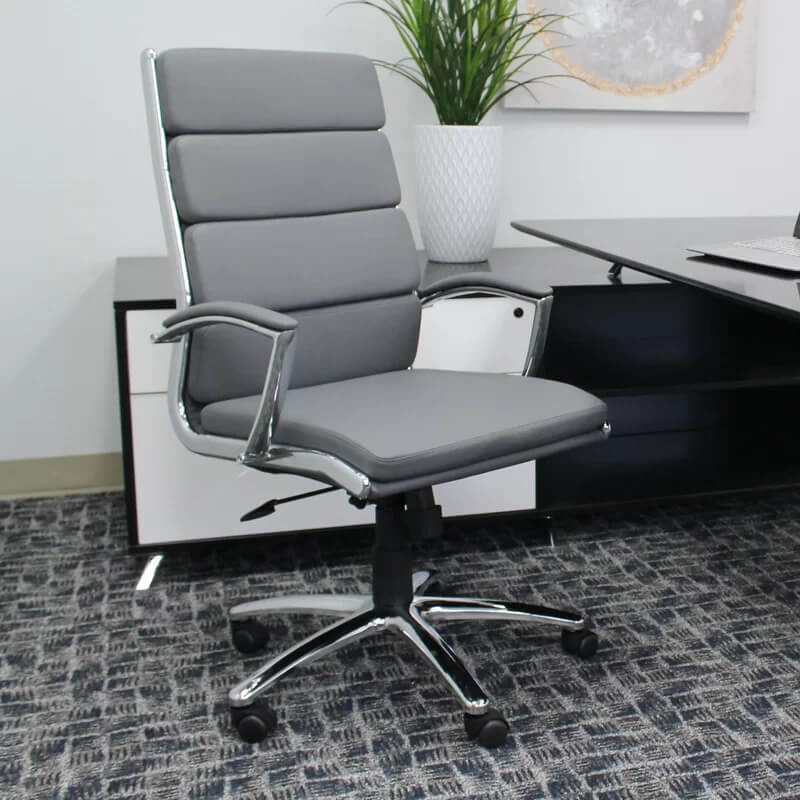 Where to buy this chair
Heinrike has three colors available – black, gray, and white – and unlike Cyrus, its price is the same no matter the color you choose. It is only $213.35. Plus, it is true to its picture! 
Not only that this chair is still at a great price, but it is also heavy duty and really comfortable, as the leather is soft. Yes, cushioning may appear thin at first glance, but it's true that looks can be deceiving. Heinrike is super soft and molds perfectly to your back.
The chair has two fixed pillow-top arms, giving your elbows rest while you are clicking away on your keyboard. It features four individual back cushions and a wide seat cushion with a waterfall edge, the ergonomically-designed seat is upholstered in "Caressoft Plus" – a soft and breathable material that has the look and feel of top-grain leather with the low maintenance and durability of vinyl. 
It also does not stain easily, so no need to worry about your denim jeans transferring to the chair material. That does not stand as an issue. 
Check out Heinrike Caressoft Plus Conference Chair's height, weight, and other dimensions.

Heinrike has better dimensions than Cyrus. Comparatively speaking, the former has better numbers when it comes to armrest height, back chair height, seat height, seat size, and weight capacity. 
Its tilt control, pneumatic height adjustment, and hooded caster wheels offer effortless mobility and customized comfort.
When it comes to its assembly, the only tool that is required is the provided Allen wrench to attach the arms. Everything else slid right into place! You can simply do it in five minutes.
Now, let's talk about the few issues that verified customers experienced. 
There were complaints about its armrests needing more padding and for it to be a bit wider. Would you believe that you can sometimes feel the mounting screws through the padded armrests of the chair? 
XL ERGONOMIC MESH TASK CHAIR
Whether you're responding to emails, evaluating reports, or brainstorming with colleagues, this XL Ergonomic Mesh Executive Chair provides not only sleek, professional style, but also sophisticated support for all-day comfort.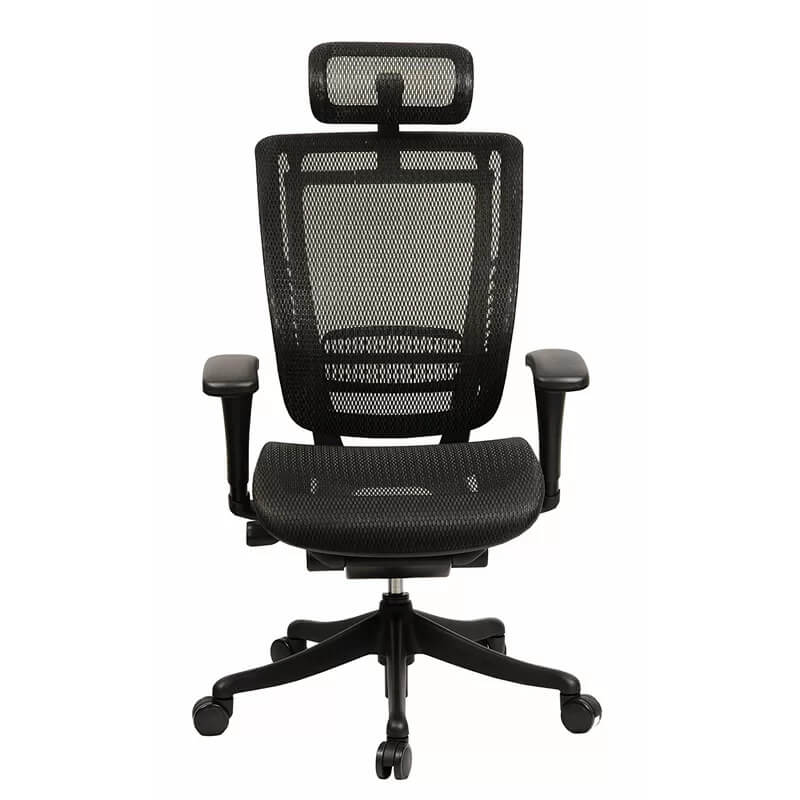 Where to buy this chair
When the mesh chairs were introduced to the market, it aimed to revolutionize change in office furniture. It has been extremely popular over time. This mesh chair is definitely unique; from its original styling, to the way you feel when you sit.
There are mesh seats with pads, but this one is simply stretched across a chair frame on the seat and back.
This chair is upholstered with a soft mesh and softer mesh means more comfort for you, giving you the feeling of floating. It will feel smoother and will expand further which can create a more comfortable sit.
Because of the mesh, it is an open structure that facilitates ventilation. It brings a lot of relaxation and comfort to you who has to spend a lot of time sitting in a day. It allows air circulation between the body and the chair seat and back, so you have no room for becoming hot and sweaty. Whereas, the fabric and the leather chairs create a lot of heat accumulation when used for a longer time period. The mesh chairs give a lot of free space and free flow air and thus, helping the skin breathe.
What's so striking about this chair out of the three options would be its lumbar support. The two chairs also had such support, but this one's adjustable. 
This XL Ergonomic Mesh Executive Chair doesn't actually pose bigger numbers than the Heinrike, as both are almost identical when it comes to dimensions. What's impressive with this chair is that it has a weight capacity of 300 pounds! Wow! 
Also, mesh chairs are expected to be lightweight. This chair is only 65 pounds and such is far lighter than the Cyrus' 100 pounds! They are much easier to lift and move around, but do take note that the Heinrike is the lightest with only 41 pounds of overall weight. 
This type of chair is also very easy for cleaning spills and stains. You just grab a spray and piece of cloth and you're already good to go. 
How about the drawbacks? It's time to get into that. 
What happens with the mesh of this chair is it stretches and contracts, which will then eventually sag. As a result, you would need to replace the seat or whole chair.
Yes, it is very supportive and flexible and can easily conform based on the body contours, but it is not something very comfortable as an office chair when used for a longer time.
It is said that the company Symple Stuff provides everyday solutions while sticking to a budget that's accessible for all and that mesh chairs as this aren't as expensive as the leather ones, but this chair, among the three, belongs to the higher price point. 
WHICH ONE TO GO FOR? 
When buying an ergonomic office chair, there is a list of factors you consider and as a user, you'll be the one to identify which among it will be your top priority. 
If you're all for practicality, then you can choose between the Cyrus and Heinrike.
You can also distinguish the type – cloth, leather, or mesh. When it comes to the most comfortable, that's actually your preference irrespective of what it is made of. 
If you're closely looking into the chair's dimensions, you can either go for Heinrike or XL. 
The chair's features are also one that you should study on. 
If there must be one option, overall, best to go for Heinrike. It is designed to have the commonly seeked features with dimensions that cater various heights, weights, and sizes. It isn't too expensive, but it sure is an investment because of its modern appearance and heavy duty functionality.