The DRAGONN kneeling chair with back support looks like a promising unit. 
We are not really fans of kneeling chairs since it does have a couple of limitations, no matter how good the brand is. But this can be a useful tool to get you started on strengthening those core muscles.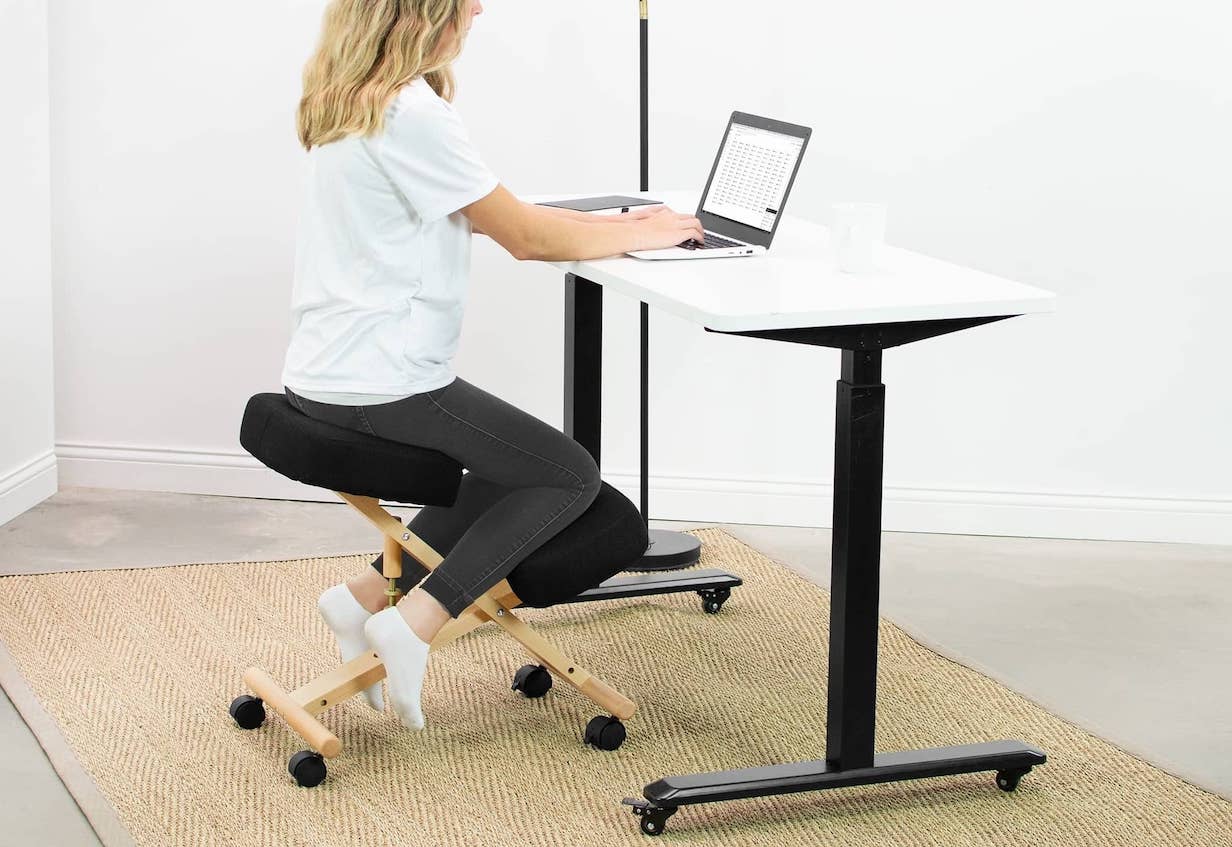 So if you want to venture into active sitting, then it's worth a try.
So let's see what the DRAGONN kneeling chair can offer and if the backrest makes it any different. 
Solid, cushy, and a comfortable kneeling chair…but
At first encounter, you will not find anything flimsy with this DRAGONN kneeling chair. The construction seems solid, it holds itself pretty well, when we tried to rock forcefully, it did not budge.
And the 4-inch cushion also seems quality, it doesn't seem the type of cushion to flatten it easily. And since you'll have your entire weight distributed between your hips, tush, and knees, the cushion of the seat and knee pads is also a very important factor to consider when shopping for kneeling chairs. 
And this is one brand that can provide comfort for your knees, even those with more bony appendages. Trust us, it will not poke through the material, pun intended. 
But despite the cushy and very comfortable knee pad and cushion, it does have a couple of limitations, like all kneeling chairs.
It is a highly ergonomic kneeling chair but for petite users only
It is quite challenging to find kneeling chairs that can offer the same ergonomics and adjustability such as the DRAGONN kneeling chair. 
Though you will not be able to adjust the knee pads, the seat height has a pretty wider range compared to other kneeling chairs we have come across. It's a bit similar to the range of a SLEEKFORM kneeling chair, only higher by a few inches. 
But kneeling chairs are notorious for not being able to accommodate taller and heavier users, and this particular unit, though solid and robust, is not an exception.
This is by far the greatest and most common limitation of kneeling chairs no matter how comfy the padding is. Most, we reckon, 95 percent or even higher, can not accommodate the needs of taller dudes.  
There are several reasons why we recommend this for petite users only even if the chair can go high enough for users with average height. Let's dive into each one by one.
The incline gets stepper as the chair reached its max setting
The seat can be adjusted between 21 to 29 inches. So it can go low enough for petite users who stand 5'0"- 5'3". 
If you can see the height range of the DRAGONN kneeling chair, it can still go high enough for users with average height, for as long as you are less than 6 feet. But the problem lies with the angle or tilt of the chair.
When you switch the chair to the highest setting, you will not be able to change the angle of the kneepads. So expect the angle and incline to be a bit stepper. And we did not feel like this was something most peel will find comfortable. It's just way too steep. And it feels like you're being pushed too forward. 
Then there's the back support. When the chair is used at the lowest setting or mid-range setting, you'd love the back support. 
But when used at the highest setting, you'd wish it didn't have the back support at all. Because apart from the incline getting steeper, the back support also pushes you to an upright position. So it felt like your back is being sandwiched to assume an upright posture, 
When used just for an hour, this can still create too much pressure, particularly on the lumbar. The gap between the lumbar and the upper back got more hollow since it is being overextended. Thus, it felt more like a workout. And this, my friend, can lead to back pain or soreness because your back is hyperextended. 
The chair has a lower weight capacity and smaller dimensions
Don't get us wrong, we love the build and the construction of this kneeling chair. It's one of those units that does not creak or wiggle when sat on. But like most kneeling chair brands, it does have a lower weight capacity of 250 lbs. 
And the dimension of the chair does not seem like it can sit anyone heavier, especially those who have chunky legs. Remember, you will not be able to change the setting of the knee pads. 
So if you have chubbier legs or a chunkier lower torso, you will find it very difficult to squeeze yourself in this kneeling chair. Or you will be able to but you will need extra help to get out of the chair. It might feel like you're taking off very tight jeans.  
The backrest is a nice addition, but it can only go as far when it comes to comfort
The backrest does add a bit of value when it comes to comfort. This additional feature makes it easier, even for beginners to get used to active sitting. Remember it's natural to feel a bit of pain and soreness if it's your first time using a kneeling chair. 
And a backrest sort of makes the break-in period more acceptable, faster, and less sore. So yes, the S-shaped back support does offer an extra layer of comfort.
But as we have mentioned in one of the sections above, it can only go as far as comfort is concerned. Because when used at the highest setting it can push you to move forward and increase the already steep incline.
And one more thing to love as a side note, the lockable caster wheels add up to the convenience. You can easily bring this chair to the next room without any help. 
But hold your horses, the steep incline can be an advantage
So overall, the DRAGONN kneeling chair is comfortable for those who are petite and those with skinny to average body dimensions.
But surprisingly, there is a silver lining when it comes to the steep incline. 
This steep incline may be usable for those who are using a standing desk. You can use the kneeling chair at the highest setting as a resting nook when you're transitioning from standing to sitting. 
You will not really be seated when you're using the DRAGONN kneeling chair at its max height, it's more of a semi-sitting position, which is a nice getaway from standing desks.
And one more thing, this chair doesn't take a snap to adjust. You will have to rotate the knob several times to be able to get the chair to its highest setting. And not everybody has the day to do this every single time. So it's best used by one person only who doesn't need to change the height of the chair every so often.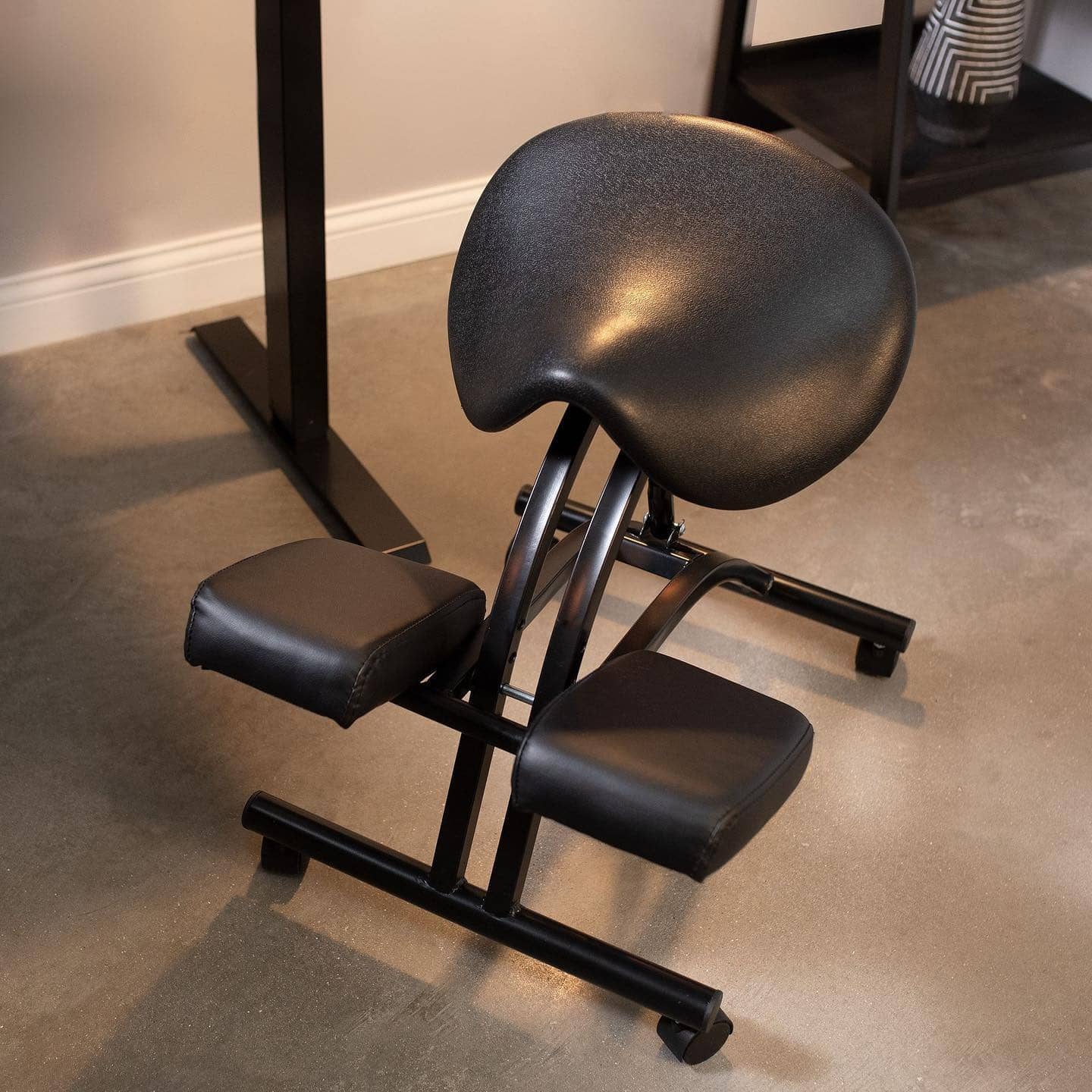 So is it worth it
DRAGONN kneeling chair with back support still has almost the same limitations as with other kneeling chairs, but it is more ergonomic since it has an adjustable seat So even if it doesn't have a special feature like that nice rocking motions of a Varier kneeling chair, it does offer back support. So it's still better than stationary kneeling chairs with no knobs for adjustment.
Also, it can be a great tool for you to practice active sitting, but for petite users only. It's also a great transition when you're using standing desks. Both petite and average size users can find it comfy as a transitioning seat.
And the backrest also makes it friendlier for petite beginners. Just don't wear anything silky or slippery as you might slide off the cushion.