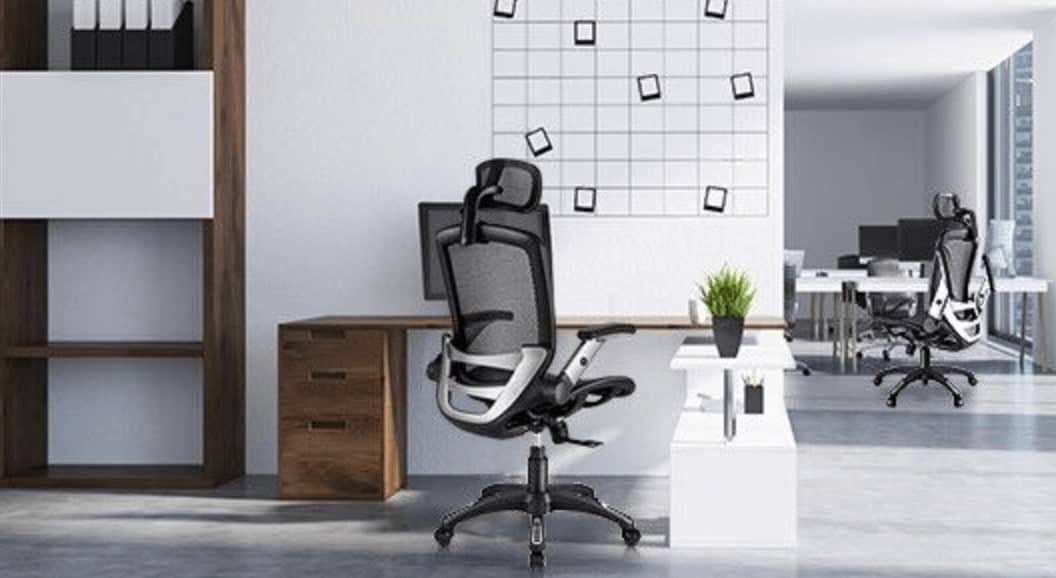 The Gabrylly ergonomic mesh chair has been coined as one of the best office chairs that you can get for under 300. So before we say yes, we had to test it ourselves. Because you know, a cheap office chair is a good thing. But you have to make sure you can sit it on comfortably for at least several hours. Otherwise, no matter how affordable it is, you will not be able to use it. 
So here is what we have discovered.
It's a sleek all mesh chair
If you are a fan of mesh chairs, you'll instantly fall in love at first sight with this Gabrylly office chair. It's a full-on mesh chair. And it's also being tagged as a cheap alternative to the Herman Miller Aeron. But is it really? 
Well, when a chair is being pitted against an iconic Aeron chair, there must be something to it, right? Gabrylly looks decently charming. It's not oh so stunning as a Herman Miller Sayl or the backrest of an Embody, but the all-mesh material doesn't look too cheap or shabby.
It's sleek enough to not eat up a lot of space in your home office. The color combination of black and metallic gray at the back of the chair on the lumbar part gives the chair a distinction. It looks rather pleasing to the eyes. And of course, all mesh means more breathable and cooler. So you will not mind sitting on it for several hours.
This office chair is stable and strong
From the base, the wheels, and up to the back of the ergonomic chair, it seems pretty strong and robust. Also, it doesn't have many screws. For most parts of the chair, you just need to pop them in place. And it's still amazing how it can hold itself pretty well. 
The weight capacity is 280 lbs. and it can best seat those who stands 5'5" to 6'2". So we'd say it has a fairly sturdy base too. The chair may look sleek and thin, but it doesn't feel weak or flimsy. It doesn't feel that it can break apart at any moment, considering that there are only a few screwed-on parts.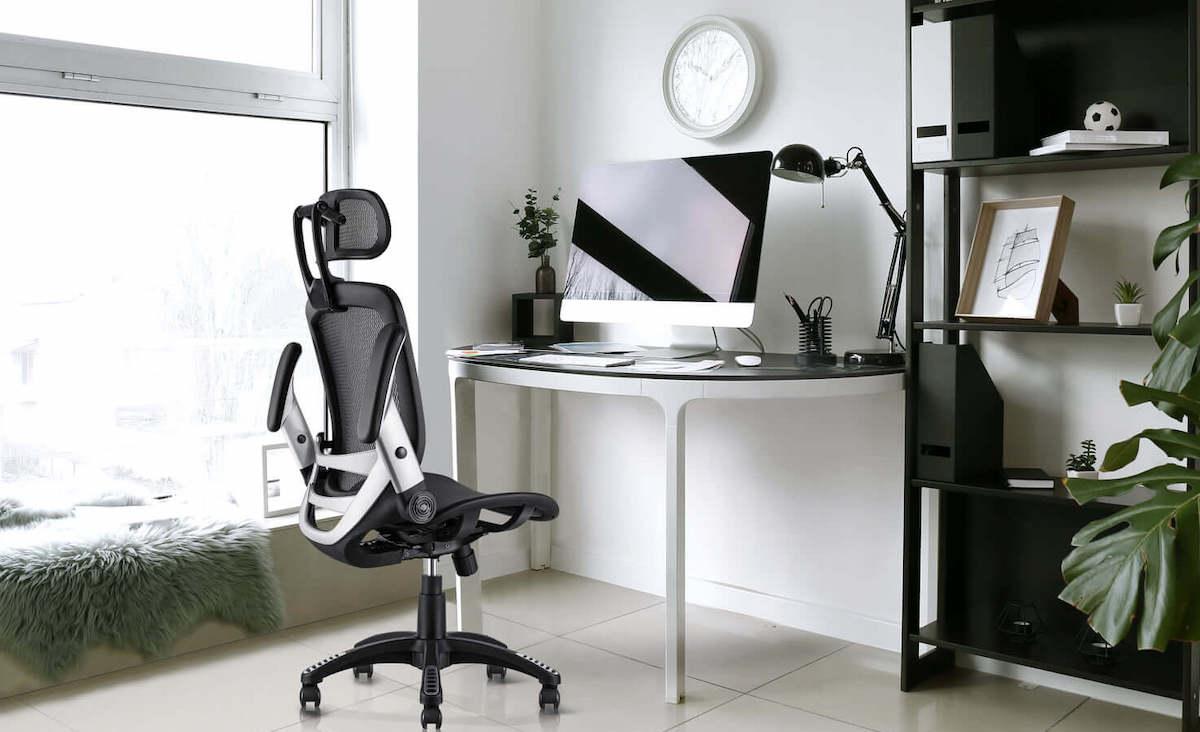 And the setup is one of the fastest and easiest we have encountered. It took us less than 5 minutes to put this chair together. It's rather straightforward and intuitive, you don't really have much use of the manual.
The mesh material is also very strong. It offers full sport for your body, so we were also surprised at how good it can hold up. It's easy to find the sweet spot of comfort.
Great neck support
Apart from the all-mesh material, this is perhaps the strongest selling point of the Gabrylly chair. The neck rest works well. It's not like an add-on feature that you can do without. It is easy to adjust too. All you just have to do is to turn the knob to control how forward you want your head to be pushed. 
But here's the thing. We mentioned above that it sits perfectly for those who stand up t 6'2". So if you are taller, you might not be able to maximize the neck rest. Yes, you can still find it useful if you will lay your neck all the way back and push yourself further into the chair. But this isn't a position that you can hold comfortably for several hours.
It has several ergonomic features
Apart from the neck rest, the chair also features an adjustable seat height, a tilt function, and lumbar support. The chair can be a bit limited when it comes to the scope of users since it won't be able to sit those who are taller. And though there is a tilt function, it seems kind of weird and off sometimes. 
You can lock the tilt in position, but only on certain points. So it will feel a bit limited. Either you fit onto that or not. 
The armrests are also adjustable and can also be folded. Though the arm can only be moved up and down, you also have an option to remove it altogether. This is perhaps one unique feature of an office chair. We have not encountered a lot that has both height adjustable and foldable arms. So this came as a surprise and a treat.
Next in line, the lumbar support and seat depth are stationary. Though the lumbar support feels great for most users, you will not be able to customize it. And some members of our team find the seat pan too shallow. It did feel like there's a huge hollow that you have to fill up. We reckon those petite users or who stand lower than 5"5" will likely encounter this issue.
Another feature that we love is the quiet PU caster wheels. These wheels are very meek and will not squeak or cause any friction with your hardwood floors. It slides smoothly like butter on warm toast.
Gabrylly Ergonomic Mesh Office Chair review – OVERALL
This is a comfortable chair for average size users(5'5" to 6"2'). And among all the other affordable full mesh chairs, it has a larger seat. It can fully support your entire body. And when coupled with the robust construction, it can be really comfy for long hours. 

Though the lumbar support isn't adjustable, it does not feel too forced or too aggressive like that of the Aeron. So it can still provide good support for your lower back.

The arms are a surprise. It offers more customization despite being only 2 way adjustable. You have an option to use the chair armless.

While the neck rest is great, the chair isn't for the tall and heavy. It's decently strong with an above-average weight capacity. But it will not be able to accommodate those who are heavier and those who are taller than 6'2"

We wished that the tilt could be lockable in all positions. This could have made the chair more comfortable for most users.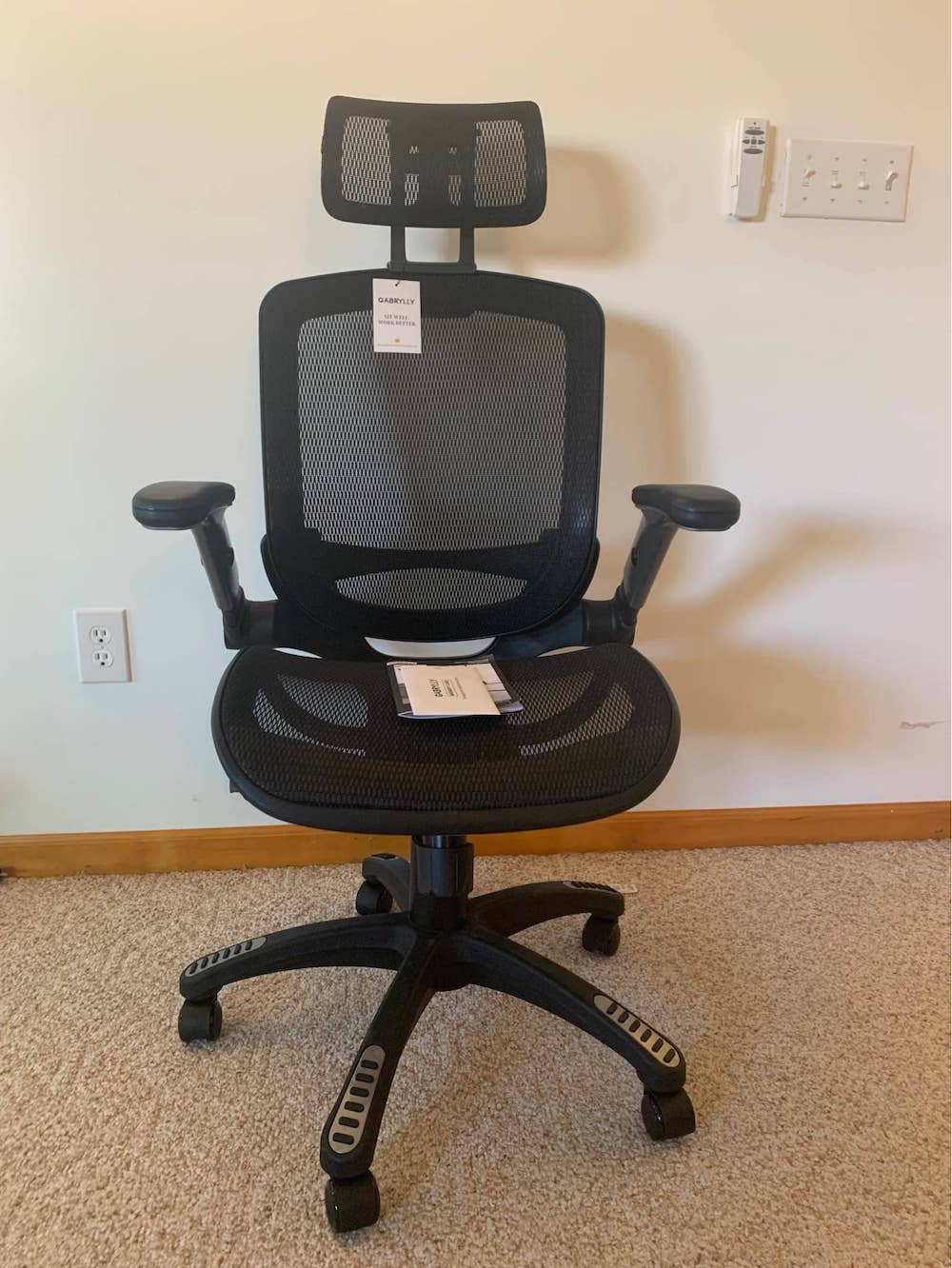 Top 3 Best Alternatives
If you like the all-mesh material of the Gabrylly chair, but find that you do not fit into it, here are our favorite alternatives.
Southien office chair
This office chair can pass off as Gabrylly's twin. It looks exactly the same with the all-mesh material and the adjustable neck rest. But what will set it apart is that it has an independent lumbar support system. Meaning, you can adjust the lumbar support to fit your needs.
Also, instead of a two-way armrest, the arms can be adjustable in 4 ways. We also love that it has a better tilt function compared to the Gabrylly office chair. And doh, you can adjust the seat depth too. And when coupled with the high backrest, this chair may be able to accommodate taller users.
This M57 is a great option for those who find an all-mesh chair too tough and firm SIHOO is a hybrid chair. It has a mesh backrest and a cushioned seat. So you won't find it too firm, the cushion seat can still give you some sort of plush comfort.
It also has an adjustable neck rest. And what also makes it a great alternative is that the lumbar depth and height can be changed. So you can control how forward you want your back to be pushed, or how aggressive the lumbar support gets. It's also more ergonomic and has more adjustable features than the Gabrylly chair. 
The Clatina char is more often referred to as a task chair instead of an office chair. But the reason why we have included this in our list is that, like the Gabrylly chair, you'll also find it very comfortable for prolonged seating. 
And like the SIHOO, it's also a hybrid chair. So it gives you a breathable backrest and a soft cushioned padding. So you can get to enjoy the best of both worlds. And for a task chair, has more ergonomic features. You get to enjoy adjustable lumbar support and a tilt function. The seat is actually made of high-density foam padding, so it can be plush comfort for your bums. 
And also, you have an option to outfit this task chair with adjustable neck support. But you have to buy it at an added cost. 
Our recommendation
The Gabrylly office chair is one comfortable all-mesh chair for average-size users. Despite some qualms and limitations, this can provide a very comfortable seating experience for those who fit into the chair.