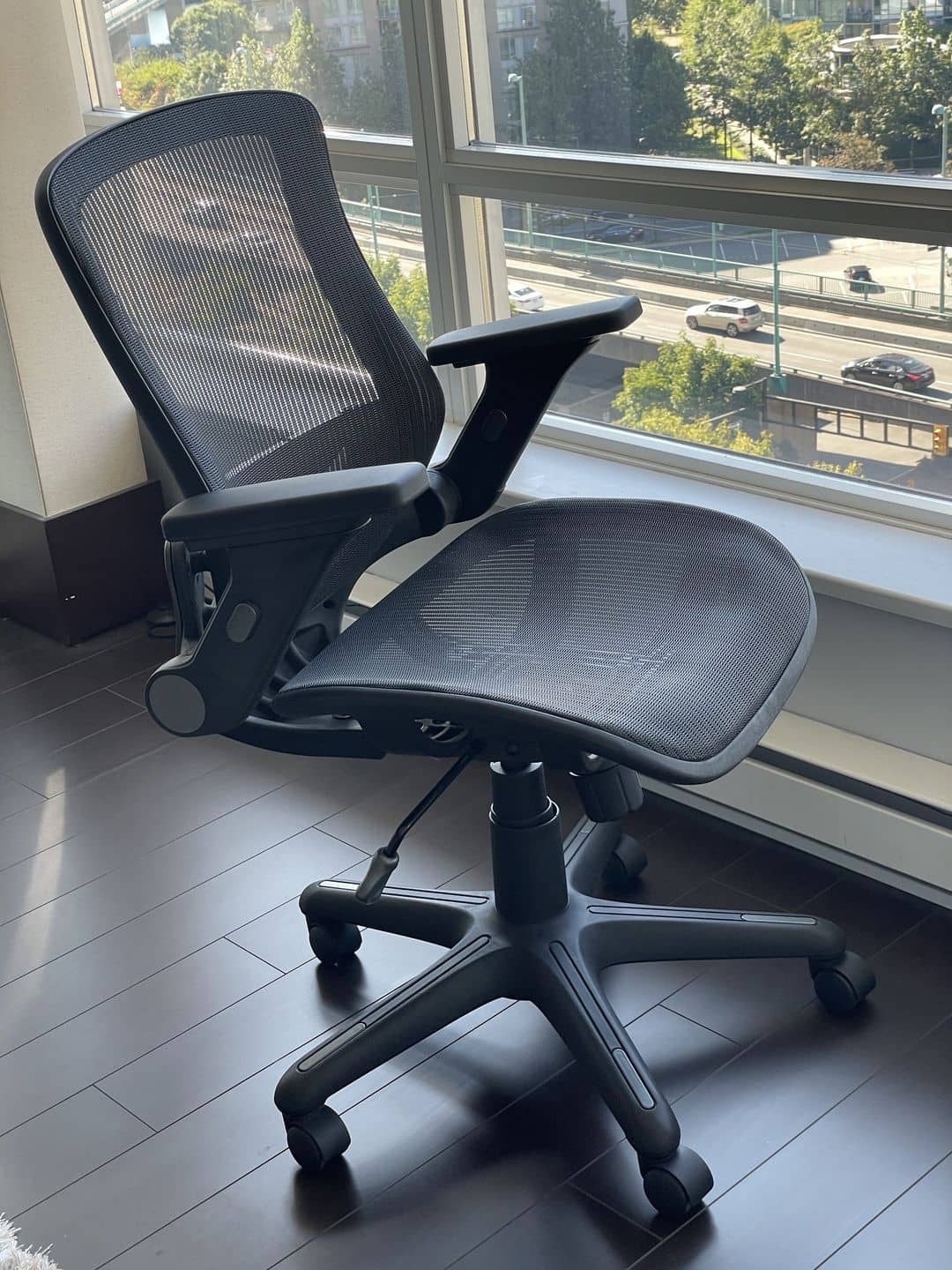 Quality Vs Comfort, which is more important to you?
The Bayside Mesh chair is an Aeron knock-off, and it will knock you off your budget still.
It looks like a cheaper clone of the Aeron. It has a mesh seat and backrest and is almost shaped like the iconic Herman Miller chair. And you may even get it for just a hundred bucks or even less. You're lucky if you can get a refurbished and decent Aeron at that price, so why not buy it right?  
So should you dive in? 
Well, it sure does look nice and sleek. But quality and construction-wise, you might need to spend a hundred bucks every two years or every year for replacement. to 
The overall construction is just very flimsy and very weak. Everything seems like it can not last more than two years.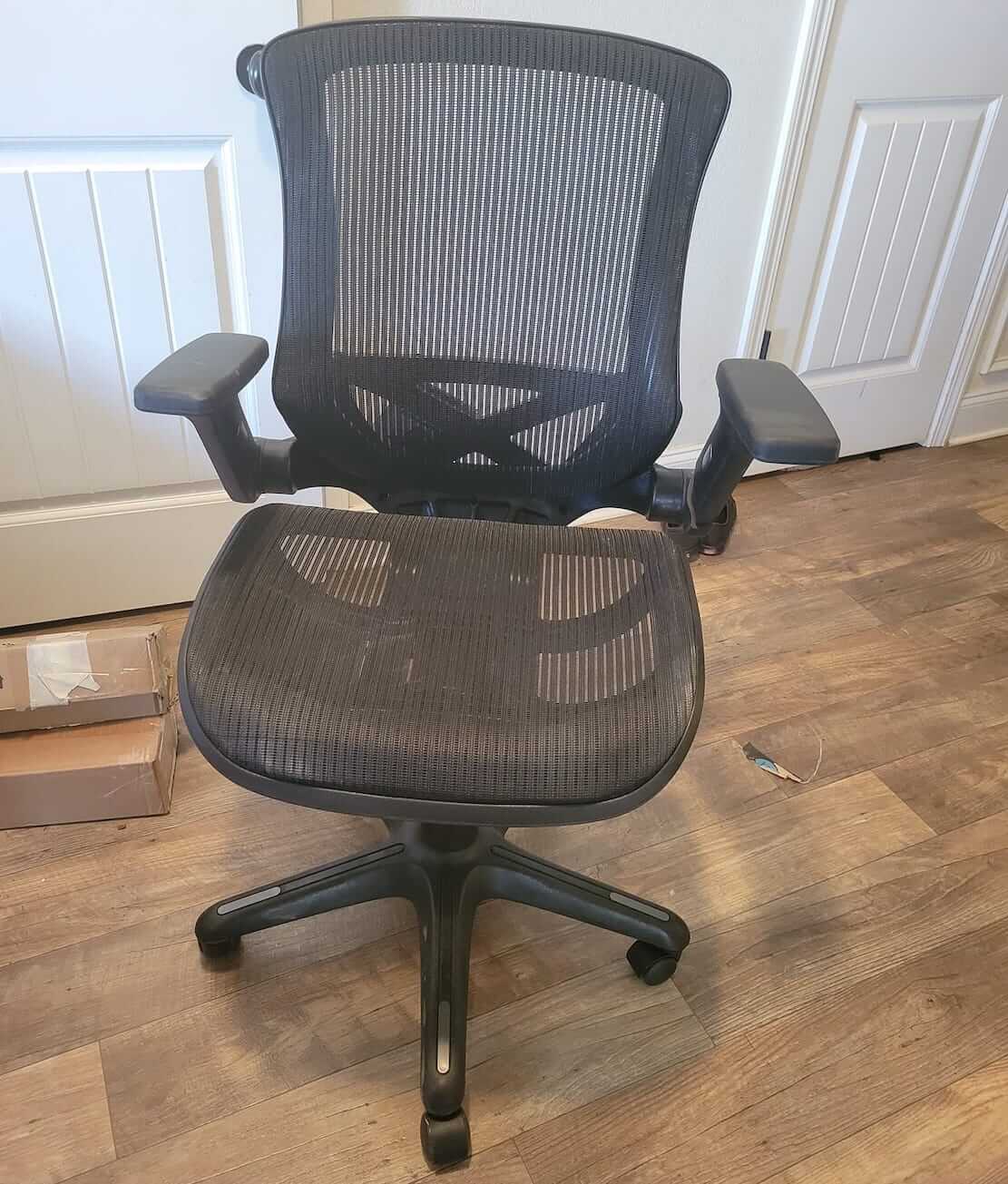 The chair has a load capacity of 300 lbs. We doubt that is the case. 
Even those of average weight will find the chair creaking, and worn out after several months of use. 
So a 300-pounder will shorten the lifespan of the chair, drastically that is. You might find it useless after only a few months.
The plastic parts are quite light and feel rather cheap. If you have one, do check out the wheels every now and then. 
They tend to disintegrate faster than the rest of the parts. The plastic material that connects to the wheels can easily bend due to the pressure of running the chair along with carpeted floors. 
But here's an interesting thing, it is rather comfortable and supportive
The first thing that you'll notice with this chair is the flimsy construction. 
But the funny thing is, when you sit on it, it's not that bad. It's actually rather comfy and supportive.  
The mesh material, though not as luxurious as that of the Aeron that it is trying to imitate, doesn't feel rough, tough, or scratchy. It is a bit flexible too.
The lumbar support is great for those who just need low to moderate back support. It does feel like it can help your back move freely and still be supported. 
It even has a tilt function, it can tilt back and forward. Then you also have the tilt limiter which allows you to adjust the tension. And you will not see this feature that much in a hundred-dollar mesh office chair. That may also entice you to buy this unit. 
Let's take a better look at what went wrong  here
Now let's talk about the caveats, there are several we did find that you might not be able to just brush aside, regardless of the very affordable price.
One, there is something not quite right about the arms that will make you just want to rip them off. Go armless perhaps.
We understand that for a unit of this price, you can't expect much adjustability. But these are not even 2D arms, you can only increase the height of them. 
And the arms were built in a weird uncomfortable way. When you increase the height of the arms, it kind of scoots or pushes forward. 
So then you'd always have to readjust it and push it backward, which can be a deal-breaker for many. And you can only adjust the arms upward but you can't lower the height. 
Two, the backrest seems to have a life of its own. And we thought that we were the only ones to experience that. Little did we know that a lot of users also share the same woes. It sometimes hard locks itself to a 90-degree angle. 
And we were not able to unlock it right there and then. It took us several hours. So we had to bear with an upright position which can be straining on the back. Though you have a lever that can lock and unlock the backrest, sometimes it just gets stuck.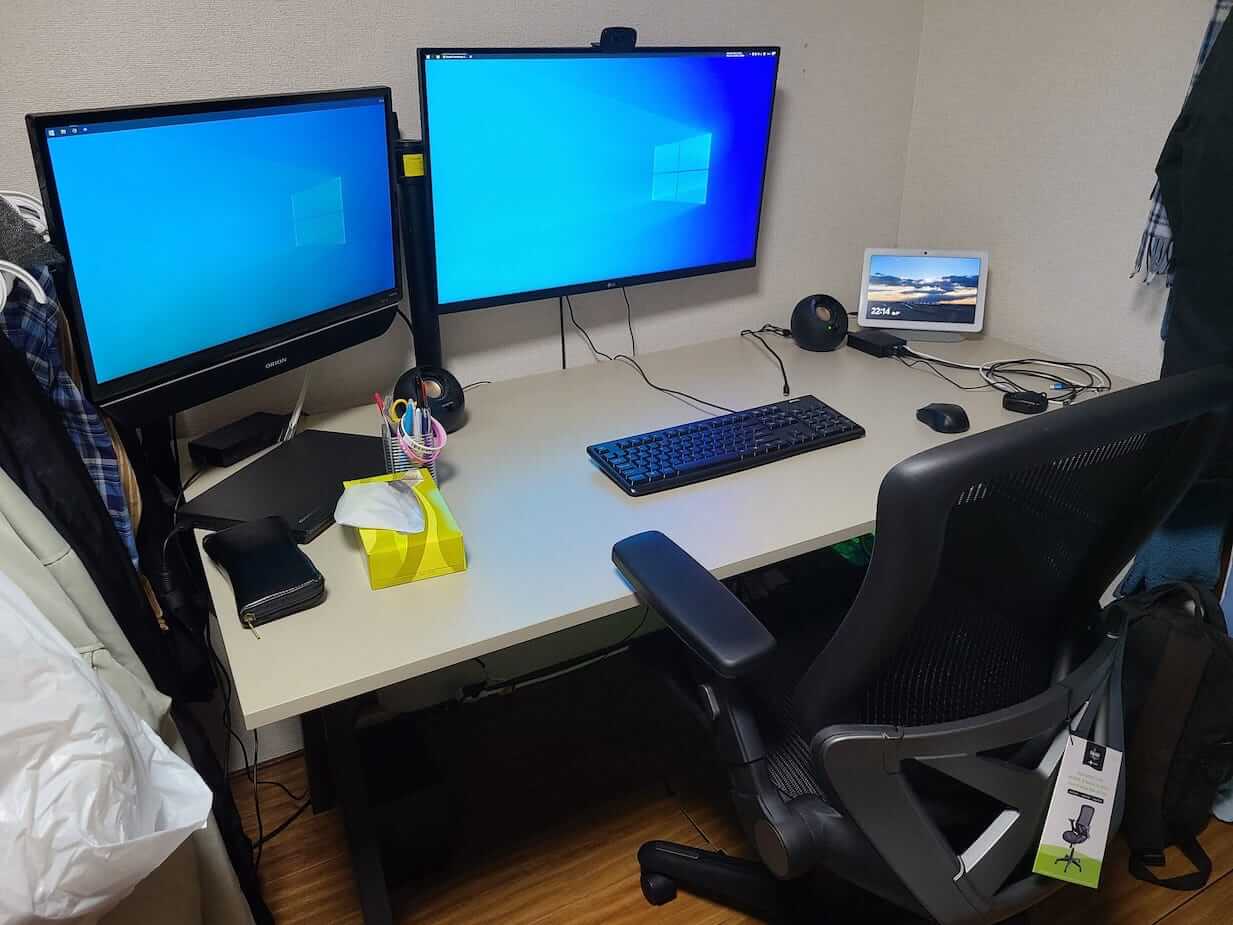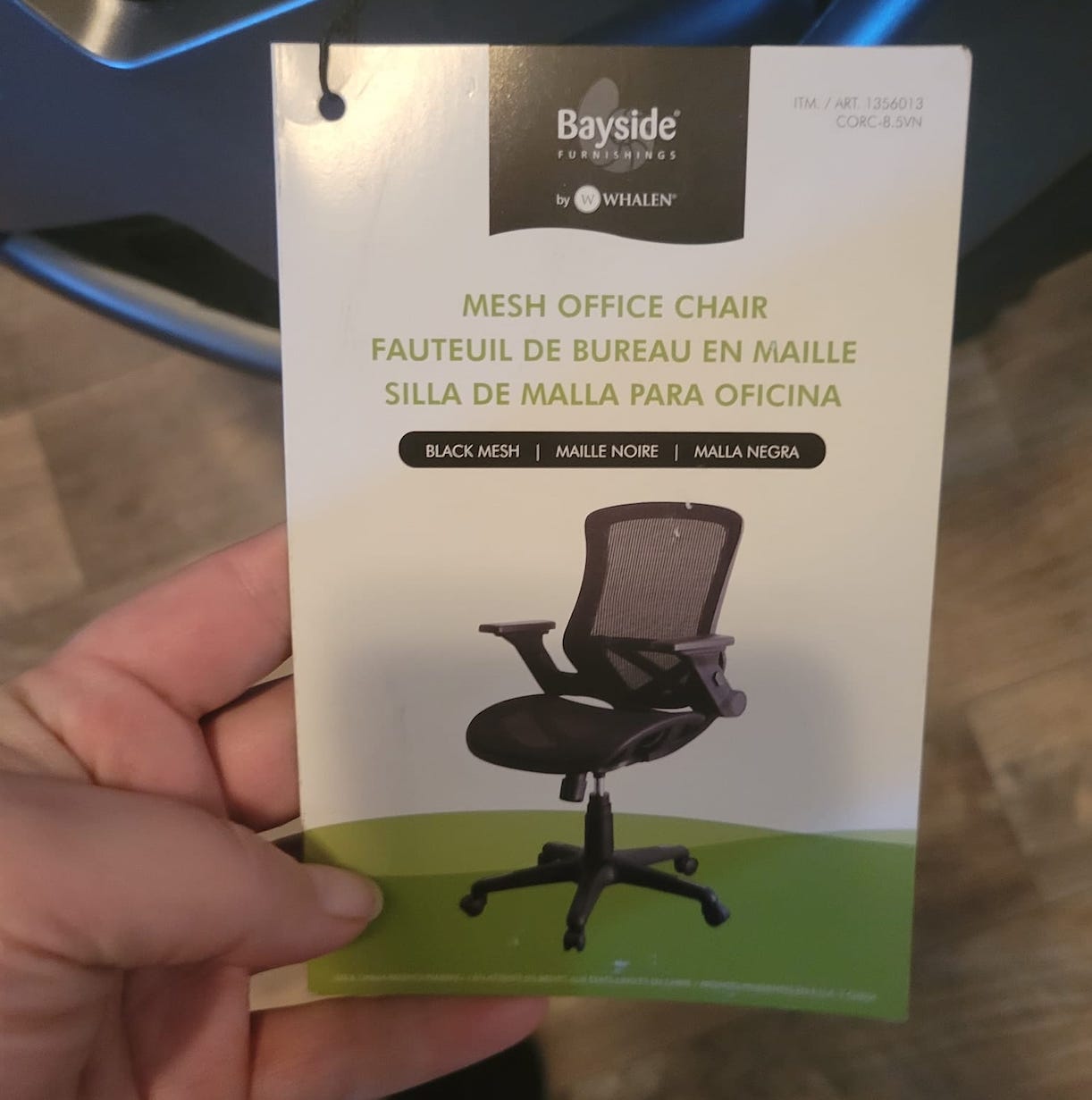 Comfort versus quality, how will you choose?
It's going to be an interesting choice here.
In fairness, the Bayside mesh chair does feel comfortable and is quite nice for the back. The biggest asset of this unit is the lumbar support and the mesh material. So for something with a price of 100 dollars, you can say that it's a good catch. The lumbar support is fixed but it does the job.
But though the mesh material is more solid, we recommend only slimmer to average size individuals to use it. It does not deform easily, but who knows if a 300-pound man will sit on it, given the overall construction of the chair, it can deform faster.
But there's still a catch there, pun intended. The construction of the chair is at the low tiering. Every plastic part is very flimsy. 
You'll surely be enticed to buy one since you'll experience the comfort and support once you sit on the chair. But its longevity and durability are very much in question. 
So it can be a conundrum of some sort, especially if you're on a budget 
And here's what can help you decide though.
It is a very affordable mesh chair that is quite comfy and supportive. It can be used by those who stand up to 5'8". 
But to be able to use the chair for more than a year, we recommended it best for slimmer individuals. Even those of average weight might still find it comfortable for a couple of months, but it will not be able to hold itself up pretty well. 
And you also have to do maintenance since dust tends to collect under the mesh seat.
It's also wise to check the plastic parts of the unit now and then for cracks and bents. If you spot one, it might be time to upgrade or buy a new one. Creaking sounds are almost always telltale signs that the chair is near its expiration date. 
But keep in mind that if you keep on replacing your chair every year or every two years, you might as well buy a slightly more costly one yet more durable. 
Maybe one that can at least for several years. You can also go for refurbished Aeron if you love the support of the Bayside mesh. Some may even like the less pushy support of the Bayside than the Aeron. 
We can also see it working for you if you really will not use the chair daily. 
Say you have another executive office chair or a padded one that you use for most days. Then have this cheaply made mesh chair ready for the summer that can be a great option. But that will still be feasible for those of average weight.
In that way, you can lengthen the lifespan of the chair if you're only going to use it during the hotter months. Since mesh chairs are sublime as the temperature increases, they can keep you comfortable.
Go Bayside or not

?
So if you ask if it's a quality chair, definitely no.
But is it a comfy and supportive one? Definitely yes. 
Some may even find it less firm than the Aeron, so it can be preferred by some users who do not like a too firm seat.  
The mesh material almost feels like what expensive office chairs have. That's a surprising fact. But you will not know of the downsides until you have used the chair for several months. The bending of the plastic parts and the creaking sound will not reveal themselves right there and then. It will be a couple of months before you notice it. Unless you are keen and know how to spot quality from not, you can know instantly.
So you have to weigh these two things – comfort vs quality. And of course, the budget comes hand in hand.