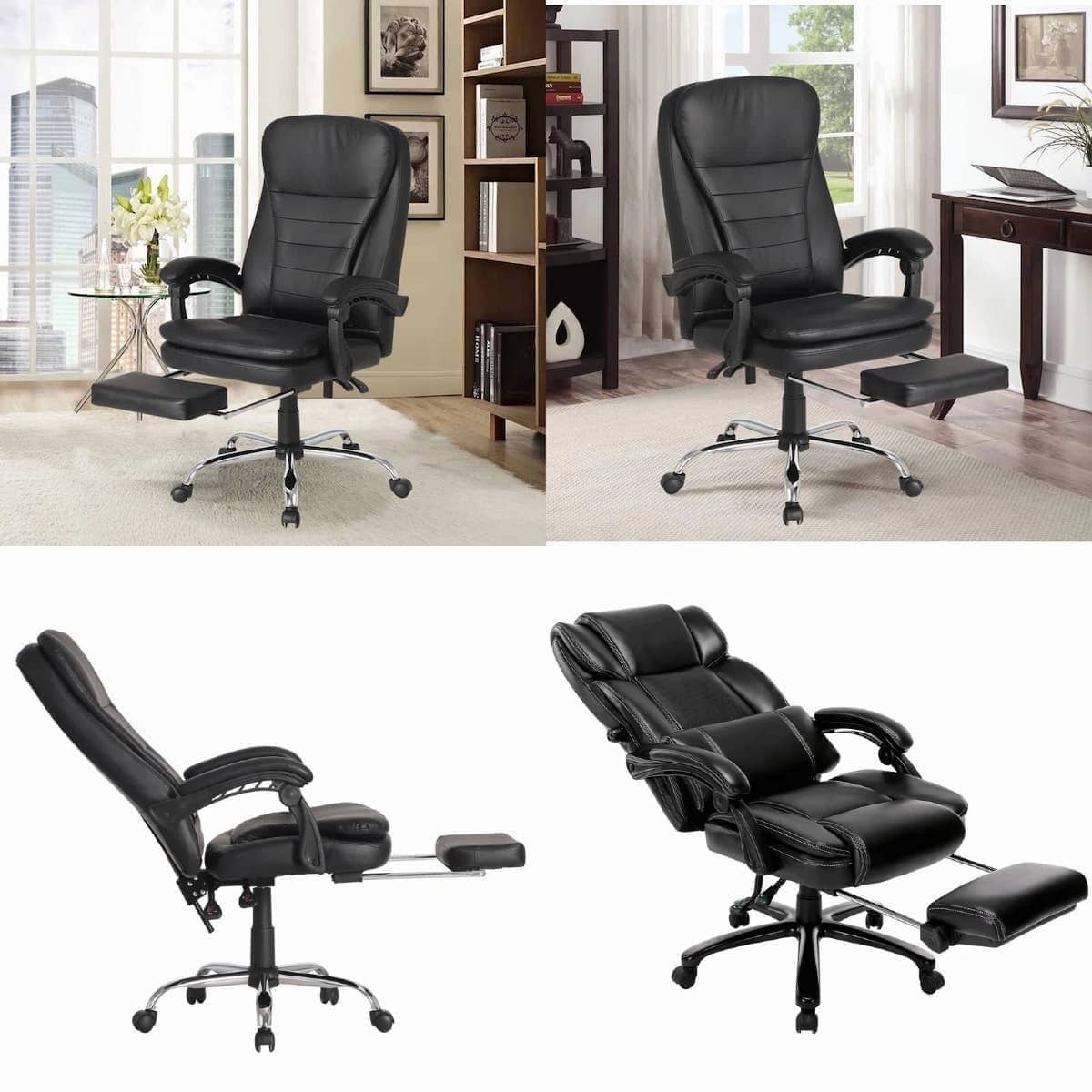 Sitting on an office chair for the whole day can be tiring for the legs. Even with dedicated lumbar support, some may still feel the need to lay their legs out to stretch, And here is where leg rests come into play
There are tons of chairs with built-in footrests, gaming chairs specifically. 
But we're not here to play. And there are quite a lot of office chairs with pullout footrests that are very flimsy, they shake and wobble a lot. 
That's the very reason we had this list, to seek out the more decent ones with built-in footrests. 
| | | | | |
| --- | --- | --- | --- | --- |
| Office chairs | HOMREST Reclining Office Chair with Massage | Inbox Zero Gulbasha Mesh Executive Chair | Yiwu Guali executive office chair | Paisleigh Ergonomic Mesh Task Chair |
| Seat height range | 20"-23" | 16.73"- 19.88" | 20.5"-24" | 16.1"-19.7" |
| Seat width | 21" | 25" | 26.3" | 20.1" |
| Seat depth | 21.26" | 16.8" | 21.6" | 16.1"-23.6" |
| Lumbar support | Fixed | Height adjustable | Fixed | Height adjustable |
| Weight capacity | 300 lbs | 330 lbs | 260 lbs | 300 lbs |
| Warranty | 1 year | x | half year | 1 year |
| Link to buy | amzn.to/3CDWtkn | | | |
HOMREST Reclining Office Chair with Massage
A reclining massage chair can also be a great seating option for your desk job. If you are one that craves a softer and cushy seat, you don't need to splurge. This Homrest chair comes with a very affordable price tag. 
When you sit on it, you can definitely tell that it's cushy and comfy. From the backrest to the arms of the seat, it provides a decent cushion that we can call plush enough, but at the same time, you will not sink deep into it. 
The chair can recline further back and it is able to hold its post. So how about the footrest you may ask. Well, it is very easy to slide in and out. But we did feel that it is sufficiently stable. It doesn't unintentionally slide out like what you could see in most cheap ergonomic chairs. 
You can comfortably use the footrest whether you're in an upright or a reclined position. Everything seems to go well in this department.
But if there is one thing that this chair may fall short of, is the arms. The quality control of the arms to be specific. The arms, at times, start to shake, wobble, or go out of place. 
And oh, this chair has a bonus, it has a massage feature. Take note that the kneading and moving motion is just subtle. Even so, it's still great for a chair of this price to offer that kind of convenience. It has 8 settings, but this will not indulge you in a hard massage. But it does feel comfortable to sit on for the entire eight hours of work.  
And since the arms can be wobbly, we recommend not maxing out the weight capacity of this chair. It is rated to bear 300 lbs. Thus, we see it best for those 250 lbs and lower. This can also sit better for those who are taller. So if you are 5'3" and below, you will feel like a little kid in a big chair. 
Yiwu Guali executive office chair
If you need a more cushy seating option than the Homrest then this is for you. We love that this executive char comes in thick and cushy padding, about 2 layers. This is also one of the biggest contenders, in terms of seat width and seat height. The seat is pretty wide so it can be used by those who have wider dimensions.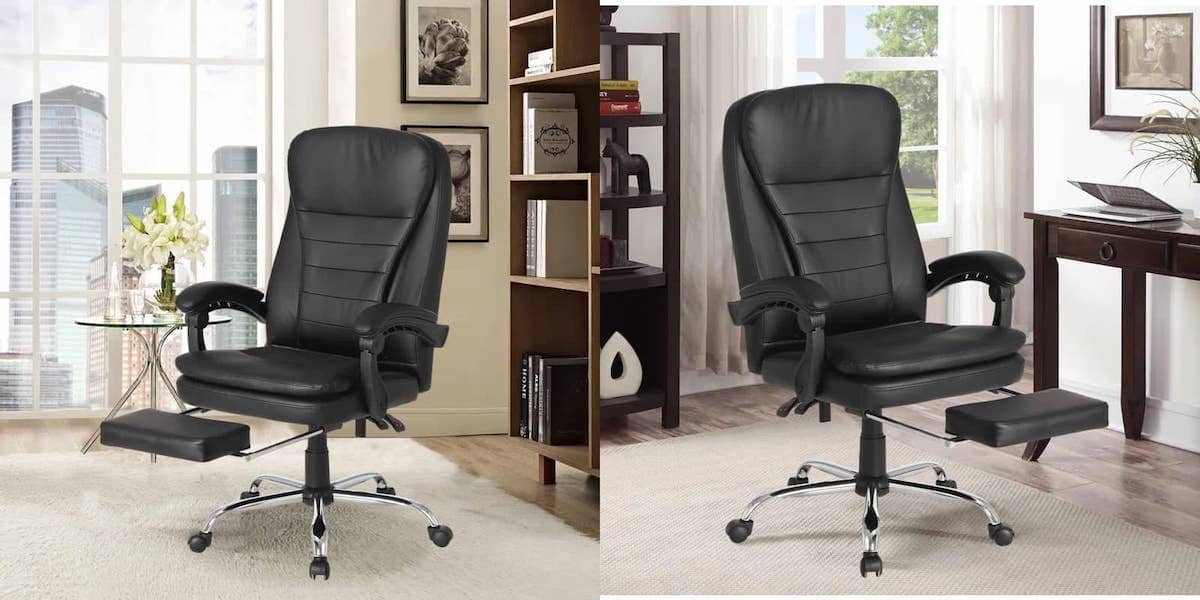 It looks classy too, it does have a different texture compared to other executive chairs in its price range. We even see it having a more expensive tag than what it's worth. 
Also, the pull-out footrest is stable and it does what it's supposed to do. Added to the thicker and softer material, then it can indulge you in a snooze every now and then. 
It's also packed with ergonomic features, even more than other higher-priced offerings. It has a synchro tilt mechanism, backseat angle adjustment, multiple tilt positions, and a tilt lock.
Unfortunately, this will not be a great option if you live in the hotter regions. The 2 tier padding can be too much, especially for those who are on the thicker side. 
Paisleigh Ergonomic Mesh Task Chair
If you want rather firm support with a leg rest that feels just right, this dainty and pretty ergonomic chair is a great fit. It's available in four colors of mesh backrest and cushioned seat, and all options are very prime looking. 
It does have tons of adjustable features but still at a moderate price that is justified by the features. It looks dainty enough and fits those who are petite to average height. So it fits the bills as well. It has a height adjustable lumbar and the mesh material is flexible. So when you sit on it, you can feel that natural bounce that makes it suitable for long hours of working. 
As for the arms, they are 4D and have a wide range of adjustments. The seat pan can be adjusted front and back. So if you have long legs you may still be able to fit into the chair, but not if you are taller than 5'11".
This is a highly adjustable mesh chair that has firm support. And if you want a bit of a rocking motion, you love this. It also offers 3 tilt positions and a tilt lock. But even if the tilt is locked, it still has that little bounce when enough pressure is placed on it. So this will not be a good option if you need one that stays upright or doesn't bounce at all. But it will indulge you with micro-movements while you're seated.  
Inbox Zero Mesh chair
This number is a lovely mess and cushioned seat that can give midrange units a run for their money. It looks very dainty and has the appeal of a more expensive chair. It is underrated and you might not see a lot of google search results for this one, but it will be worth that purchase.  
The back support so far is great, and feels sufficient for those who need more support if they have been sitting on the chair for long hours. . And this can accommodate those who are of average height to slightly taller. It has a headrest but it might not go high enough for those who stand 6 feet and above.
The footrest is a plus for we are already solid on how lovely the chair is and how sufficiently supportive it is. Also, the footrest is easy to pull out and the cushion is almost as thick as that of the seat. This will indulge you in a very comfortable recline. 
You will also have an option for a tilt lock. And it offers 3 tilt positions, 90°, 115°, and 125° And it locks itself rather well. So there will be no creaking sound or any feeling of instability. So pretty much, it has a lot of ergonomic features that seem to work pretty well for the brand. No one feature seems to be out of place, everything did justice for the unit. 
Thus, this can also be a great option for gaming as well as sitting for the entire day. 
When you're in need of a heavy-duty footrest
A footrest helps improve blood circulation and the flow of oxygen to the legs. Especially if you have all aspects of the chair perfect but have your feet dangling from the seat, a separate footrest may help you maximize a chair.   
 But the thing is, an office chair is not meant to be with your legs extended all the time. And many brands do not really pay a lot of attention to the build of a footrest, it's almost the same as what they do with the headrest, It's more of a nice feature. 
That's why it's hard to find one that has a heavy-duty dedicated footrest. We have curated a decent list above, but we recommend these for light-duty to medium-duty use only. So the footrest will not be comfortable if you're going to use it all eight hours of your duty. 
So those looking for one that is meant for heavy-duty use will not likely find what they need in a single unit. 
We see a two-piece unit consisting of the chair and a separate cube or a footrest working best for heavy people or those who need to use this feature all the time.
 But of course, this will incur more costs but it will definitely be for more heavy-duty usage. 
 Nuvem by Eurotech Seating
Nuvem features a separate cube that you can use as a footrest In addition, it can also be a complete workstation since it comes with accessories such as a laptop holder.  The cushion is also very sufficient, gamers will love this too.
However, the seat can only go as high as 17", so not for taller people. And like a reclining chair, it will recline further but it will have fewer ergonomic features. 
Steelcase Leap Work Lounge
Important note: This chair is not cheap!
If you need one with more ergonomic features, the more expensive Leap work lounge is suitable. Like the Nuvem, it comes in 2 pieces. You have the chair itself and an ottoman that you function as the footrest. Though it is more versatile and multifunctional compared to Nuvem, the ottoman can also be used as a table where you can place your laptop. 
And coming from Steelcase, we're sure it is hefty, construction-wise and price-wise. This bad boy also has amazing leather quality and you'll feel very cozy, it feels like a premium lounge chair.
As for the caveats, back support, like a reclining chair, is just decent, not super supportive. That may be the common caveat of chairs of this type of structure. And oh, it can get really hot in the summer.