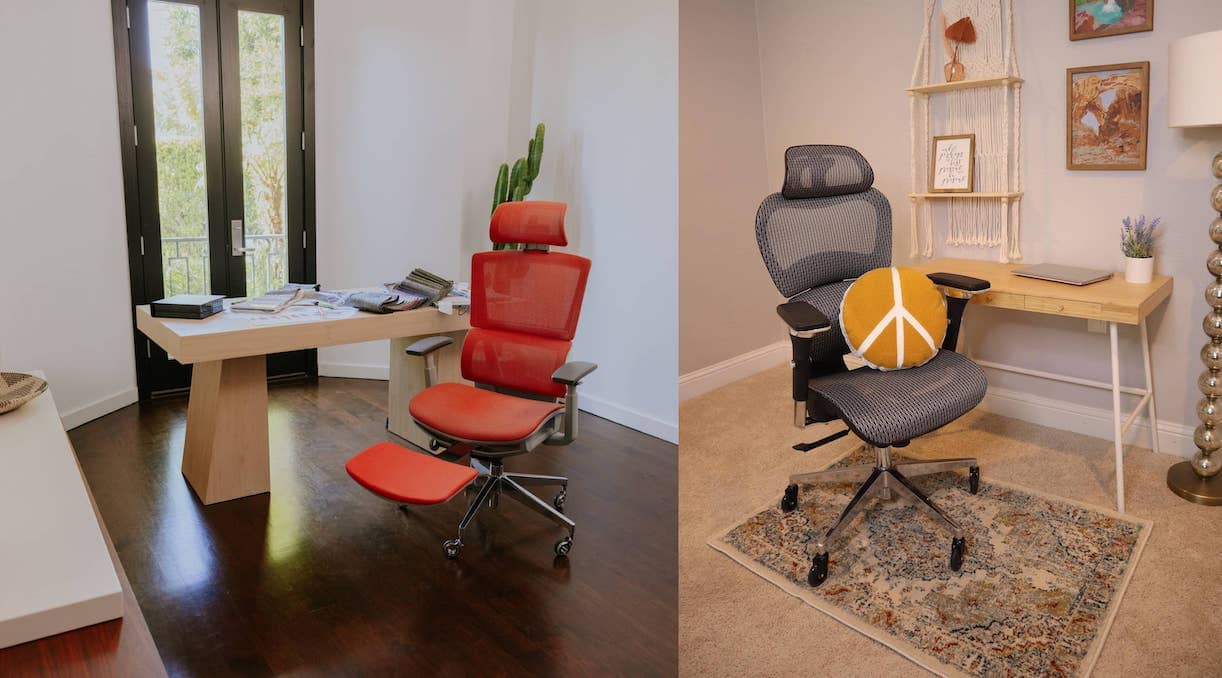 If you've been caught by the mesh chair wave, you might be pretty familiar with the Nouhaus Ergo3D. It's one of the more budget-friendly options under $500. 
But there's also a seemingly promising unit from the brand that bears the same look but boasts of more ergonomic features, the Nouhaus Rewind office chair. 
More features warrant the upgraded price, but does it really? Let's find out!
Office chair
Showdown
Nouhaus Rewind
Nouhaus Ergo3D
Available color versions
Orange, Mint Green, Black, Neutral Gray, Navy
Silver Grey, Black Coffee, Dark Burgundy, Brilliant Blue
Dimension
W 25.6" x D 26.3" x H 47.5"
W 27.95" x D 27.16" x Max H 49.01"
Seat height range
24.4"-27.56"
25.5"-29.4"
Seat width
19.7″
19.7″
Seat depth
16.7″
16.3″
Weight capacity
275 lbs
275 lbs
Warranty
3-year base warranty + (max 5 years)
3-year base warranty + (max 5 years)
Arms
3D
4D-Orbital & 2D adjustable
Recommend height
5'4" – 6'1"
5'4" – 6'1"
Footrest option
Yes
No
Check Price
amzn.to/3SOiPVP
amzn.to/3LRLo2k
The mesh of one of these chairs is a nightmare
This, we can say, the Ergo3D is not just one of those mesh chairs made just for a brand to have an offering in this department. It did not just hop on the bandwagon, instead, you'll find value in this chair. 
For a start, the mesh is surprisingly comfortable. Actually, this might be the only mesh Nouhaus chair that we can vouch for. We've had our fair share of cheap China-made mesh chairs that fooled us, this is not one of them.
The mesh material of the Ergo3D, though does not feel premium and classy, isn't that bad. It sits in between a firm and flexible mesh material. 
It can provide sufficient support without it being too rigid nor being too flexible. It feels a bit loose but it can still provide support for your back whenever you move.
It will feel sufficient if you do not need pronounced back support. It will be fine if someone of average weight will sit on it. 
Remember the mesh is not that taut, so if you are heavy, you can just imagine how this mesh can easily lose its bearing. 
So over time, you might be able to feel the material underneath. This is mostly true for mesh chairs that have an affordable price, we cannot expect them to be comfortable for heavy users.  
Luckily, the mesh is not scratchy on the skin. It is not abrasive even if you have your legs and arms exposed, your skin will just be fine.
The Nouhaus Rewind seems to be the exact opposite
For two chairs that look exactly the same, it's intriguing that they feel very different from one another. 
Nouhaus Rewind's mesh is just so uncomfortable. It will scratch your skin, it will be most uncomfortable for those wearing shorts and sleeveless.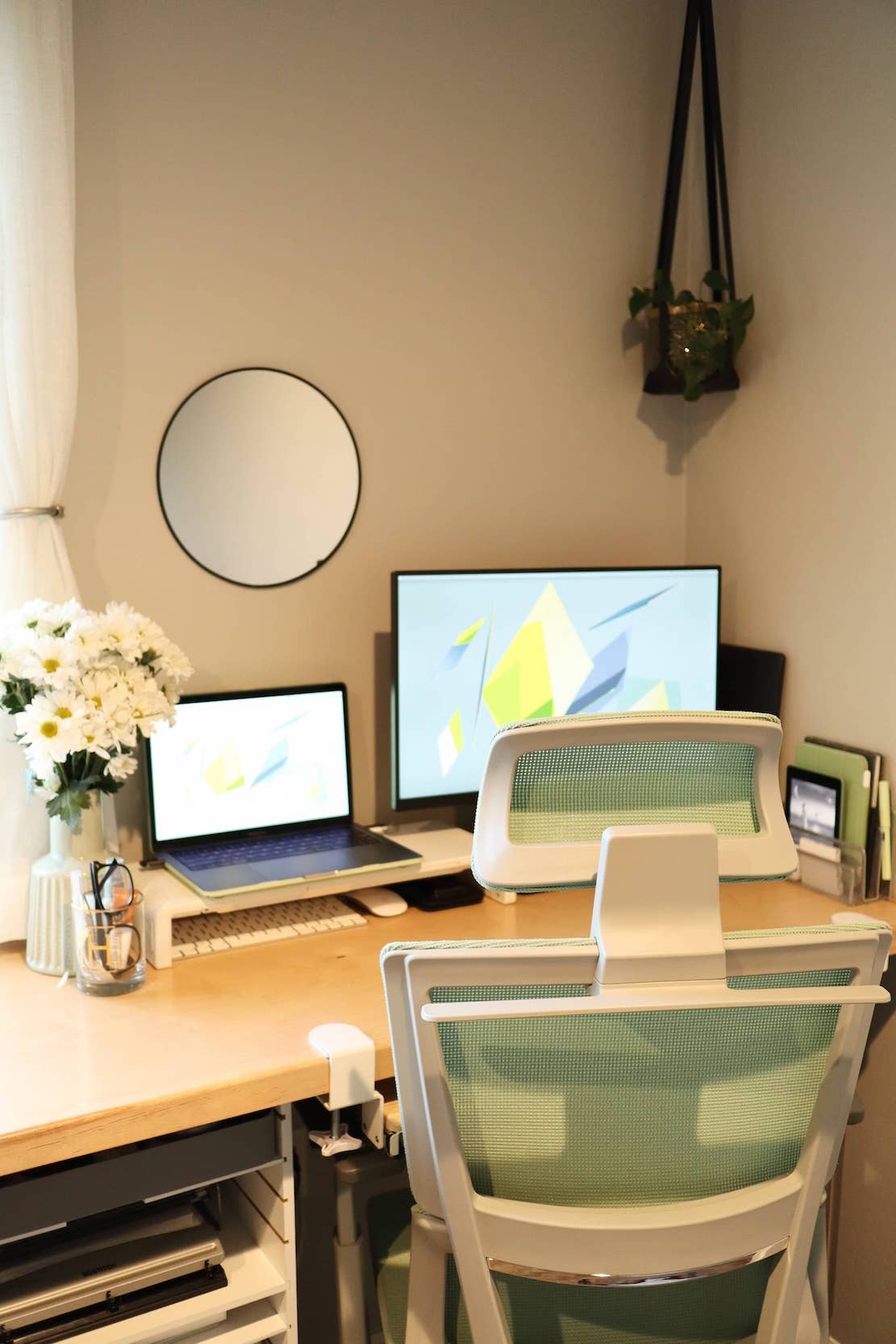 If you scooch a bit, you will feel the hard abrasive mesh rubbing against your skin, so if it's exposed, it can get raw and itchy. One way to avoid that is not to move at all. Support-wise, the seat feels like you're sitting on hard flat plywood. Though the seat seems to be ergo contoured, we wondered where that went. 
It's so bad that if you have your eyes blindfolded and we'll have you sit on the Rewind, you might even say that you're sitting on plywood. 
That's how much of a nightmare it can be.
The Rewind has more features such as the footrest, but it's still a no for us
It promised to be a more upgraded chair since it boasts more features. Well yeah, it does have a retractable footrest, but honestly, we'd rather not have it, it did not do anything good for the chair.
One, the mesh is even more abrasive than that of the seat and backrest. So if you have that soft tender skin above the heels exposed, it will scratch 'em raw. 
And two, the footrest is very, very shaky and flimsy, even for skinny users.
The lumbar support of the Rewind is not bad, but it can be forgotten immediately
One of the features of the Rewind that may be decent is the lumbar support. It's not great, and may even be less desirable than that if the Ergo 3D, but it can suffice. 
But here's the deal, this decent feature is easily forgotten.
How and why? 
Because of how uncomfortable the entire chair is! The just okay back support is not enough to make you sit on it for more than an hour.
Apart from the scratchy mesh, you will feel something poking at your tailbone the minute you sit on the chair. 
The plastic material at the seat will dig into your coccyx. Though they might have the same look as the Ergo 3D, they sure are constructed differently and did not use the material
The Ergo3D is a value mesh chair for those with an average height
 The dimensions of the chair are just comfortable enough for skinny users with average weight. The Ergo 3D also shares the same limitations as most cheap mesh chairs, they are not just meant for heavy users. 
This is also not a tall chair despite it having a headrest and a high back seat,
We see this as comfortable for those up to 5'11". Taller than that and you will have problems with your legs. The seat depth is just too narrow for taller people, or even those with longer legs than the upper body. 
 Even if you do the rollerblade wheel hack, it might not be enough. Some opted to go for the rollerblade wheels not just because they roll more smoothly on the floors. Some go for them to add more height to the seat. 
Yes, it does just that, it can add an inch of leverage. But even if you can make the seat go higher, it will still be a narrow chair. So your legs will succumb to an uncomfortable position.
Also, Ergo 3D still has this hard plastic frame for the seat and the 2 part backrest. So if your legs are longer or if your back exceeds the dimensions of the chair, you will feel that plastic part digging into your skin.
What else did we love about Ergo3D?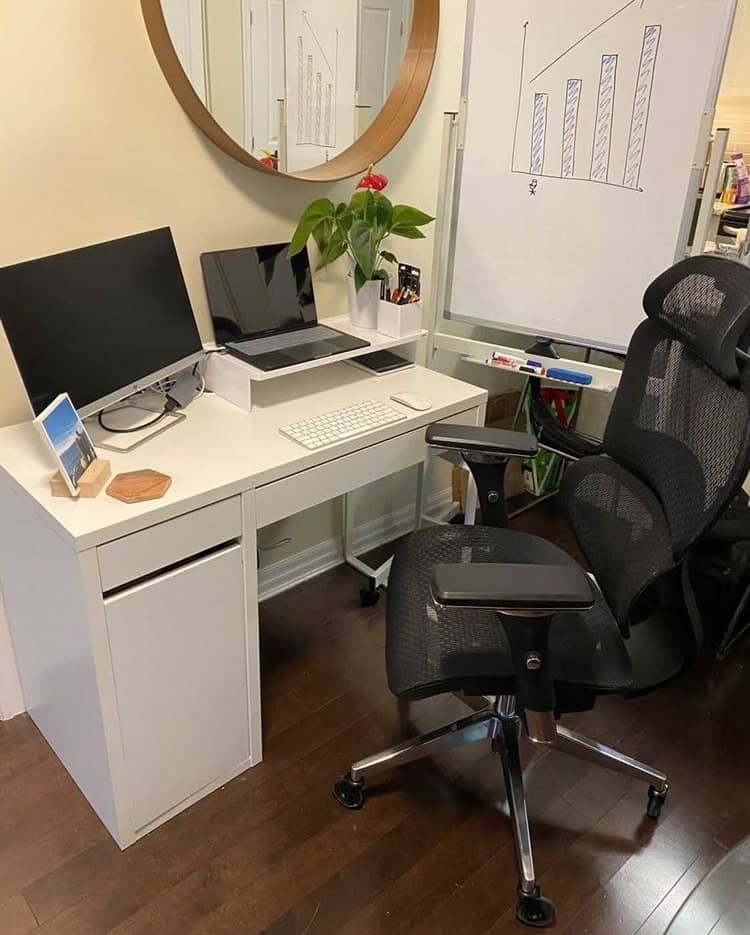 The Ergo 3D has one of the best-fitted headrests for a chair of its type and price
The headrest of this chair has the right dimensions. It is wide enough and long enough to provide optimum support for the neck. Your head will not feel the plastic frame. It is stable and does not shake or wobble.   
It's quite liberating, a lot of chairs within this range did this part wrong. From the feel of the mesh to the headrest being too broad or too thin. And finally, someone was able to make it right! 
It can indulge you in a subtle rocking motion.
The chair offers different positions for the tilt and it also has a tilt lock. And if you want a chair that you can rock back a bit more with just an added push, this is it. 
Pay close attention to this one because this may or may not be your cup of tea.
Even if you already locked the tilt in a specific position, you can still recline it a bit further if you just add more pressure to the backseat. We see this working for those who love to inject micro movement while they are still seated. 
However, if you need to have the chair remain in a certain tilt position, you must be careful not to put additional pressure on the backrest. Otherwise, it will recline further. And it just needs a little bit more push for that to happen. So any sudden jerking movement may cause it to recline back.
So if you want it a bit forward, you might struggle with this. 
The arms are functional but…
They are easy to adjust and don't slide out of place unintentionally. And compared to Rewind, it has more range of movement. So function-wise, you will be able to fine-tune it to your needs.
 The Ergo may be comfortable for long hours, but the arms may be too hard for some users. 
You might feel more pressure on the elbows too since they are not padded or they do not have a cushion. So this is something to consider should you need to sit on the chair for more than 4 hours, that's the time it may start to hurt on the arms. 
What's not to like about Nouhaus Ergo3D chair?
If there's something frustrating about this Nouhaus chair, it's got to be the knob that you use to adjust the tilt position and tension. 
It is situated underneath the chair, mostly in the middle part where it is very inaccessible. And if you have shorter arms, you may have to get out of the chair just to be able to reach it. 
That's just part one. It is also very challenging to adjust. You have to exert more effort to turn the dial in any position.  
The Ergo3D is quite comfy but it's still not for everyone. That is the downside of a chair without adjustable lumbar support. Also, the backrest of the Ergo 3D has two parts, so it will have more plastic frames that can bump against some of the body parts of chunkier or taller users. It's either you fit into the chair or not. This is something it shares with the Rewind.
 But if you fit in, it will be very welcoming. You will be able to sit on it for 8 hours. This chair allows for micro-movements too, so you can do mini exercises while seated and your back will still be supported. Oh, this does not happen with the Rewind since the mesh is just terrible.
Nouhaus Rewind failed at its attempt to be a better chair than Ergo3D
So in this situation, the added features aka the footrest did not do anything good for the Rewind. 
After all, it is built in a different way and uses a different material even if it looks the same as the Ergo 3D chair. 
Also, the minute we sat on the chair, we already knew. 
No way is this ever going to be comfortable for anybody, period. 
We wanted to give it a benefit of the doubt before when it first came out, but it is just too unbearable. 
The abrasive mesh and the plastic part at the back hitting the tailbone are already giveaways on how uncomfortable this chair could be. 
If it will use the same mesh as Ergo and have that plastic part taken care of, it could fare better.