Buying a reclining office chair with footrest is not a difficult challenge, but it is something that needs a given amount of effort and time. This is due to the high number of products available in the market today.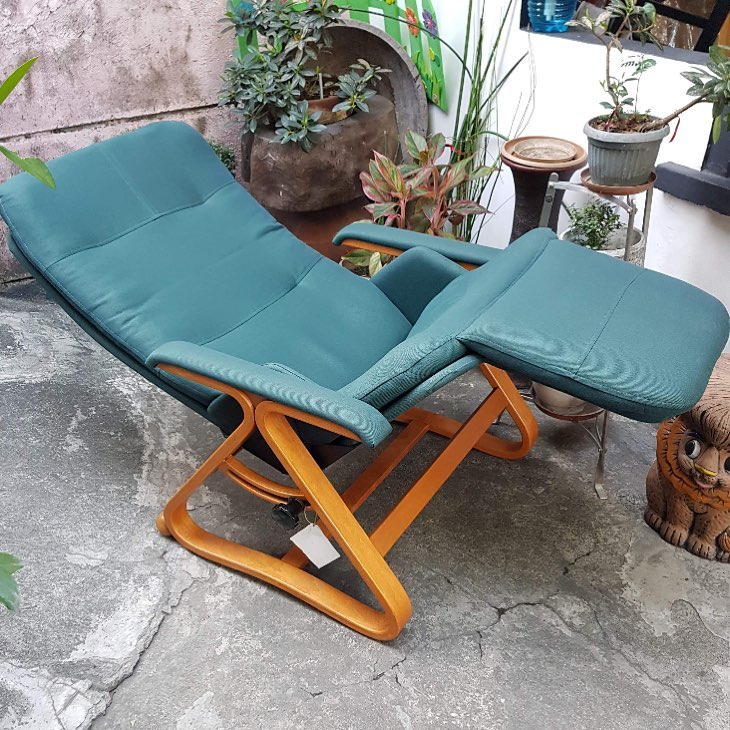 Why You Should Choose a reclining Office Chair with Footrest
An office chair is one of the most important pieces of furniture in any workplace. It greatly affects your productivity and most importantly your health. Choosing an office chair with footrest offers significant ergonomic benefits as compared to standard ergonomic chairs.
The best ergonomic footrest chair can lessen lower back issues and ease leg problems. Moreover, it also provides ideal support to your feet since a strain on your feet affect your back, legs and other areas of the body while enhancing circulation.
Therefore, the best chair with footrest helps prevent back discomfort, poor circulation and overall fatigue associated with chairs without proper support. Here are some of the key benefits and reasons why you should consider a reclining office chair with footrest.
Helps Maintain Correct Posture
An office chair with footrest offers multiple optimal postures, which allows you to spend an extended period in your workplace. Using an ergonomic chair with footrest helps relieve pressure on the back of your legs. The best office chair should provide support to the entire foot and body and adjustable to suit all your needs.
Relieves Back Problems
Spending too much time in an office environment with a piece of furniture that causes your feet to be improperly positioned, puts much strain on your spine. This leads to back issues. Choosing a good office chair with footrest allows you to sit in perfect postures while maintaining the correct ergonomic angles. Besides, the chair increases the point of contact with the back support. This helps reduce lumber disc pressures and muscle activity around your spine.
Improves Circulation
Lying or sitting in one place for an extended period without any action can result in reduced blood circulation. An ergonomic office chair with footrest can significantly help in reducing the risks of developing circulatory conditions. The chair allows you to adjust your position frequently to avoid any strain that could affect circulation. These include moving your feet, lifting your arms, adjusting hips, and slightly changing your posture.
Apart from keeping you comfortable and work-ready, reclining office chairs allows you to take a short relaxing break or perform any task that will need that recline feature. However, it is advisable to choose the right reclining chair with a footrest to enjoy these benefits.
But first, there are some factors to consider before choosing the right reclining chair with footrest
Factors to Consider When Choosing the Right Reclining Chair with Footrest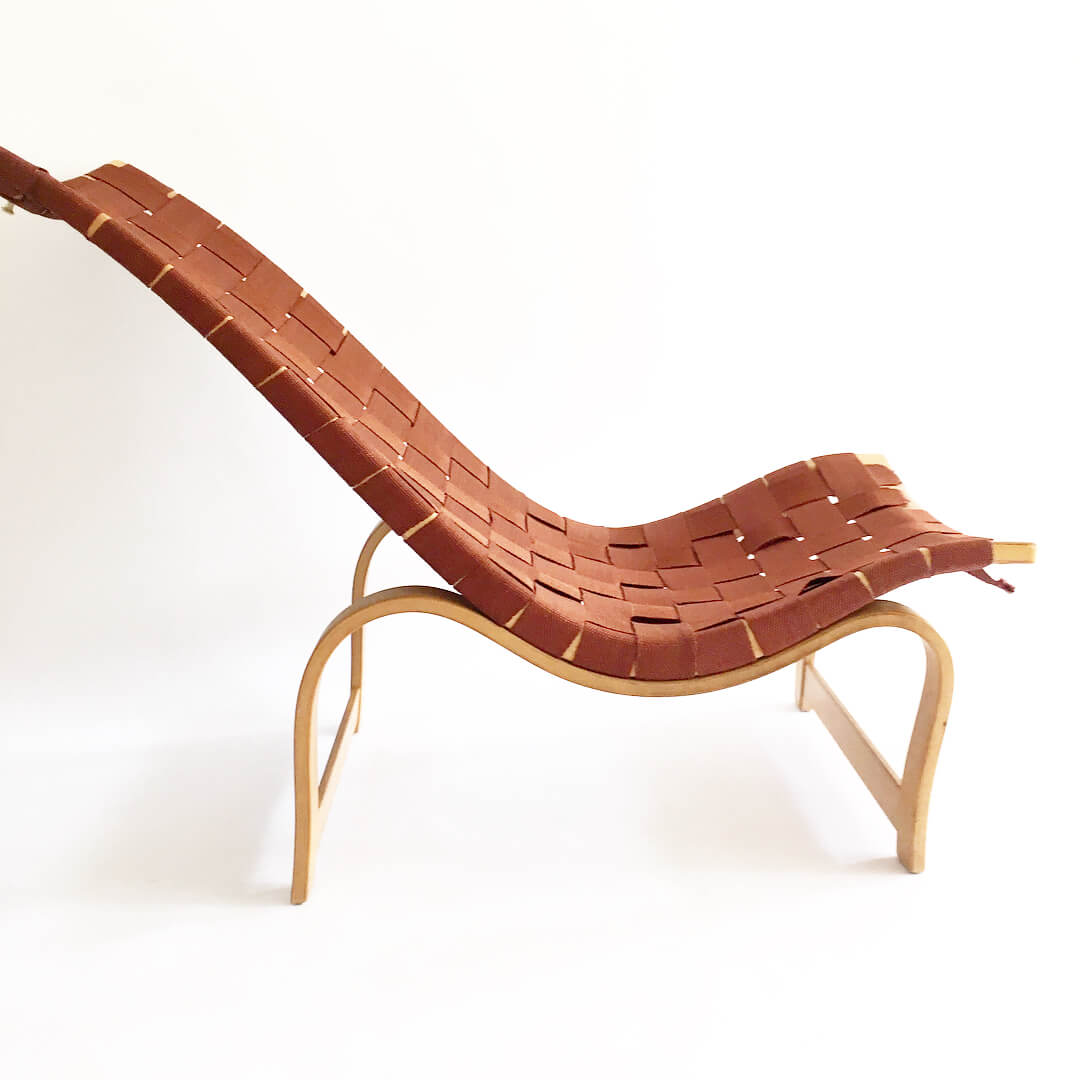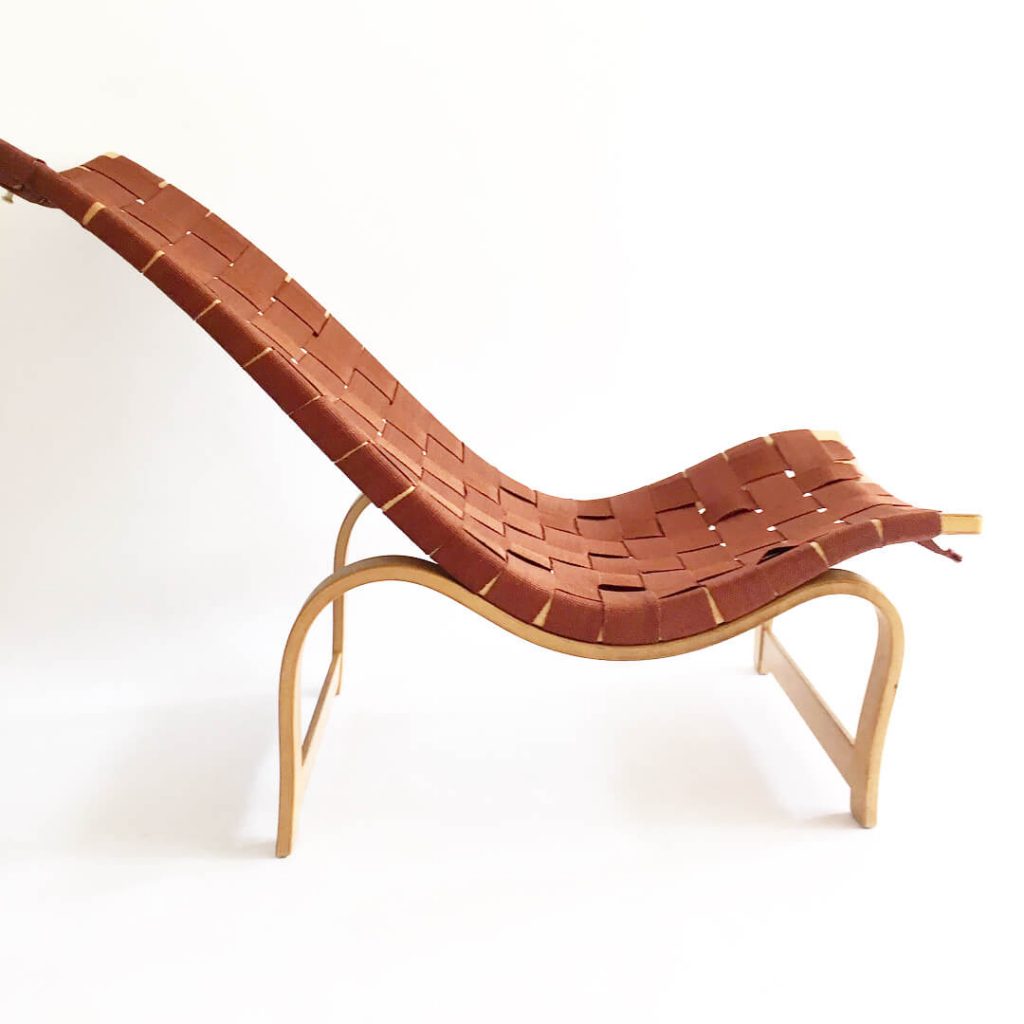 Design
The best reclining chair with footrest should feature an ergonomic design that offers several great features and functions. These include an intelligent blend of advanced engineering for extra support and comfort allowing you to enjoy a premium experience.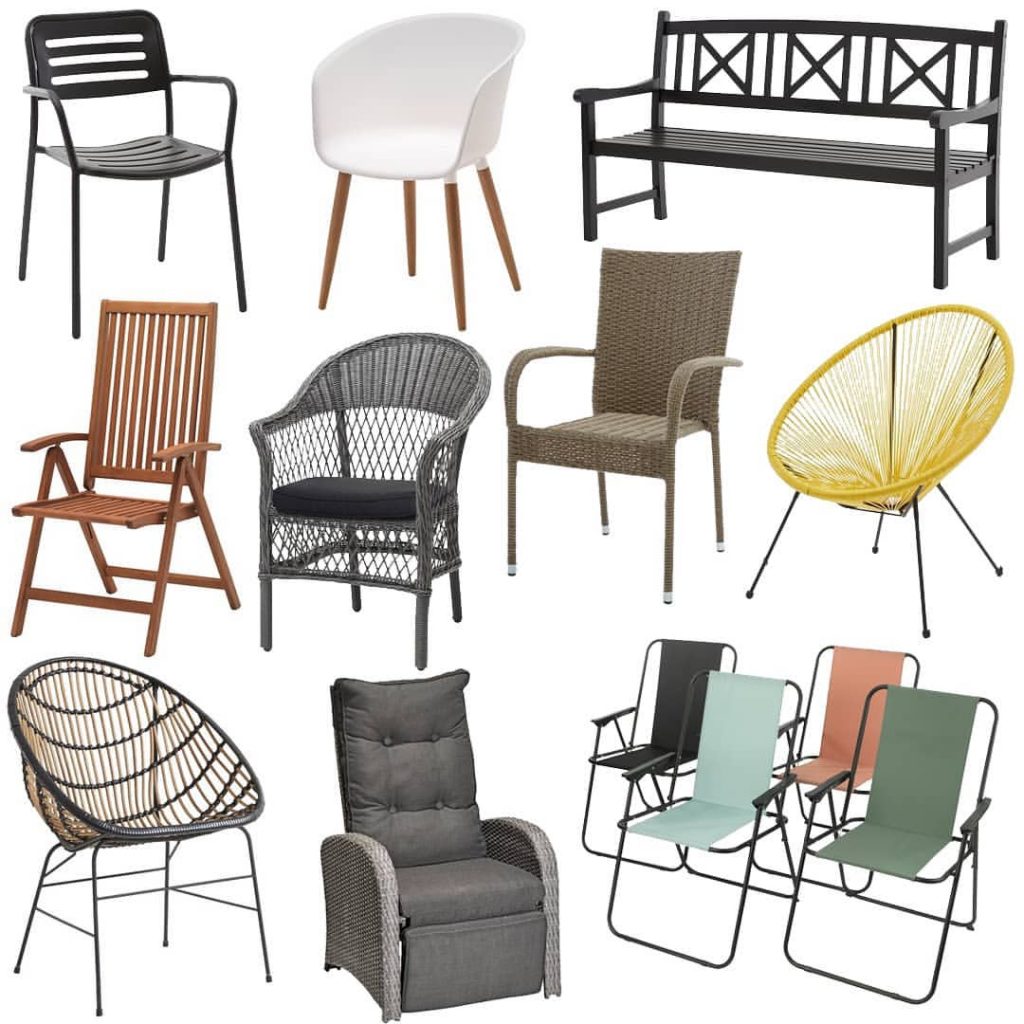 Footrest
It is recommendable to choose a reclining chair with a retractable or detachable footrest. A footrest is important for a recliner, but a retractable or detachable one makes the piece of furniture suitable for multiple purposes.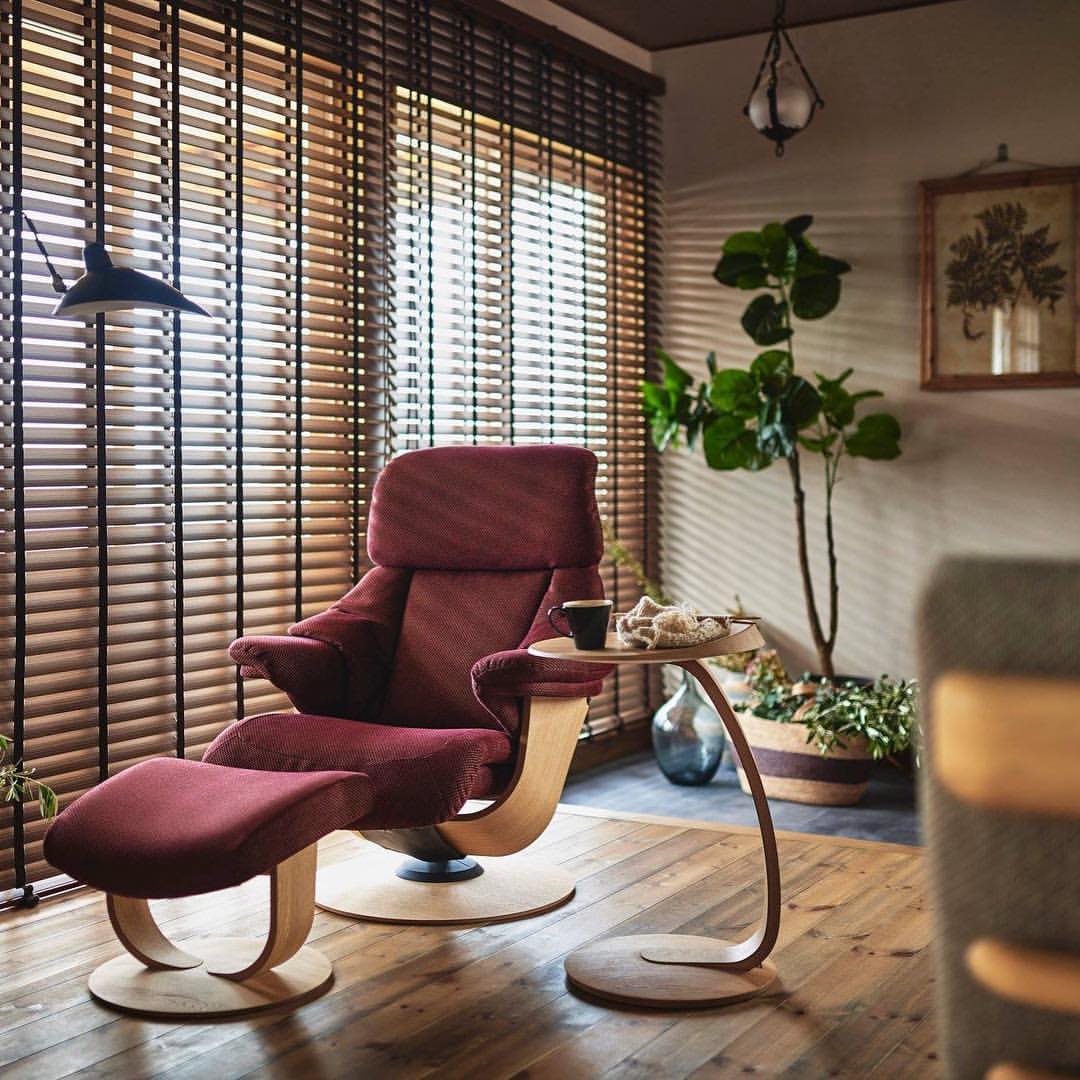 Adjustability
The other important factor to consider when choosing the right reclining chair is whether it comes with adjustable features. These include adjustable height, flexible lumbar support and retractable footrest since one size does not fit all users.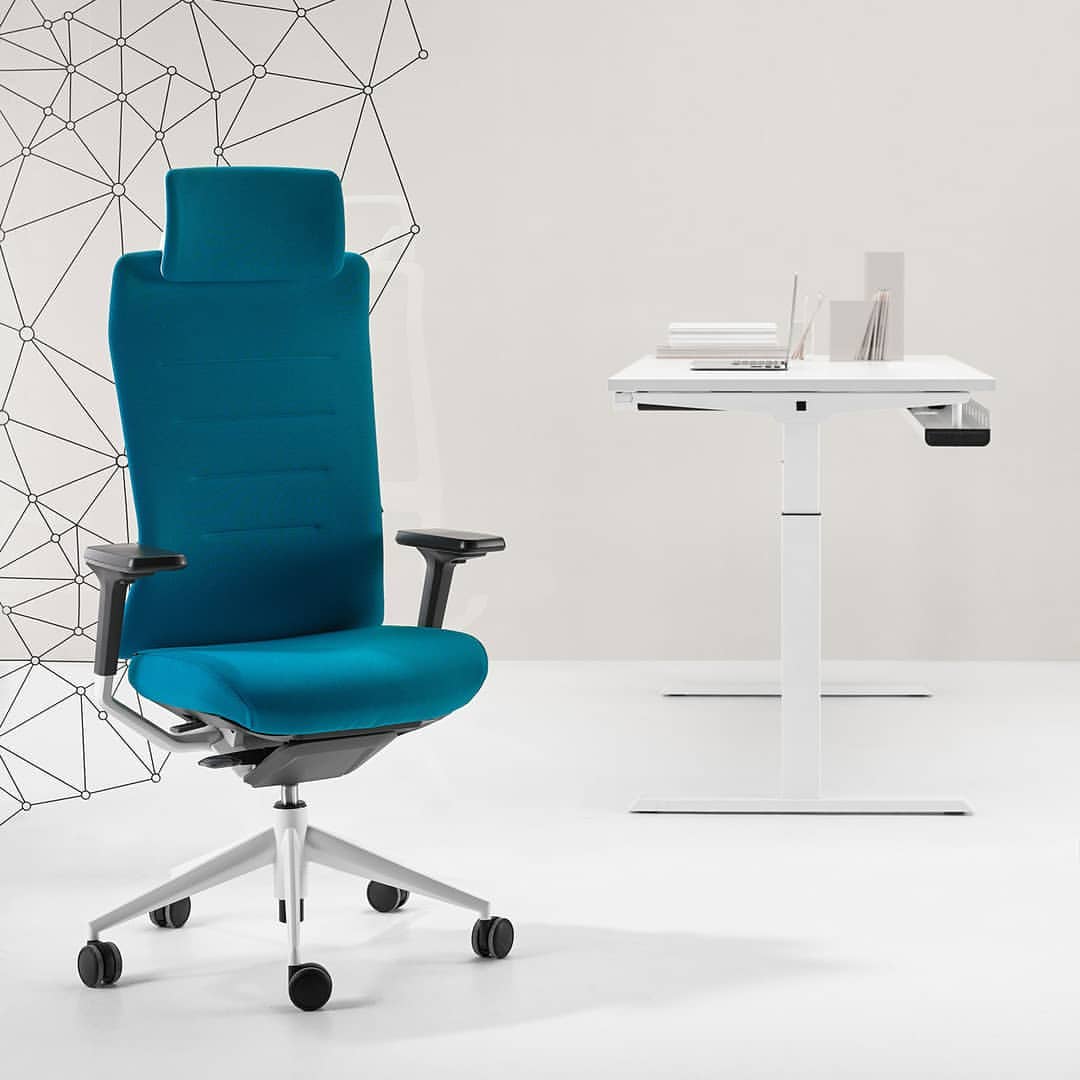 Tilt Mechanism
Choosing a reclining chair with an auto-balance mechanism allows for quick tilt and return, which will enable you to take a deserved break from your upright sitting posture frequently. These breaks help prevent any strain on your body while enhancing your blood circulation.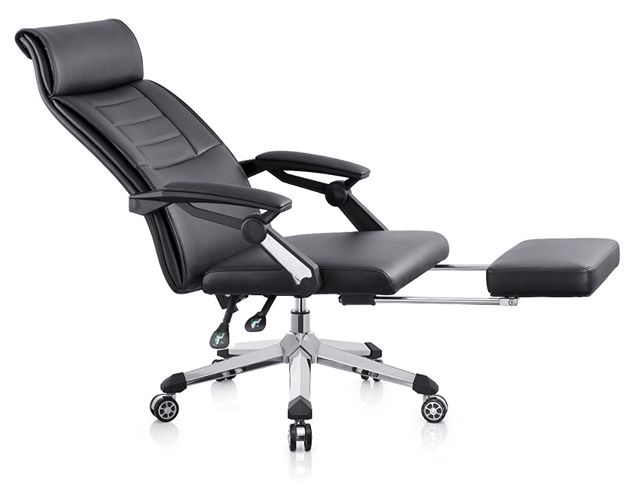 Tilt Controls
When purchasing a reclining chair with footrest, it is important to consider one that comes with responsive external controls. This allows you to effortlessly adjust position and direction, regulate tension and find the right sitting position.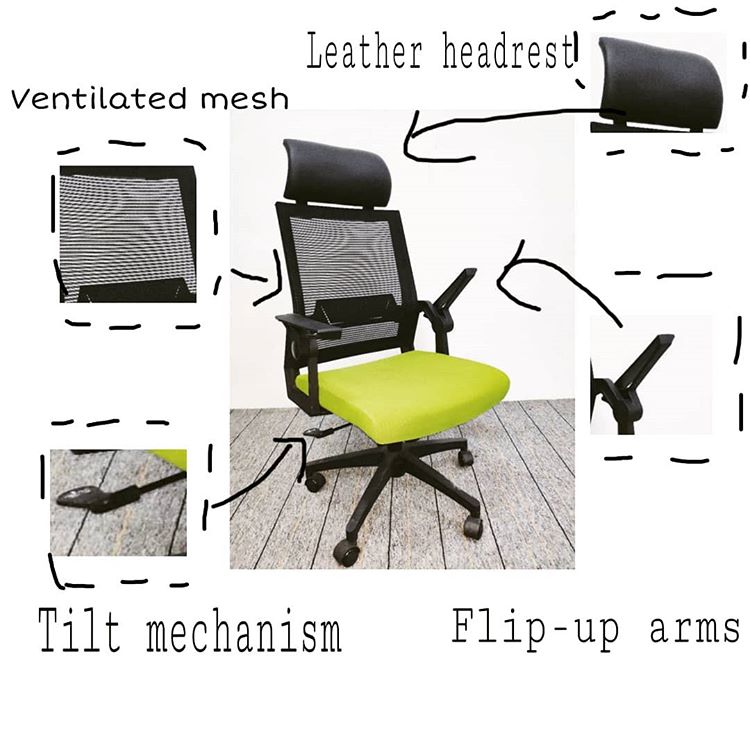 Budget
Just like when buying other products, the budget is also an important factor in determining what you buy. However, it is important to mention that a high price does not always mean that a product is better than the ones that cost less. We recommended that you should always do enough research to learn more about the item.
See all greatest office chairs with the available price here!
Example of the Best Reclining Office Chairs with Footrest to Consider this 2023
Here we have researched and selected the 3 reclining chairs with a footrest that you should consider if you are looking for a great piece of furniture to add to your office. These include
The Songmics swivel chair is a black reclining chair with a footrest, which allows it to stand out from many other high-back swivel office chairs. It features an ergonomic design that provides more comfort and support for your legs while working, napping or relaxing. The chair comes with highly resistant polyurethane foam padding that offers enough support to your back and neck. These help prevent health complications associated with using chairs without proper support.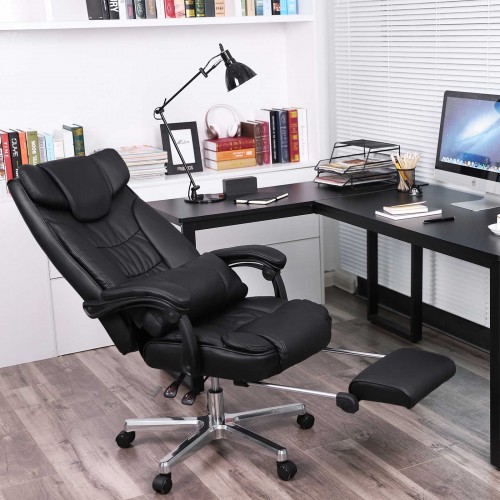 Moreover, the chair includes padded armrests, waterfall seat, bilaterally arched pads, which provide excellent support to the lower and upper limbs and your back. It is also equipped with adjustable aspects that include seat height that allows you to go 22.25 inches up, and a lumbar pillow, which can be positioned everywhere. These also include a reclining backrest, which can back recline at up to 150 degrees as well as an adjustable footrest.
The chair provides 331 pounds maximum weight capacity as it is designed with a five-pointed base that includes PU casters. In addition, the chair is easy to assemble and it meets quality and BIFMA standards.
Features
   Highly Padded with non-deformable foam for extra support and comfort

   Features an ergonomic design

   Comfortable reclining chair with footrest

   Built from carefully selected materials for enhanced quality and safety

   Includes noiseless caster that allows you to slide smoothly
Where to buy it
The Merax reclining office chair is one of the most popular pieces of furniture in the market today. It features a great ergonomic design that makes it suitable for various workplaces. These include places that have long working hours such as the IT sectors. With the back tilt design and a well-extended footrest, the reclining chair is comfortable to sit on for an extended period without causing any complications or general body fatigue.
It also comes with an adjustable seat height that allows you to adjust the office chair to meet your needs. Moreover, the armrests are built with comfortable cushions that enable you to rest your hand. The chair has a complete 360-degree axis that allows you to revolve at any time either when picking something, talking to a colleague or just relaxing. Finally, the reclining office chair with footrest meets all the BIFMA or ANSI standards.
Features
   Offers a complete 360-degree axis for revolving any time

   Features a well-extended footrest

   Comes with a black tilt ergonomic design

   Comfortable cushions armrests

   Provides adjustable height

   Meets all BIFMA/ ANSI standards
The HollyHome Executive Office Chair is another top quality reclining office chair that can offer great value for your money. It is designed with an adjustable depth lever and height adjustment for a comfortable seating experience even when working for long hours. Besides, the ergonomic office chair features a retractable footrest that can be entirely withdrawn for study or work and pull out to relax your legs.  
It also offers a complete 360 degrees swivel and allows for 90 to 150-degree rearward movement that enables you to lie down entirely as you are in a bed. With the lever and height adjustability, you can easily find multiple seating postures or positions for both focus and relaxation.
Moreover, the reclining office chair with footrest provides greater stability as compared to standard chairs as it comes with durable nylon casters and sturdy five-star base. This allows it to offer up to 250 pounds weight capacity.
Features
   Designed with a retractable footrest

   Offers depth lever and height adjustability

   Provides a 360 degrees complete swivel

   Comes with durable nylon casters and heavy duty 5-star base

   Support up to 250 pounds

   Built with well-curved mesh back
Conclusion
Reclining office chairs with a footrest is an important piece of furniture for any person that would like to take a break while working. These chairs are designed with great ergonomic features that allow you to experience full support to protect your spine in any posture or position. However, choosing the right chair can be a huge challenge, but with the information above, we believe you can get an ideal product for you. It is advisable to choose the best reclining chairs with footrest like the ones reviewed above if you want to enjoy the full executive experience.