The Duramont ergonomic office chair is a mid-priced chair that also earned our favor. We loved the simplicity of it. And despite some qualms, we find this chair a great mid-price option for those who find the Herman Miller Aeron and the Steelcase Leap too expensive.
But should you get one with the adjustable lumbar knob? Well, this feature will be the deciding factor when buying a Duramont chair. And allow us to air out our thoughts if you should or should not get the lumbar support.
A no-fuss chair for tall people
Before we get into the jeez, let us do a quick recap on what makes Duramont a great option.
One, it has a robust and sturdy construction. The Duramont ergonomic chair is not cheap or flimsy. The overall build and quality earned our favor. Thus, we are pretty sure this mid-rice chair can last long, well long enough for you to get your money's worth.
It feels stable and solid. And as we have mentioned above, this is a chair that's fit for taller users. So the chair can handle the extra heft. 
Here are the features that made it perfect for taller people.
It has a full backrest
This is one of the few mid-priced office chairs that can support the entire back of a tall person. And not to mention, it's made of mesh material, so it allows for better air circulation. We can even pin it against the more expensive chairs such as the Steelcase Leap and the Herman Miller Embody. 
These two premium chairs have a wider and high backrest that makes them more comfortable for taller people. And surprisingly, the more affordable Duramont isn't lagging too behind.
It's a combination of a chair with a fully supportive backrest and sturdy construction. We'll pick the Duramont over a sea of mid-range high back seat chairs if you ask us what's the best one for taller people. 
It might not feel sublime on the back like the premium brands, but it's a bit closer to that.
Sufficiently comfortable cushion
The cushion is thickly padded and quite comfortable for those who weigh a bit more. We also love that the cushion has a sloped front at the edge, sort of a waterfall design. So this makes it not numbing on the legs, especially if you have long legs. So we are pretty happy with the quality and comfort of the seat. 
The seat is also covered with another mesh on top of the foam. It matches the mesh backrest. But be careful not to have crumbs of chips falling on the seat. You'll find it hard to scoop if it gets tangled in between the weaves of the mesh material.
Great recline and tilt function
We love how you can control the resistance of the backrest. This can give your back sort of a back and forth movement which is a breather. In addition, you also have three options for the recline. Though the chair will not be able to recline as much as 180 degrees for a full nap, the three recline options are decent enough for a mini-back break.
And not all office chairs of this price range offer these features. This somehow makes this chair more usable by people of varying weights.
What could have been better for the Duramont
A few things we highly recommend for their brand
The headrest won't go high enough 
It has a solid and stable headrest. And you can also easily change the height and the angle of it. But our main concern regarding the headrest is that it cannot go high enough for someone taller than 6'2". It can just settle at the neck area. And for some people, this can be a bit painful and numbing, especially if you are going to lay your neck on the headrest for several hours.
It's just a shame that the base of the seat height can go high. If you're looking for the perfect adjustable office chair for someone who stands 6'5", this is one of our top suggestions. But sadly, you just have to deal with the headrest not going high enough. 
The seat pan cannot be adjusted
If you're 6'2" to 6'5", you'll comfortably fit into this chair. The seat pan is quite high. But if you are nowhere near 6'2″, you will not find this chair comfy. That's because the seat pan is not adjustable. Hence, those who are of average height will never find the Duramont chair comfortable. Either you fit into it or you don't.
You'll also find that the armrests will not be able to go low for those who stand 6 feet or lower. But we do find the material of the armrests sufficiently comfortable.
The lumbar support
This is perhaps the most unique feature of this office chair. The lumbar support of the Duramont can be adjusted length-wise and depth-wise. So you can control how forward the chair pushes you. And we find this quite comfortable on the back. 
Aside from the lumbar height, you can adjust the depth of the lower back support. It's very supportive on the back.
And we have mentioned before that this chair is for taller people. But those who don't mind having their feet a bit high from the chair will find that this unique lumbar knob helps push you forward. So it can also help your feet reach the floor. We reckon it would allow leeway for those who have their feet just an inch from the ground. But more than that, your back will be too arched.
Thus, the adjustable lumbar support might be able to make a little more leeway for those who are about 6 feet. 
This feature also removes the need for a lumbar cushion or lumbar pillow. You don't need a pillow to push yourself further forward to the edge of the seat. You just need to adjust the tension of the lumbar support. 
The support that you get is a bit similar to the built-in cushion of gaming chairs. That's except that it's not bulky and it will not get hot since it's mesh.
Moreover, there are a lot of S-shaped office chairs that are designed to increase back support. And this design promises to be more accommodating to your back and can follow the shape of your spine. This is technically what it also feels like with the Duramont adjustable lumbar, only that you can customize how deep you want it to be.
With S-Shaped ergonomic office chairs, you can't control how curved the brackets are. And lumbar support and comfort are very personal. So with this feature, you have the option to customize your lumbar support. 
And we think that this balances things out. As we have mentioned earlier, the Duramont either fits you or it doesn't. The seat height and the armrest are built for taller people. Even those who stand 6 feet might not love the chair. But, there is a small but there. The 2-way adjustable lumbar support offers a little leeway. 
And remember, the first part of your body that will come into contact when you lay your upper back on the chair is your lumbar So if you want to rest your upper back against the chair, you will often find that there is a big gap between the lower and the upper back. And this can make your back too arched. Thus, people use lumbar pillows to bridge the gap. But not all lumbar pillows are comfortable. And it can get too hot.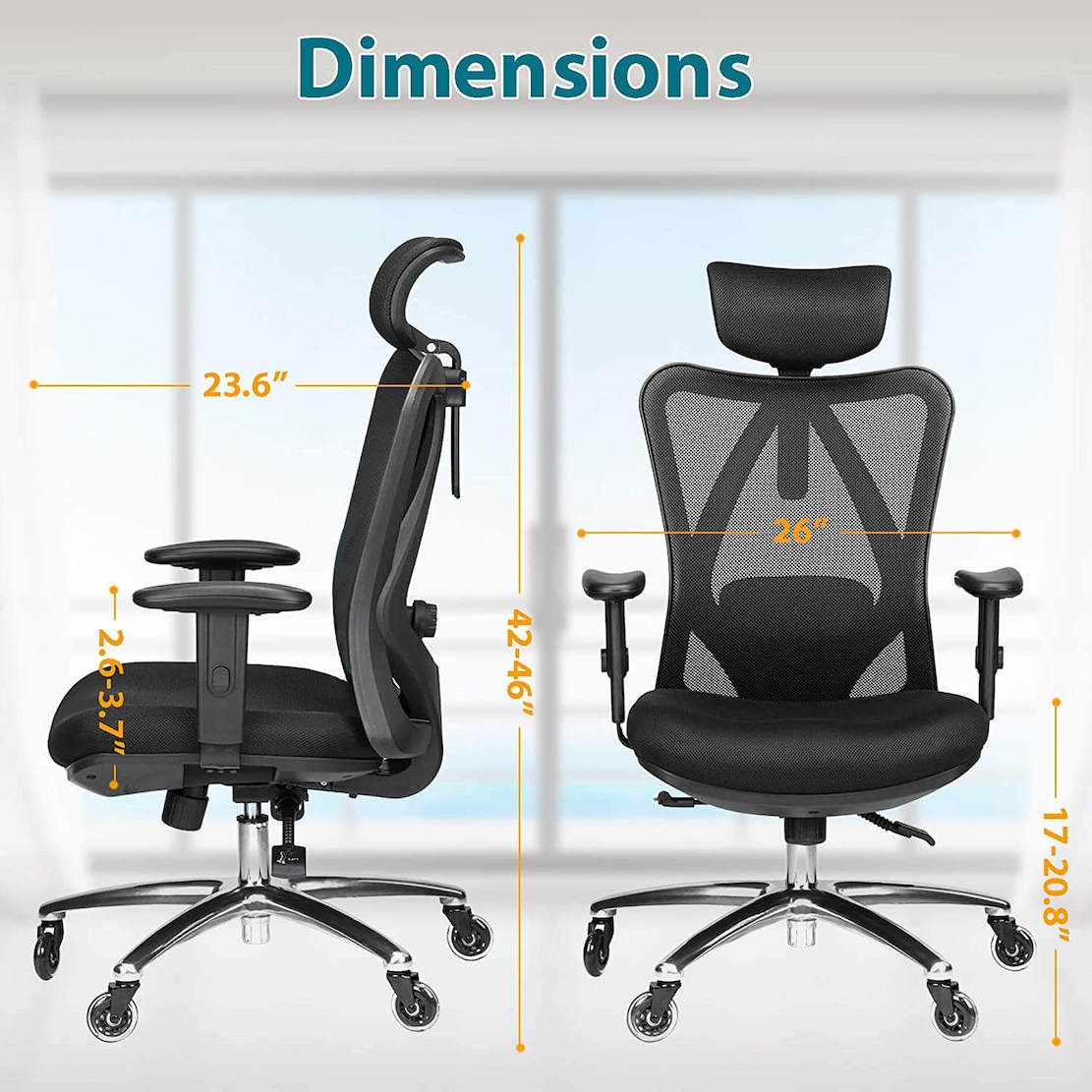 Overall
We are quite a fan of the adjustable lumbar support of the Duramont ergonomic office chair. So should you get one with it? Definitely yes. It offers such a treat for your lower back. And it kind of makes the chair more accommodating. 
But sad to say, no matter how the lumbar support and the recline function make this chair amenable to more people, it does have major limitations. Average size or petite users will not be able to find a comfortable spot despite these two more customizable features. 
Getting the Duramont adjustable office chair with lumbar support is a wise decision. This unique feature isn't just hype, it works. It makes this tall chair have one of the most customizable back support for tall to taller users.