Leather office chairs have a certain appeal. They look more polished and seem to demand more authority. That's why they are often coined as executive chairs. But the mere mention of leather office chairs sparks dollar signs. More often you'd think that they are expensive.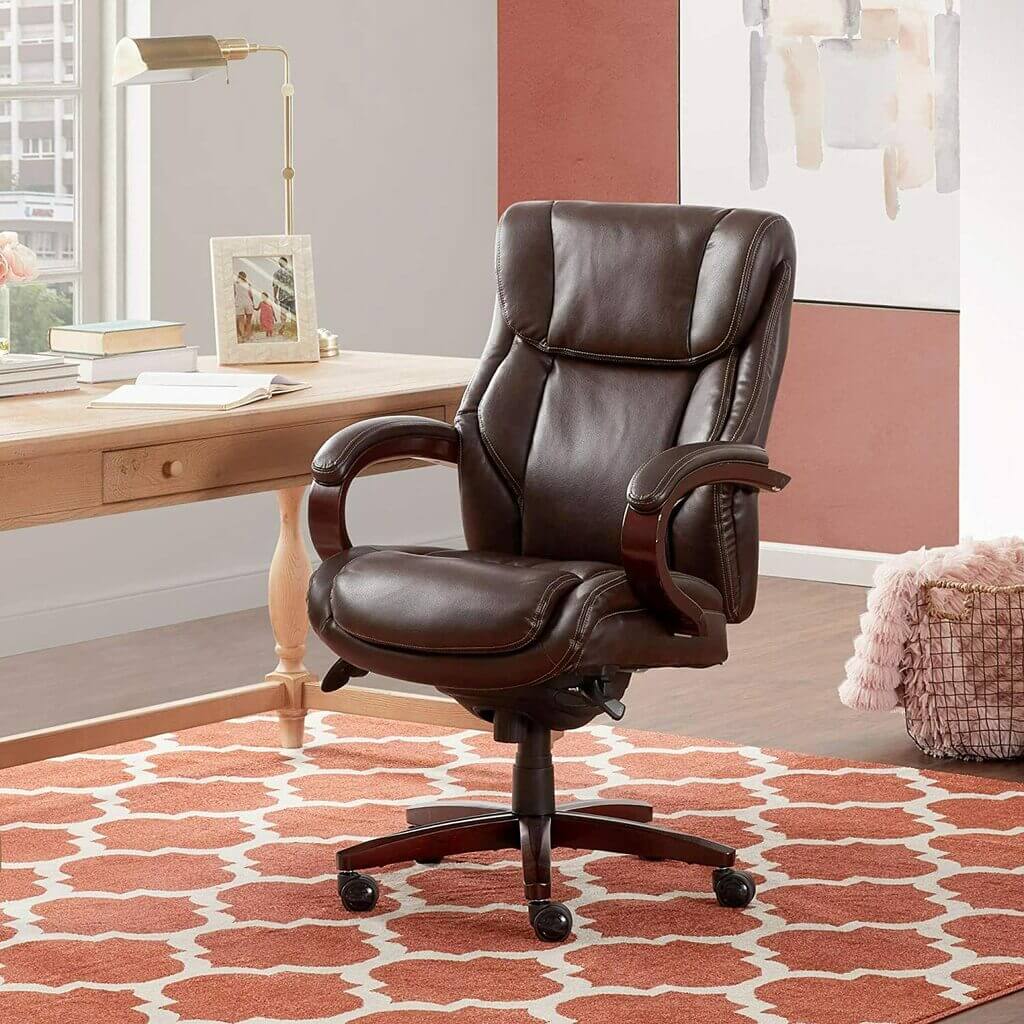 We will review 5 of the best leather office chairs, and you'll be surprised that there's one that fits right within your budget. You don't need to shell out a lot of dough to enjoy a decent executive chair!
Gates Genuine Leather Aluminum Base High-Back Executive Chair
This leather office chair looks sleek and classy. It's made of genuine Brazilian leather. And the leatherette at the back and the aluminum caster wheels completes the polished look. It looks quite inviting too. 
It's quite ergonomic too. And with a price tag of fewer than 600 dollars, this is a great value for your money. One of the main features of this office chair is that it can be tilted up to 120 degrees. 
So if you don't find the 90 degrees upright position comfortable enough, you can tilt it back further. It even offers 4 different tilting positions. So you may even find yourself comfortably snoozing in this chair.
The seat height has a nice range too, it can be adjusted from 19-22 inches. And it can seat those who are taller and a bit on the heavy side with its 275 lb weight capacity. It feels nice on the back too with the built-in lumbar support. 
As for the armrests, it's curved so it can support your wrists more, but I find the armrests a bit flimsy. And the armrests are stationary too, so there is limited movement in that area. 
All in all, this is a posh-looking leather chair suitable for tall people. And it's ideal for those looking for multiple reclining positions. 
Pros
Offers 4 tilting positions

Heavy duty

Has a nice built-in lumbar support

Features high-density padding

Easy to assemble
Cons
The armrests aren't adjustable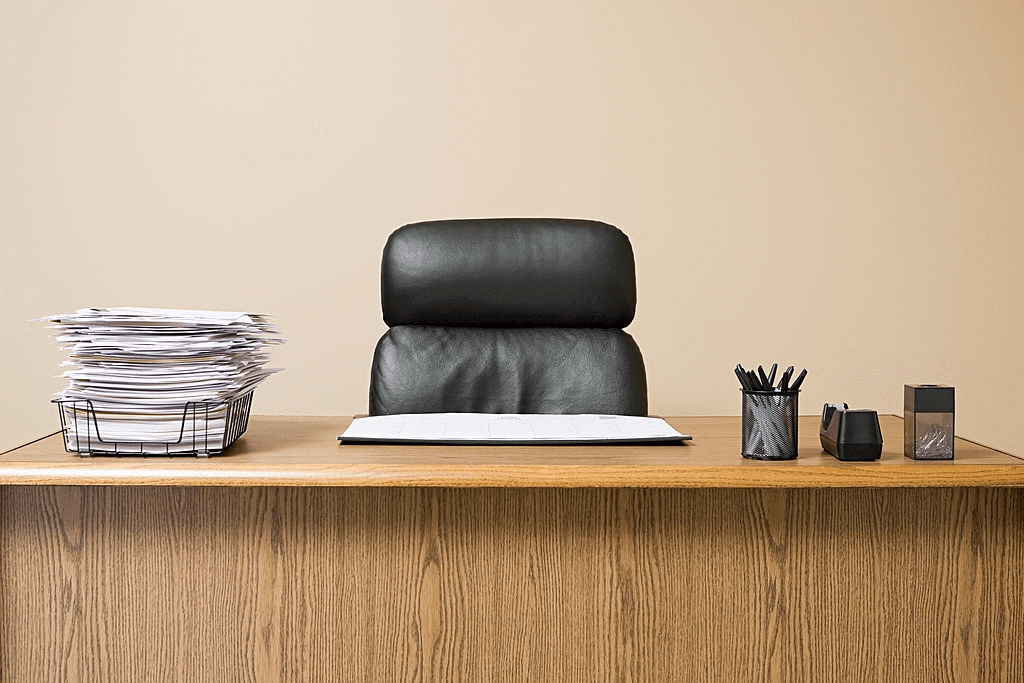 Crossford Furniture Executive Chair 
This executive office chair will bring comfort to your extended 10-hour duty. It has a nice padded backrest and padded armrests that can be a bliss during overtime hours.
This office chair is designed for the hardworking executive. It boasts of features that guarantee comfortable seating even for an extended period. One, I've mentioned the lovely padded backrest and armrest. It's fluffed with an extra foam inside so that it could give you additional comfort.
Since the lumbar seat is padded, it gives you the freedom to move the upper part of your body. The main advantage of this office chair is the butterfly mechanism. This technology lends great lumbar support for extended hours. 
Though you can't adjust the seat depth, it can tilt a bit when you recline the chair. You just choose the best position for you and lock it in place.
The chair can swivel and what's nice about it is that you can control the tension of the swivel. Just adjust the round knob and choose your tension preference. 
In addition, it's made of polyurethane material that's quite easy to clean. Some may just find the seat a bit too hot during the summer.
In a nutshell, it's a comfortable chair that can relieve back and leg numbness during prolonged sitting. 
Pros
Waterfall edge seat design

Comfortable padded lumbar backrest

Padded armrests

Can be reclined back

360-degree swivel chair

Wide and comfortable seat
Cons
Seat height and armrests can't be adjusted

The armrests feel a bit flimsy
YAMASORO Ergonomic office chair
This executive chair may be one of the most affordable yet comfortable leather padded seats in the market today.
You can enjoy an executive office leather chair without breaking the bank. It's priced so cheap but it's still comfortable enough for a whole day's work. It's quite a treat for its price actually.
So here are the features that you'll enjoy. One, it has a tilt function that can recline from 90 to 135 degrees. So you'll definitely enjoy some downtime in this chair and you may even take a nap on it. 
Two, the seat is made of high-density foam. So it's built for the bigger league. Meaning it's quite heavy-duty and can accommodate people who are on the heavier side. Even the springs are resilient that they can last for years. 
And three, the swivel caster wheels are as quiet as a mouse. So Even if you're on the heavy side, these durable wheels won't make noise when moved. The non-slip feature of the wheels is also a bonus. 
But of course, there are some aspects that I wished were better. Though the armrests have a curved shape that can support the wrists, it's not adjustable. Though you can flip it up and down to enjoy a wider seat. 
In conclusion, it's a plush and heavy-duty leather office chair that's really comfortable.
Pros
The polyurethane leather is water and fade resistant

Thick and comfortable backrest and headrest

Heavy-duty and durable

Has a tilting function

Has 360 degree swivel caster wheels
Cons
The armrests aren't adjustable

Fixed headrest
The mere mention of the brand LA-Z BOY makes you want to sit down on this executive chair. And that's for a good reason. The brand is known for plush and comfortable seating solutions, so I reckon this would be the same.
It's all in the foam. What makes this executive chair extremely comfortable is that it's made of memory foam. This type of foam supports the whole body by conforming to the natural curve of it. So it pretty much moves with you. 
It's a padded seat with additional padding! Hence, it's so soft and plush. And it even has additional padded support on the thigh area near the waterfall edge seat design. Though not everyone seems to enjoy this extra feature. 
As for the style, it has a bit of a vintage vibe with its wooden armrests and base. It's made of premium wood, so it can last for more years. 
And of course, it's ergonomic and fully adjustable too. The seat height is adjustable and It can be tilted back (25-30 degree angle). Though it doesn't tilt back that much, it's still nice to have. 
All in all, the LA-Z BOY Miramar is a stylish and comfortable leather office chair. If you're looking for a leather executive chair with a lot of cushion ( and if you don't mind the price tag!), this is a great option.
Pros
Waterfall edge seat design

Made of memory foam

Durable and premium wooden base and armrests

Wide headrest
Cons
Some find the extra padding at lumbar and thigh area uncomfortable
If you're looking for a luxurious reclining leather chair, the Cherry Tree executive chair is one of its kind.
First off, it's cheap. It's priced a little bit above a hundred dollars but it doesn't feel like a cheap chair. 
Secondly, it can recline up to180 degrees. That's almost a flatbed. So I reckon this is a comfortable spot for some for downtime. Whether you're beating a deadline or you're gaming, you need breaks in between. 
With this chair, you can steal a snooze for a few minutes. It's a leather chair for the masses. and most people love a reclining office chair. It's adjustable so a lot of people can definitely fit in this chair.
Third, it's a high back chair that can provide lumbar support even for taller people. It even has a cushion pad at the lumbar and a retractable footstool for utmost comfort.
And it's quite durable too and can support a weight of up to 120 kg. 
All in all, it's a very affordable and fully reclinable office chair. It doesn't feel luxurious but it doesn't feel flimsy at all. 
Pros
Can be reclined up to 18 degrees

Swivel caster wheels

Has extra padding for cushion

Has a retractable footstool

High backrest can accommodate taller people
Cons
 May not be comfortable for shorter people

The armrests are not that comfortable
Conclusion
Leather office chairs do not need to be too expensive at all. You can still choose a stable weather chair that's right within your budget. My list contains one of the most premium to one of the most affordable yet functional leather office chairs that you can get for your office.