How comfortable can your office chair get? LA-Z Boy is popular for its comfortable upholstered fabric and leather recliner chairs. Let's see how it fares.
About the brand
LAZYboy is a US brand that's known for manufacturing plush seating solutions and other furniture. Couch potatoes love the brand's recliner chair. But aside from these cinema worthy chairs, the brand also manufactures executive office chairs such as the Baylon.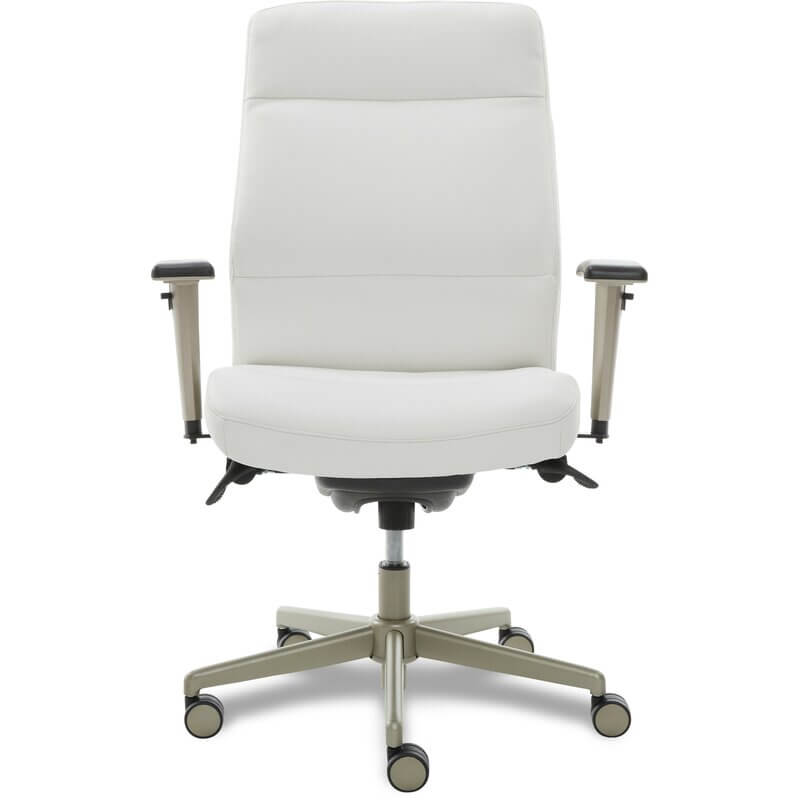 LA-Z Boy Baylon Office Chair Review – More than the basic adjustable ergonomic chair
The LA-Z Boy Baylor office chair is a basic adjustable ergonomic chair. It might tick most of the items on your list. I find the Baylon office chair more ergonomic than other popular mid-range office chairs in the market. 
The Baylor chair can be height adjustable, it has a tilt and reclines function. You can also adjust the armrest up and down. But you can't pivot it or move it inward or outwards. It also has lumbar support. But it comes in a cushioned contoured lumbar support that's stationary. 
One of the adjustable features that are missing is the adjustable seat depth. This is expected as only a few chairs have an adjustable seat depth such as the premium Herman Miller Aeron. So it's pretty normal for most office chairs to lack this feature. 
So, in terms of the adjustable features, it's a tier higher than most entry-level office chairs in the market. Some popular ergonomic chairs such as the IKEA Markus have some pretty nice features too, but it can't be reclined. 
And since this Baylor executive chair is manufactured by LA-Z Boy, expect it to offer a decent amount of recline. Otherwise, it won't be a LA-Z Boy chair anymore, right? So I think that's also one of the selling points of Baylor. And where there are reclining features, expect it to be comfortable.
So speaking comfort, I'll head on to the next section- the features that I loved about the chair.
Things that I looked about the La-Z boy Baylor office chair
Before I head on to the constructive criticism, let me enumerate first the features that I enjoyed while using this La-Z Boy Baylor office chair. And these features can make this office chair worth the buy
Really comfortable
Yes, the recline did make a lot of difference. It allows you to comfortably stretch your back in the middle of a busy day. You can even nap a bit while taking a 10-minute break from your paperwork. But apart from the recline function, other features made the Baylor office chair rather comfortable.
One of my qualifications to brand an office chair comfortable has to be the lumbar support. Baylor has built-in lumbar support. It's not adjustable, it's fixed. 
And it's in a padded contoured form. So it can be really comfortable for you if you fit right into the chair. The seat and back of the Baylor chair are rather wide. So it's comfortable for average-sized o a bit taller users. And it may not fit short people. 
And if you enjoy a wide seat you'll find this office chair rather comfortable like I did. Also, the upholstery is made of bonded leather. 
But I find it to have a combination of firm and soft support. And an advantage it has over faux leather is that it doesn't have any weird funky smell. So it's comfortable for your nose too. 
But keep in mind that the comfort level of this chair is leaning towards the firm side. It's cushioned, yes, but the cushion isn't too plushy. It's more on a firm one. So it also gives ample support for your buttocks. 
The chic and high-end look
The Baylor office chair isn't necessarily a premium brand like Steelcase or Herman Miller. But in terms of appearance, it doesn't look far behind. It looks chic, contemporary, and stylish. It has soft curves and metal accents that can fit right into a modern home office. 
And even from afar, you can tell that this chair is well made. Tight it's not like a Steelcase leap or a Sayl chair that looks impressive, but it's stunning enough for your officemate to want one. 
Small footprint
Albeit the chair's wider seat and back, it won't eat too much space in your office. So that's a great thing. And if you have a tiny space allotted for a chair, you don't have to settle with a task chair. You can still save space and have a comfortable cushioned executive chair. 
Well built 
The LA-Z yboy Baylor chair looks well built and seems like it can last for years. But some users have complained that they find the chair flimsy because it awkwardly tilts to one side. I think the problem lies with the assembly. You have to make sure that everything is properly aligned and properly tightened. This will prevent the chair from tilting too much on one side.
30-day return
If you don't feel happy with the chair, you have a month to return it. So it is a great value for your money. Since you can try it out for a couple of days, you can discern if this is the chair that you need and want. And 30 days is a pretty long time to get used to an office chair or to tell if it is for you.
The price
Where to buy it, of course, check this out
Some could have been better features
Tilting feature not intuitive didn't make any difference
It does have a tilt feature, but I find that it really doesn't do much for the chair. Or that I didn't feel that much difference.
Not for smaller stature
As I have mentioned above, this might not be for shorter users. You might find the seat too wide. Though the height adjustment is relatively decent, it might not go low enough for shorter people.
Arms are adjusted up and down, can't be pivoted
Baylor's arms are adjustable 2 ways. So if you want to turn it towards or away from your body, that can't be. Though the armrests are quite comfortable since they are also cushioned. So if you don't mind just the 2 ways adjustable arms, you'd find it rather comfortable. 
Wheels not smooth on vinyl floors
If you have vinyl floors, you might have a challenge rolling this Baylor office chair through it. I'm not seeking all types of floors. But if you have vinyl flooring, it's one thing to consider.
Almost as comfy as a LA-Z Boy Recliner
So since this is a LA-Z Boy chair, you might often wonder how it would fare against a LA-Z Boy recliner. Of course, it's a given that the recliner chair is more comfortable. But you'd be surprised that the Baylor executive chair isn't far behind.
it's almost as comfortable as a recliner chair of the brand. Well, except that the latter is plusher and meant for movie marathons and relaxation. But I must say that the Baylor executive chair is one of the most comfortable executive ergonomic chairs that I have sat on.LA-Z Boy
You can tell that it's a LA-Z Boy chair because of the cushion and the padding. Albeit it's a bit firmer than a Recliner, it's still LAZY BOY quality. You get the same memory foam material and front and rear support. Which is pretty much the trademark LA-Z Boy chairs. 
And of course, the high-quality materials make the chair look premium and high end. The mixture of quality wood, padding, and foam can blend in well in a modern office.
 And also, the Baylor executive chair has a reclining swivel. So that itself is already a comfortable feature, not all office chairs have. So it's just a tad behind the recliner chairs of the brand. But oh well, you're using this for work right? So it can't be as plush as a recliner. Otherwise, you would just zone off. So I find the comfort level appropriate for an office chair.
Who is it for
The Baylor executive chair pretty much has a decent scope of users. But it might not go low enough for people with shorter stature. But since it's wide, it can accommodate those who are wider. Or if you just enjoy a spacious seat, this is a great option. And the height adjustment is also decent for average-sized to taller people. 
If you value a firm comfort the most, you'd find this chair a steal.