DXRacer offers some of the more ergonomic gaming chairs, we have here Air and the Master.  So let's see if they did justice to these units.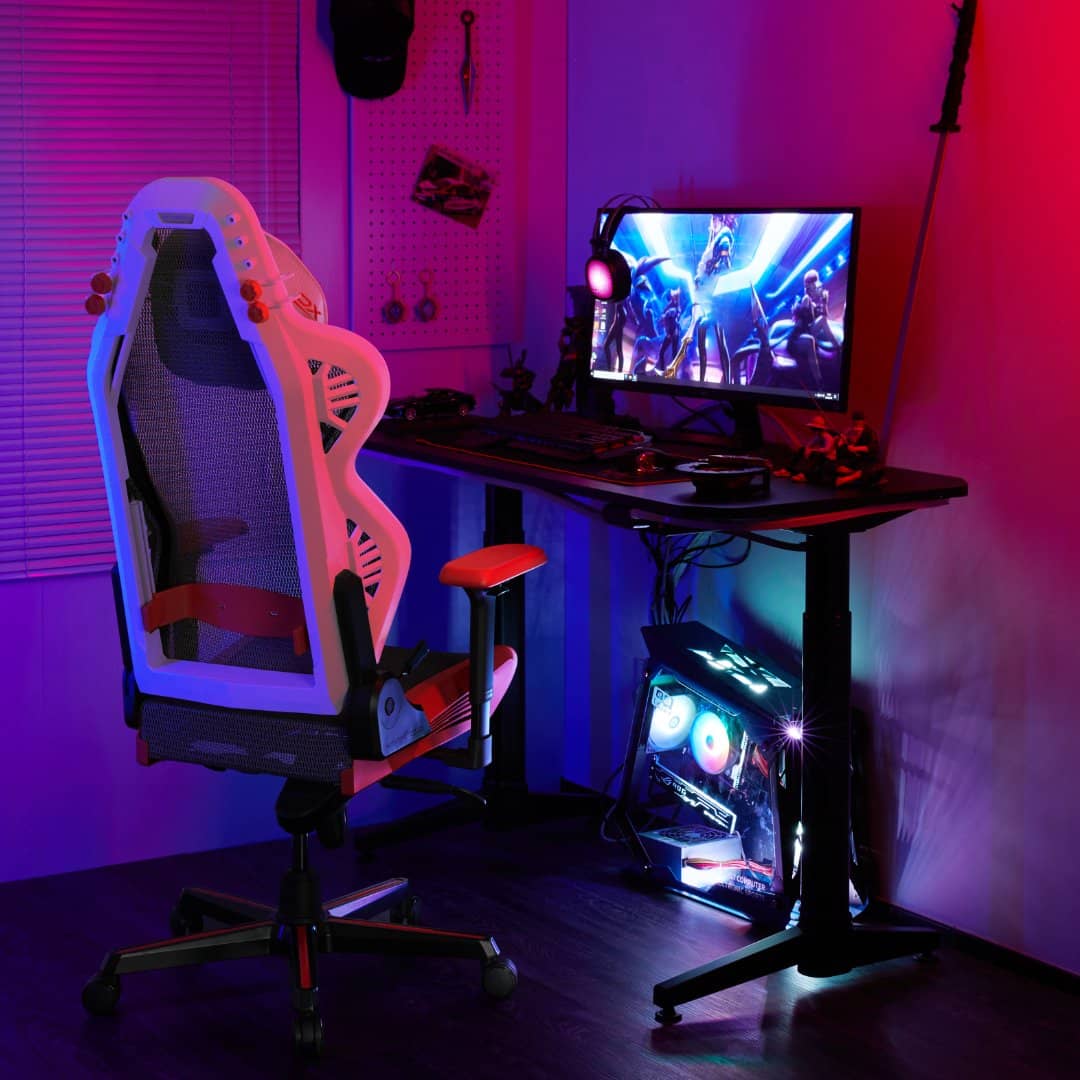 We also have Corsair, which is another popular gaming chair brand, the T2 offering more ergonomic features. So we're going to out the three unique gaming  chairs against each other
Let's take a quick peek at some of their features. 
| | | | | | |
| --- | --- | --- | --- | --- | --- |
| Gaming Chair | Seat height range | Seat depth | Seat width | Weight capacity | Material |
| DXRacer Master | 19.75-22.75″ | 19.5" | 15" | 275 lbs | PU leather |
| DXRacer Air | 19"-22" | 20" | 19" | 220 lbs | mesh |
| Corsair T2 | 18.1"-21.3" | 19.7" | 22" | 300 lbs | PU leather |
The Air is a failed attempt at a more breathable gaming chair
This may perhaps be the first mesh gaming chair.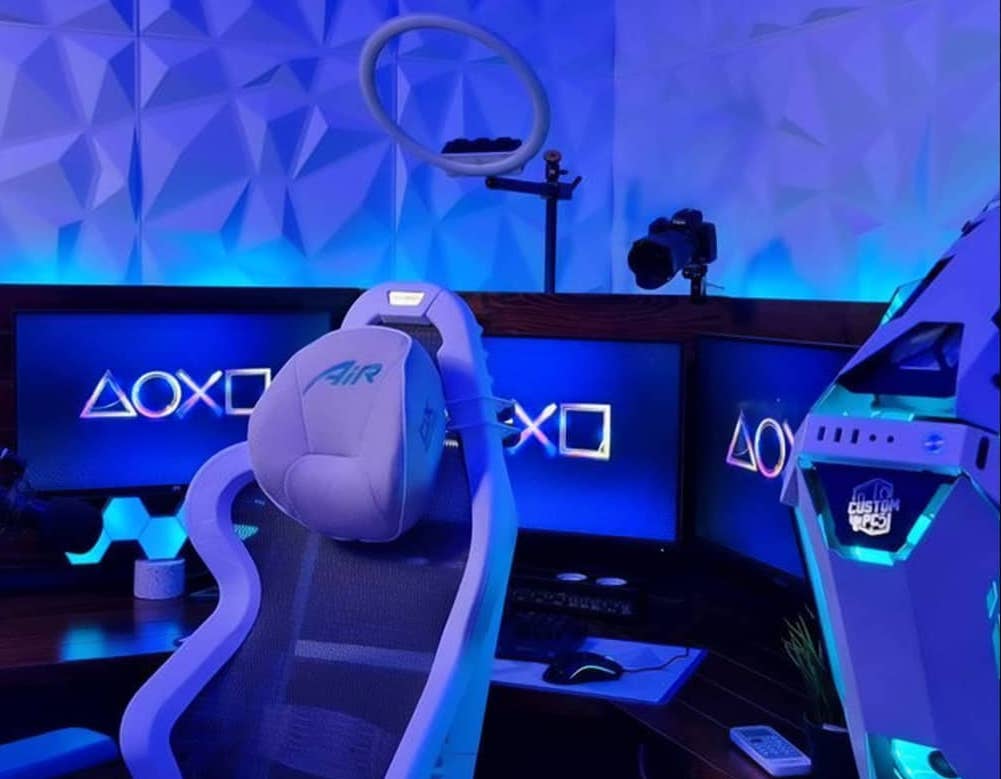 Standard padded gaming chairs can be quite hot, even with perforations on the PU leather material, they can still become too sweaty in the summer. And the longing for a cooler option gave birth to this mesh gaming chair. 
But how was it?
To be honest, we really did not like the entire look of the chair. 
This screams plastic, it almost looks like a toy. 
Though some find that it looks quite unique and some may like it,  it just looks a tad cheap to us.
Also, the mesh material is not like what you can get with the more acceptable ergonomic office chairs. 
The mesh is very scratchy and even abrasive. It's also not flexible and feels stiff and rigid.  
And if you're going to sit on it for a couple of hours, it will irritate the skin. And to address this issue the brand has chair covers that you can buy to place over the rigid mesh. It's okay if it's free, but you need to spend extra moolah just to cover it so it can be a waste of money. And it defeats the purpose of having a mesh chair since you're going to cover it after all. 
Aside from the not-so-pleasant mesh, we also did not like the lumbar support. It's just a piece of plastic that can slide up and down. It also feels very flimsy. 
Though it's different from most gaming chairs since standard ones only have a lumbar pillow that you can adjust. And while this can be an added feature, it does not seem to hold itself up and it can be shaky. 
So we really don't see it doing much for the chair. 
Who can use the Air?
While we do not like the idea of this chair, it can serve those who are okay with a very rigid and scratchy mesh. 
And the seat height range of the chair can accommodate those who stand 5'10" to 6'6″. So this cannot be used by women of average height, as such we see this going to be useful more for men. 
But the overall look of this chair can come off as feminine. So we see this chair being liked by a few men.
DXRacer Master's ergonomic features did justice to the chair
This DXRacer chair has a more posh vibe compared to the Air, It resembles an executive chair. At the same time, it can maintain a bit of a gamey vibe. Though it's not as sporty looking as the other series of the brand, this can be great for those who want a minimalist yet regal chair.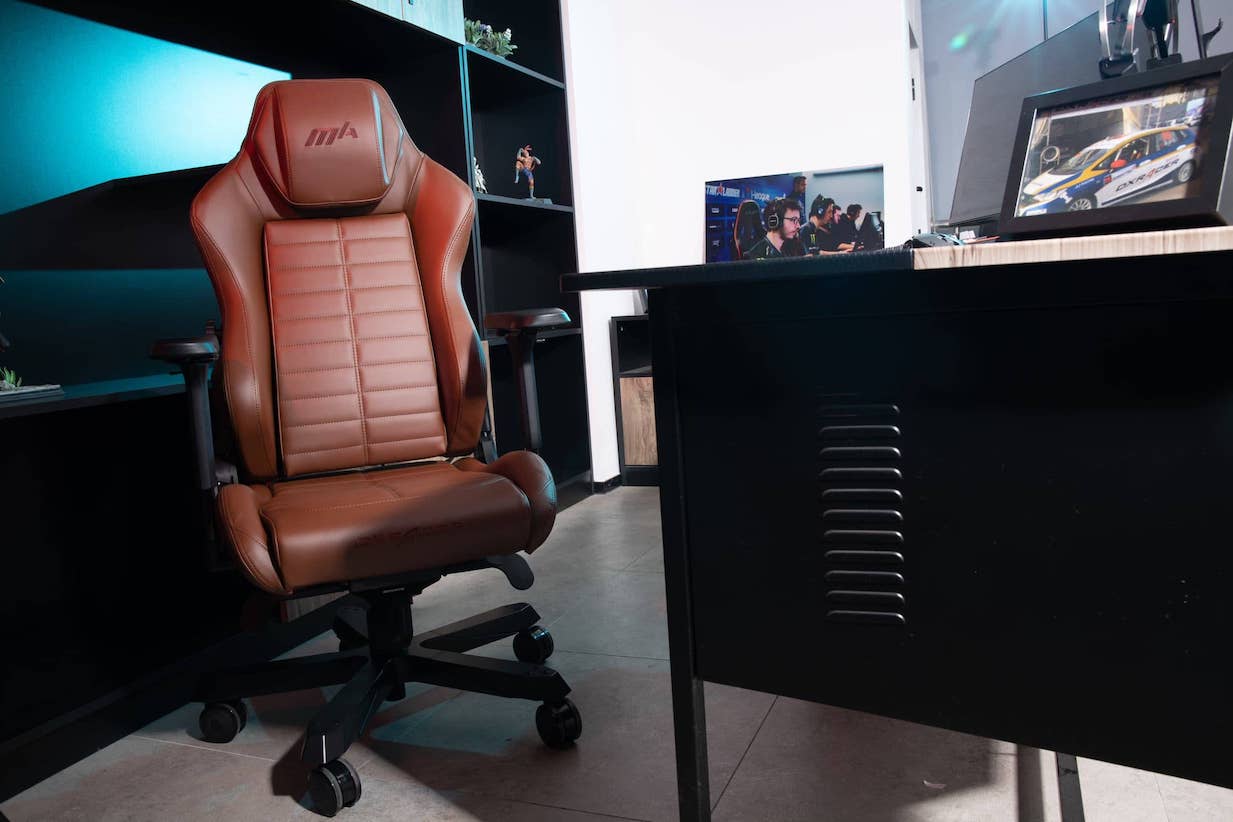 Also, this series has modular capability. You will be able to make add-ons and enjoy additional features depending on your needs. 
One unique feature of the chair is the integrated lumbar function. It is akin to what ergonomic office chairs have and it can be adjusted in height. 
So instead of a  lumbar pillow, you have this more functional lower back support. Also, instead of a neck pillow, the headrest is affixed to a rail mount. So the Master is trying to veer away from the usual specs of a standard gaming chair
But was it all good?
In fairness, the lumbar support of the chair was able to prevent back pain associated with long hours of gaming. 
But even if the back support is better than what you'd get with a lumbar pillow, the comfort is very subjective. 
You see the support of the Master chair is rather firm. It's different from the plush Secretlab where you can sit back and lounge. Though compared to the chapter PU leather padded gaming chairs, we'd go for the Master.
This chair is void of the budget style steal, so this can be accommodating to those with larger hips, so you will not feel restricted. 
And while the lumbar support is great, this may be an issue if you want something cloud-like.
Who will love the Master?
The Master is great for those who want to prevent back pains.
But the chair does have a nice recline and tilt. But it's not a squishy one and will not hug your butt like a cloud.  
And it does have a functional footrest that you can pull out if you want to relax. But it will not be a squishy one. 
Those who need more lumbar support don't mind firm support. Also, this is perfect for average-height folks. Though the seat height of the chair can be amenable for those who stand  5'7″ to 6'6″, the seat depth can be shallow for those who stand taller than 6 feet.
It can also be great for those with wider dimensions since the seat does not have a flap at the sides.
Corsair T2 had improvements over the years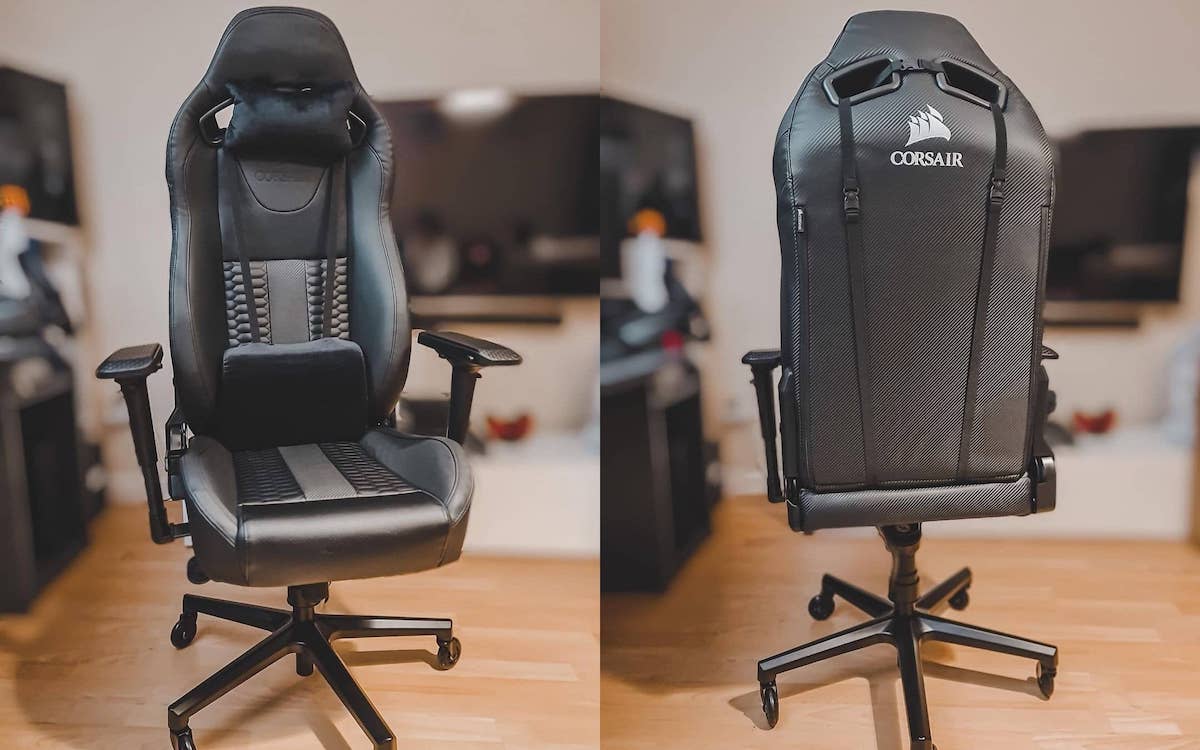 One of the best features of the T2 is the 170-degree reclining seat. It can recline back further compared to the Air and Master.  
It also has a more standard look for a gaming chair and has a seat of a sports car. It also has a standard lumbar and neck pillow, but it doesn't feel too squishy and also has firmer support. 
But we didn't like the lumbar pillow, it's just too firm for us. We'd rather use it without one or use a different lumbar pillow.
And though there were several problems with the previous units, the brand has recalled several T2 chairs and made improvements.  
Another gripe would be the backrest, they just protruded too far.  This can limit your arm movements. So though the seat is spacious, we don't see it for those with wider dimensions. 
Aside from the backrest, the seat also has flaps on the side like a bucket style. So while it is wide, it can still be limiting for those with wider hips.
But the overall look and vibe of the chair can look more premium.
Gaming chair showdown: DXRacer Master vs Air vs Corsair T2
All three are firm gaming chairs 
If there's one thing all three units have in common, it's that all offer a firm seating experience. But of course, some will be stiffer than others. So we'll rank them according to comfort.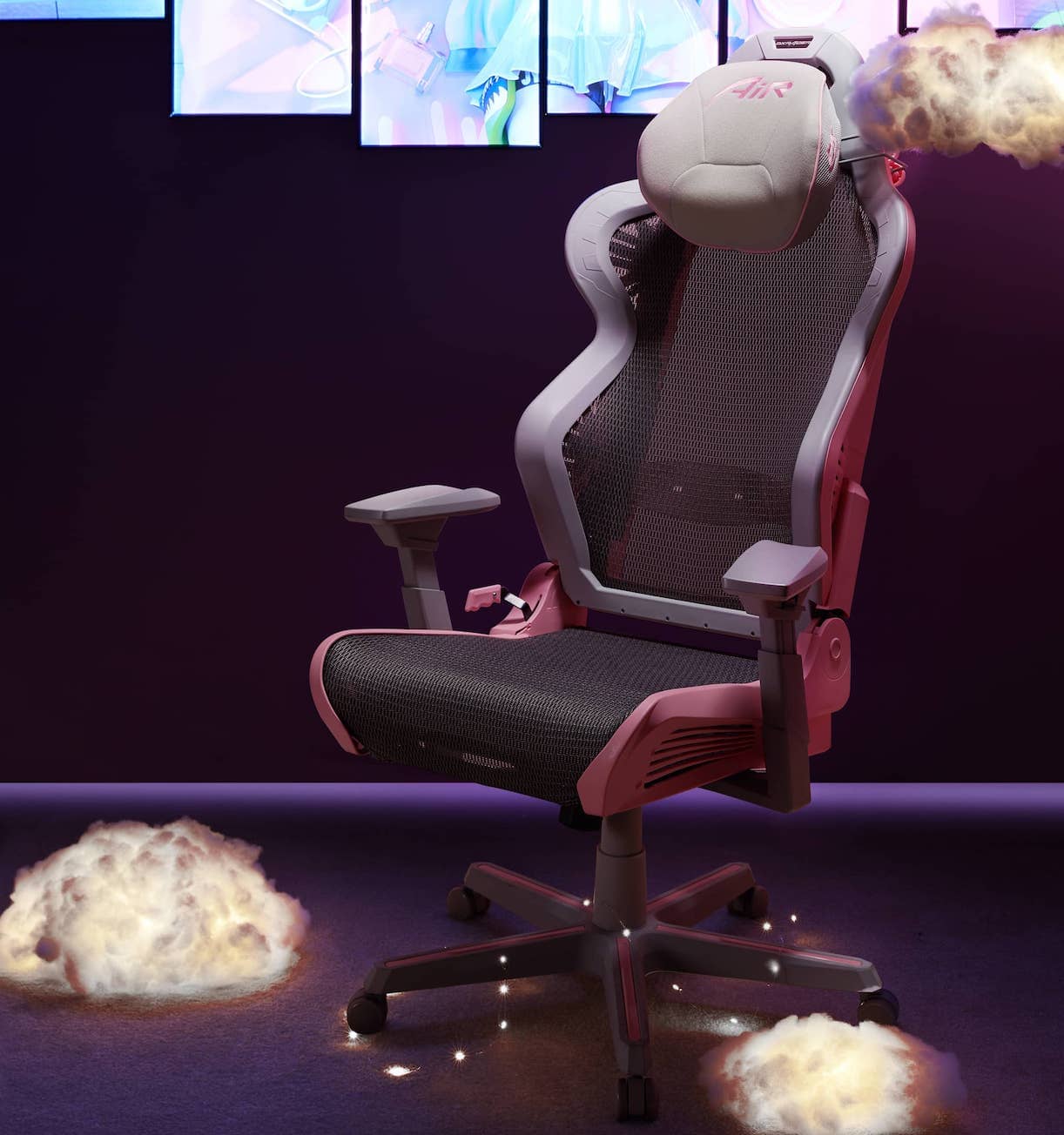 The Air is too stiff for our liking. Even if it's a mesh type, we just can't stand how abrasive the material is, and it is just too rigid to the point that it hurts the skin. The backrest also has protruded sides, even more, limiting than that of the T2. So it cannot be comfortable for those who are bigger 
The T2 also has a firm seat, we see it comfier than the Air but the lumbar pillow is just too rigid. 
Thus, we find the DXRacer Master bringing more comfort to more people. It has this adjustable lumbar support that is functional. So while it can be firm, it can serve those wanting a healthier gaming chair. 
The Master will also have a more ergonomic feel. So if you want a recline it still can, but it will not feel like a full lounge type one. 
Durability-wise, we see the Master also excelling. Though Corsair made improvements, we still find the Master better.
DXRacer's attempt to make a mesh gaming chair was not a successful one, it was just too abrasive. And the solution of covering it up is like using a band-aid, and you'd still have to pay for it.