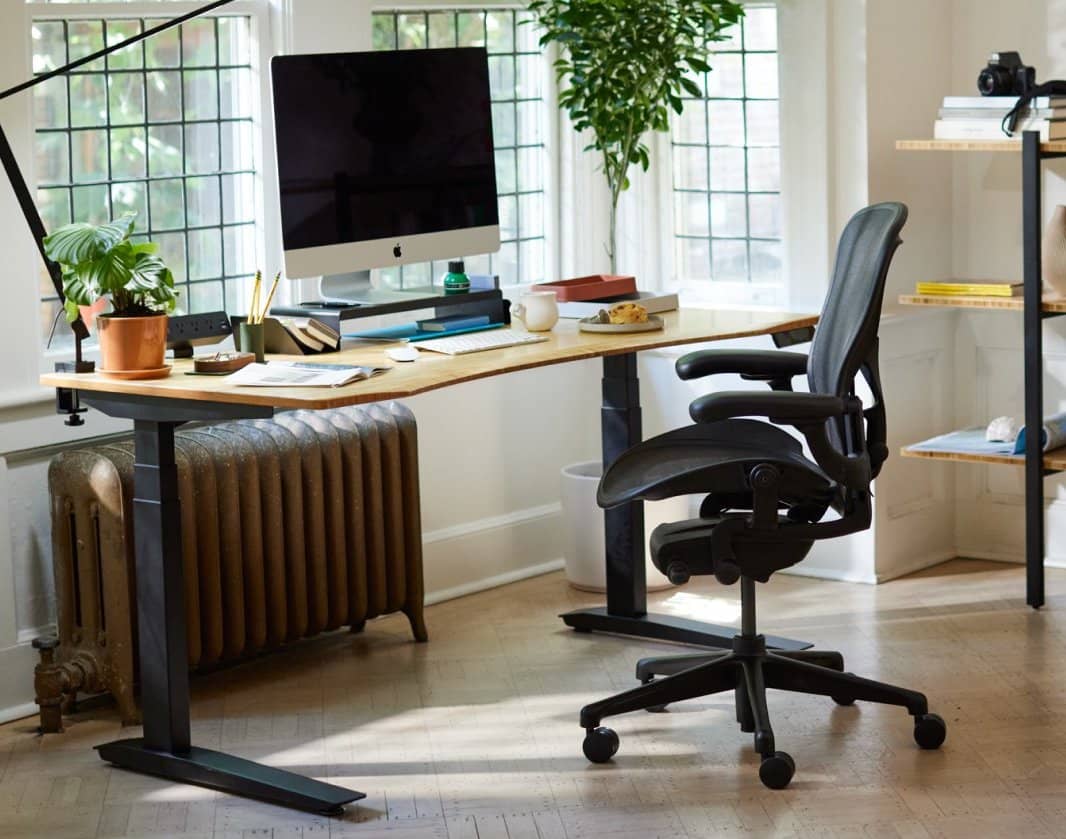 If you had read our previous post about the Freedom chair, you already know that we made a short version of the comparison between Aeron vs Freedom. Today, with the help of more experts, we decided to open a detailed showdown for a clear answer!
Coming from two premium brands, it'll be hard to choose. Though they offer a different kind of comfort, so you can use that as a gauge in making a choice.  Let's dive into how the Aeron feels vs the Freedom. And which can have a more general use?
Office chair
Showdown
Humanscale Freedom
Herman Miller Aeron
Available versions
– Task chair (check price)
– Headrest (check price)
– Size A (check price)
– Size B (check price)
– Size C (check price)
Seat height range
16"-21" – More info
Size A: 14.75"-19"
Size B&C: 16"-20.5"
Seat width
20"
Size A: 25.75″
Size B: 27″
Size C: 28.25″
Seat depth
17.5-19.5″
Size A: 16″
Size B: 16.75″
Size C: 18.5″
Weight capacity
300 lbs
Size A: 300 lbs
Size B&C: 350 lbs
Warranty
15 years
12 years
The Aeron may be  a more productive chair but it can be too firm
It's no doubt that these two chaIrs are masterfully designed with ergonomics in mind. Though there can be a little difference in materials used, you can never go wrong with either two of the terms. Both can also be refurbished.
The Freedom just makes use of more aluminum parts, which makes the chair lighter and less hefty than the Aeron. But we did feel the more premium vibe with the Herman Miller chair, you can instantly tell the minute you sit on it.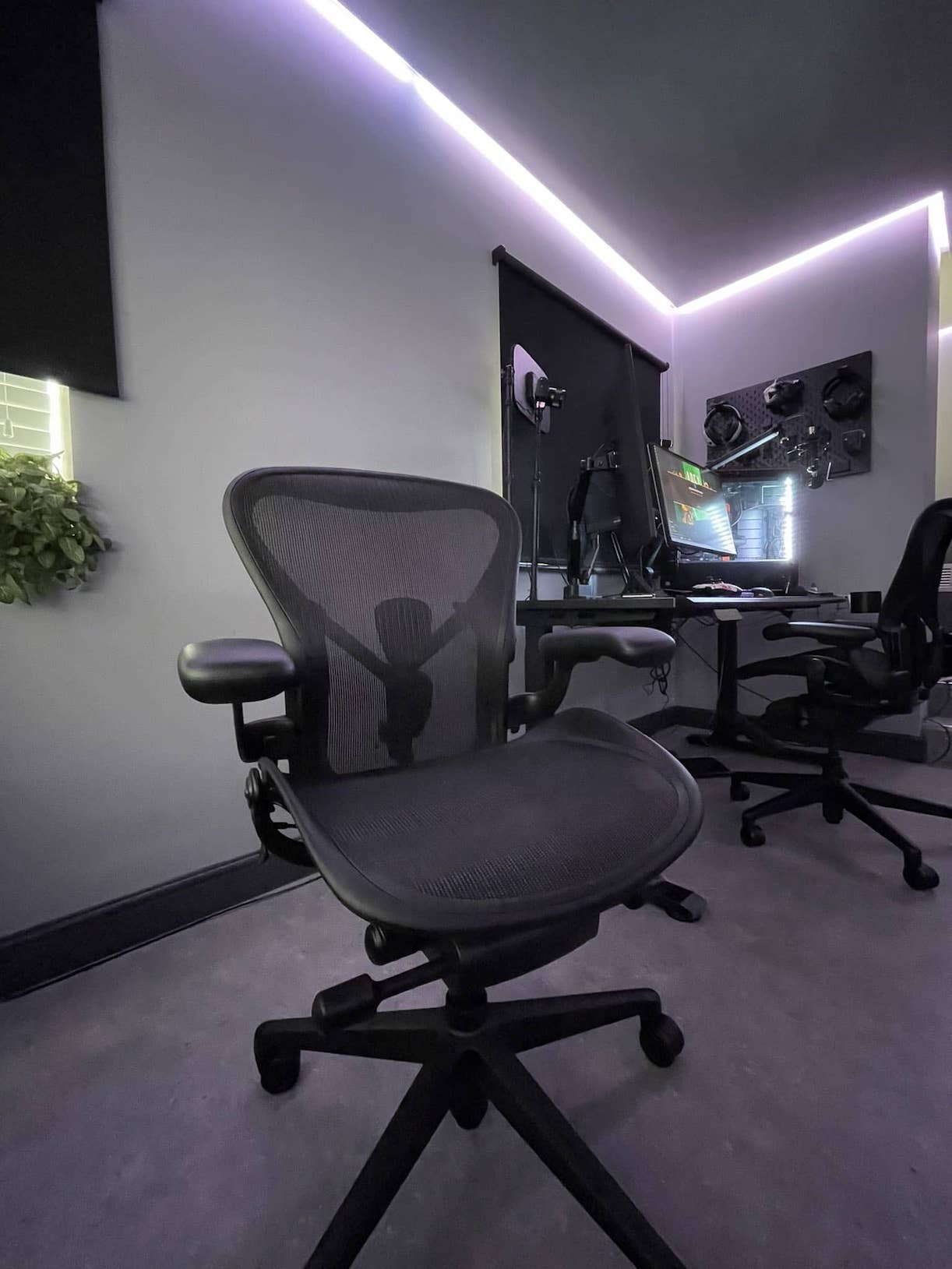 A noticeable advantage of the Aeron is that it can be a more productive chair. Since it tends to tilt a user forward towards his desk, it is more amenable for tasking work. 
The firm support of the pellicle mesh can make you comfortable for a whole day's work, especially for typing jobs. The all-mesh material is softer than standard ones but it still feels firm compared to a cushioned seat.
In the case of the Freedom, you have two options for the seat, you can either get the standard cushion or the gel one. 
The gel type is very cushy and comfortable. The comfort level of this seat, specifically the gel type,  is different from the other ergonomic chairs that we have sat on. 
But as such as we love the comfort it brings, there's just something about it that can make you too lazy to move. It feels like you just want to sit and lounge in the chair. And with the recline function, you will be able to relax whilst seated in an ergonomic chair.
Now, if you are doing a tasking job or anything that requires you to be more forward, this gel-type seat may go against your will. It's like a bed that is pulling you to its chambers to rest. 
So while it is very comfortable, it might not be the best material for a chair that you'd use for work.  
But if you do love a more cushy comfort, then the standard seat of the Freedom can be a promising option, it's just not a hundred percent fit for typing jobs or tasking.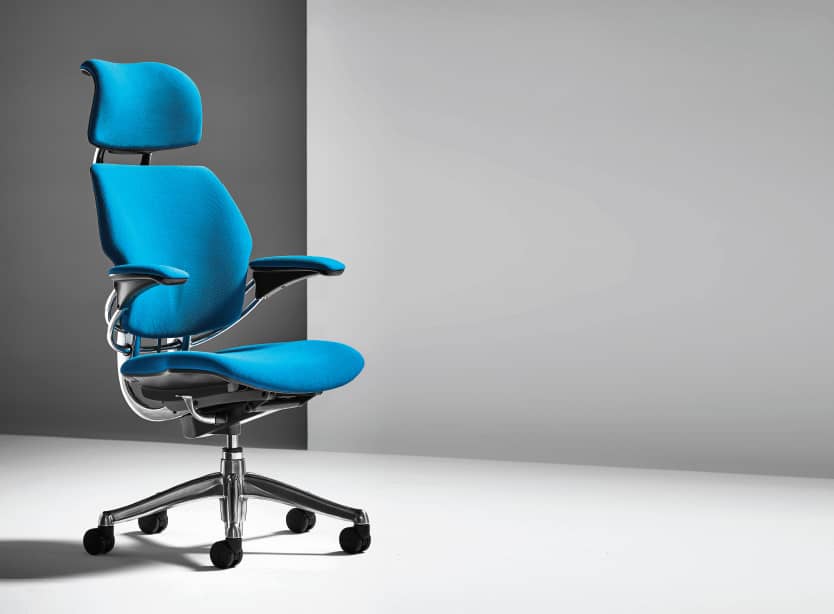 Thus we see Freedom being more amenable for more people, especially those who do not want too stiff support. 
And the recline function may also make it comfortable for gamers. You may also use it better for general purposes compared to the Aeron. 
We also find that you will be able to sit on it longer.  
But for the sake of being able to have everything done, go for the standard seat.
The arms of Aeron are better constructed than that of the Freedom
One of the caveats of Freedom is the arms. The chair has these so-called floating arms that are constructed differently and connected to the chair in a rather unusual way. And it is supposed to be one of the highlights of the chair, but it did not do any favor to Freedom. It otherwise lowered the score. 
The chair is equipped with a pivoting recline function. While this can be sublime for the lower back and also allows you to recline easily and comfortably, it can mess up the alignment of the arms. 
The arms adjust as you move the backrest, thus you will not be able to adjust the arms independently. So that can make it a great fit or a very bad one depending on your dimensions and the height of your desk. So we say, get rid of the arms if it gets in the way.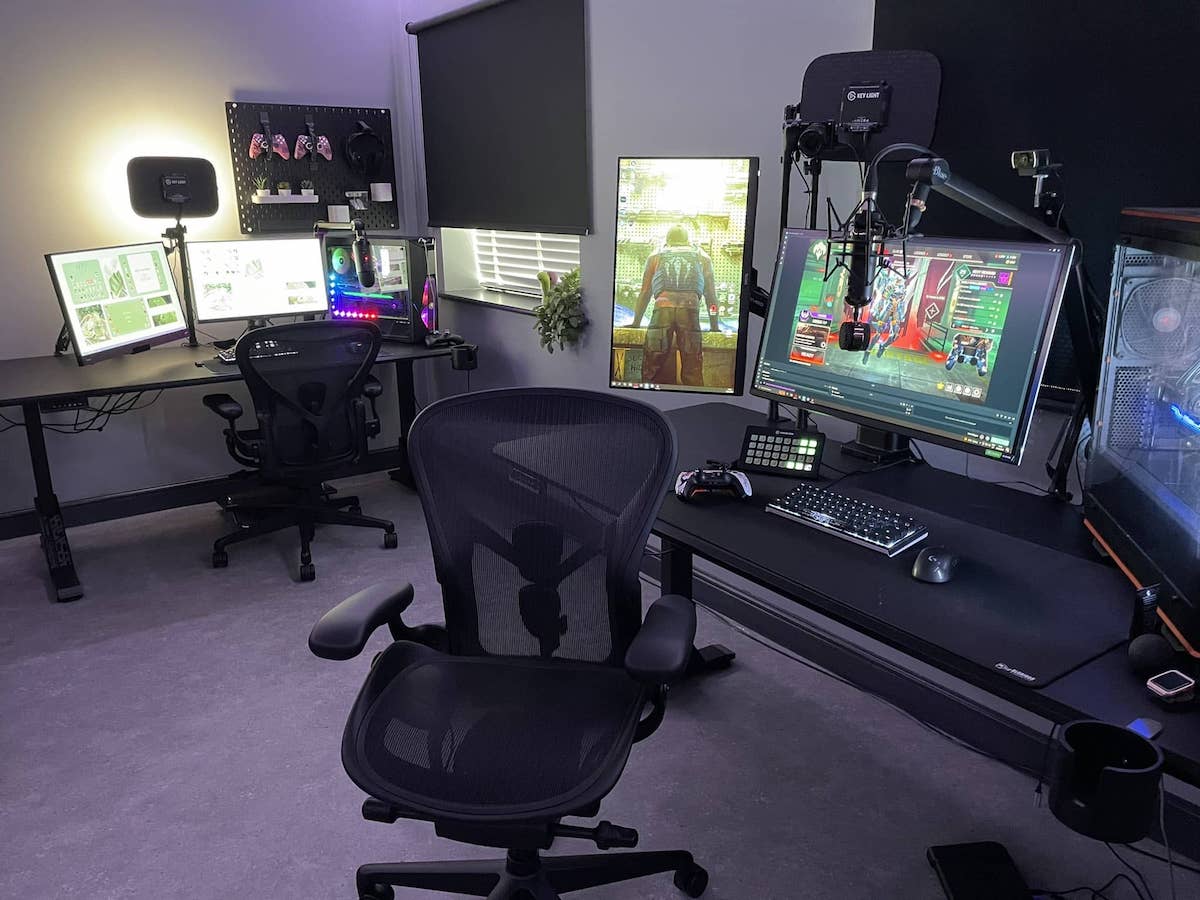 As for the Aeron, the arms are 3D and can be easily adjusted.  And like the rest of the parts of it, they are very stable. It doesn't feel cheap and will be able to hold the position you have set it to. 
Comfort-wise, it feels more premium and softer than Freedom. The arms of this  Humanscale chair may have this flimsy feeling. We can say that it's the cheapest part of the chair. 
Also, you can opt to go for a more premium arm for the Aeron and get the leather one at an added cost.
And since the Aeron is available in 3 sizes, you will be able to choose the best one that matches your specific measurement, like the angle of your arms to the desk.
The Freedom may have more adjustable features
The Freedom chair may have more to offer over the Aeron, despite some flimsy parts. It has more adjustable features. 
The Aeron has a fixed backrest and seat depth, and you can fine-tune these aspects of the Freedom.   
You can see that the backrest of the Freedom has two parts that are fused, and this also makes the chair more amenable to the personalization of comfort. 
Now if this is an advantage over Aeron depends. Let's see here. The Aeron, though having fewer adjustable features, is available in 3 sizes. 
 So despite not having an adjustable seat depth, it still gives you an option on how deep you want your seat. If you need a deeper seat and a higher backrest, you can easily go for the Aeron C. 
But that will limit you to three sizes, three measurements only. And you also have to ensure that the other measurements of the chair fit you as well. 
Now Freedom offers more room for personalization, you can also get chairs or more color options and upholstery material. The Aeron does not offer as much. Also, the more adjustable features might make you think that you need to be able to tinker through the settings more, but it's not.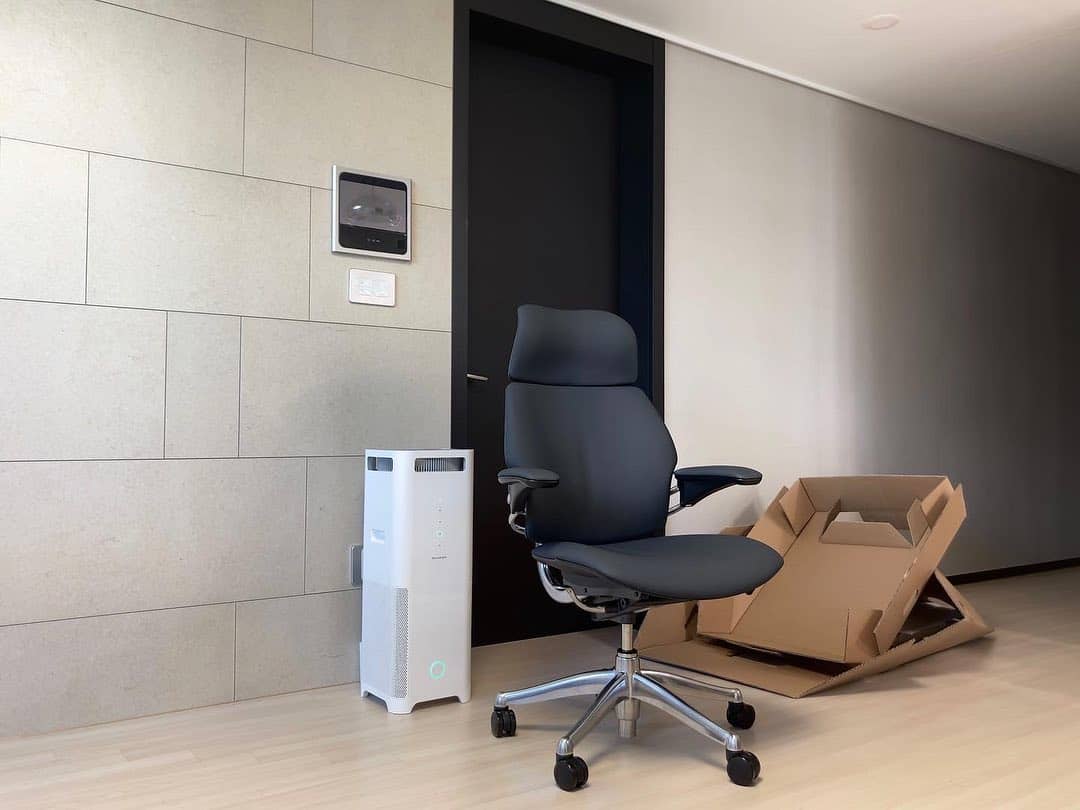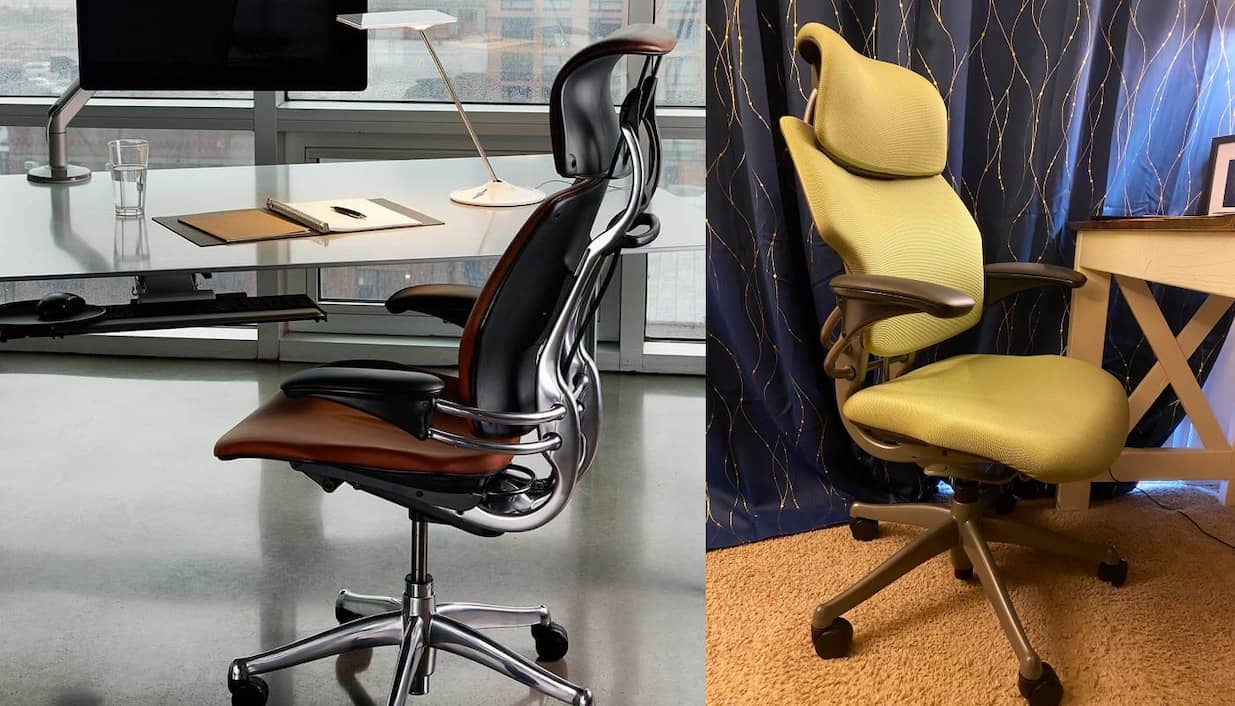 You see, Freedom has a more intuitive design. So the features such as the recline rely heavily on the weight of the user. So in a way, it might be easier to find your sweet spot of comfort. The number of adjustable features is not that overwhelming since the chair can move with your better 
But we did find the Aeron a more durable and more stable option. No part of the chair is wobbly. 
Freedom has below-average arms. They are less ergonomic and feel wobbly and the chair can even be better without them. But of course, not all are willing to give up their arms, so there's that limitation there. 
One is too upright and firm while the other can indulge you in a recli

ne
One of the more unique features of Freedom is the weight-activated recline function. You don't need to put too much pressure to get the chair to recline. Now, this is one of the determining factors if you're choosing between Aeron and Freedom. The Humanscale chair is more amenable to reclining easily while the Aeron is just too upright.  
Another easy gauge is the level of firmness. Aeron is leaning toward the firmer side with its all-mesh material. It's even more upright than some standard mesh chairs, thus very fit for tasking and typing jobs. 
The Freedom has a more cushy standard cushion, and both the seat and backrest are padded. 
Never mind the gel, we don't see it fit for work as the material might not be the best to use for an office chair, it's just too soft. 
While comfort is still subjective, anything too soft is not meant to be in an office chair, well for us that is.  Put that gel in a lounge chair and it will be sublime, but not for an office chair. It was also quite expensive. 
So choosing between these two chairs can mean choosing between upright and firm support vs a cushier one that is amenable to a further recline.
Back support-wise, we find both having pronounced lumbar support.  But the Freedom will be able to move with you more. 
Is it hard to choose so which is which?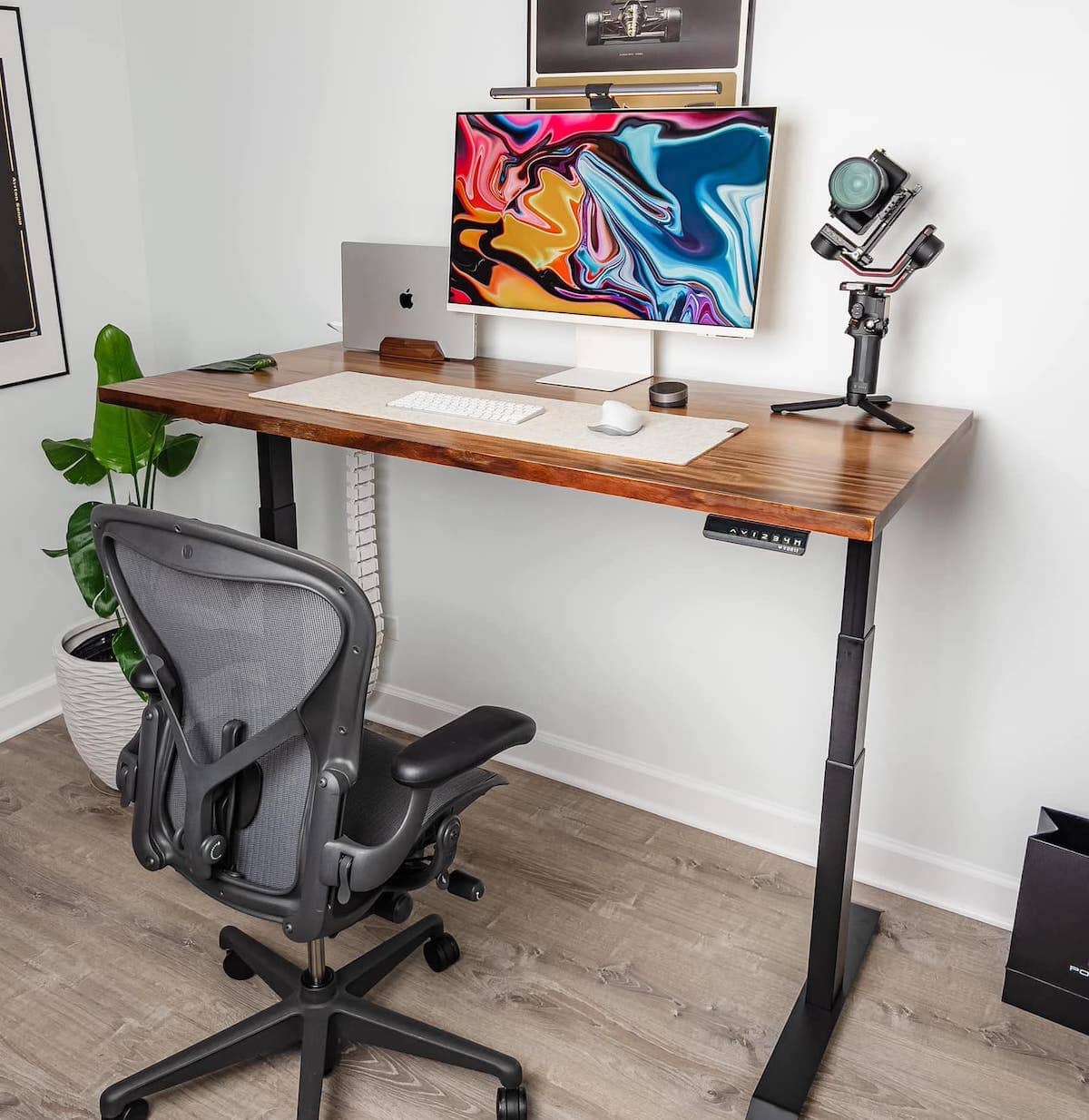 It can be very challenging to decide even with the gauges that we have mentioned above. 
And though the Aeron may be a more productive chair, the firm comfort may be just too much for some. So we are seeing Freedom appealing to more groups of people, but this is with just the standard cushion. 
The Freedom is also a more intuitive chair and feels like a more upgraded one since the backrest can adjust to the weight of the user. 
It also allows for more range of movements, you will also be injecting micro movements within the day and yet feel supported.  Thus, it may have more general use than the Aeron.