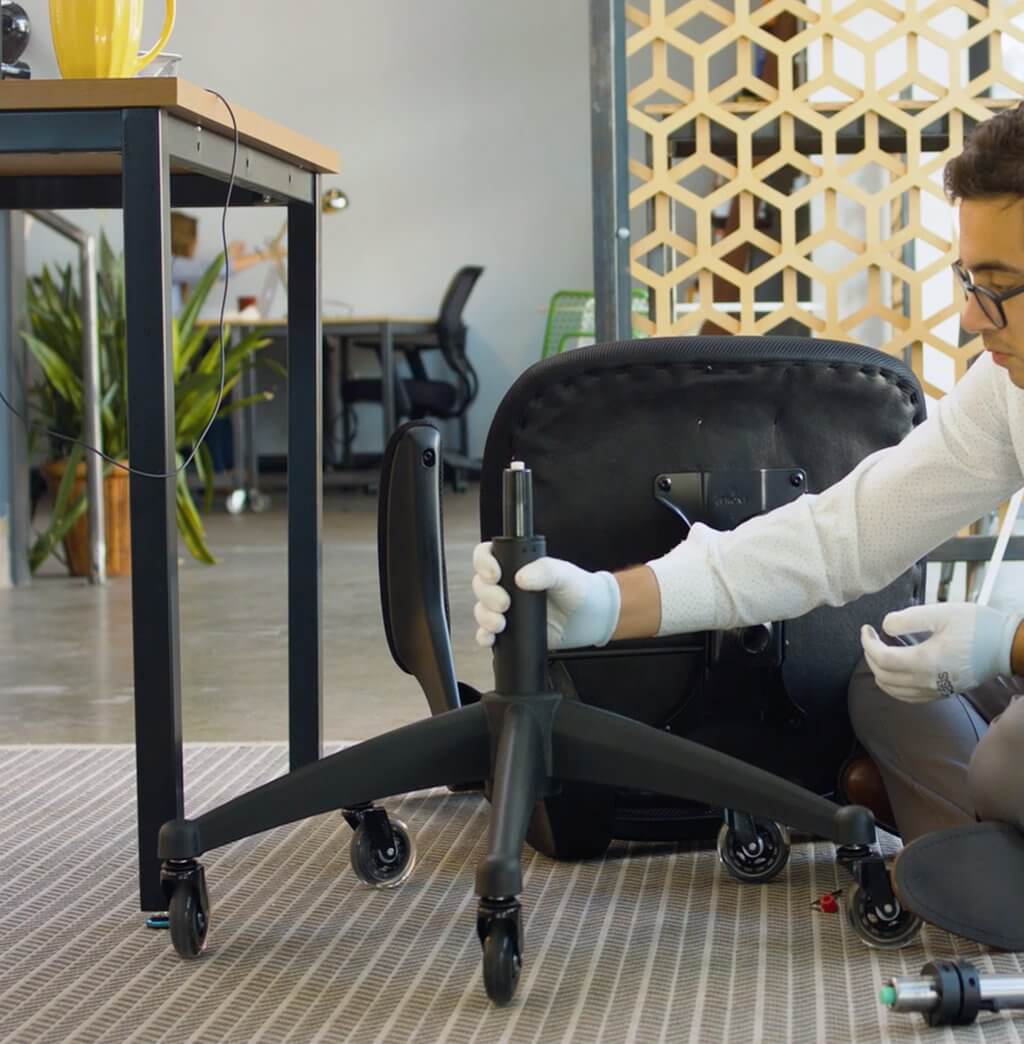 Fixing a sinking chair requires some patience and the right tools. Sure, sometimes you can do it with just a wrench. But not everyone is equipped with the skills. It's still easier to fix a sinking office chair with the proper tools.
And fixing a sinking chair will save you lots of moolah instead of buying a new one. Especially, if you already paid a hefty sum for that office chair, you want to preserve it for as long as possible. And the proper tools will make it easier for you to do a DIY replacement. That's why we are listing the best chair cylinder recent tools that you can find on the market.
If you own a Herman Miller Aeron, you know how tricky it is to replace the gas cylinder on your own. The brand discourages its customers to do DIY on any of its units. And instead, advise them to commission the brand to do the procedure. But the thing is, it's not free and it can still cost a hefty sum. And not all are willing to pay for an additional 100 bucks or so just to have the gas cylinder replaced.
And replacing the cylinder on a Herman Miller chair is a very tough task. It can even result in damage to the chair when not done correctly. And this office chair replacement kit from Office Oasis will help you make this DIY task quite easily. And aside from Herman Miller chairs, they can also be used to change the cylinders of almost any brand of ergonomic office chairs.
The hardest part is removing the sunken cylinder. And this tool kit has rings and screws that will assist in the removal of the gas cylinder. As for the replacement cylinder, it does look thick enough and it's solid. And it was able to keep up for a long time too. There were not any wobbles and the chair was pretty stable. It is also pretty heavy-duty and accommodates those who are on the heavier side. So this is a very durable gas cylinder that works for almost all types of office chairs, even the big and tall ones. 
The kit also comes with an instruction manual and it's very easy to understand. Just make sure to follow every step because you might have to redo it all over again. 
We also love how the customer service was able to handle all our questions and queries. Replacing the gas cylinder is not an easy task, but this product makes it a lot easier, for all people. So in case you come across any challenges during the DIY, you can call customer service and they will be able to provide very useful troubleshooting tips. 
Overall, this kit is very simple and very easy to use. Even those who are not seasoned DIYers will still be able to replace the gas cylinder of their chair on their own. But do not wait for the chair to sink all the way done before replacing the cylinder. The lower it sinks, the harder it will be for you to remove the old cylinder. 
Features
Weighs 2.5 Pounds

Made of alloy steel

Measures 10.4 x 2 x 2 inches

Comes with a cylinder removal tool, gloves, instruction manual

Class 4 gas cylinders6 year free warranty
Where to buy
Our first option comes complete with tools for easier installation. But if you want to go tooless and have a more simple DIY, this product may suit your needs better. Though at first glance, it does not seem that it can do the job. It looks like a 3D plastic clamp aka toy. 
Well, yeah it is composed of 3 plastic clamps that measure 4 cm tall. You just need to open the clap and prop it on the hydraulic shaft and close it. And it does work. For something that can look close to a toy, it does seem to hold up pretty well. And since it has 3 clamps so you can stack 'em up, use 3 or just use one. So you can find a more comfortable height for the chair. 
One of our qualms, however, the three clamps are of the same size. It could have been more valuable if it is available in several sizes. 
As for the installation, you will be able to finish it in 5 minutes, 10 minutes tops. So it will not take a huge chunk of your time. It's tooless, fast and easy. 
The downside is that it seems to hold up pretty well but not for tall and big chairs. We wouldn't recommend it for tall and heavy users. Since it's made of entirely plastic and doesn't have a latch, there's a danger of the snap hinge failing with a very heavy load. So we recommend this one for those who are skinny to average size users. 
And the warranty is not also that clear, so this is more of a light-duty chair cylinder replacement tool. 
Features
Measures 6.46 x 2.8 x 1.73 inches

Weighs 1.48 ounces

Fits all chair sizes
HOTTHAT Heavy duty office chair cylinder replacement kit – Best for Big and Tall chairs
If number two is meant for light-duty chairs, this HOTTHAT replacement tool is what you need for tall and big office chairs. It is heavy duty and can bear a weight of over 500 lbs. It is also quite universal and can be used for most chair styles and brands.
What sets this product apart is not only its robust build. This also ensures that there will be no explosions. It's also easier to change the chair height and it will not make any noise. The inside of the cylinder is made of stainless steel material, so you can expect it to perform better than the cheaper gas cylinders. 
One of the downsides, however, is meant for big and tall chairs. Even at the lowest setting, petite size users might still find the char too high. But in terms of stability and wear and tear, this can take on several abuses but still, there isn't any creaking sound or any shaking at all. 
And since it does go higher than your old chair, this is also a good option if you want to bring your old office chair a bit higher. You'll be able to add on a few more inches without having to buy a whole new office chair altogether. 
All in all, this gas cylinder replacement tool means serious business. It's durable and has a higher weight capacity. It is a great fit for tall and big chairs.
Features
50 lbs weight capacity

It comes with gloves, installation instruction, and level 4 gas lift cylinder 4.8inch

Universal size

Made of abs plastic for the outer shell and stainless steel
Owl store gas cylinder replacement tool – Best Heavy Duty
If you find the number three option still lacking, this product from Owl Store can accommodate a whopping 1000 lbs. It is very heavy duty and can withstand such hefty weight. So even if you accidentally bounced your butt on the chair, this will be able to hold itself pretty well.
The removal tool is very easy to use. It has two rings to tighten the old cylinder. And you can easily push them apart. At the same time, the hex rings push the ring against the spring. And this motion easily props the column or the old cylinder out. You don't need to use extra brute force just to remove the old cylinder. I also work for an old Aeron chair.
Though it will take you longer than 30 minutes to completely prop the old column out. The good news is, you don't even have to sweat yourself out, you just need patience. The instructions are also pretty clear so you will not have to guess what to do next. So even if you are not mechanically inclined, you can still do it on your own. And it will not give you a headache. So pretty much everyone can follow the steps. 
It also looks kind of gorg compared to the other items on our list. The matte black finish lends a posh and sophisticated look. And oh, like option number three, this can also bring your old office chair a few inches higher. 
Overall, this is a very robust and heavy-duty replacement cylinder tool. But you have to have patience. It is easy to use but it takes time to remove the old cylinder. 
Features
Comes with gloves, removal tool, and gas cylinder

Has a universal size

Class 4 cylinder

1000 lbs weight capacity
Final Say
So if you're still a bit hesitant about replacing the sinking cylinder from your old office chair, these replacement tool kits will be able to help you do this DIY task quite easily.