Is the Hyken all hype?
If you have a budget of fewer than 200 bucks and badly need an adjustable all-mesh chair, you'll often come across the Hyken chair.  Many have been recommending this mesh chair for their home office. You'd see lots of people raving about it. But of course, some think it is a rip-off. 
So we are going to see if it's all just hype or if there is indeed something worth raving about.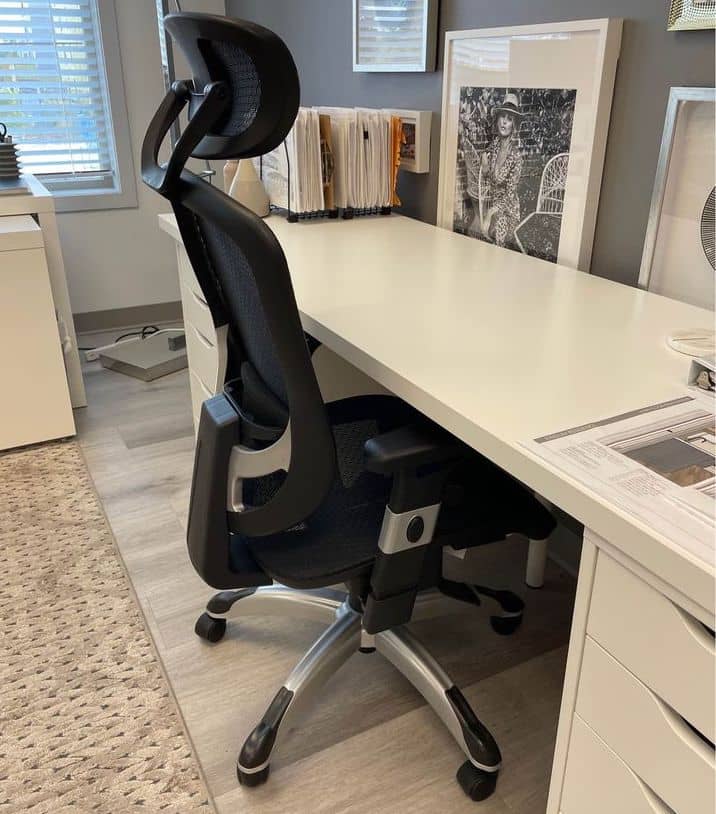 Before we start, let's take a peek at the specs of the Hyken mesh chair.
| | |
| --- | --- |
| Seat height range | 16.5″ – 19.8″ |
| Seat width | 19.3" |
| Seat depth | 16.8" |
| Headrest | 2 way adjustable |
| Weight Capacity | 275 lbs |
| Lumbar support | Height adjustable |
| Arms | Height adjustable |
| Warranty | 7 years |
The chair is only comfortable for a specific group of people
To pop the bubble, yes, there is truth to what a lot of folks have been saying about the Hyken mesh chair. To some degree, it is a comfortable yet economical choice.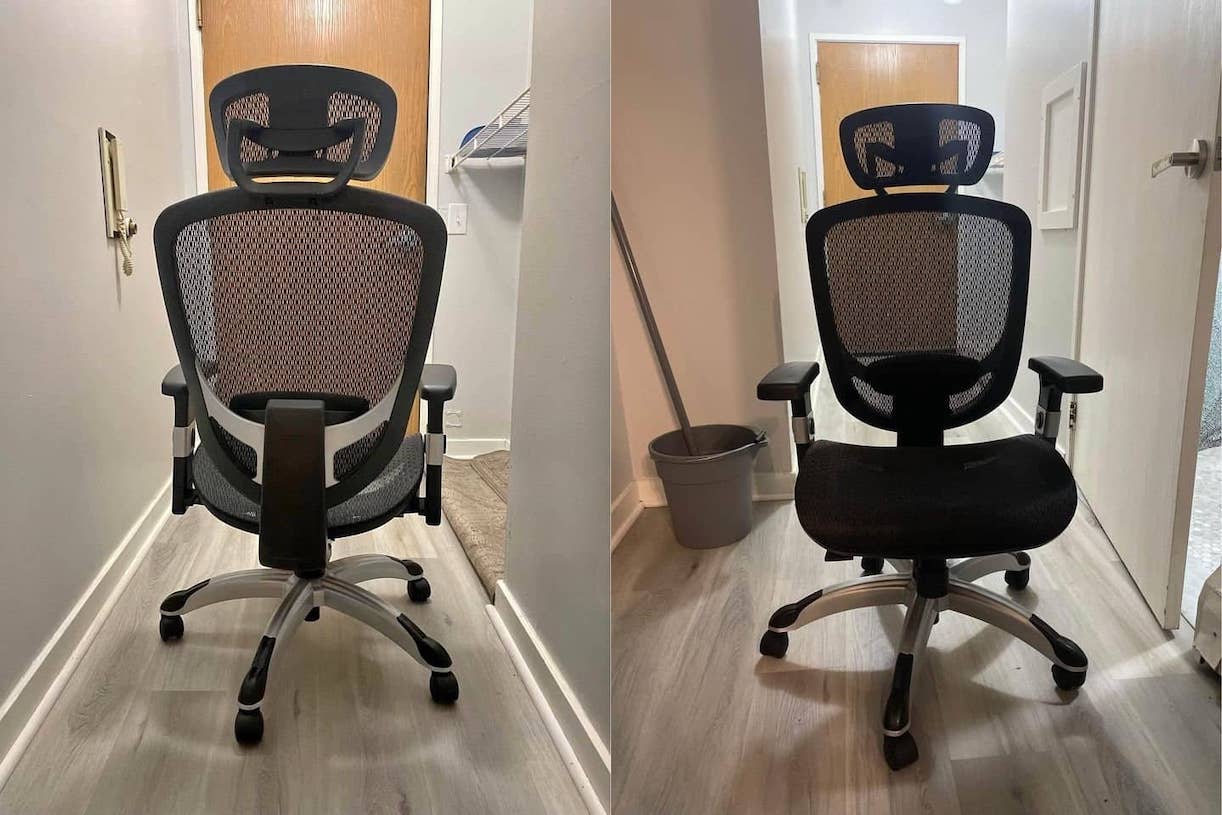 But this only rings true for a specific group of people. These will be the skinny to average dimensions and those who stand less than 5'7". Anyone else who goes beyond that will find the chair very uncomfortable. Let's break it down below.
The headrest is too low for those who stand less than 5'11".
Looking at the Hyken, you'd be fooled into thinking that it can comfortably accommodate those who are slightly taller, at least up to 5'8" or 5'9". It might seem like a high-back chair with its headrest But you'll be surprised that it's the opposite. This isn't a chair for the tall or even those who stand beyond 5'7", 
The headrest will not go high enough if you are taller than 5'7". The plastic part of it will start to dig into your shoulders. Though we have seen mod demos on how to make the headrest work for you, this still renders the Hyken uncomfortable for taller folks. Also If you have a longer torso, you may still encounter the same issue, but at least the mod version will help you improve the placement of the headrest a bit. Though it might not work for everyone.
The lumbar support is horrible for tall people 
The lower back support tends to poke the back of taller peeps. The lumbar bar just feels like a nuisance and can result in back pain instead. Though for those who stands 5'7", this will not be an issue the lumbar bar will be at the right placement. But the Hyken will not be able to provide a firm or pronounced lower back support, it is quite subtle and almost not there. 
Does that mean that if you are of average height you will find the chair decent for the back? Not really. Since we all have different dimensions and body sizes, this is still a very specific chair. Either it fits you or it doesn't. And the way the backrest was designed also makes it comfortable for only a specific group of users. Hence, this is not a chair that you would want to buy just by looking at it online. Even if you do research, you'll find a mixed bag of reactions to this chair. Either you'll love it or you'll hate it. 
The Hyken is sleek and sexy 
Aesthetically a sleek and sexy chair is nice to have. It can fit into any interior and the non-obtrusive design works for all genders and all ages. And it will require a smaller footprint and the size is ideal if you are living in a small apartment or your home office is a tad bit tiny. 
But in terms of comfort, again it is very specific. The seat width is quite narrow and the Hyken has a rather uncomfortable hard plastic frame. So if you go just a bit beyond the seat, it will hurt your butt and hips. 
So though the load capacity can accommodate those of average weight, we see it best used by skinny or slimmer individuals.
It can also be a great choice for teens or tweens. Full-grown adults, especially those with fuller hips will feel too restricted. Though some may fit the chair, they will feel that hard plastic edge poking against their thighs and hips. 
If you also have a habit of sitting with your legs crossed on top of the seat aka an Indian sit, this chair will not indulge you. You will not be able to lift even a single leg, or you may try, but it will hurt. 
The Hyken is a light-duty mesh
The mesh material of the Hyken is not that bad given its price. In fairness, it's not scratchy or abrasive compared to other mesh chairs within the same price range But it's not indulgent either. You can still tell that it's not high quality. Mesh materials of good quality are softer, more flexible, and more stretchy. It will be able to support your every move. This is still not it. You will still be able to feel that it is a bit hard. 
Also, the high-quality mesh can withstand more weight without the material degrading. It will not sink easily. Sadly the Hyken is not like that. That's why even if the chair is supposed to seat 275 lbs adults, we do not see this viable.
Rather, we see it more as a light-duty mesh. If you are 200 lbs, the mesh can sink easily and you will feel the hard plastic material underneath.
Also, the build of the chair is not comparable to heavy-duty options. The build is decent, yes for its price. BUt not for soen whohrh 200- 275 lbs. The chair has lots of cheap plastic parts. And it will likely degrade soon if sat on by someone who weighs 200 lbs above.
Other things to ponder before you buy the Hyken all-mesh office chair
And here are some more facts that you have to know before deciding to buy the chair. Some may find these issues, not a big deal, while others see these as deal breakers. So best to take note of each to avoid the hassle of having to dismantle the chair for returns and refunds. 
There is a weird plastic part at the seat that can hit your legs. Some see this getting better after a break-in period while others are not able to live with it.  

 The headrest is a bit tilted to the back. And some complained that they were not able to rest their heads on it at all. So consider this you need a chair where you can tilt your head back comfortably.  

There is a significant gap between the seat and the backrest. Even if you try to lower the backrest to get rid of the gap, it will not happen. The range is just too small. Though not all will find this uncomfortable, some experienced hitting their coccyx on this particular part. 

For those who need pronounced lumbar support, you'll not find it with this chair. Hyken seems to be lacking a lot in this department. The height adjustable lumbar is also not remarkable. You will be able to adjust the bar by just an inch. Thus, not giving people a decent leeway to fine-tune the position of the bar to their comfort needs. So even just from the lumbar support, it has a specific group of people that will find it comfy for sitting for 5-6 hours. 
But the warranty of the Hyken is just too good to pass out on 
For a chair of its price range, the Hyken does offer a generous warranty of 7 years. That's a lot for its quality, and that's why many see this chair as a value for their money. That is just too hard to pass out on.
Given the coverage, you'll be spending less per day on the chair for seven years. That's why this is a popular option for a WFH situation because of the generous coverage.
It's not hype, so should you buy it?
If you fit right into the chair and with the recommended weight and dimensions, you will find it of value. You may even be able to sit in it longer. It is very economical given the ergonomic features it has. And oh boy the warranty is just too tempting.  
But try it on first and do not get excited by what you read online. Also, the chair does have a break for a week. That's one thing to consider, though you can have it refunded if it does not suit you for as long as it's within the 30-day period. 
Also, this can be a nice complementary chair you can use for the summer.