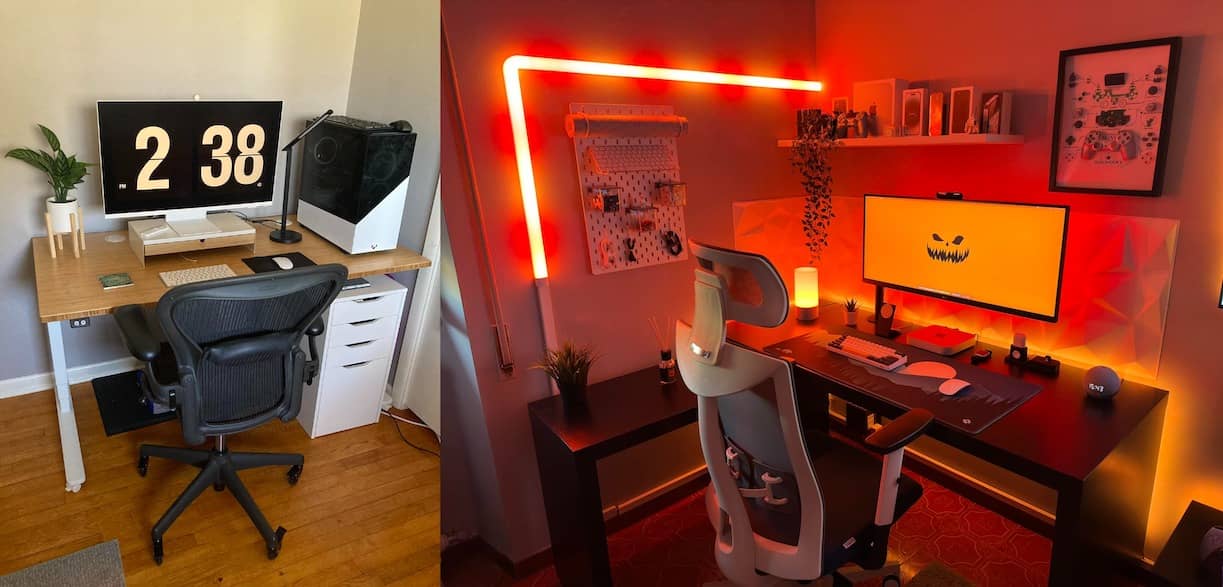 Even if most of us have been working from home for some years already, not all have the correct setup that can help us maximize our productivity. And a suitable office chair is one factor that can make you more productive.
A WFH setup may seem easy to figure out, but it has lots of challenges, even in buying an office chair. We'll help you narrow down your choices with our buyer's guide.
Nature of work
When you're working in front of your desk, an ergonomic office chair is often the most suitable choice. With the more adjustable features, you'll be able to fine-tune the chair to your needs and call for comfort. But many do not realize that apart from the ergo features a chair has to offer, you also have to consider the nature of your work.
For the majority of those in a WFH situation, an office chair with sufficient adjustability is the way to go. 
But if you are doing more task work or anything that will require you to maintain an upright position most of the time, you have to be careful in choosing an ergonomic chair. Not all will be able to help keep you in an upright posture.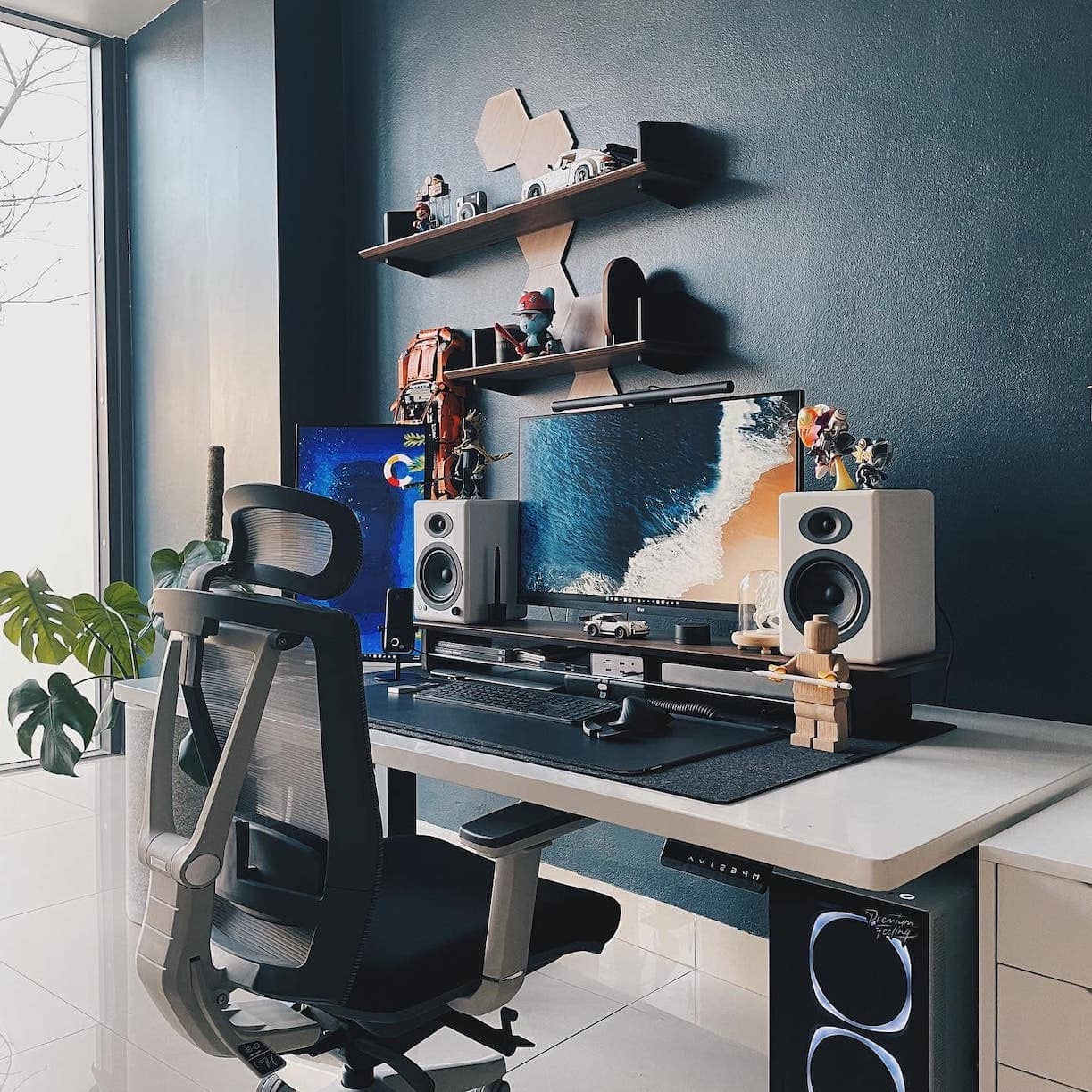 Some may not be able to lock the forward tilt, so you might be reclined back or have that bounce or rocking motion. Though this is a nice feature to have and can reduce back pain, if you are tasking, it will make you less productive.  
And here are our recommended office chairs for tasking or typing jobs
Herman Miller Aeron
This iconic chair has one of the best pronounced lumbar support. But this feature also makes it a bit stiff and pushed way too forward. That's why we see this as most suitable for those who are doing mostly typing or task jobs.
HON Ignition 2.0
This chair has a synchro tilt and can be comfortable for long hours. But what makes it more suitable for typing jobs is that it has an upright tilt lock that can ensure you stay pushed near the desk for as long as you need to. 
Steelcase Amia
This is a task chair that is built differently from most task chairs in the market. It can keep you in an upright position, but you also have the option to make it as ergonomic as possible. It's a less expensive Steelcase unit but it is still packed with a lot of adjustable features. 
Ergonomic features
Be it in a corporate or work-from-home setup, an office chair with more ergo features is always the best choice. But there is more significance in some features. 
We cannot stress enough how you need an office chair that can provide you with the most sublime support for your lower back.  
Back support
Maintaining productivity is already a challenge if you are working from home. And if you are going to experience back pain, be it mild or intense, it can definitely hamper your productivity. That's why you have to find the best office chair for you that can provide the best back support and prevent back pain. 
And while getting a chair with all the bells and whistles seems to be the best solution, it's not a one size fits all kind of situation. 
Aside from your individual needs ( if you have back issues or lingering back pain), you also have to consider the nature of your work.
For instance, an office chair with an intuitive backrest yet fixed lumbar support may be a more fitting choice for those who need to move a lot while they are seated. So even with the absence of a height and depth adjustable lumbar bar, the more flexible backrest will be able to make you more productive at work. This is also a better choice if you are often sitting in front of your desk for 8 hours straight. The more adaptive backrest design can help you inject mini movements into your day even when you are seated. 
Our top office chair with an adaptive backrest
Haworth Fern
The very unique backrest design of the Fern is one for the books. It is highly intuitive and it can give you this floating-on-the-hammock kind of feeling. This is very nice if you are working for longer hours. You will have that needed support without feeling any pressure points. . But there's a catch here since the chair has a fixed lumbar support, not all will be able to fit into the chair. If you are very tall, you will likely find Fern's lower back support too low. So either it fits you or it does not. But when it does, it will be very sublime.
Best office chairs for back pain
The Steelcase Leap provides medium firm support. But at the same time, you will be able to configure the lumbar settings since it is adjustable. With these two features combined, it will be able to provide better back support for most people, even those with lingering back problems. That's why if you would search for one of the best office chairs that can prevent back pain and can be used for long hours, the Leap is always on everybody's list.
Mirra 2
Compared to Aeron, Mirra 2 provides medium firm support and is a less aggressive one. If you love the features of an Aeron chair but hate how demanding it can be when it comes to maintaining an upright posture, then the Mirra 2 is the best alternative. We just love how forgiving and flexible the backrest is. To top it off, it also has this nice unique, and perky design that can liven up your home office. It can also serve as a decor in itself. 
Steelcase Gesture
This is a tad less aggressive than the lumbar support of the Leap V2 So if you need the back support that goes a notch lower than what the Leap has to offer, we suggest looking at the Gesture. This chair can also follow you better as you recline compare to the Leap V2. So this is something to consider if you often work in a reclined position.
Adjustable seat height and seat depth
If you are of average height and weight, it's easy to find a comfortable office chair. You just have to choose from a smorgasbord of ergo chairs and the market is not short of it. You will be able to spot tons of recommendations. But of course, you also have to discern wisely and scrutinize.
But if you are either petite or taller, skinny or bigger, it can be a burden. For instance, taller users have to consider seat depth adjustability. Will the seat pan be able to accommodate their legs without sacrificing the correct sitting posture? Will the backrest be high enough for them? Will the lumbar support hit the right spot? And of course, will the seat be able to go high enough for their needs?
Pettie users will also have to ensure that the chair can go low enough for them. Are the armrests not too wide apart? Is the seat width just enough and or is it too wide?
It can be confusing too. So it will help if you can narrow down your choices. And we have a few selections for you. 
Best office chairs for slim and petite users
Of course, you don't just want to settle for a chair that can go low enough for your height, you also want to ensure that every aspect of the unit works for you. Comfort is also a primary consideration, especially if you're going to sit for a longer time. You also have to ensure that you can keep your feet flat on the ground with the use of any footrest. And the arms must just be at the right distance from one another, not too wide. 
The Sayl chair will also make a statement in your home office, it just looks too pretty. It can go low enough for users who stand 5'2"/5'3". The arms are at just the right distance from one another. You may also opt to get an armless Sayl, should you not need them. of them. The backrest sits mid-high, so it's just perfect for those petite to average height. 
Herman Miller Aeron A
If you need an office chair with very firm support, the Aeron A is the perfect office chair for petite users. This is highly recommended for those needing a more pronounced lumbar and having the liberty to splurge on an office chair. Or you can always go for Reloved Aerons. 
Humanscale Liberty 
It has a nice set of adjustable features and the dimensions are great for smaller users. but lumbar support and backrest are off the charts. It has this sensation floating in the air. And if you favor a reclined position, this chair will definitely indulge you.
Best office chairs for tall people
Haworth Zody – best for tall users
The Haworth Zody has an exceptional build. And the seat comfort and backrest are quite sublime. This is also a chair that you can use for working longer hours. It has a dedicated pelvis and lumbar support system along with an adjustable seat depth with multiple options. These are some of the important features taller folks should consider.  
Sit on it Novo large and tall task chair – best office chair for big and tall
The max weight capacity is 400 lbs so it can accommodate those who are extra heavy. It might look like a simple task chair but the build is exceptional and the seat comfort is decently nice. It also has adjustable lumbar support.
Material and upholstery
The material of the chair can also dictate how comfortable it is, but this would include your circumstances and your preferences too. 
Mesh is a hot option. But there are things to make sure of. For one, we're not really fans of cheap mesh chairs since these tend to be rough, unyielding, and often painful. Thus if you want a mesh chair, you have to consider the price also. 
The mesh material has to be soft and flexible enough so that it can render decent support. It must not be abrasive or rough on the skin. 
Mesh office chairs are a great option for those who are looking for more breathability. Hence those living in hotter regions and those who tend to sweat a lot are advised to go for a mesh chair.   
Another favored material is padding or cushion. Whether you want a chair with a padded backrest and seat or one with only a padded seat, you have to get one that can give you a decent amount of support. Medium firm support is often the de facto choice of many.  
Best mesh office chairs
SIHOO M57
The mesh material of the M57 is quite soft and flexible. We find the most value in it compared to the other models of the brand. It also has sufficient ergo features that you can customize to fit your requirements. 
This all-mesh chair has a headrest and a two-part backrest. So we are seeing this comfy for those of average height and weight. Taller people and those with wider dimensions will have trouble finding a two-part backrest comfortable. 
Diffrient World
If you are looking for a softer mesh that can cradle your spine and butt, this is it. It also has a very unique white mesh color, which is not typical for a chair of its kind. But it does have a hefty price tag. 
It has only 3 adjustable features, so this can have a narrow range of users.
Best cushy padded office chair
Nightingale CXO
This office chair has a memory foam seat and can really be indulgent. So If you want a very cushy, durable yet decently supportive chair, this is it. It also has a higher adjustment range, making it suitable for a larger group of people. 
SERTA Hensley
This is also an executive chair that the big and tall can use. But most of all, it is very cushy but supportive enough. The spinal support is rather good, even for a softer padded chair, your back and butt will not feel numb. You may be able to sit on it for several hours without any complaints. 
Warranty
One of the gold standards in choosing an office chair is the warranty, a longer one with better inclusions is the best choice, even in a corporate setting.
And if you are in a WFH situation, we can't stress how important this is. You will not have the liberty to call for maintenance if you are working from home. Simple issues that may need troubleshooting may be addressed by the company technician. But you are on your own if you are at home. So checking if the brand offers 24/7 assistance for troubleshooting is also one important factor you should consider, aside from the length of the warranty. 
With this, the steeper priced brands stand out, such as Herman Miller, Steelcase, and Humanscale. Though there are medium-range office chairs that also offer a decent warranty. Sihoo and Nouhaus offer 3 years warranty then Haworth offers five. 
Price vs everything
You have to weigh your budget versus every single consideration. Of course, you have to also manage your expectations. You can't expect to get a five-year warranty for an office chair that costs 300 dollars or less. But you also must not settle for one that offers less than a year of coverage even if it is cheap. 
That's why we also made a list of the best office chairs depending on your circumstances and budget. 
The WFH setup does have challenges
Working from home means you're not going to enjoy the liberties that come with working in the corporate setting. 
As mentioned above, you have to be able to know how to troubleshoot simple issues. If you can easily get a footrest in the office, you might not be able to have one on hand at home should the chair not go low enough for your height. As such it is very important to be very keen on the features that you need to make yourself more productive at work.