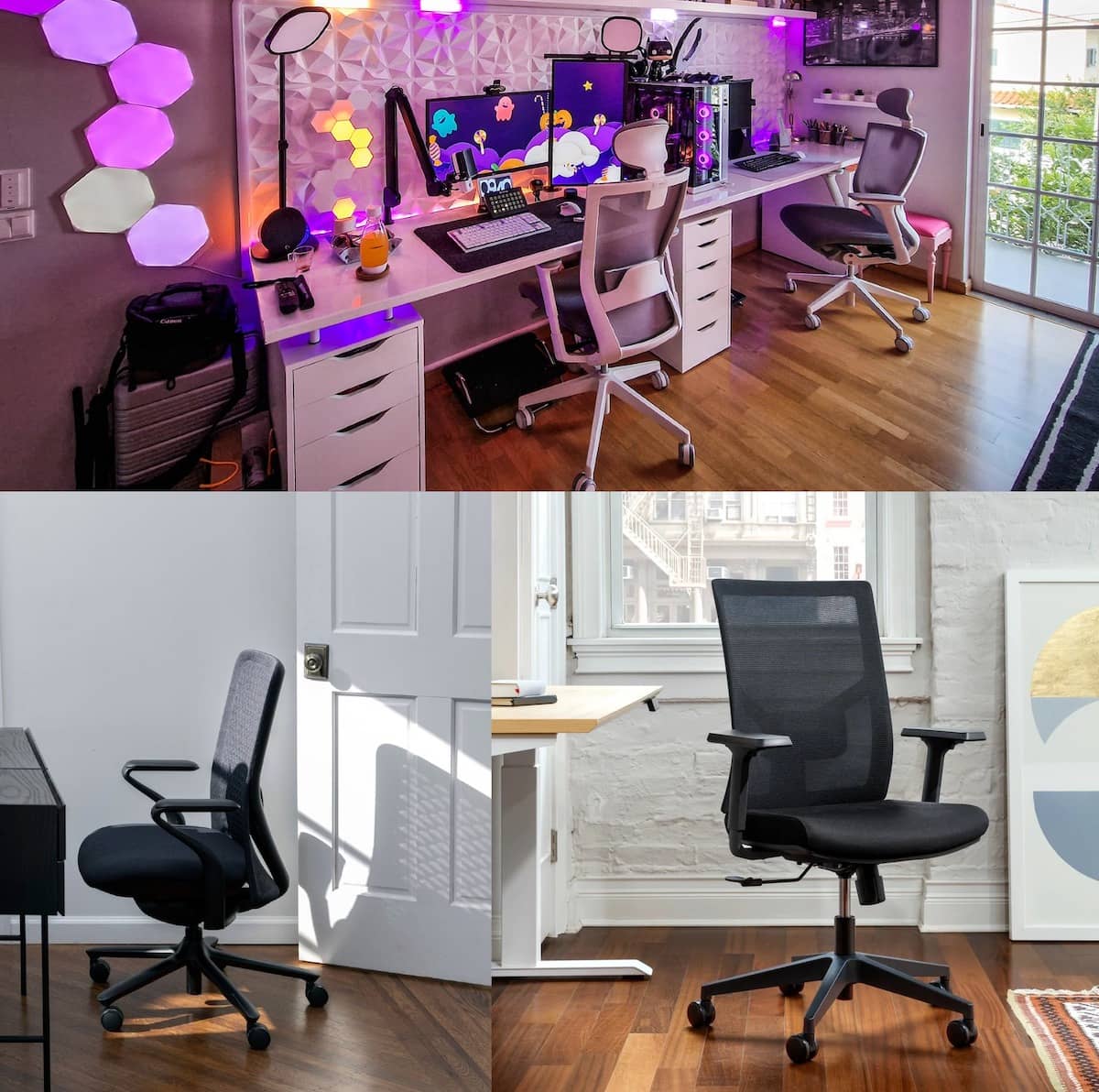 A 300-dollar budget will give you more liberty to choose a comfortable office chair. There are more nice options compared to a meager 100 or 200-dollar unit.  
But we chose the ones that offer a lot of ergo features, and these must work for the chair and complement the other parts of the unit.  
Top 5 Picks of the best ergonomic office chairs within $300
⭐ Molents Office Chair
This has a cushioned seat and a mesh backrest. The seat is surprisingly nice, and softly padded, and feels like you can sit on it for 5 hours without any problems. It does have decent support and can prevent your butt from sinking in too deep.  The mesh backrest is just okay, there's nothing too memorable or too irritating about it. 
For a 300-dollar chair, this has tons of adjustment options, you may even be able to adjust the seat pan or the seat depth. So this can be used by slightly taller folks and users of average height with longer legs. 
The lumbar support provides just enough push, it's not that pronounced, but it can suffice for most people. What we don't like are the arms, they just feel too wobbly and move a lot. 
It's not for heavy-duty use, thus we are seeing this fit for those who are of average weight and not ideal for those with bigger dimensions. It's not a hefty-duty chair but if you follow the recommended usage, this may somehow lengthen the lifespan of the chair. But, out of the box, it is quite comfortable and supportive for 5-6 hours of work. 
⭐ La-Z-Boy Sutherland Quilted
Despite being an executive chair, this unit does have some ergo features that will make it comfortable for 4-5 hours of use. 
It has built-in lumbar support that functions as it should. It is geared toward the firmer side and it kind of can push your body into a more forward position. Then you have the levers that you use to adjust the height of the seat and the tilt.
We were not expecting an executive chair to have this nice tilt. It is an ergo executive chair that will not break your back. Despite the cushy seat, the contoured lumbar support feels sufficient.
This chair is ideal for those of average height. If you are taller, you want to go for the big and tall version of the chair, the brand offers one. The leather material is significantly soft too. It doesn't even feel like a 300 dollars chair. It feels very premium. 
⭐ Oline ErgoPro
This mesh office chair looks very generic. You might not be able to pick it from a sea of mesh chairs that have split backrests. Despite the common look, it does have more to boast about.
It's one of the softer mesh chairs that you can get for 300 dollars. The mesh is flexible and soft enough, the chair even feels intuitive. 
We were hesitant at first since mesh chairs are notorious for being too firm and too hard. But boy we were in for a surprise! It feels rather soft, softer than what we're expecting. We thought it was going to feel like plywood since it's still cheap for a mesh chair. 
You will be able to sit on the chair for more than 5 hours. It also has different tilt positions and tilt tension. you can choose from 90, 120 to 135-degree tilt. Though the lumbar feels a bit firmer than what we'd like it to be. And the lumbar feels lower than it should be. But it's not that hard to cause back pain.
Construction-wise, it is solid and well-made. Even the blade wheels are quality and slide smoothly along the floors.
Also, the design of the backrest is not for everybody. The back is split into two portions. So there's this area where the two parts meet that can dig into your spine.
The Oline Ergo Pro is ideal for slightly taller to taller peeps. If you stand below 5'7", you might not have your feet flat on the floor. The seat width is also a bit big for someone skinny. Though more space in the seat means liberty for sitting with the legs on the chair, you might feel like a kid in a big chair. Even the armrests are set too wide apart. So even if you prefer a wider seat, you might not be able to use the arms.  
⭐ Branch task chair
This is a highly ergonomic and well-rounded task chair. It can make other ergonomic chairs a run for their money.
We love the simplicity of the chair yet it is packed with adjustable features. It has five points of adjustment height, tilt, tilt tension, armrest height, and lumbar support height. And oh, the chair overall, feels intuitive. and when you combine the tilt and the recline, this is almost as legit as an ergonomic chair. 
With the lumbar support, the chair feels too firm and can be very useful when you want to keep yourself up and more focused. 
Overall, it is a simple-looking chair, it will blend in with other task chairs, but has a lot to offer. And it's pretty sturdy and solid too. 
We highly recommend this chair for people from 5'4″ – 6'3″.
⭐ Modway Jive Ribbed
This pretty sultry number may look very far from an ergonomic chair that you can use for more than 4 hours. But despite the fixed lumbar and arms, the backrest is nicely and ergonomically shaped. 
We recommend it more for slightly taller users since the seat depth is not adjustable and not on the wider range. 
It has basic adjustment features that may suffice if you do not need customized support.  It is seat height and tilt adjustable. And this type of chair may be better suited for task work or when you need to be closer to the desktop most of the time. It also offers a firmer seat, so keep this in mind. 
We also chose this chair because it is quite hefty and heavy duty. The frame and base are solid. But what can be somewhat off putting is the shorter warranty of 1 year. 
Albeit the limited adjustable features, this is a comfortable chair if you fit into it. It also comes in an array of perky colors, so it is for you if you're also looking  for something more aesthetically appealing. 
The Buying Guide for an ideal chair
Our buying guide outlines the more important factors that you should consider for your 300-dollar budget.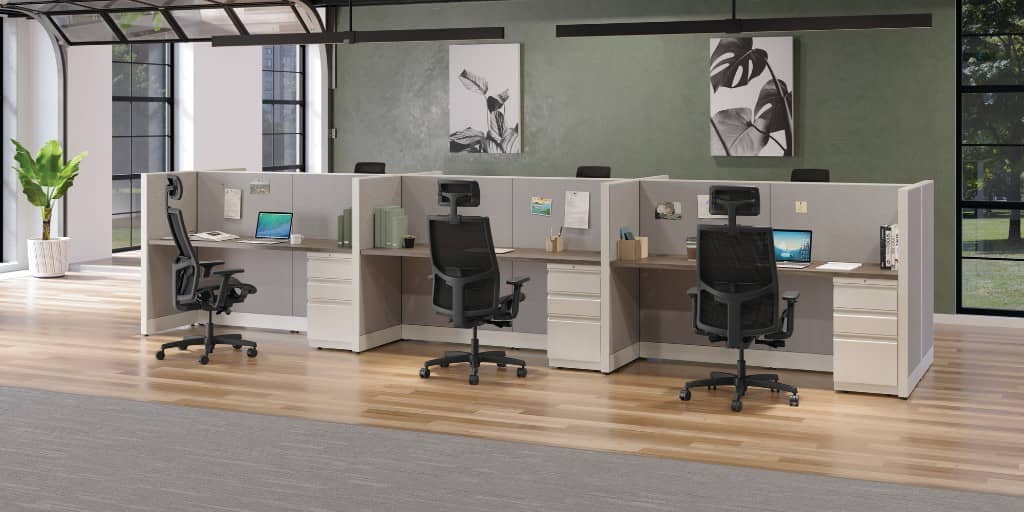 Adjustable features
A budget of 300 dollars is still quite low to get an ergonomic chair with all the bells and whistles. But the good news is, you have more options. You may not be able to get a unit that feels sublime on your lower back, but it can be decent enough to use for more than 5 hours. 
And here are some of the ergo features that you should prioritize
Seat height and depth
You now will be able to find a unit that can go high enough if you are 6 feet tall. But you also have to consider the seat depth or if the seat pan can be adjusted. Not all 300-dollar chairs that can go high enough will allow for ample clearance for those with longer legs. So you have to watch out for this. 
Lumbar support
Either fixed or adjustable, you may still be able to find a unit that will be comfortable for long hours of work. 
And if you need more customized back support, there are 300-dollar chairs that offer both adjustable height and depth. 
Overall comfort
If the chair is made of. mesh material, make sure that it isn't too rigid. Though you cannot expect a very intuitive mesh chair for this budget, you can't find one that is sufficient enough, so do not settle for a very rough mesh thinking that you have no options here.
And if it's a padded chair, the padding is not too firm. Does it offer enough support? 
Unlike 200 or 100-dollar chairs where a mesh one is the safer choice, you can enjoy a padded chair and still get enough support. 
Durability
It may not be an expensive chair, but you are still looking at something that can last about three to five years. 
As such, you must refrain from buying ones that have more plastic parts and feel squeaky when you first sit on them. 
You should also pay attention to how durable the material of the chair is including caster wheels and the backrest. You will be able to see more insights on legit reviews.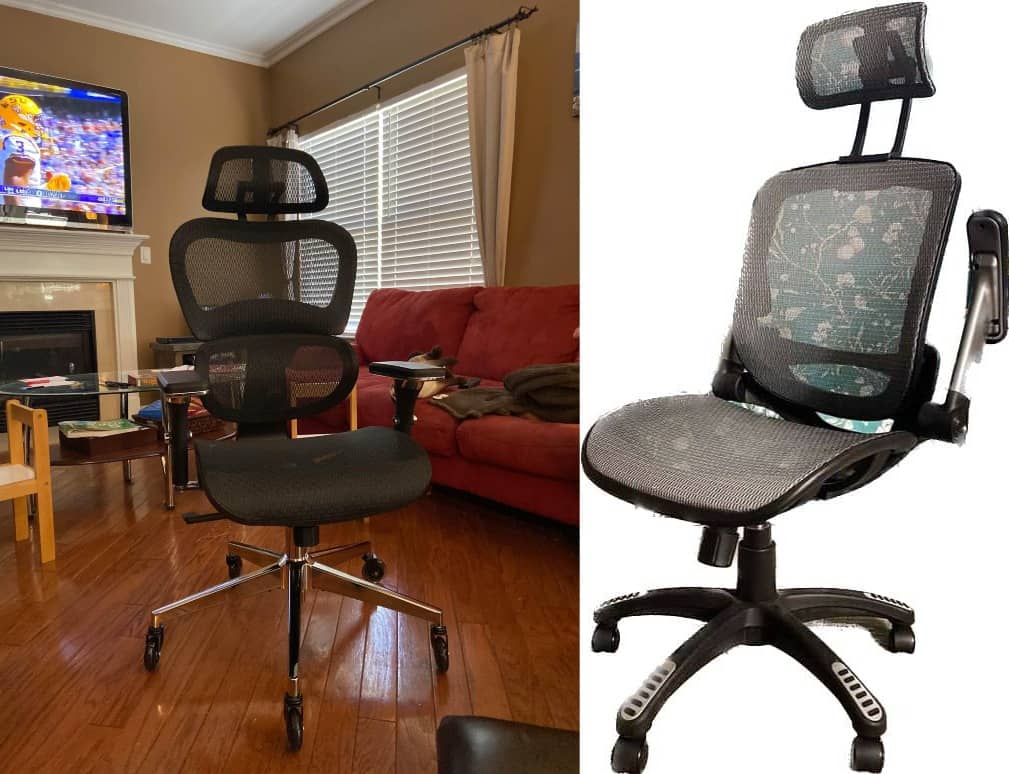 Now you can get better features with your 300-dollar budget
With a budget of 300 bucks, you will be able to get an office chair that has more adjustable features. Unlike office chairs priced 100-200, there are a lot of limitations. Most are only for light-duty use.