Are you heavy & looking for the perfect office chair? 
If you weigh 400 lbs, you might have trouble finding a suitable ergonomic office chair. The Clatina ergonomic big and tall executive chair is one of the office chairs that can support the heavyweight. Other brands have such claims so let's see what makes it different from the rest. And let's not just take the brand's claim for it. I am going to review this big and tall executive chair and see if it's really on par with heavyweight use.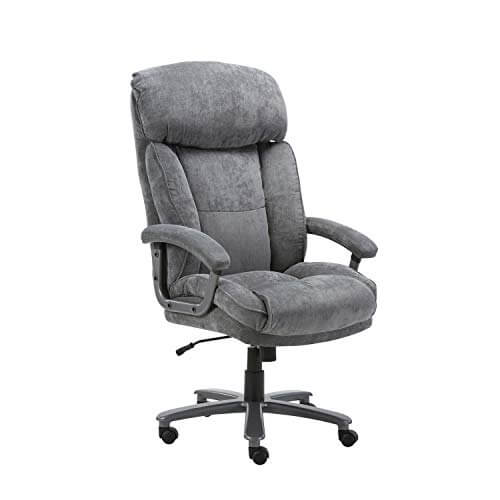 Before we cherry-pick the Clatina ergonomic big and tall executive chair, let's see first what you should expect from a big and tall executive chair so that you have something to compare it with.
What to look for in an office chair for the heavy person
Large seat dimensions – It should have a wide enough seat that doesn't feel like you're cramped up in a small box. Yes, you can fit into it, but can you really move around comfortably?
Made of heavy-duty materials – This is a no-brainer. The heavier you weigh, the more sturdy your chair needs to be. 
Adjustability and ergonomics – Yes, these chairs are hard to find. And compared to standard office chairs, big and tall executive chairs are not necessarily abundant in the market. But you shouldn't settle for one that isn't ergonomic or adjustable enough.
Clatina ergonomic big and tall executive chair, are the claims true?
At first glance, this office chair looks heavy-duty and quite stout. You'd instantly see that seat is pretty wide. 
The seat measures 24 x 30 inches. And it's quite deep too. So if you weigh nearly 400 lbs and have very long legs, you'd find this very comfortable. The depth of the seat allows you to comfortably lean back and still have your toes touching the ground.  
The Clatina Executive Big and Tall chair perhaps has one of the widest seats and depth. It's even wider than the Reficcer office chair ( 22.8 x 24) and the Anda Seat Kaiser ( 18 X 20). Though these two office chairs can also support a person who weighs 400 lbs, their seat is inferior compared to Clatina's. But the Anda Seat Kaiser is up a notch in terms of weight capacity. It can support a weight of up to 441 lbs. 
Construction and build
With a weight capacity of 400 lbs, I reckon the Clatina office chair is made of heavy-duty materials. How else would it be able to support such a load, right? But I still want to see a bit more details on that. 
This chair has a reinforced gas lift and the base and frame are quite solid and sturdy too. It's a bit at par with the construction of the Sadie Big and Tall, with lots of metal parts in it. Though the Sadie office chair has a lower weight capacity of 350 lbs. 
But the Anda BIg and Tall char can be more durable, it's one of the best heavy-duty gaming office chairs too. Though the price can be twice as much as that of the Clatina Big and Tall office chair. 
Adjustability and ergonomics
When it comes to adjustability, the Claitna executive chair won't disappoint you. It features several adjustable parts that even a 400 ponder can enjoy. 
It has an ergonomic design. And I love the synchro-tilt technology. You can easily tilt back to your desired position. Though you can't tilt it back and this office chair is not a reclinable one.
If you're looking for a reclinable heavy duty office chair, the Reficcer office chair can be reclined up to 120 degrees. But there's a bit of trade-off there. There isn't any lock when you recline the chair back. So you can see a bit of gray area when it comes to the safety of the reclined positions. 
The same thing goes with a Sadie Big and Tall Office chair. Maybe just don't get too comfy on the recline position to avoid accidents. The Anda Seat perhaps might offer one of the best-reclined positions for a heavy-duty chair. 
In addition, the Clatina Big and tall office chair can also swivel to 360 degrees. And only a few heavy-duty office chairs can swivel, such as the Big and tall office chairs by BestMassage.
But it has more adjustability over a more expensive brand of high back chairs, the Basyx Validate chair. It's a gorgeous-looking executive chair with soft padding. But it lacks some of the adjustable features that you can find in this chair. 
In terms of ergonomics, the Clatina ergonomic big and tall executive chair delivers. The armrests have a natural curve to them. It also has nice padding and the entire saeta and backrest are padded too. If you're into plush comfort, you'd love the thick padding of this Clatina chair. It feels a bit different from the leather office chairs such as Sadie Big and Tall and the Yamamoto. Though they have foam underneath the leather, sometimes the leather material can be too hot. 
It has a nice lumbar back super and headrest, though some may find lumbar back support a bit too low. Well, I also wished it was a bit higher. Better lumbar support can be found in the Sadie office chair. It has a mesh backrest that follows the curve of your spine. Though, you might tweak the back support of the Clatina by using additional lumbar pillows.
Though the brand also has a more ergonomic office chair with more adjustability, the Clatina 247 is one of the most ergonomic office chairs of the band. Though It has a weight capacity of 275 lbs, much lower than the Big and Tall. But it can be a great option for more back support in case you weigh within that range. 
Overall, the Clatina Big and Tall office chair is a great option if you weigh about 400 lbs. For the construction, adjustability, and comfort, it's at par with some of the more expensive office chairs for heavy people. Though the backrest and lumbar support can be comfortable, some people may find it lacking.