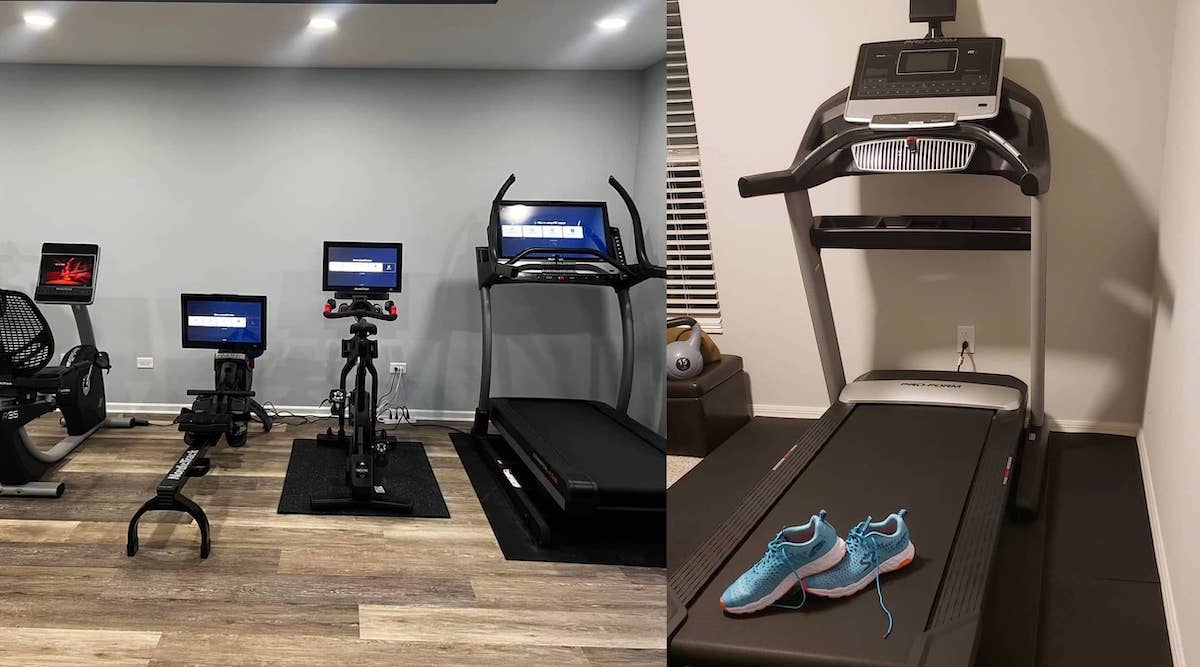 You already know the benefits of using a treadmill. This extends beyond the confines of physical exercise, fostering mental stimulation and emotional well-being
But you may not know what is the Most Reliable Treadmill for Home Use. 
Bored of your usual indoor running and decided to go with home exercises? Tired of researching and getting nowhere to go? We've done your homework and even got some surprising solutions for you! These are the best quality treadmills you can use at home, in all essence of the word.
Of course, some of them aren't cheap! Let's start
Proform Pro 2000
If you need more space and legroom for a more intense cardio workout, this is a great treadmill for your home. You will not feel restricted with its 60- by 20-inch track. This spacious track is great for both novice and intermediate runners. Taller runners too, will find this a very luxurious walkway, so to speak.
The speed range is from 0-12 mph, you can also opt-out and add an incline to increase the intensity of your cardio routine.
It also comes with an iFit-ready automatic trainer control. But if you want to monitor your heart rate, you have to purchase a smart beat heart rate monitor you can use with your iFit membership. 
This is more than just your regular treadmill at home, you will be able to enjoy your cardio routine more as you walk to the beat of your favorite songs. It has an impressive audio system that can keep you inspired to run more. Studies have shown that playing music can help you run longer, easier, and faster. It will also help increase your endorphins as you match your stride to a beat. 
It is also quite hefty with a 300 lb capacity, but it is a durable and very fun treadmill. 
Echelon Stride
If you're looking for a more guided workout plus a more challenging level of incline, we highly recommend this treadmill. It has a top speed of 19 km/h and the incline goes up to 10%. And with a 1.75 CHP motor, it can do so seamlessly. So intermediate runners will also find this a worthy one.
It can provide an intense sweat sesh. But at the same time, all the safety protocols are in place. So you need not worry. It has a metal safety bar underneath the running deck that protects objects from being pulled under. 
Despite the intense options, this treadmill is otherwise pretty forgiving. It goes up in small increments if you want to walk very slowly. So it is fit for novices and beginners too. You will also be able to track your energy expenditure, there's a calorie readout on the right. 
It has a great set of features, but to make full use of these, you have to subscribe. So that is one thing to consider too. 
Sole F85
It's techy and very convenient to use. This treadmill is foldable, but it can still handle a lot of weight. 
The incline goes up to 15% and declines to -6%. While it may have the same incline as other treadmills, it by far has the lowest decline. So this is a great way for you to customize your running sessions.
It will also be fun to track your progress with the 15.6" touch screen. You also have the preloaded apps and workouts. The larger monitor will also be a great feature for larger runners. Also, it is very sturdy, it will be able to bear the weight of heavy runners without any worries. The weight capacity of the treadmill is up to 375 lbs.
You will not be bored with the multiple options of programs. You can choose from different types of modes such as a hill, fat burn, cardio, strength, HIIT, 5K, 10K, and heart rate. You may also be able to set your preferred setting and the treadmill will adjust itself whenever. But if you choose to go for manual mode, you can also do so.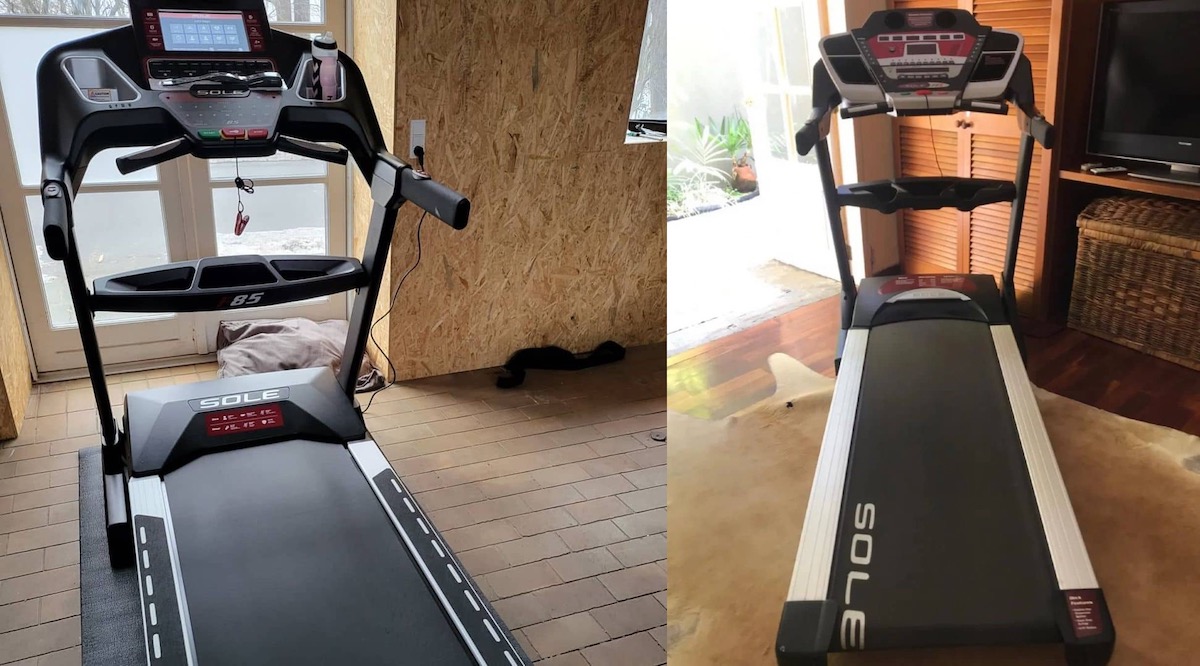 Oh, we also love the wireless charging pad that sits in the middle of the console below the screen. It's slightly angled so you can still see the screen at the same time. We find these very quirky features. It actually has a lot of storage space for a treadmill, it also has a pen holder for larger Ipads. So you can watch movies while running. 
The downside, however, the screen is not adjustable.
NordicTrack 1750
This is a compact touchscreen treadmill that you can easily stow away or set up whenever you need to. And despite it being foldable, you will be able to tell that this is of heavy construction. 
It is cheaper than treadmills with the same touchscreen features. The screen is very clear and crisp, you'd be amazed at how it just cost as much as it did. 
It also has extensive content that features indoor classes and outdoor routes all over the globe. So even if you're walking indoors, you can somehow traverse by the beach or the mountains. 
It also has a 15% incline and -3% decline, so it can make up for a very challenging run session. Oh, but as with other treadmills, you have to have a subscription to be able to access all these wonderful features.
It also has a large running surface measuring 22" x 60". The extra wide deck is very accommodating for taller runners too. 
The caveats are, it has no USB ports.
Horizon 7.8 AT
This is for very serious runners who want more than just the regular options. It features training programs that are high-intensity intervals interspersed. These have recovery sessions that range from easy to super-challenging levels. 
This is such a workhorse, it has an impressive 4.0 horsepower motor. But at the same time, it's easy to get on the treadmill, it has a low step-up height. And oh, it is rather quiet too despite the very powerful motor. 
It is also foldable, so you will be able to fold it up whenever the need arises.
Though in terms of innovative features, this may not be the most technologically advanced, it banks on its very powerful motor and impressive HIIT training options. The console is pretty outdated, so you have to consider that. 
XTERRA Fitness TR150
If you're looking for a manual treadmill, we highly recommend this one.
If you don't like any subscriptions or app access, this TR150 is the one for you. Even we also provide a list of other options: The 5 Best Treadmills without subscription that can help you Get Pumped Up. But the XTERRA is the one for a limited budget!
Though it is limited to some degree, the TR150 version still features an array of options to make your running session a more fun one and different each time. It has 2 Preset Programs and 3 manual Incline Settings offered.
The max speed is 10 MPH so you can go for seamless jogging. And with a quiet motor, you'll not be disturbed.
It has a clear console that displays all your running metrics. You can also access the speed keys so you can change the intensity of your workout easily. The console is also easy to read and understand, it is nicely laid out. 
This manual treadmill can also be easily folded so you can easily stow it away when not in use. 
This manual treadmill can be quite heavy though, you need more than two hands to move it.
NordicTrack 2450
The 2450 can give you pretty much everything you need to run in different modes even when you're at home. It has an incline to 12% and a decline to -3%, this gives you more variables for your running sessions. So it won't even feel like you're running at home.
The motor is also very impressive at 3.6 CHP. It can give you that intense program seamlessly. The motor is also consistent, so you will not feel any lagging, even if you are running at top speed. The screen is also adjustable. And our favorite part is, you can create your own running routes in real locations using the Google Map feature on iFit. This mimics running on real terrain as the treadmill can automatically incline and decline wherever you go uphill or downhill.
Also, this is great for those who want a lower-impact run, it has one of the best cushions for a treadmill. So your joints and knees are fully supported. 
Horizon 7.0 AT
This is our budget option for reliable treadmills you can use at home. Despite the affordable price, it is teeming with wonderful features. 
It has. sufficient cushion for a treadmill of its price. This is Horizon's 3-Zone Variable Response Cushioning. This gives runners plenty of shock absorption. Your underfoot will not be hurt even if you are running at top speed. 
The deck is comfortably long at 60 inches. But keep in mind that the motor is not that strong. It is a 3 HP motor, so more amenable for novices for slow runners too. But it is rather strong with a 325 lb weight capacity.
It is also compact and can be folded up easily. It's not that heavy so you can easily set it up for a quick run. Despite being slow for intermediate runners, you'll be happy with the console. You can connect it to third-party apps and you can stream content when you workout.
Assault Trail Runner
The most unique feature of this treadmill is perhaps the curved belt. This may take some time to get used to running, but it can provide a different kind of experience for runners. This design also makes it ideal for HIIT training. 
This treadmill is quite unique. It's not the regular treadmill you use at home. It might not have that standard motor power belt. Instead, it feeds off user input to crank up the intensity. The design makes it seem like you are weightless, almost running on air. So this is also a great treadmill for CrossFit workouts.
The running platform is rubberized so this will have a lesser impact on your joints too.
It is manual and does not require a motor. So that also means that it will run even when there is no electricity. The downside is, it can be more expensive and pretty heavy.
The caveat is, despite the higher price, it doesn't have any storage or any place where you can put your phone down while running.
Bowflex 22
If you want more challenging hill work, then this is a great treadmill. It has some functional features that can mimic road running. You'll be impressed and will not feel like you're running in your living room or bedroom.
The deck descends to -5% and inclines to 20%. You can do some serious calorie burn with this. 
Also, the running deck is quite long at 22". Very good for advanced and taller runners. And oh did we mention that this is one of the heftiest at a 400 lb capacity? So tall and big runners will also find this very stable. 
But despite that heftiness, you will be able to fold this treadmill when not in use. 
The best ways to burn calories on the treadmill
Running at home on a treadmill can be boring. But it need not be. With the right program, you will be able to customize your workout and increase the intensity as needed.
Bonus tips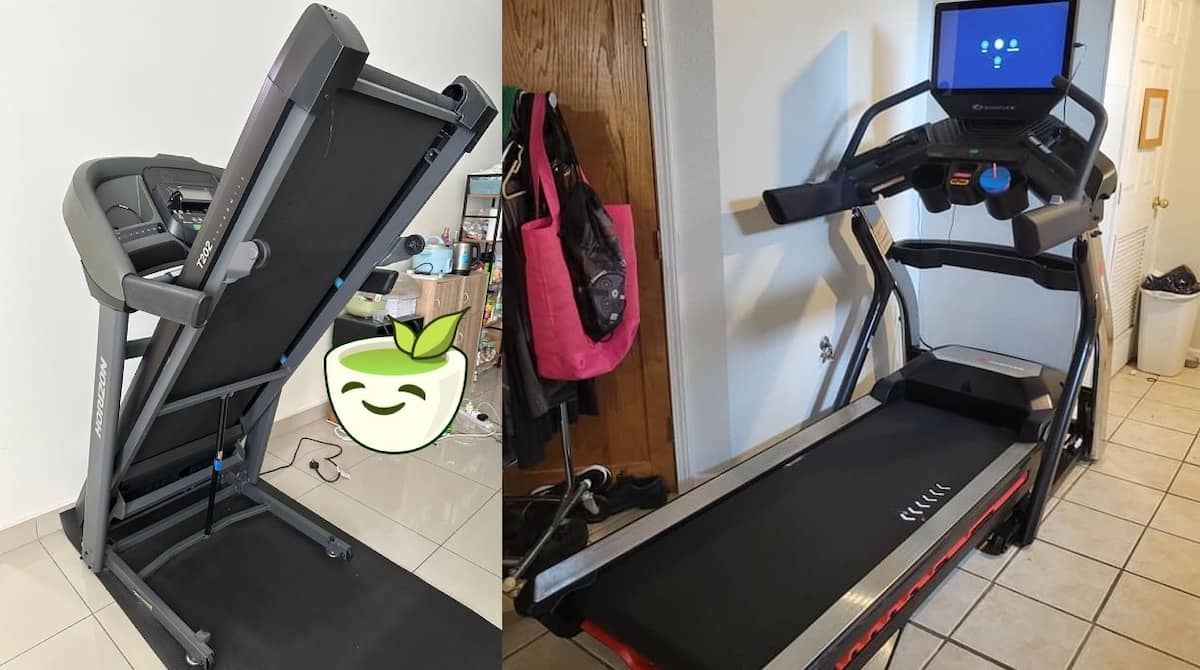 And here are some ways how you can plan a more calorie-burning run at home
Make use of incline and decline
Walking or running on an incline can help you burn more calories. You can burn an extra 3 to five calories per mile depending on the level of incline, the higher you go the more you burn. 
The decline, on the other hand, can give your body amazing results. Walking downhill can help you increase endurance. Though you don't burn as much compared to running uphill, it can improve insulin resistance and help you build lean mass too.
Build endurance and speed with different programs
Apart from losing excess fat, an efficient treadmill program can help you increase your speed and endurance. You can combine levels of jogging and running for 18 minutes. This will help you improve your speed and muscular endurance too.
You can start with running for a minute then alternate it with walking for another minute.
Changing programs not just helps you get out of boredom, it can also prevent your muscles from hitting a plateau.
You can work on different treadmill programs. You can make use of HIIT routines or go on a hilly climb next week.  
Is running on the treadmill the same as running outside?
Of course not, and here are some differences
When running outside, the impact on your joints and muscles is usually higher due to the variations in terrain. Running on a treadmill offers a more cushioned surface, which can reduce the impact and stress on your body.
Running outside also involves dealing with wind resistance, it won't happen on a treadmill. As a result, running on a treadmill may feel slightly easier at the same pace.
Outdoor running typically involves changes in terrain and inclines, such as hills or uneven surfaces. On a treadmill, you have more control over the incline, you can simulate hill training or adjust it to your preference.
Running outside provides a change of scenery and the opportunity to explore new routes, so you can feel more mentally stimulated compared to running on a treadmill in the same location. It can be boring, but at least you can control your speed, no need to worry about the terrain, weather conditions, and other distractions.
For safety and convenience, Treadmills win, and no need to explain more. They also offer the convenience of being accessible at any time, regardless of the weather or location.
Run at home and not feel like it
The best at-home treadmills go beyond the usual running and walking routines indoors. These treadmills are teeming at the sleeves with features that can help you customize and elevate indoor running. It helps make it more fun too.
These are also very reliable and durable treadmills. You don't have to worry about the squeaking sounds or the motor suddenly stopping from running.