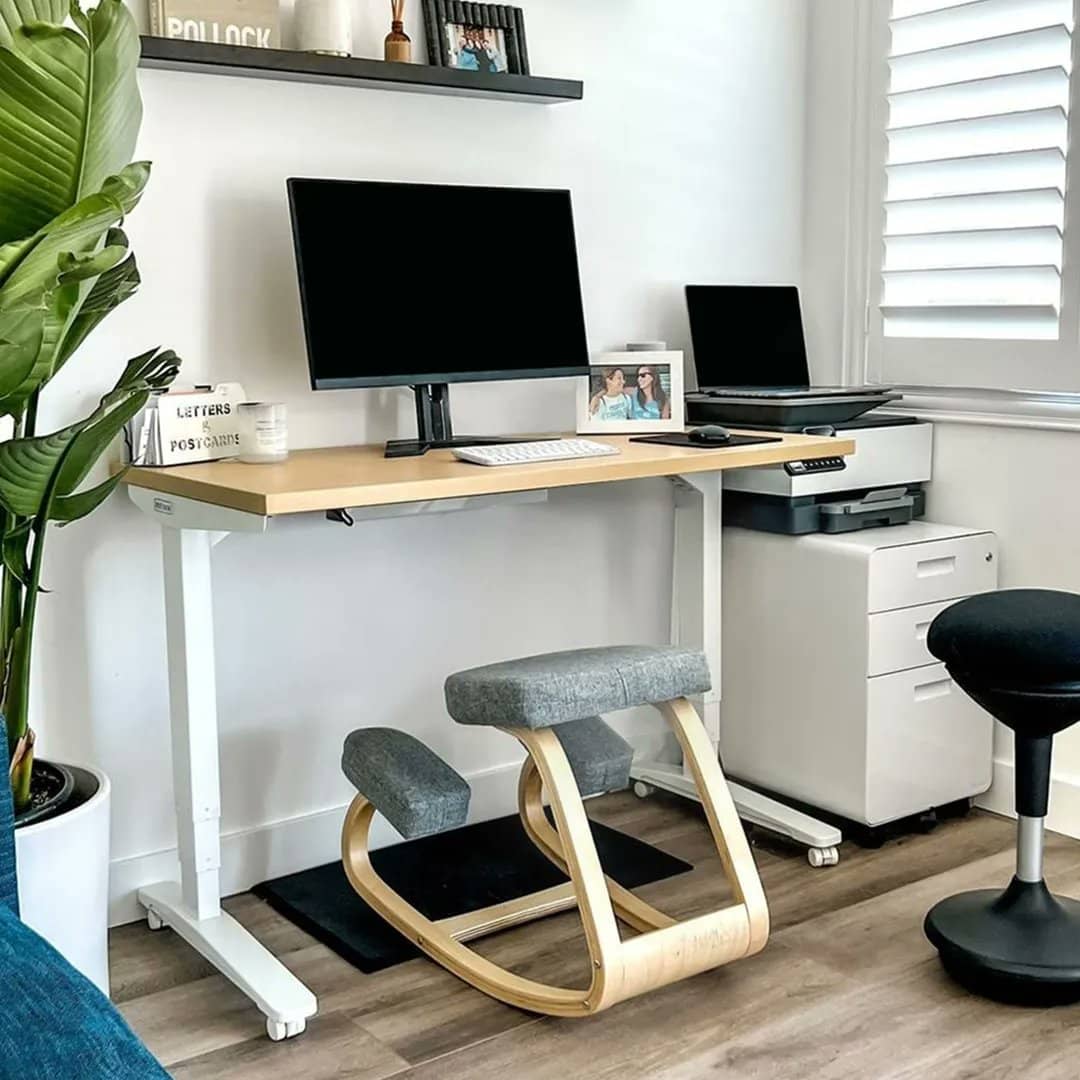 If you haven't had any luck finding a comfortable office chair, you might be tempted to buy a kneeling chair instead.
Recently, kneeling chairs have been gaining more attention, especially when it comes to reducing back pain. And with new studies disproving that a 90-degree angle is the optimum sitting position, it would seem that kneeling can benefit your posture and reduce or even prevent back pain.
But before we get on ahead of ourselves, let's see how these chairs work and are they really good for your posture. And yes, there is such a thing as proper usage of these chairs.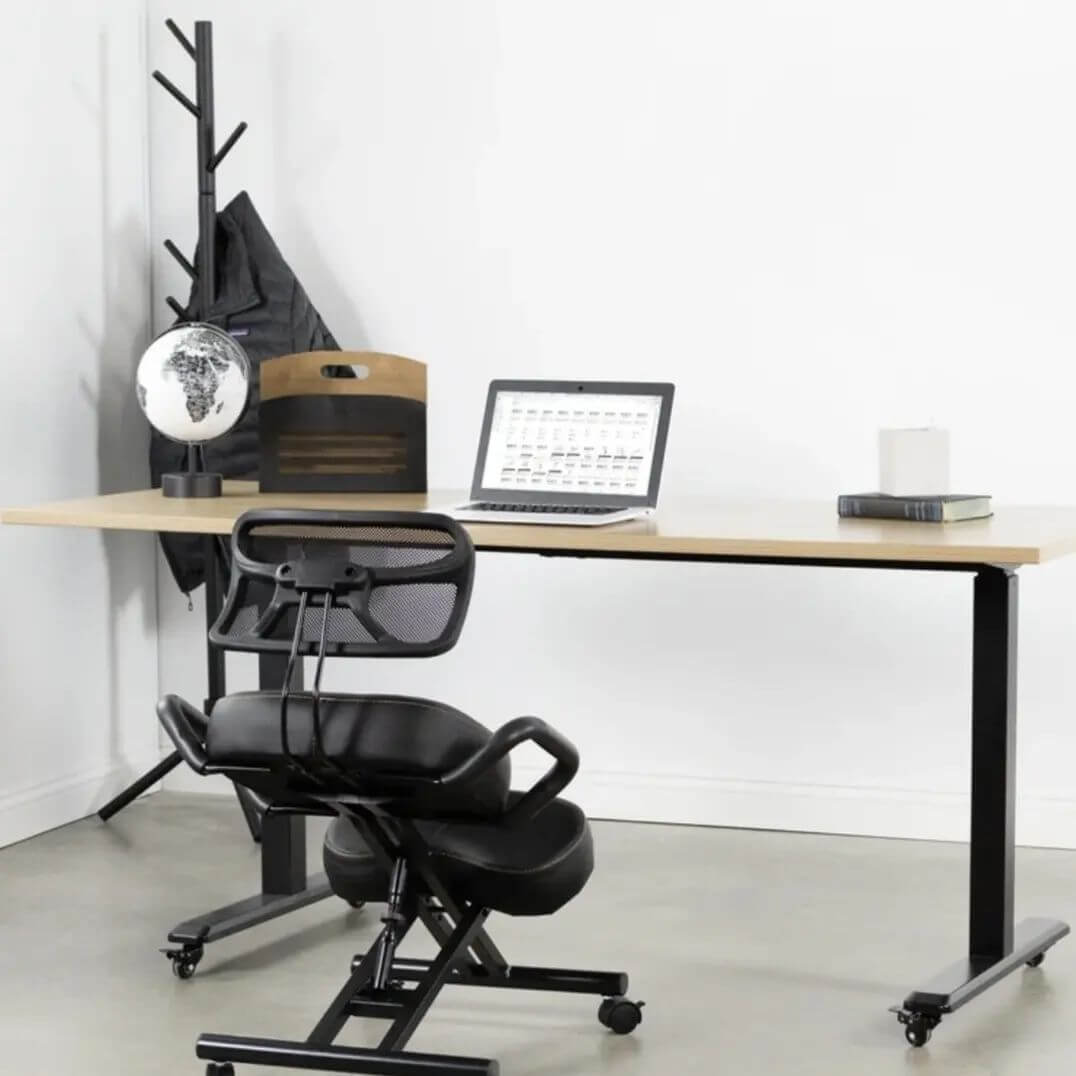 How do kneeling chairs work
These chairs don't necessarily scream comfort at first glance. And there are a lot of misconceptions about kneeling chairs like they can hurt your knees badly. Kneeling isn't a comfortable position anyway, right?  
And since most of these chairs lack a backrest, they look tiring for the back. There might also be a tendency that you'll fall to the sides.
But surprisingly, these chairs were designed opposite to what most perceive them to be. Kneeling chairs were particularly made and designed to reduce the pressure on the back. 
Before the birth of the modern-day ergonomic office chairs with unique technologies that can make it comfortable for a whole day sitting, kneeling chairs were used as an alternative to traditional office chairs.
Kneeling chairs are meant to reduce the pressure you feel on your buttocks and shin when you're sitting. These chairs are also said to be better for lumbar pain.
And studies show that most lumbar back pain is a result of forcing the spine to assume an unnatural position.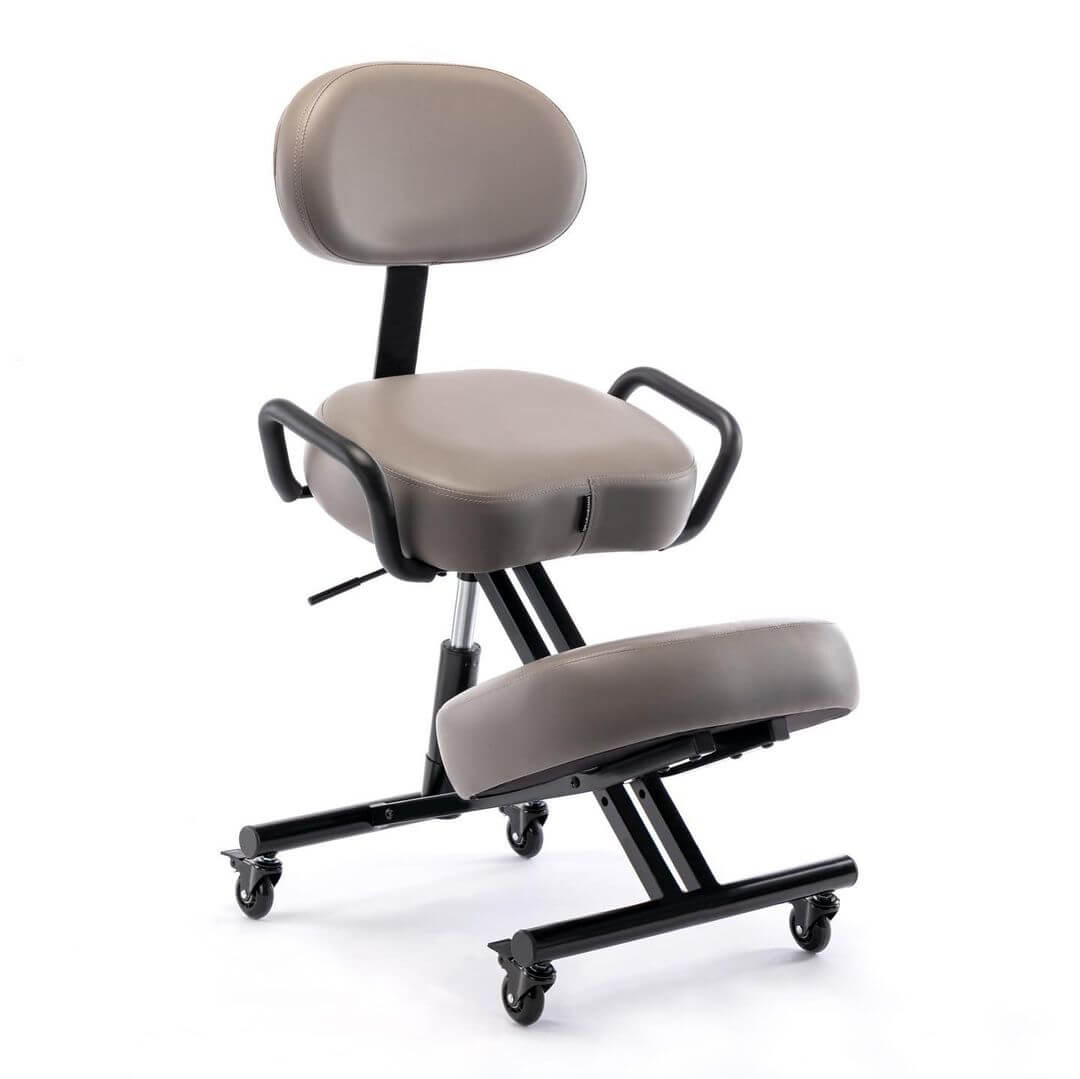 The spine's natural shape is not straight, it's more of an S shape. And when you force the back to rest against a traditional office chair, you are flattening the spine instead, which is an unnatural position. And this leads to lumbar pains. 
Also, the thighs are positioned at an oblique angle and this is relative to the spine. When the things are at an oblique angle, instead of a 90-degree angle, your back will be automatically pushed forward, thereby assuming a neutral spine position.
And over time, this unnatural spine position can cause compression. So aside from back pain, this can also lead to poor posture. 
It does make a lot of sense. 
But before we can make any viable conclusion, we'd like to further explore. 
So we're quite sold on the kneeling chairs being kinder to the back. But how about for the rest of your body, especially the knees? At first glance, you'd think that these chairs can put too much pressure on your knees. 
So let's head on to the next section to find out. 
Are ergonomic kneeling chairs good for you

?
Your body is designed to move. 
So staying still or being stationary for a prolonged period can be bad for your overall health. 
And remember when brands were switching to standing desks and ditching their traditional desks to encourage the body to move? 
That can also be the same time when kneeling chairs had some sort of a revolution. Compared to years ago, you can now see more kneeling chair options. 
And all of these is to encourage the body to move. And with kneeling chairs, that's referred to as active sting. 
You're not necessarily on your feet such as a standing desk, and have the liberty to do squats or jumping jacks anytime you want. But you are encouraging your core to work when you're sitting in a kneeling chair.  
Also, the 125-135 degree angle can help strengthen your spine and can eventually help you improve your posture.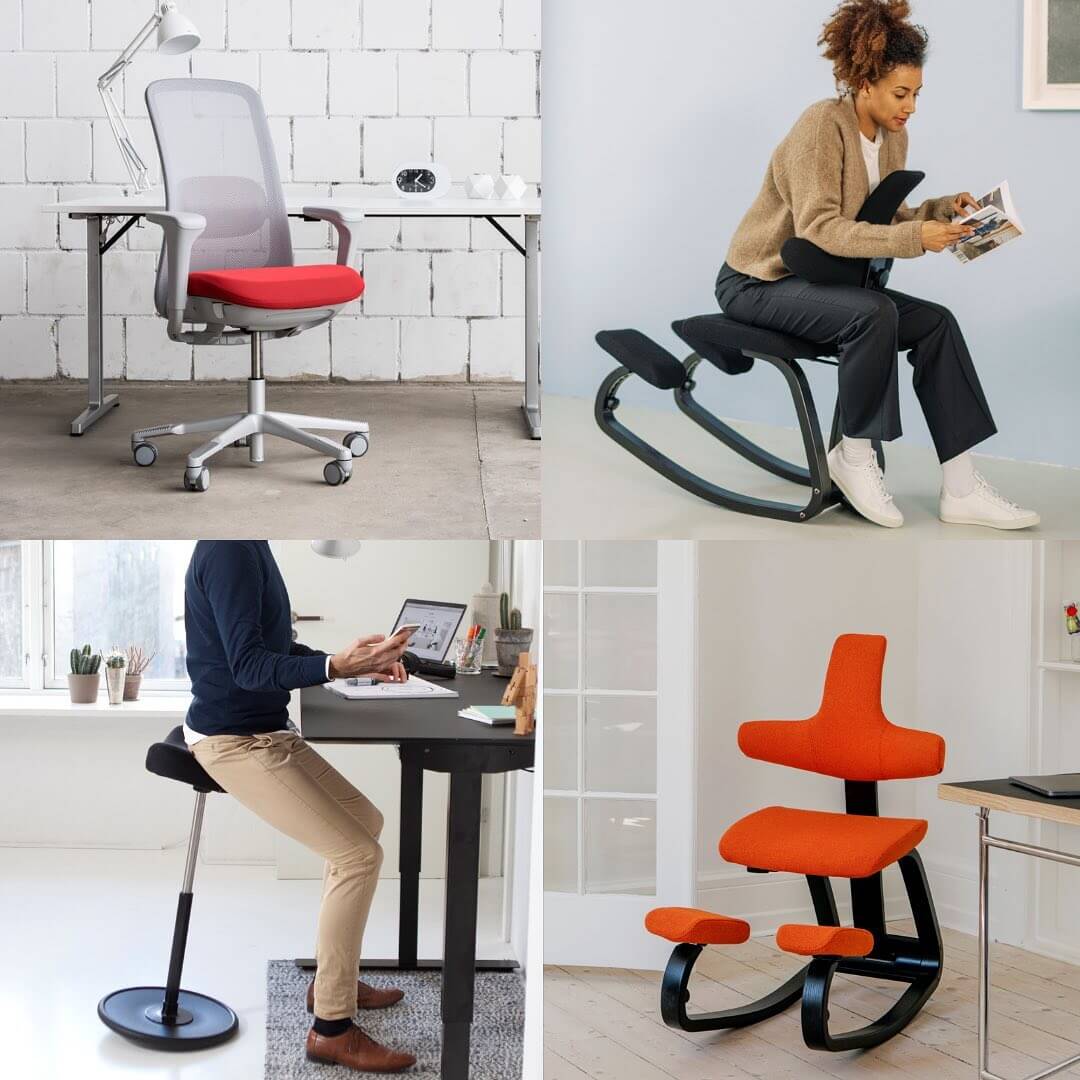 Kneeling chairs can also open up your hips and this can reduce pressure and compression too. 
When you're sitting on a traditional chair, you have your weight confined to the buttocks and hips. 
Changing the angle of the knees changes this. As we have mentioned above, kneeling chairs push the spine forward. And this also helps distribute your overall weight to your core, back, buttocks, and hips. So the hips and buttocks are not overly burdened by your weight.
Another surprising benefit of kneeling chairs is that it results in better digestion and breathing. Your body is not compressed or hunched down. So it doesn't compress your internal organs and can lead to difficulty in breathing. 
Sitting on a kneeling chair also gives the illusion of your head being lifted by a string, thus preventing your body from crunching downward and compressing the stomach. So this can help your internal organs function better.
So kneeling chairs seem to do the body good. But hold your horses, there are also some cons. So we will be listing them. We'll also suggest how to prevent it.
When are kneeling chairs not a good option?
Kneeling chairs cannot be used for prolonged hours
These chairs are best used for short-term activities and tasks. Since the legs are confined to one position only, using the chair for too long can put too much pressure on your shin. 
And since you cannot move your legs, it can slow down circulation when used for extended hours.
There are a few comfortable options for taller users
Taller people have longer legs so that makes it difficult for them to find a suitable unit. Also, you have to be mindful of the weight limit. 
So taller folks need a more heavy-duty kneeling chair that has a higher weight capacity.  
But the good news is, though there are limited choices, you can still find a decent kneeling chair brand that can accommodate your long legs.
And the distance between the knee pad and the seat should also be longer to accommodate legs that go on for days. So these are the more ergonomic kneeling chairs with more adjustment levels for the seat and knee pads. It also helps if the chair doesn't have that bar at the bottom that can restrict movement. 
The knee pads should also be larger to accommodate your knees and shins without feeling any discomfort. 
How about kneeling chairs with a backrest or back support?
Can kneeling chairs with an additional backrest or back support render the chair comfortable for long hours of work?
Since you will be able to rest your back on something, it makes sense to be able to use it longer right?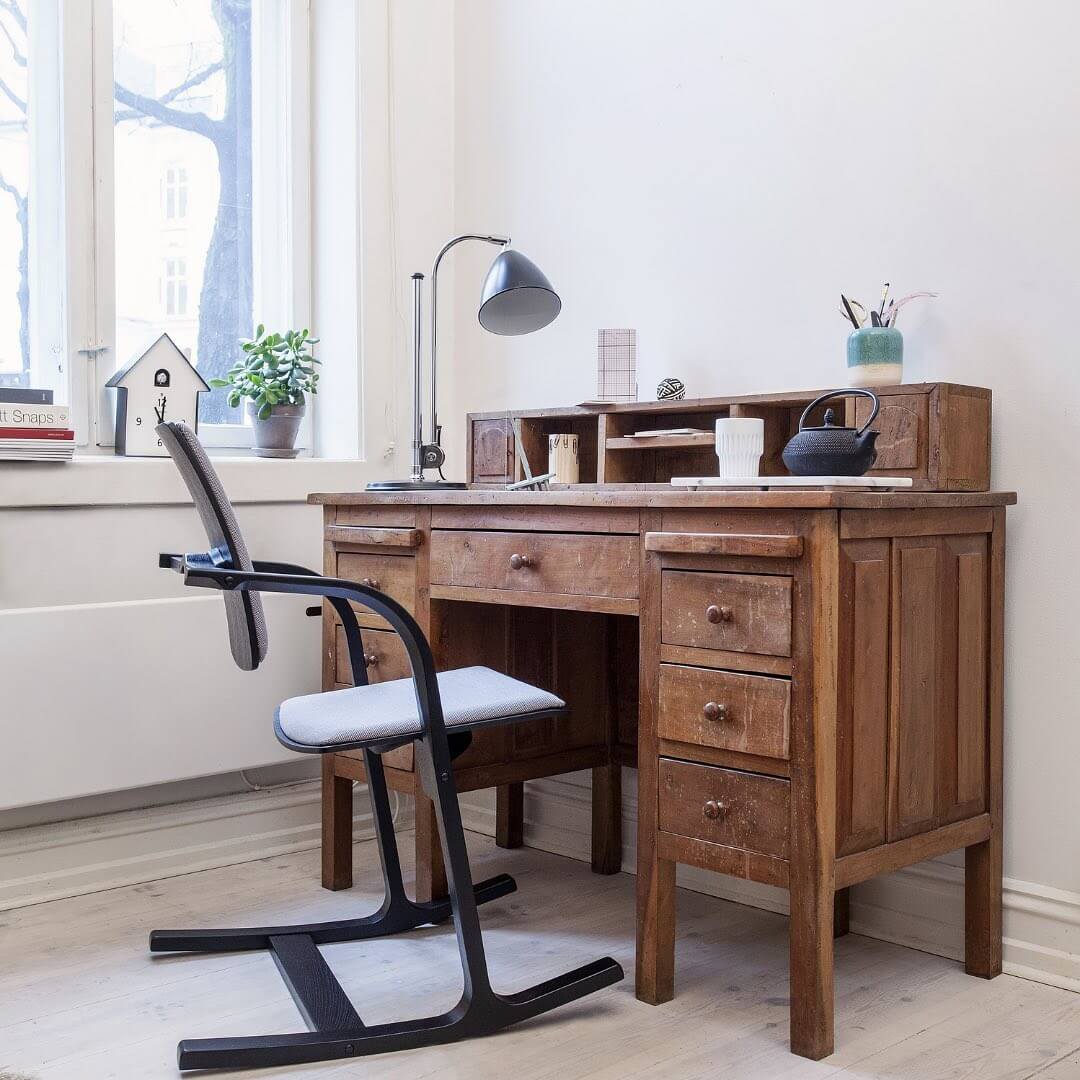 Well, a back support can add a layer of comfort because you have something to rest your back against. Especially if the backrest is shaped like the spine, it can help you maintain that neutral spine position longer. 
But even with back support, you still will not be able to use a kneeling chair for the whole day as you can with an ergonomic office chair. It can, however, help you last in the chair for a few more hours, 1-2 hours we reckon the max. 
Why? 
Because your legs can still get tired from assuming a fixed position. You can, however, take small breaks in between and resume sitting to be able to use a kneeling chair longer.
So when choosing the best ergonomic kneeling chair with a backrest, you also have to consider the same points when buying a kneeling chair without a backrest.
And these are the adjustable knee pads and/ or seat height, a comfortable cushion, and a sturdy build. 
Also, ensure that the dimensions of the kneeling chair fit you. Because one of the challenges of these chairs is that they might not be able to accommodate the taller or heavier dudes because most units have a lower weight capacity. 
And if you purchased a kneeling chair with an adjustable seat but with a fixed knee pad, you have no way of adjusting the knee pad. So it will not be able to accommodate those who are chunkier on the lower torso.
So do consider these if you fancy a kneeling chair, with or without back support. 
How to use a kneeling chair
And to be able to get the most benefit of the chair, there is a proper way on how to use it. Using it otherwise can also cause pain instead of relief. 
It's easy though to master the art of active sitting when using a kneeling chair.  
And it's not rocket science, it's actually more intuitive than we thought it could be. There are no "rules", so to speak, only tips that can help your body feel more comfortable when a kneeling chair because it can feel awkward and sore for the first time. 
The idea is to still have your buttocks carrying most of the weight. So the knee pads are there to act as support. The knees are not intended to hold most of your weight. And to prevent your knees from bearing most of your weight, you have to begin sitting on the seat first before assuming a kneeling position. 
Most knee pains associated with using a kneeling chair happen when the user assumes a kneeling position first before resting their bums on the seat. 
Also, micro-movement is another key to making kneeling chairs more comfortable for you.
You can leave your right knee on the knee pad but extend your left leg on the floor. Then alternate it with the other leg. So you're sort of stretching your legs.
Also, you can place both feet on the floor with your legs outstretched. These micro-movements can help prevent pain associated with having the legs confined to a single position. 
Top 6 best kneeling chairs under $500
So if you're keen on trying a kneeling chair, heed our suggestions below.
Quick comparison:
Kneeling chairs
Weight capacity
Features
Material

240 lbs

Rocking motion, no crossbars

High-quality wood with polyester fabric seat

220 lbs

Swivel wheels, height adjustment range of

 21"-28", 4" thick padded cushions

Steel and faux leather

DR.LOMILOMI Ergonomic Kneeling Chair 

350 lbs

4" thick padded cushions

, seat height range 23″ to 27″

Faux leather and metal

Yescom Ergonomic Kneeling Chair

240 lbs

Adjustable knee pads, 4 movable wheels, handles on the side

Metal and faux leather

Super Jarre ergonomic kneeling chair

250 lbs

4-inch thick cushion, adjustable seat height 22.25" – 26.56", 4 roller wheels

Metal and PU leather

DRAGONN VIVO ergonomic kneeling chair with back support

250 lbs

Seat height range 21″ to 29″,

caster wheels, and backrest

Metal and PU leather 
Varier Variable Balans
We chose this kneeling chair brand because it allows more flexibility and range of movement. it doesn't have that crossbar at the shin that could restrict your movement. So it's easier to stretch one leg at a time.  
It also features a rocking movement, so you can add micro-movements within the day. And we also find it kind of fun, it's like using a rocking chair, only that it doesn't have any backrest.
The caveat, however, is that it does not offer any adjustable seat or adjustable knee pads. And the knee pads are wider from each other. So it's either the chair fits you or it doesn't. 
And for you to be able to find this chair comfortable, you should be at least 5'10". Though this kneeling chair can accommodate slightly taller folks because the pads are wider, it has a lower weight limit. 
SLEEKFORM kneeling chair
The SLEEKFORM kneeling chair has a wider height adjustment range from 21 to 28 inches. So it can be comfortable for users who stand 5'2"-5'10".
We also love the thickly padded cushion that feels so accommodating for your tush and knees. But though the unit is made of steel material, it does have a lower weight capacity of 220 lbs, even lower than the Varier. 
DR.LOMILOMI Ergonomic Kneeling Chair 
This ergonomic kneeling chair has a higher weight capacity of 350 lbs and can hold itself up for taller dudes. And it's also made of metal. 
So the combination of the metal and a higher weight capacity ensure that it can accommodate taller users with above-average weight.
And like the SLEEKFORM kneeling chair, the seat and knee pads are cushy with nice thick padding. This is a kneeling chair that can hold up pretty well even for those who are a bit fat. 
The downside, however, is that it might be difficult to find this kneeling chair nowadays. It seems that it is always out of stock when the year starts. 
Hopefully, we'll be seeing more of this heavy-duty kneeling chair soon since there are not a lot of options for tall and heavy-weight users. 
DRAGONN VIVO ergonomic kneeling chair
This kneeling chair from VIVO can accommodate a petite to users with average height. Though it has a wider seat height range,  it won't be able to go high enough for tall users, but it can go low enough for shorter users. And it has almost the same height range as the SLEEKFORM kneeling chair, though it can go a tad bit higher. 
And it also features a backrest that may enable you to use the chair longer. Though the chair prompts you to a 90-degree angle, the backrest is S-shaped, so it can support the gap between the upper back and the lumbar.  So it doesn't technically push the back to an unnatural spinal position. 
This particular kneeling chair comes with back support, though you may also opt to buy the backless version. It has the same features and same construction, except for this additional feature.
And it may be a challenge to choose a kneeling chair with back support because kneeling chairs are initially meant to be used without one. The backrest will help you last on the seat a bit more, but you should still be able to use the chair comfortably even without it
You can check out our in-depth review of the DRAGONN kneeling chair with back support here. 
Yescom Ergonomic Kneeling Chair
This is a kneeling chair that petite users, 5 " to 5'2" will find quite comfortable. Those taller dudes, however, will not find it suitable because the seat height cannot be adjusted. 
Though you may be able to adjust the knee pads. So those petite users with slightly thicker thighs can still find it comfy. 
The handle also makes it easier to get on and off the chair. So this is also a great beginner's chair when you're still figuring out how to sit in a kneeling chair. 
Super Jarre ergonomic kneeling chair
This kneeling chair offers a wide seat height range that can accommodate dudes that stand 5" and 5'7" in height. So it's for petite to users with average height.
And the thick cushion is also a plus, though the PU leather tends to get hot in the summer. 
So should you ditch your office chair and go for a kneeling chair instead?
While a kneeling chair has benefits for your body, there is a golden rule. 
You cannot use it for long periods of time. Otherwise, it will be uncomfortable. 
Thus, it's not a good idea to use only a kneeling chair for work or homeschooling.  Instead, you can use a kneeling chair with your ergonomic office chair. So whenever you need to strengthen your core, you can sit on the kneeling chair for a few hours.
Making the proper choice when buying kneeling chairs will help you maximize its benefit. It should be able to feel comfortable, so having a seat height and/or a knee pad adjustment is a plus. And if you opt to buy a kneeling chair with back support, this feature may help a bit. Thus the kneeling chair must be good on its own, even without a backrest.