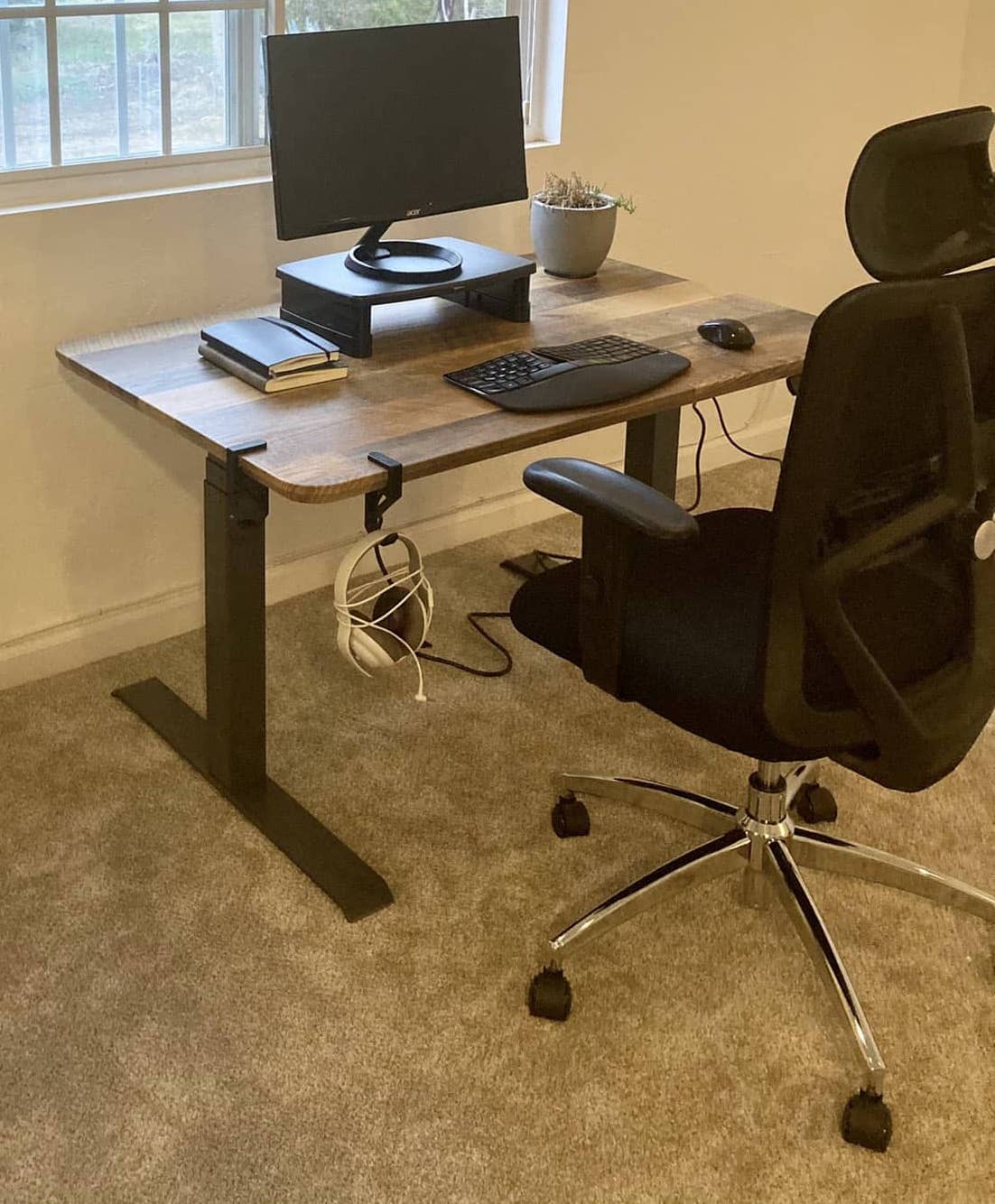 We've heard raves about how comfortable this affordable chair is. A lot seems to be raving about it. From the lumbar support to the seat, it is an easy solution to your back problems, or is it really?
We're going to review the Ticova ergonomic chair and see if it does live up to the hype. Remember, this budget chair has only a 1-year warranty so don't expect too much!
Can the lumbar support provide relief from the backache?
If you have persistent back pain, you might be tempted to pick from a list of premium chairs that are designed to be used for longer hours. From the Herman Miller Aeron to Leap, these premium chairs have innovative technology that is designed to address back problems. But it comes with a steeper price.
This is also one of the reasons for Ticova's popularity. This affordable office chair has adjustable lumbar support that can help relieve back strain, especially if you've been sitting for too long. The lumbar pad's goal is to push your back, mid-forward. And this encourages you to go to a neutral spine or an S curve position, which is the more appropriate and ergonomic one rather than sitting upright. So it can push you in this direction.
And whenever you are in a neutral spine position, it's not just your lower back that will benefit. You can also find relief from the soreness and pain in your buttocks, hips, and even legs. 
So here it goes, the Ticova chair is something if you are going to compare it to chairs in the same price range. It feels stable enough but you still can tell that it is made of cheaper materials because, after all, it is cheap. You can never sit it beside an Aeron and not tell the difference. 
The lumbar support feels very firm and even in the shallowest setting, it can be too intrusive and too aggressive. So for some people ( for those who weigh lighter), instead of helping them assume an S-Shaped spine, they can be pushed way forward. Since your body will have less weight to press against the backrest, then the lumbar support will be more intrusive.
That's why it can be very subjective. Some may find the lumbar support just right, especially if they are used to firmer support. And as we've mentioned, if you are lighter, then the lumbar bar has more power to push your back further to the front. 
But there is a big but here. If you know how to tinker through the features of the chair, then you may, somehow, make the backrest less firm and still comfortable, even if you weigh lighter.
There is slight play in the seat cushion & backrest that allows for the seat to be placed slightly forward. The backrest has slots for the seat screws to go through. This enables you to situate the seat a bit further from the backrest, hence lessening the power of the chair to push you too forward.  Surprisingly, it can work.
But it's still not a heavy-duty chair
So let us set your expectations here. Ergonomic-wise, it has features that allow you to find your sweet spot for work or play. But it is still made from cheaper materials, hence the cheaper price.
So you can still feel a percentage of flimsiness here. You may be able to guess the price.
So you can also expect that this is not made to last for long years.  But we can still see you getting the worth of your money before the chair retires.  You just have to be okay with the bit of a flimsy feel and a little squeaking here and there.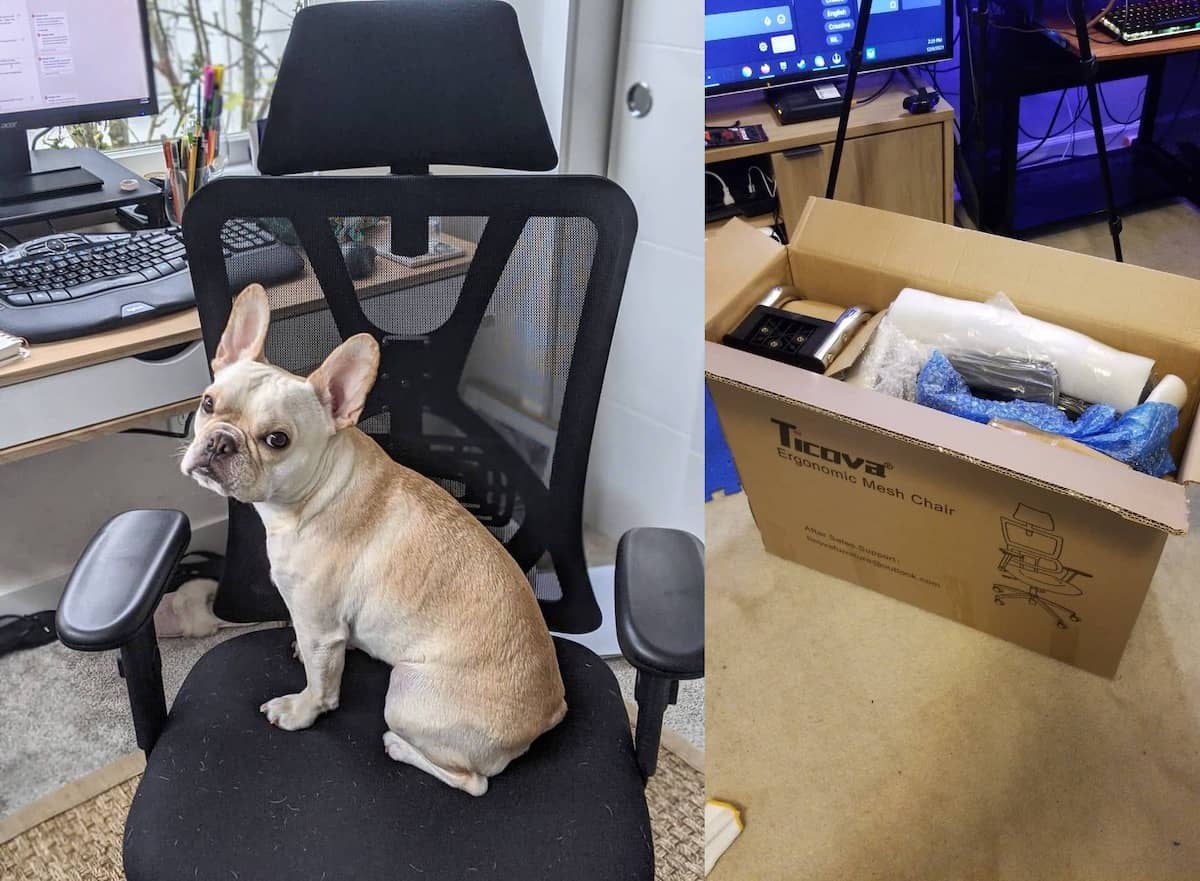 Other things to consider
Let's take a look at the other features of the Ticova, so you can see if you're going to dive in, just look for another brand, or save a bit more to get an Aeron or a Leap.
The mesh of the backstreet feels the opposite of how the lumbar bar feels.  It is rather soft so it may lack support, particularly on the shoulders. 
The seat cushion is pretty soft and cushy. But the problem is, it's not durable and tends to bottom out rather quickly. So the cushion of the chair might be one of the parts that can giveaway signs of usage.  But it is quite roomy and has a W shape, so those with big tush will find the Ticova very accommodating.
The reclining function of the chair is pretty comfortable. It is quite ergonomic. Also, the headrest is one of the raved-about features, well next to the lumbar support. It does feel very supportive and functions pretty well even if the chair is in a reclined position. It is also very adjustable, you can find a lot of ways to get to the most comfortable spot for your neck and head. And the surface area of the headrest is quite roomy, so you can snooze away and still have your head supported.
The same goes for the chair's armrests. Though there's nothing much special when it comes to ergonomics, it is very spacious. So those with chunkier arms will find it very comfy.
And oh, the seat height might not be able to go low enough for those who are petite or shorter. So if you are 5 '2 or shorter, you might find your legs hanging from the edge of the seat.
And oh, we forgot to mention that you can also rock the chair back and forth. So this is a very ergonomic cheap chair. It does allow for micro-movements so you can still get those blood flowing through your veins even if you are working overtime. 
It is a cheap yet functional chair
So this is perhaps the best definition of the Ticova office chair. It is very functional and has a lot of adjustable features. And these features do work for a group of people. It's hard to see a cheap unit that has functional lumbar support. For most cheap chairs, the lumbar support is somewhat nonexistent and comes in a very thin plastic bar that doesn't seem to serve any function at all. Well, it's actually the opposite with the Ticova, which can be too pushy. 
And we also noticed that the ergonomic features seem to complement one another. The headrest works great even when the chair is in an upright position or when it is reclined. So they complement one another rather well. And not all cheap chairs can boast about this.
But yeah, the flimsiness part can still give the chair's cost away. You can still tell of the cheap materials.