Under-desk ellipticals are a great way to exercise while you're still seated at your desk.  work. And unlike under-desk bikes, these have a smaller footprint and lower profile so you can comfortably exercise without your knees banging against the desk. As such, we have curated a list of the more versatile ones. There's also a lesser chance you'll bang your knees against the desk while pedaling.
Treadmill or elliptical: Which will help you burn more fat? 
Even if you're tied to your desk, you can still add more movement to your day. Under the desk treadmills and ellipticals help you be on track with your caloric expenditure, especially if you are trying to lose weight. But if you could only choose one, which would it be?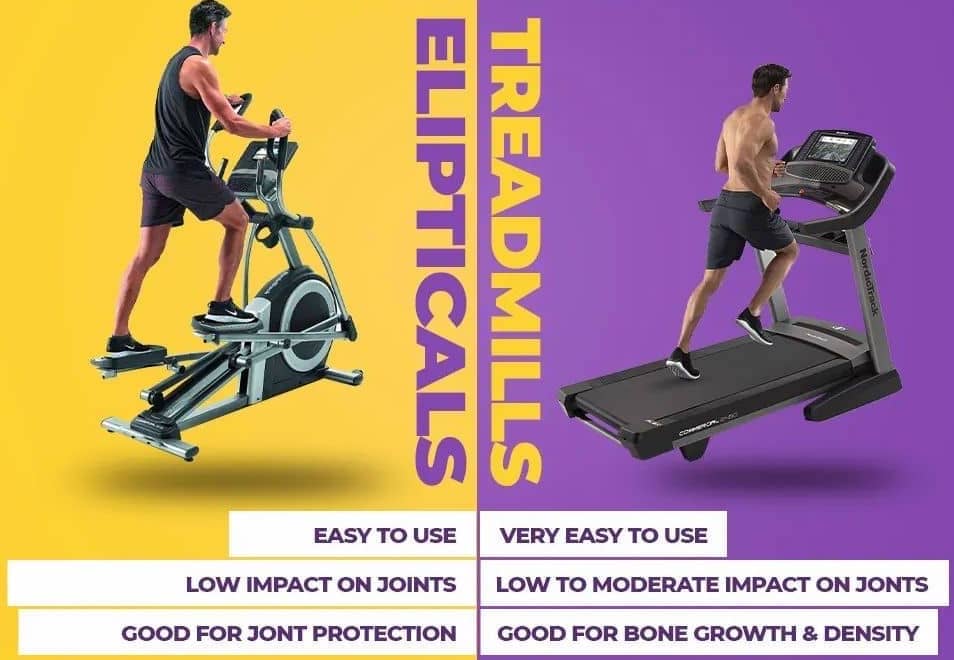 Which burns more calories?
These are both cardio machines that can help you burn calories even if you are in the comfort of your home or office. But they function quite differently.
Elliptical machines offer more of a full-body workout. The movement is kind of a 3D one, so to speak. It targets the glutes, core, and quads more than a treadmill could. And if you are purchasing the full elliptical with the handles, this also works out your back, triceps, and chest muscles. You also have to engage your core a lot since you have to balance yourself more. Though increasing the incline of a treadmill can help you somehow target the glutes too, ellipticals challenge multiple muscles.
And here's something to ponder. According to experts, ellipticals can help you burn a bit more calories, but just buy a notch. And this is more based on approximation.
So to answer the question above as to which will help you burn more fat, will also depend on their factors. Things like resistance, training time, other physical activities, and of course your food intake. So there's no answer to it. It will be impossible to gauge since there are a lot of uncontrollable factors that are involved. 
So how can you choose the best cardio equipment for work? 
So we have set the fat loss question aside, what do you need to consider?
Elliptical – pros and cons.
Under the desk, ellipticals can provide lower-impact cardio exercises compared to the treadmill. They will be easier and friendlier on the joints, especially on your knees. So if you have musculoskeletal issues like knee, hip, or low back pain, this will be a better choice. Also, those with arthritis and osteoporosis will benefit more from an elliptical rather than a treadmill.
If you also want to target your glutes more, go for the elliptical.
But when is it not a viable option for you?
The movement of the legs when walking on an elliptical is very different from a treadmill. You also would need to have more balance. Thus, it will require a more learning curve. Some may even find the movement unnatural and awkward. 
And since they are more low impact, it might also mean that you might develop less muscular strength in the targeted areas. 
How about the pros and cons of a treadmill
Treadmills offer more control. You have the option to increase the incline, apart from the speed. So you can also make it more challenging. 
But treadmills target fewer muscle groups, but they can help you increase strength in the legs and quads. So you just have to choose what your goal is. Are you looking for an overall lower-body workout or do you want to increase more mass in your legs and quads?
Another downside is that it is more prone to injury. If you don't know how to run or walk properly on a running belt, it can lead to injuries. It is a more high-impact movement. Thus it will be a bit hard on the joints too. 
So which is better to use for work?
Technically speaking, a treadmill will be easier to use. It doesn't have a learning curve and promotes a more natural movement. So you don't need to exert as much effort to stay stable. The unnatural movement of the elliptical requires more core work, and more consciousness so that you don't fall off the machine. And when you're typing or having a Zoom meeting, you might not be able to focus more on your leg movement.
Well, unless you're a pro at using the elliptical, then by all means, you do you. But those who want more carefree cardio while working will find the treadmill more friendly. 
Can treadmills then help me burn more fat?
No, not necessarily. Yes, treadmills confirm more about the natural movement of the body. And it can also help you gain more strength in your legs. There are so many factors involved should you want to lose weight. 
But using a suitable cardio machine for your circumstance will enable you to use it more often right? The more often you do your cardio, the more calories you burn. 
Ok, if you already have the answer for the debate. Then below are our top picks of the best under-desk Ellipticals that are less likely to hurt your knees
Let's go!
The best under-desk Ellipticals you'll love
Cubii jr1
This under-the-desk elliptical is a great pick for those who want to be part of a fitness community.  
The Cubii fitness community will help you keep on top of your goals, so this is great for those looking to get in touch with a gym buddy. You also get to subscribe to live classes taught by fitness professionals.
So even if you cannot commit to a routine at the gym, you will not be left behind. It's also an updated version of your standard elliptical. It has an LCD monitor displaying time, rotations per minute, distance, and estimated calories burned. You can also choose from 8 resistance levels that you can adjust via the knob on the font. 
It's also very quiet so even in a corporate setting, this will not disturb others.
But it's not a premium elliptical so we can expect some downsides here. For one, even if it can connect you to exclusive classes and you will be able to track your progress, you will not be able to connect to devices via Bluetooth. But of course, there is a solution to this problem.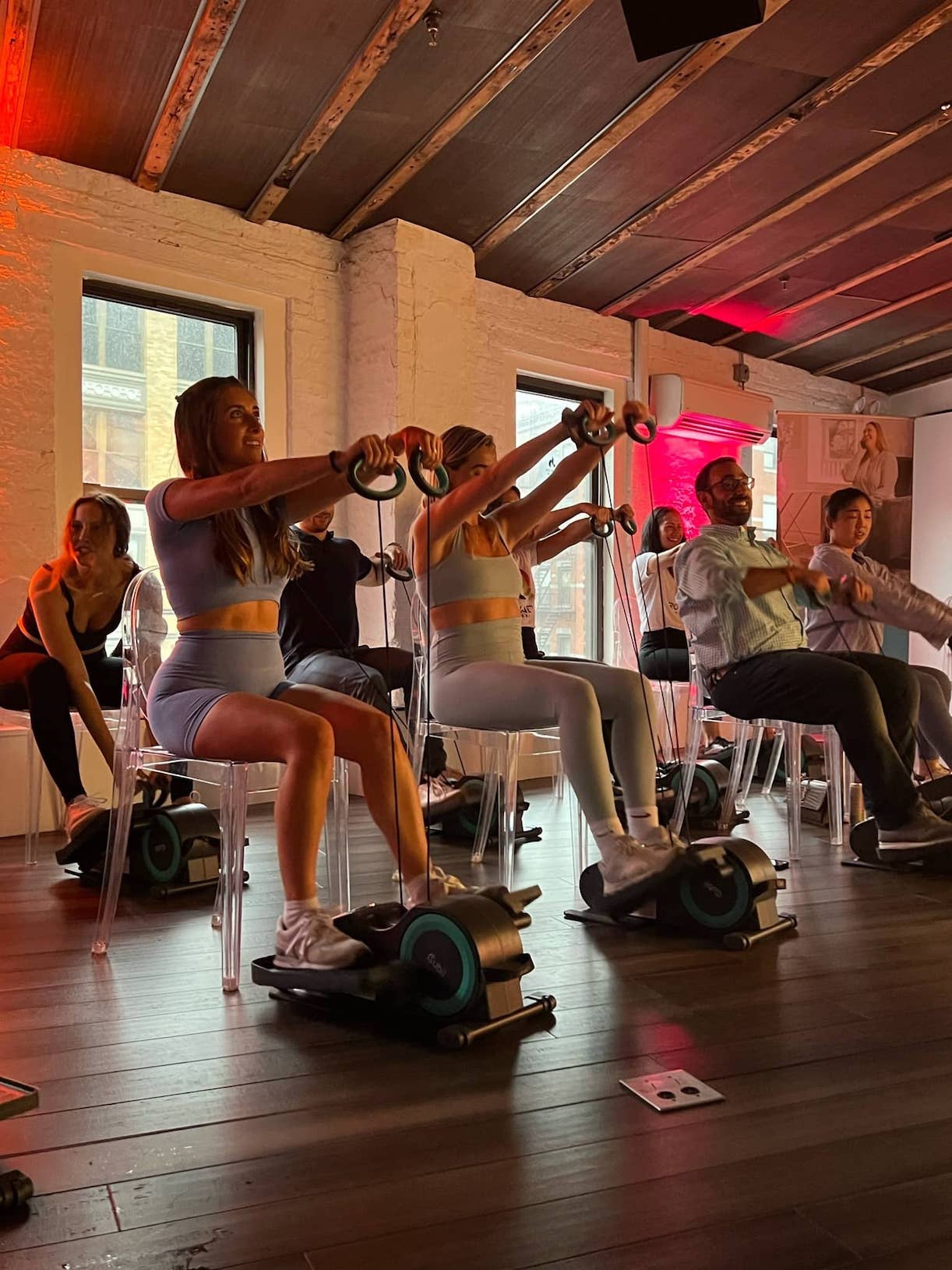 The brand has a version that offers almost the same features but does have Bluetooth connectivity. The Cubii Pro is a better choice if you need this feature. You can also sync it to Fitbit and Apple. 
Also, it's not the most heavy-duty option. Over time, it may start to make creaking sounds. 
Sunny and Health 
It has almost the same features as the Cubii. It offers 8 resistance levels, and a digital monitor to keep track of metrics like time, speed, calories, and distance. It is also a very quiet elliptical perfect for the corporate setting.
One of the cons of standard ellipticals is that sometimes, they tend to be higher than what you need. So when you do your cycling, your knees can hit the underside of the desk. And this is where you'll love this unit more. It has a very low profile ensuring that your legs or knees will not hit the desk whenever you exercise
This thing though is quite heavy. Especially the pedals. While this may be a con, it can also be an advantage. It can help the pedals stay in place no matter how you move.  Since it has a lot of heft,   it will not budge.  The pedals are also quite large so your feet will not slip out of them.
It also has a centrally located transportation handle that allows you to move your elliptical with ease. 
Ellipse

 
The Sunny and Health elliptical can accommodate larger feet, but if you still find it lacking in dimension, this unit is highly recommended. This is designed for those who have extra large feet 
Like our first two options, it also offers eight resistance levels and comes with a display monitor to track your progress. The LCD tracks revolutions, RPM, time, calories burned, and more.
And even if you don't have large feet, you can still make use of this unit conveniently. You can use it at different angles to work out different muscles of your feet and legs. So it is quite versatile and multi-functional too.
You can also connect it to your Fitbit watch, so it's an added convenience for those who are trying to track their heart rate. Thus, making it ideal for seniors too and those with cardiac concerns. 
It also has a rather lower profile, you may even use it as a footrest if you don't need to use it for exercise.  We did not find our knees banging against the underside of the desk. 
For the not-so-good bits, it can be heavy too. Secondly, the display screen does not have a backlight. So you might need a separate flashlight or use your phone to see the details on the screen. The monitor can be detached from the unit, so we highly suggest doing so. That will make it easier to illuminate the screen. 
Jfit
This one has wheels! So if our other units seem to be too hard to move for a single person,  Jfit will not give you a hard time. 
And since it's easy to move we recommend it to those who need something more portable. It's also great if you're sharing an elliptical with other people in your home office. 
But since it has wheels, there's maintenance needed on your end to ensure that it will roll smoothly.  It needs to be oiled. But luckily the brand also tossed in lubricating oil.
 It also comes with a built-in display to track speed, time, distance, and calories. You may be able to adjust the resistance by turning on the magnetic tension bar.  It does offer a decent amount of tension but the LCD does not indicate at what tension you're currently working at. 
It's also a heavy-duty option. Despite the portability, this is more durable.  But keep in mind that it can look deceiving. Pictures portray it to be sleeker and smaller, but it's not.  It's actually pretty bulky and bigger.  So this is one thing to consider if you need one that has a lower profile. 
Stamina
Stamina is a versatile under-the-desk elliptical. It's one of the few units that can be used under the desk and as a standalone unit too. And even if you use it under your desk, it still has a lower profile so you will not bump your knees against the desk when pedaling.  
If you need a 2-in-1 product, we highly recommend this one. It's also easy to move. Though not as portable as the one with wheels, you will still be able to transfer it to the next room without any help.
It has an adjustable tension knob and digital monitor to track your activity.  And oh, like Cubii, it includes a no-subscription smart fitness app. So you can choose from a smorgasbord of professionally curated cycling workouts. 
Our recommendations
So, if you are looking for a way to get in a quick workout during your work day, an under-desk elliptical is a great option.
Remember to consult with your doctor before starting any new fitness routine, especially if you have joint pain or other health concerns. And be sure to stick with it – consistency is key when it comes to getting in shape! How do you plan to fit exercise into your busy schedule?