One of the limitations of using an adjustable standing desk is the lack of a suitable keyboard tray system. Some stand-up desks have a crossbar running from one end of the frame legs to the other. And this design hinders the installation of a regular keyboard tray. But technology was able to cope up. Of course, we now have several keyboard tray systems that are suitable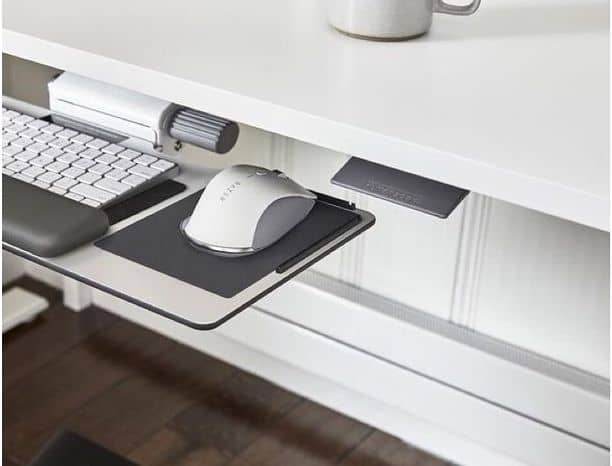 But the thing is, there aren't a lot of choices compared to existing standing desk brands. So today, we are going to review one of them, the Humanscale keyboard tray. Let's see how this accessory will be able to help you work more efficiently. And of course, we are going to name a few of the more popular keyboard tray systems from the brand. 
Can we expect the same quality?
Humanscale is a known brand of quality standing desks. Like other premium standing desk brands, we love how adjustable the office chairs and desks of Humanscale are. If you can remember, we did a review before of a very unique chair, the Freedom chair. So this has a lot of unique and highly modernized units up to their sleeves.
The brand also offers a rather different ergonomic solution to its users, it's something very different from what most people are used to. 
And while there are other cheaper and more generic keyboard trays for standing desks, there is an advantage of buying from a known and reputable band.
One, Humanscale uses the same technology, ingenuity, materials, and craftsmanship in manufacturing their keyboard trays. And Humanscale also offers one of the sleeker standing desks and chairs, so we can expect the same with their new offering. 
Let's head on to the next section to talk about it more.
Modular keyboard trays
The Humanscale keyboard systems are modular. So you can customize it to fit almost any type of standing desk, instead of the other way sound. So even if you own a Humanscale desk, an Uplift, or Fully Jarvis desk, you'd still be able to use this accessory.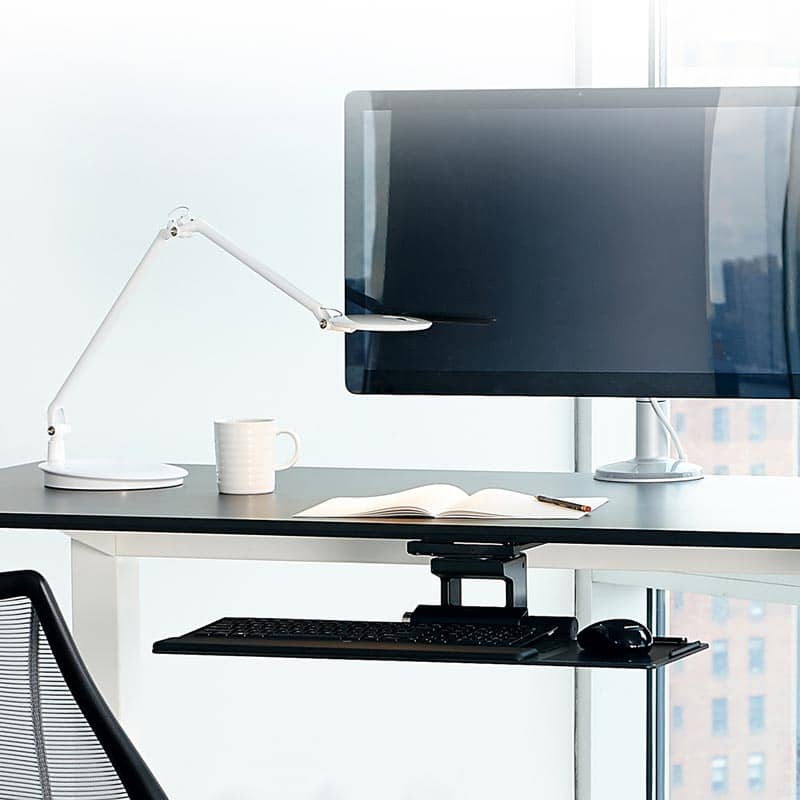 More options for customization
It's amazing to realize that even for keyboard trays, you still have ways to customize your comfort. Not only can you change the height of the tray, but you can also add a tilt or have a negative tilt, depending on what you find the most comfortable.
It offers tons of customization. And the brand has several types of mechanisms depending on how high or how far away you want your keyboard to be from the desk. So if you have a limited desktop, you can still customize the position of your keyboard. You can also find a more comfortable position for your wrists both in standing and sitting. 
Also, there's a reading that reflects the angle you have titled the tray too. So it will let you know what's the most comfortable one for you without having to do trial and error every time you sit at the desk. 
Installing one can be a challenge
Installing a keyboard tray system for standing desks, no matter what brand can be a challenge. Especially to those who are not mechanically inclined, this can be a hassle. Though the brand did a good job in giving out detailed instructions on how to install it, you can still come across these challenges.
Basically, you have to know the components of the keyboard tray so that you'll find it easier to install. The keyboard tray consists of 4 components. The first one is the track. And oh, the brand has several available track sizes from 11 to 27 inches, so you can find the one suitable for your keyboard size. The regular keyboard size will be about 22-25 inches. 
So you need to mount the track underneath the desk. It will have pre-drilled screw holes for more convenience. Then you will notice a red tape that is found at the center of the track. This is a nice guide, but you might opt not to use it. You just need to remove the tape and stick it to the underside of your desk. This will help you screw the tray easily without asking for help.
The second part is the mechanism. This one controls all the adjustments. You will be able to lower the height of the tray. Also, you can change the tilt and the angle of it. The mechanism allows you to pull the keyboard and the mouse away or towards you.
It's convenient that the mechanism already has built-in cable management. So you don't have to worry about adding up wires and cables to your already hefty setup. It will still look clean and neat. 
So you have it slide the mechanism into the track. The part that is going to extend from the middle will be the part that will hold the platform. And the platform will be one to hold your keyboard.  
Humanscale also offers a wide range of options. You can choose from about 10 types of platforms. The more choices there are, the sooner you will find the most comfortable spot. 
The platform will have railings on both sides. You will also be attaching your mouse platform to this, should you decide to outfit your keyboard tray with one. We love the mouse platform. You can pull the mouse easily towards you or push it away if it is in the way of the keyboard. That sounds heavenly to our wrists.
And speaking of wrists, if you do have carpal tunnel syndrome, there is this optional feature that will interest you. It's called the palm rest. It runs from one side of the keyboard tray to the other. And it's made from gel or foam and covered with fabric or leather. Now, this can spell a lot of comfort for your wrists while typing. 
Popular Humanscale keyboard tray systems
Let's take a quick peek at some of the more popular keyboard tray systems of the brands.
The 900 Keyboard tray system
This is more of the generic or universal model. The 900 keyboard tray is designed to fit most keyboard sizes. And you also get to choose what type of platform to outfit your reload tray with. It can be a swivel or a clip-on. 
We love how steady and durable this tray is, but it's not thick. It's actually thinner than generic keyboard trays. But you can still tell that it's premium and means serious business.
The downside is, we did find the mouse tray hard to attach. It took us time to align it with the keyboard tray. But once you get it all set up, it is such a pleasure to use. The tray slides in and out easily. The mouse pad can pivot at a comfortable level with the keyboard tray. 
500 Keyboard tray
The Humanscale 500 is a great option if you have a wider and larger keyboard. This Is the bigger and wider option. With its width, you don't have to outfit it with a mouse pad because the mouse can also fit in the tray.
100 Keyboard tray
The 100 keyboard tray is also known as the combination tray. This keyboard tray features a sloped edge front. Thus, you can use it for a keyboard with a sloped front edge.
Floating keyboard
This is perhaps our favorite. It is also made from the same premium materials and offers decent customization options. But what makes it stand out is that it is more compact and sleeker. It can effortlessly fit the underside of the desk, as if it's floating, hence the name.
Compared to the other models, this is a sleeker and more posh-looking tray. It doesn't have the long glides or tracks that you need to install under the desk. It instead is a clip-on type. It's a bit similar to the iMovr trackless keyboard tray. One of the differences, however, is that you will not be able to adjust the mouse pad independently from the keyboard tray. 
This is also perhaps one of the advantages of the 900, 500, and 100 models. And you also can't change the height of the tray. Instead, you have to rely on the adjustments of your standing desk.   
But you can change the tilt of the tray up to 15 degrees and do a negative tilt as well. Though you might not be able to tilt it all the way to 20 degrees like the Imovr Stowaway keyboard tray. So this can be nay or yay for some.
If you prefer a more sophisticated and compact keyboard tray this is a better option. But you must also not need more customization. 
Final Say
Outfitting a keyboard tray to your standing desk will make your wrist and hands more comfortable, they will thank you soon for that. And we do not advise getting generic ones as they can be flimsy and have a lot of giving. 
Humanscale is a quality and durable brand, so you can never go wrong with it. Even their keyboard tray systems are at par. The more bulky models offer tons of customization. But it still feels less bulky than what you can buy online. Plus, you always have an option to go for the sleeker Floating keyboard tray. 
Also, you are not only buying the unit. You are also taking advantage of a very generous warranty of 15 years