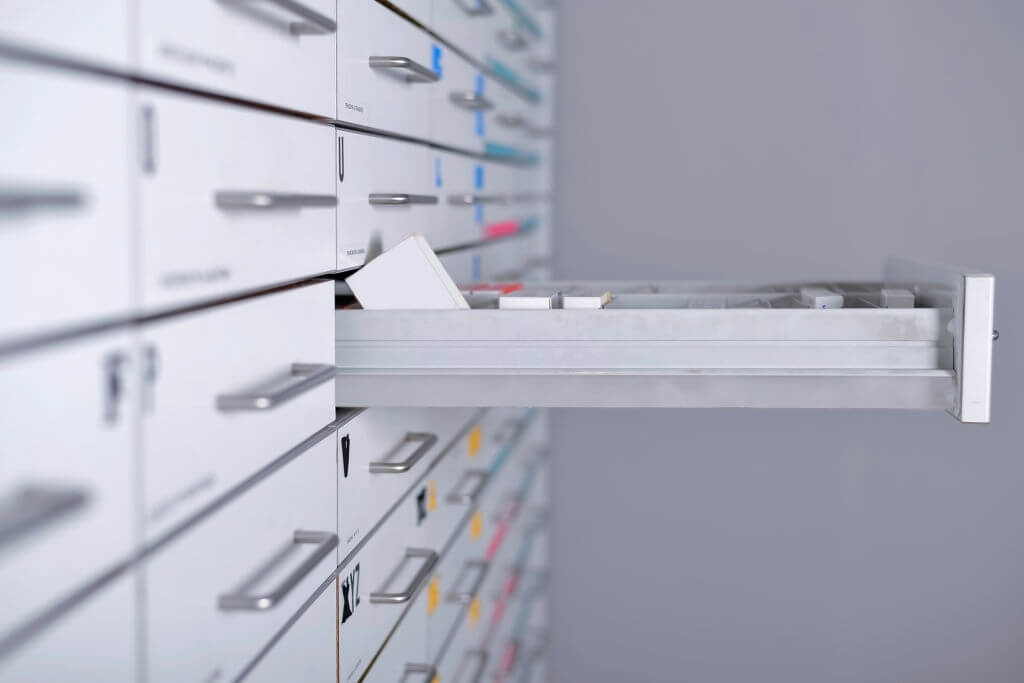 Not all metal filing cabinets are made equal. The problem with some brands is that they constantly worry about tipping over. Or it's just too darn hard to access the files that you have to squeeze your arms through. You want to save but you also want to buy a filing cabinet that can serve its purpose. 
If you're looking to buy a steel metal filing cabinet for your home office, we have several options for you. We are going to list several brands that are worth it. And you'll also be able to find something that can fit your budget.
This 3 drawer Hirsh metal filing cabinet is sleek, compact, and has a minimalist look. Everything about this filing cabinet is kept to a minimum. It looks simple and clean. But behind that flat and simple facade is a robust product.
It's made of a commercial-grade fully welded construction. The entire cabinet is well made and you can instantly feel that it's made of high-quality materials. Solid is an underrated word for it.
Moreover, it has features that will come off as a bit of a surprise to you. This metal cabinet is equipped with caster wheels. But you would not be able to notice it unless you slide it across the floor. You can easily slide the cabinet under a desk. It's mobile yet it maintains its minimalistic look since the wheels are concealed from plain sight. 
And instead of pulls or knobs, the handles are built in the drawers. There's a cutout at the tip of each drawer. And you can easily pull it out to access your files. 
Clean and simple. It has a very small footprint and can fit in almost any space. Simply roll it under the desk if not in use. 
It's also bottom heavy. So even if it doesn't have an anti-tipping mechanism, rest assured that this filing cabinet will hold its ground.
Also, the high side drawers can accommodate hanging folders. So you can easily organize all your confidential files. And the cabinets feature one key for all the multiple drawers. So you just need a single key to access each file.
Overall, it's a heavy-duty, compact, and durable steel cabinet percent for those who want a minimalist look. You don't have to trouble over where you're going to place it. 
Pros
Heavy duty

Also available in 2 more colors and 2 drawer cabinet

Made of high-quality materials

Minimalist look

Won't tip over

Has three-piece ball-bearing suspension

Drawers are easy to pull out

Has hidden caster wheels

Smaller footprint
Cons
Caster wheels can't be locked

The one key features aren't for everyone
This three-drawer metal filing cabinet looks like it came right out of a coloring book. It Comes in perky colors and the entire look of the cabinet screams contemporary. The rounded edge is akin to the look and feel of a cube, a big cube that is. If you're looking for something different, this is it.
Laura Davidson is a US brand. And the brand specializes in unique looking office solutions. The unique look of this filing cabinet is one thing. But its usability is another. The Laura Davidson filing cabinet can also fit in easily under your desk. So space won't be an issue.
And you'd be happy to know that it can store both letter-size and legal-size documents without the need to add any hardware. The drawers are quite spacious too. It features a smaller drawer on top where you can put small office supplies. Then you have the larger two drawers at the bottom for all your files.
And it's also mobile. It comes in handy because soonest you fill the cabinet to the brim, it can be heavy. So it's easier to roll it under the desk when not in use. The wheels are adjustable too.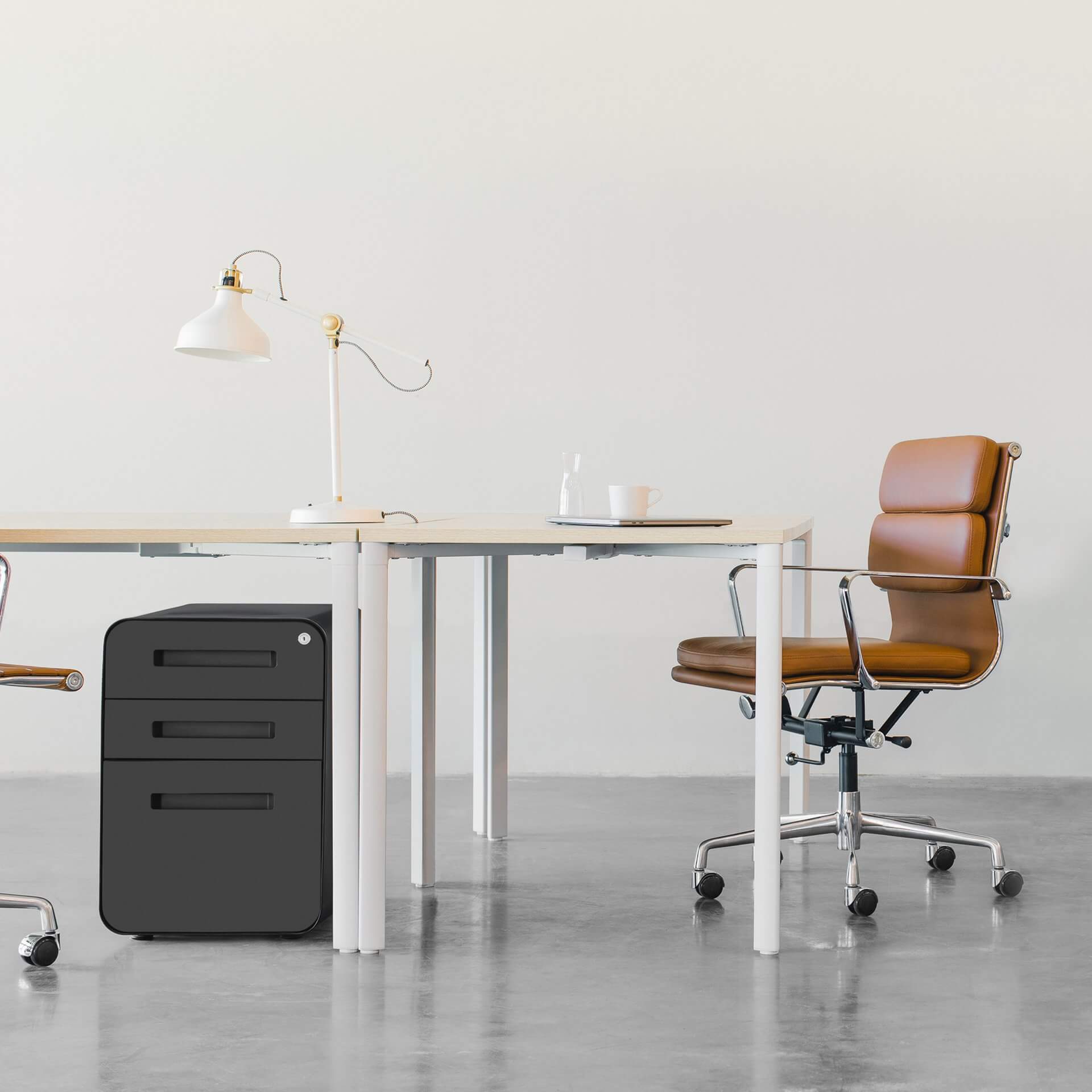 Moreover, the three drawers slide easily, without an irritating screeching sound. And it's equipped with two keys too. 
This filing cabinet is built like a tank so it's heavy, solid, and stable. Because it's made of powder-coated steel, and this is more durable than regular steel. Though you can easily pull the drawers out, it's not going to be that light since the drawers also have a substantial weight. But it's a fluid movement.  
Even the paint won't scratch off that easily. This is built to last.
Overall, it's a great pick if you're looking for a heavy-duty filing cabinet with a unique look.
Pros
Smooth ball bearing glides

Comes with an organizer and divider

Robust steel construction

Comes in fully assembled

Unique and perky design

Equipped with adjustable wheels

With 2 keys
Cons
The perky colors may not be for everyone
Cavitt 4 drawer filing cabinet
This 4 drawers vertical filing cabinet looks sleek and professional. It's a different take from the usual black and shiny metal filing cabinet. The Cavitt is a pristine white filing cabinet that's an even more stylish addition to your office.
It's tall and sleek, therefore fits perfectly in cramped spaces. You can station it in the corner and it won't get in the way.
The top drawers can be locked. Also, this is where you can store your letter-size files. The drawers slide easily, but it can't be pulled entirely out. And this is okay since this mechanism prevents the filing cabinet from tipping over. It's a common concern with filing cabinets that are sleek and taller.
It's also a medium do heavy-duty cabinet and has a weight capacity of 200 lbs. So that's a lot of stuff and files. The overall dimension of this filing cabinet is 46.38" H x 14.25" W x 18" D and each drawer measures 0.75" H x 12" W x 16.75" D. That's quite a substantial weight for your letter-sized files. You won't be squeezing your hands just to access the ones at the back.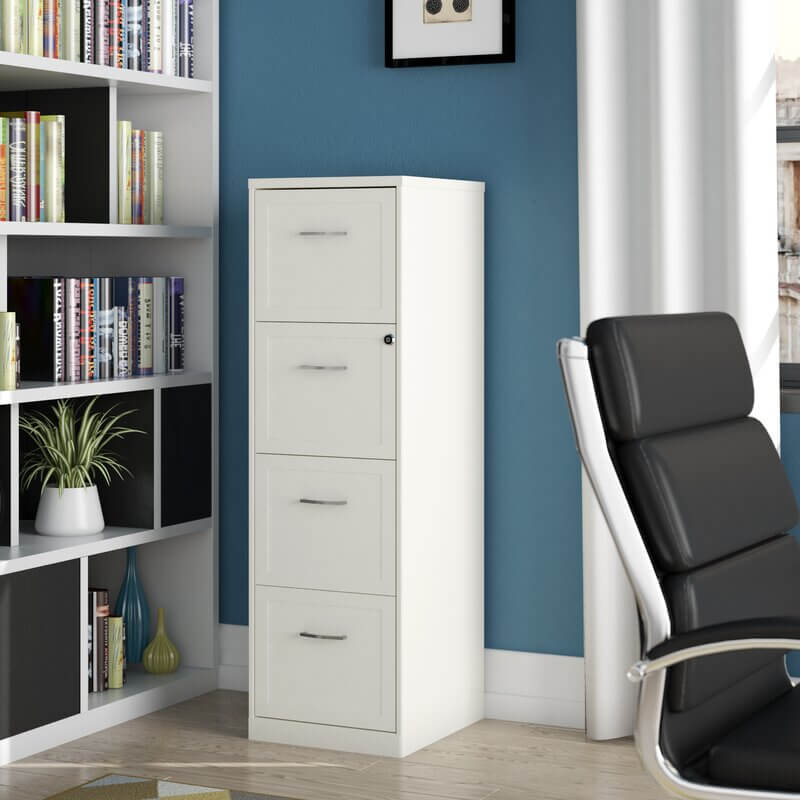 This cabinet also comes in partially assembled, so there's little left for you to do. So that's another plus point for the installation. All you need is to attach the handles and it's good to go. And the manufacturer alps throws in a 30-day return policy. So you can test it out for a couple of days. Surely by then, you'll know if it's the right fit for your office needs.
Pros
Wider drawers

Professional and sleek looking

Smaller footprint

Heavy-duty steel construction

Easy to access
Cons
Some clients encountered issues with the shipping. Some cabinets came in with dents and scratches.
The Lorell 1431 is a two drawer vertical filing cabinet. It's equipped with high side drawers where you can store your letter-size documents and files. This particular unit is quite popular in the market due to its functionality, and cheaper price.
It features a simple black design that can easily fit in any office. And since it's quite compact, you can sneak it about anywhere in the room. It also works as an additional filing cabinet where you can easily roll under your desk. The design is quite universal too so it fits most people.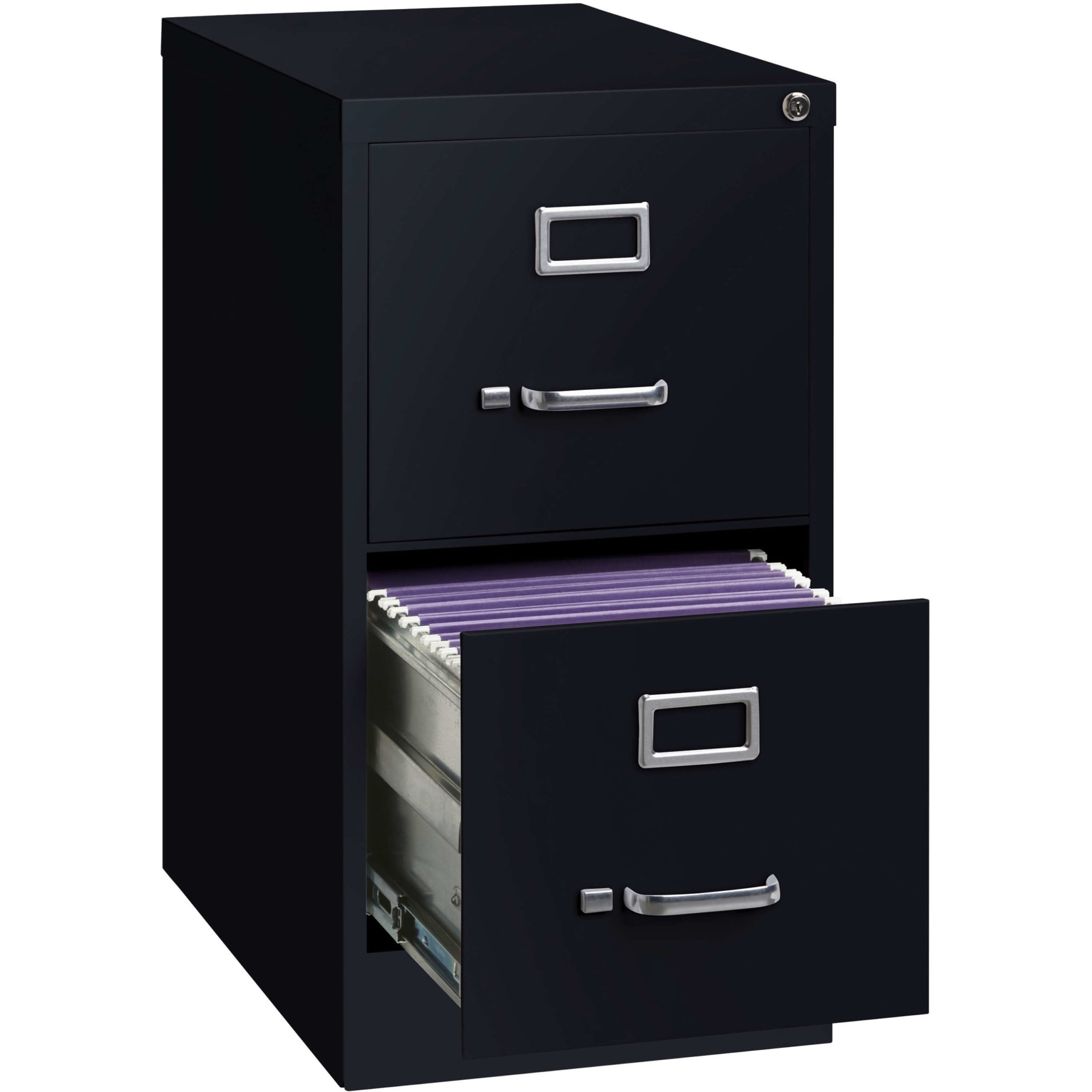 It does come with a lock but it's not the most reliable protection against thieves. It's more about keeping nosy people out of your files. But for its price, this steel cabinet will still serve its purpose.
The two drawers are quite spacious too. And you can conveniently pull it out without getting stuck. 
In a nutshell, this filing cabinet is lightweight and may come off as thin to some. But it still functions as a basic filing cabinet. And you get what you pay for. This filing cabinet is quite affordable too. So it's perfect for those looking for an entry-level filing cabinet for their home office. 
Pros
Comes with a glide suspension

Compact and lightweight

Spacious drawers

Affordable Price

Free shipping

Handles are always to attach

Shipped in good condition
Cons
Some may find it too lightweight and thin
This monochromatic filing cabinet looks very regal. It also has a very attractive price tag, yet it looks more expensive than it really costs. This is a stunning filing cabinet that can add a sophisticated touch to your home office.
This filing cabinet has three drawers. The top 2 drawers are more for organizing small supplies. You can store your phone, wallet, or chargers. While the bottom drawer is bigger and spacious. And it can accommodate your letter-size documents.
One of the best features of this filing cabinet is its locking system. The lock works and keeps your files confidential. You can lock the 3 drawers with its interlocking system.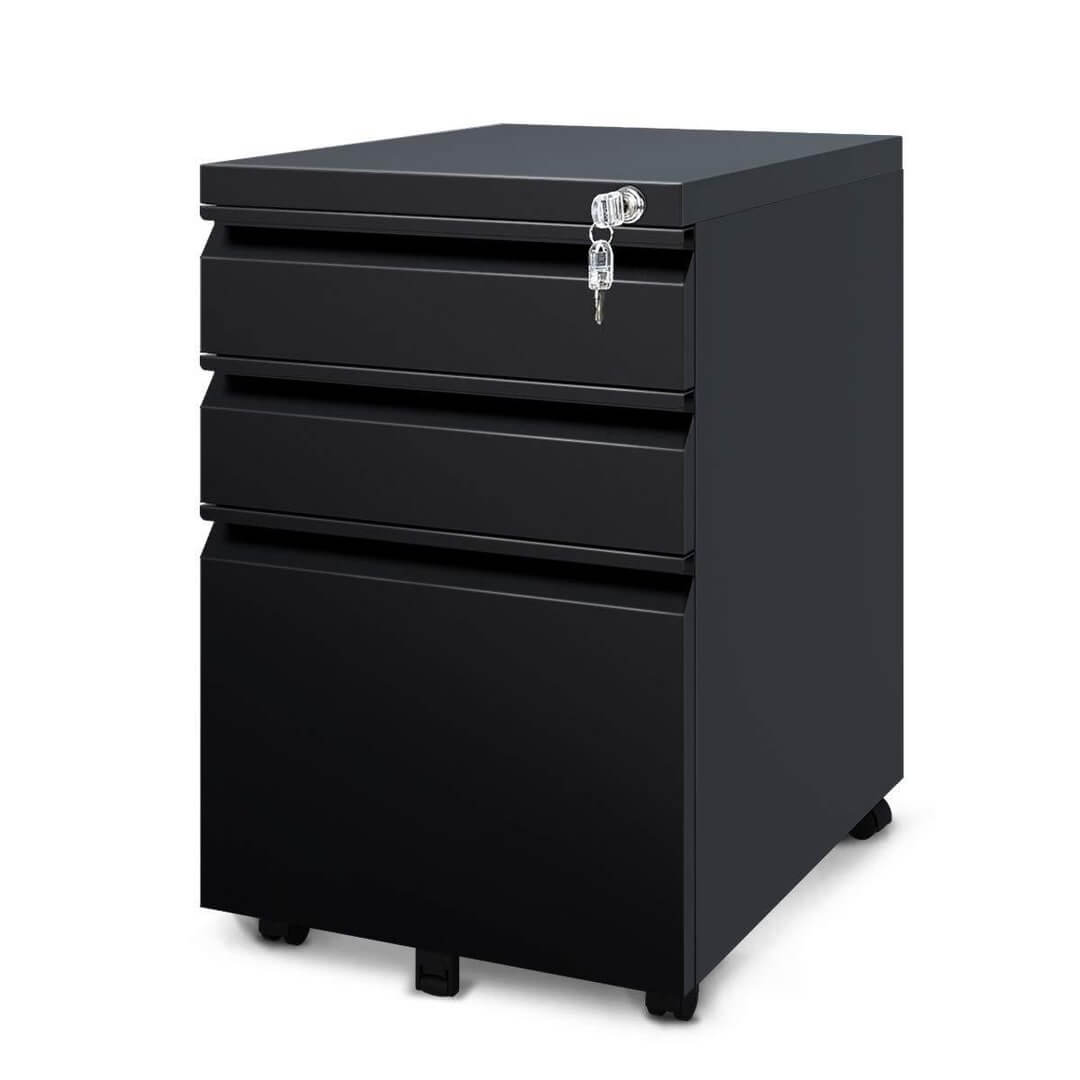 And what sets it apart from the rest is that you can open all three drawers without the risk of flipping it over. So you can be sure about durable steel construction. It also has 4 caster wheels, making this cabinet mobile and easy to move.   
And it has one additional caster support to prevent it from tipping over. And the weight capacity is higher than most brands. It can bear up to 330 lbs weight, so it's quite heavy duty. 
Overall, it's worth more than its pierce. The entire cabinet contains well and can hold a lot of files. And it looks high-end without the premium price.  
Pros
The caster wheels have a lock

Reliable lock of the drawers

Has a removable stationary tray

Easy to assemble

Will not tip over

Has a stunning monochromatic design

Heavy-duty

Has a higher weight capacity
Cons
A bit of tug is needed to close the drawers
Final takeaway
Metal filing cabinets come in all shapes and sizes. You'll surely find the one from our list that fits your budget, your space requirement, and your office needs.