Office chairs are one of the most important pieces of furniture in almost all workplaces. The right chair should be comfortable and durable enough to stand the test of time. However, over time, you will be required to replace them with top-quality products.
The bad news – not everyone can afford $1k+ for an ergonomic chair!
Students are usually happy with budget options from $100-200, nothing more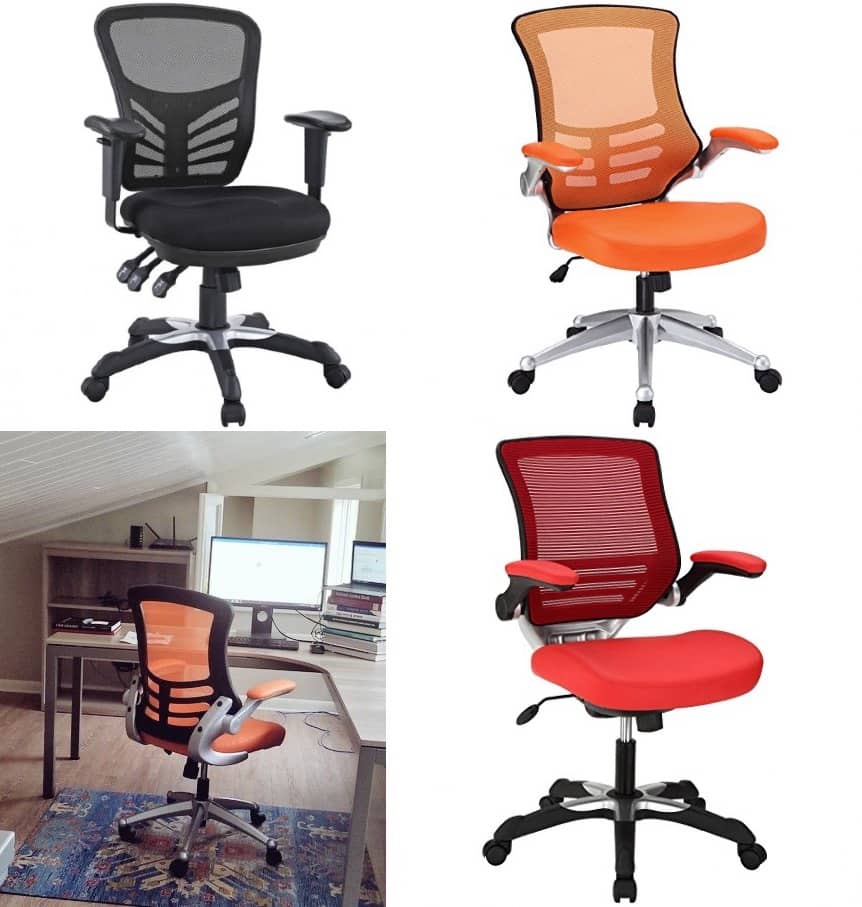 If you worry about your wallet, maybe it's time to check the Modway Articulate Ergonomic Mesh Chair – a great fit budget option within $200. This detailed review will provide all the information you need about the various benefits and features that you can get from the chair. In addition, our experts also look at some of the best things about the chair as well as a few areas where we feel that it requires some improvement.
Modway is a reputable brand that is known for its sleek and modern design. The brand mainly focuses on contemporary options that match various tastes. They offer furniture for offices and every area of the home. It is also good to mention that most of their furniture designs appear in Hollywood productions and sets. Besides, Modway furniture has also been sourced from major television shows such as Arrow, Supergirl, and even Modern Family to complement their collections.  
The company has set warehouses at convenient locations to ensure quick shipping times. Every warehouse has a team of quality control experts to ensure that all their products are of consistent quality.
With its modern design, the Articulate Ergonomic Mesh Chair provides an excellent look for an affordable price. The numerous adjustment elements and ergonomic features make this mesh chair stand out as the right fit for your workplace on first impression.
Key Features of the Modway Articulate Chair
As mentioned earlier, Modway is a popular brand when it comes to furniture for multiple reasons. The articulate ergonomic chair comes with a breathable fabric that ensures that the user remains comfortable throughout the day, even during the summer months. Some of the key features that you should expect from this product include:
The articulate ergonomic chair is designed with lumbar support that helps relieve the strain on your neck and back. This ensures that your body remains in the right position throughout the working hours to avoid health complications. However, the lumbar support is not adjustable, but most customers claim that it is ideal for a wide range of users.
   Breathable Fabric and Mesh Back
The back of this furniture is designed with a high-density mesh for enhanced airflow. This enables the user to sit comfortably for hours, even during the summer or hot days. Moreover, the padded fabric includes a six-inch thick cushion for the much-needed high amount of cushion on the seat. It is also important to mention that the back of this chair offers you firm support and ergonomics even though it is made from mesh.
   Adjustable Armrests and Back
The ergonomic chair comes with adjustable armrests and a back that allows you to choose the right positions for your needs. The armrests can be adjusted between 27.5 and 32 inches while the back is adjustable to a range of five inches.
This modern design makes the furniture more portable and focuses on lower back support making it ideal for people with lower back problems. With the mid-back design, the chair is considerably compact in size. This allows you to carry the chair easily as well as store it underneath when not in use.
The Modway Articulate Ergonomic chair is built with an adjustable feature that allows it to adjust to your needs. This includes a 360-degree swivel, one-touch chair height adjustment, height adjustable armrests as well a tilt and lock system.
   Model and Color Variations
As you may know, the Modway Articulate Ergonomic chair is available in a wide range of colors that suit any present-day office. Moreover, the chair also offers two design variations, including vinyl and mesh seating allowing you to choose depending on your preference.
It is important to mention that other models of ergonomic office chairs are also available from the same manufacturer as well. In addition, Modway also has ergonomic drafting chairs that are purposely designed for individuals who need additional height or use higher desks. These chairs are ideal for users who require extra arm space like graphic designers or musicians as they provide flip-up arms.
Benefits and Set Backs
Plenty of useful features are important when it comes to making a decision on which chair to buy, but you can also find more reasons by looking at the benefits and setbacks.
Pros
   Comes with adjustable and removable armrests

   Built with durable casters

   Lightweight and simple design

   Includes a backrest, tilt lock system, and adjustable height

   Features a strong metal base

   Plush foam seat with mesh upholstery
Cons
   The chair does not offer any support for your neck or head as it comes with a mid-back design

   This might not be suitable for users who prefer heavily padded chairs since mesh chairs have less padding as compared to other options
Our expert's advice
Overall, Modway is a relatively affordable office chair that offers excellent customizable features and ergonomic design. Therefore, if you are looking for an ergonomic office chair that is relatively affordable, but provides everything you need to be able to work comfortably throughout the day; this could be an excellent option for you.
The Modway office chair features a contemporary design that combines unique ergonomic features to form a fantastic chair that suits any modern office. In addition, the chair has a durable construction and high-quality parts that ensure that the chair serves you well for a long time. It is also designed with a breathable mesh material that keeps you comfortable throughout the day.