Whether you're working at home or in the office, you need a filing cabinet to store all your office supplies and important documents. And adequate storage space is not only what you need. You also need to have everything organized. And secured storage is a big plus.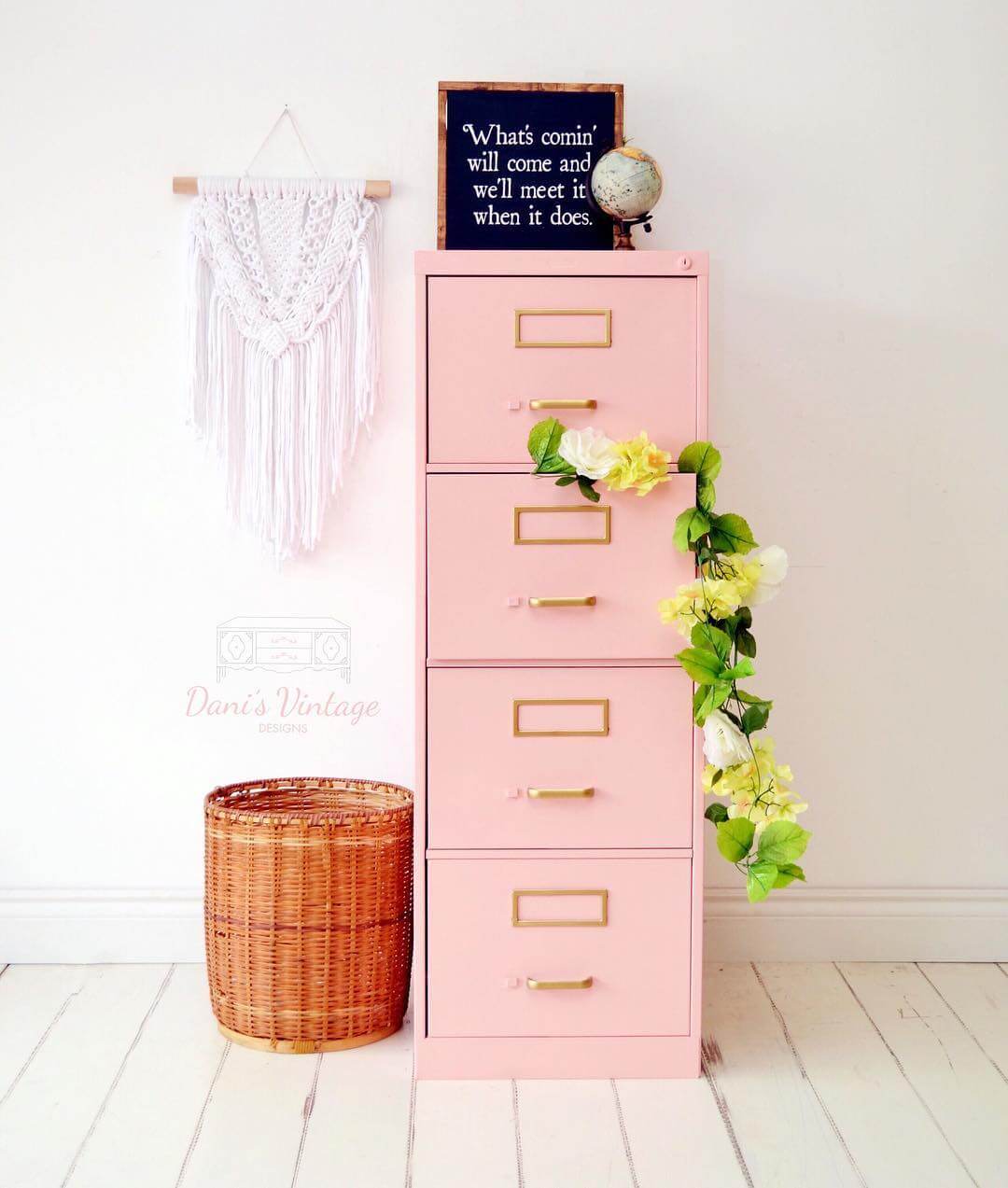 And of course, you have to be able to conveniently access these files when the need arises. Which is for the office, it's pretty much a couple of times a day. We are going to review 5 of the best 4 drawer filing cabinets that can meet your storage needs. 
The black polished Alera cabinet has what you're looking for in a mid-range 4 drawer filing cabinet. It can provide you with the storage solution for your business needs.
One look at Alera filing cabinet and you're pretty sure that it's a solid one. And I was not mistaken. The construction is polished and quite solid. And it offers a lot of storage space. 
All the 4 deep drawers have even sizes. And they have the side to side hanger rails where you can conveniently store all your legal-size documents.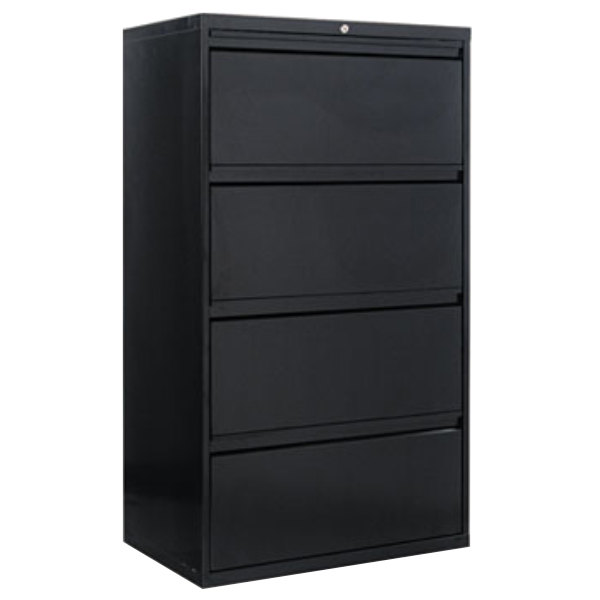 So it's easy to store them and take it out whenever needed. And in terms of stability, this filing cabinet looks very promising. The double was drawers are reinforced so you don't have to worry about it tipping over. 
In addition, it looks very smart and executive. It's quite perfect for your office and would certainly evoke an air of professionalism. People would get the idea that you mean serious business.
Overall, it's a beautiful and basic executive filing cabinet that will solve all your storage needs.
Pros
Solid construction and quite stable

Spacious deep drawers

One lock system

Has hanging rails 

Has leveling guides that levels on uneven floors
Cons
Some may want separate locks per drawer
This slim profile metal drawer is the answer to your limited office space. 
Sometimes, a 4 drawer filing cabinet may be too large for your small office. But you don't want to compromise efficiency. You also need a filing cabinet where you can easily organize and pull out your documents and files whenever it's needed.
The Space Solutions 18-inch drawer can solve your dilemma. It's vertically constructed so that it eats only a small chunk of your office space. But you won't be disappointed with how efficient it is.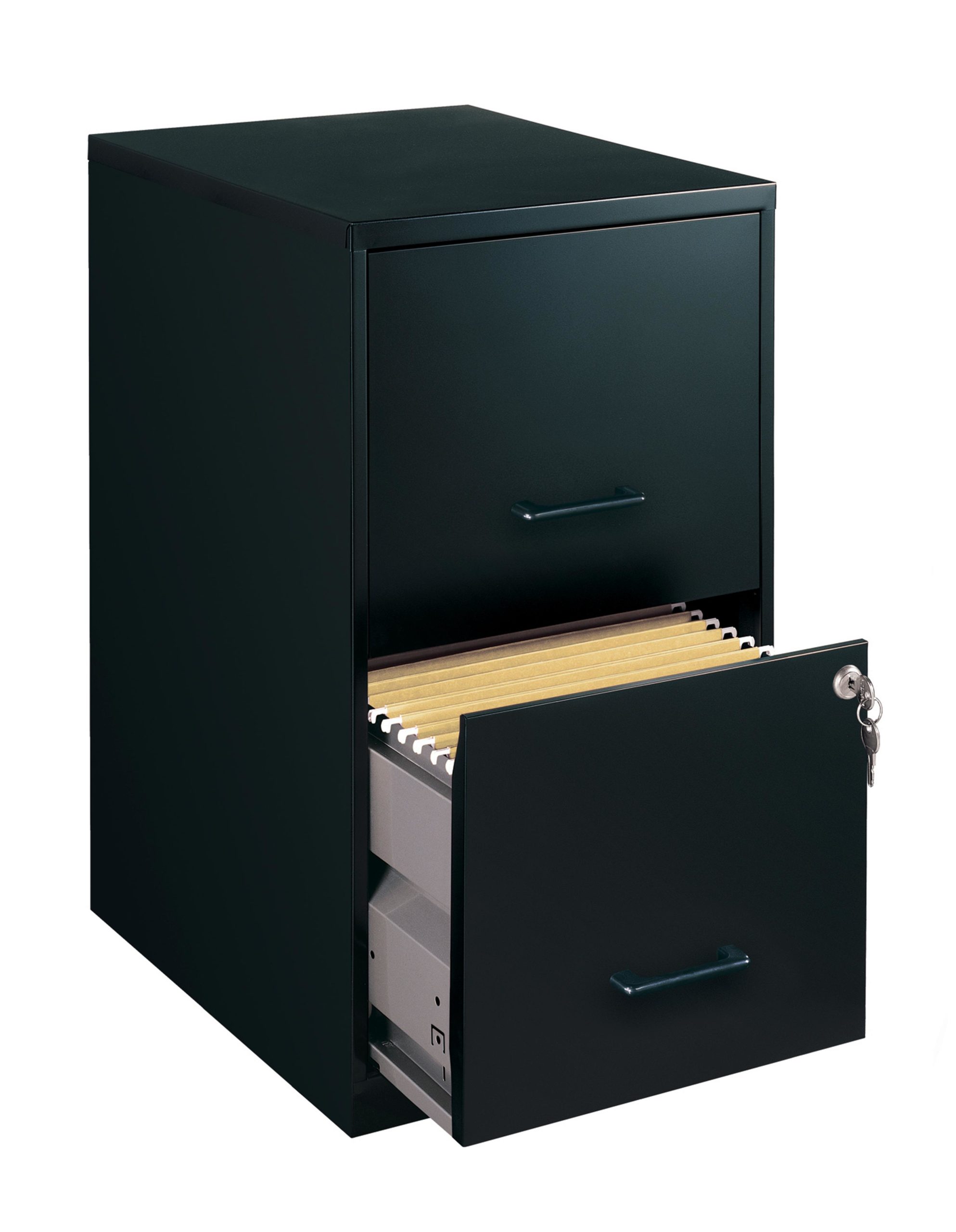 It has 4 deep drawers that have hanging rails where you can store your legal-size documents. And it's easy to access each drawer whenever you need to pull out any document. And I love how the drawers pull out very smoothly. There is no friction or no irritating creaking sound whenever you open each one.
Though this filing cabinet may be top-heavy. A solution to that would be to load the bottom two drawers with heavier items to gain more stability. 
All in all, it has a fair price. So for the price that you're paying, this is worth the moolah. And if you need a compact and a cabinet where you can store your hanging documents, this is a great choice.
Pros
The drawers glide out rather smoothly

Has 4 deep drawers for more storage space

Its small, compact, and such a space saver

Easy to access

Can accommodate letter hanging files
Cons
Only the top 2 drawers have a lock

Drawers don't fully extend
Everyone loves wood furniture. It just shines in every room. And this wooden Z -Line cabinet is an affordable wooden filing cabinet.
The Z Line filing cabinet is one lovely and functional furniture. It's made of veneer wood and has a cherry finish. It will definitely add more charm to your office space, or any room. And the antique brass handles complete the statement. Not only do they look lovely, but these handles also make it easier to open the drawers since they are extendable.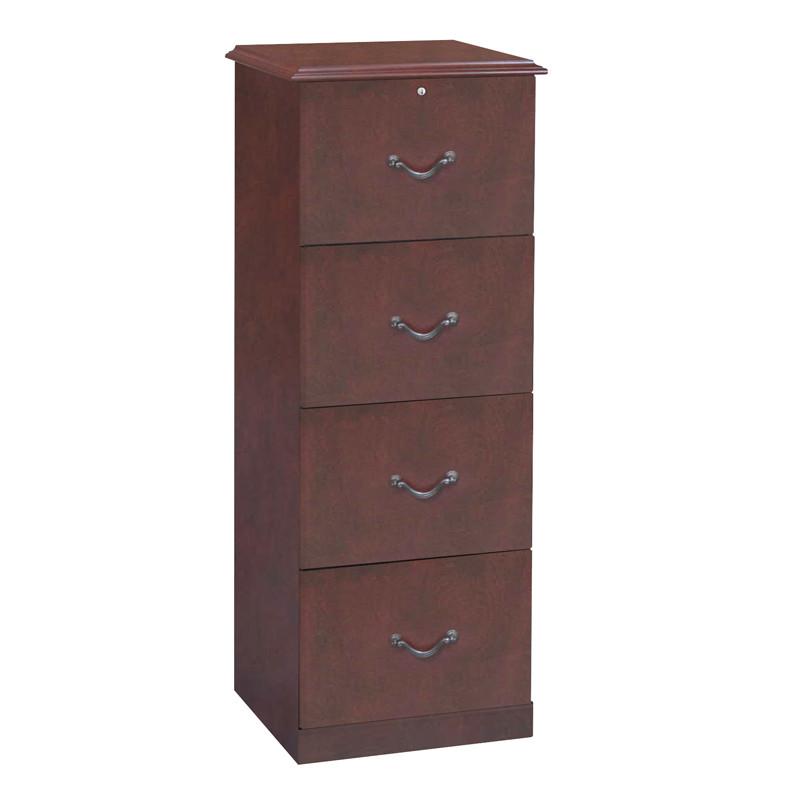 And it also has extendable glide so accessing the drawers won't be a problem. And for its price, it almost cost the same as an ugly and cranky metal filing cabinet. But it doesn't look cheap nor feel flimsy at all. It even looks quite classy and expensive.
It looks different from your usual filing cabinet. And it's a breath of fresh air and a focal point in your home office.
In a nutshell, this is a great alternative for the cheap metal filing cabinets. For its price, it looks better with its wooden construction. And it functions better too.  
You just have to deal with the laborious assembly. It might need more than one person to have it fully set up. And even the handyman might take more than 40 minutes to put together this beautiful wooden cabinet. But the laborious set up is worth it.
Pros
You can store letters and hanging documents in the drawers

Made of veneer wood with cherry finish

The antique handles look classy and are easily accessible

Has extendable glides
Cons
Only the top drawer has a lock

Challenging to assemble
If you're looking for a heavy-duty, fireproof filing cabinet, look no further!
This Turtle Fireproof filing cabinet is a high-end solution to your document storage needs and more. It's teeming with a lot of wonderful features that the hefty price tag is well worth it.
First, it's well built and one of the first classes of its kind. It's fireproof and can withstand falling from 30 feet. And it would still come out as a whole, with all your documents protected inside. How? With the lattice steel reinforcement- that makes it the king of the hills when it comes to durability.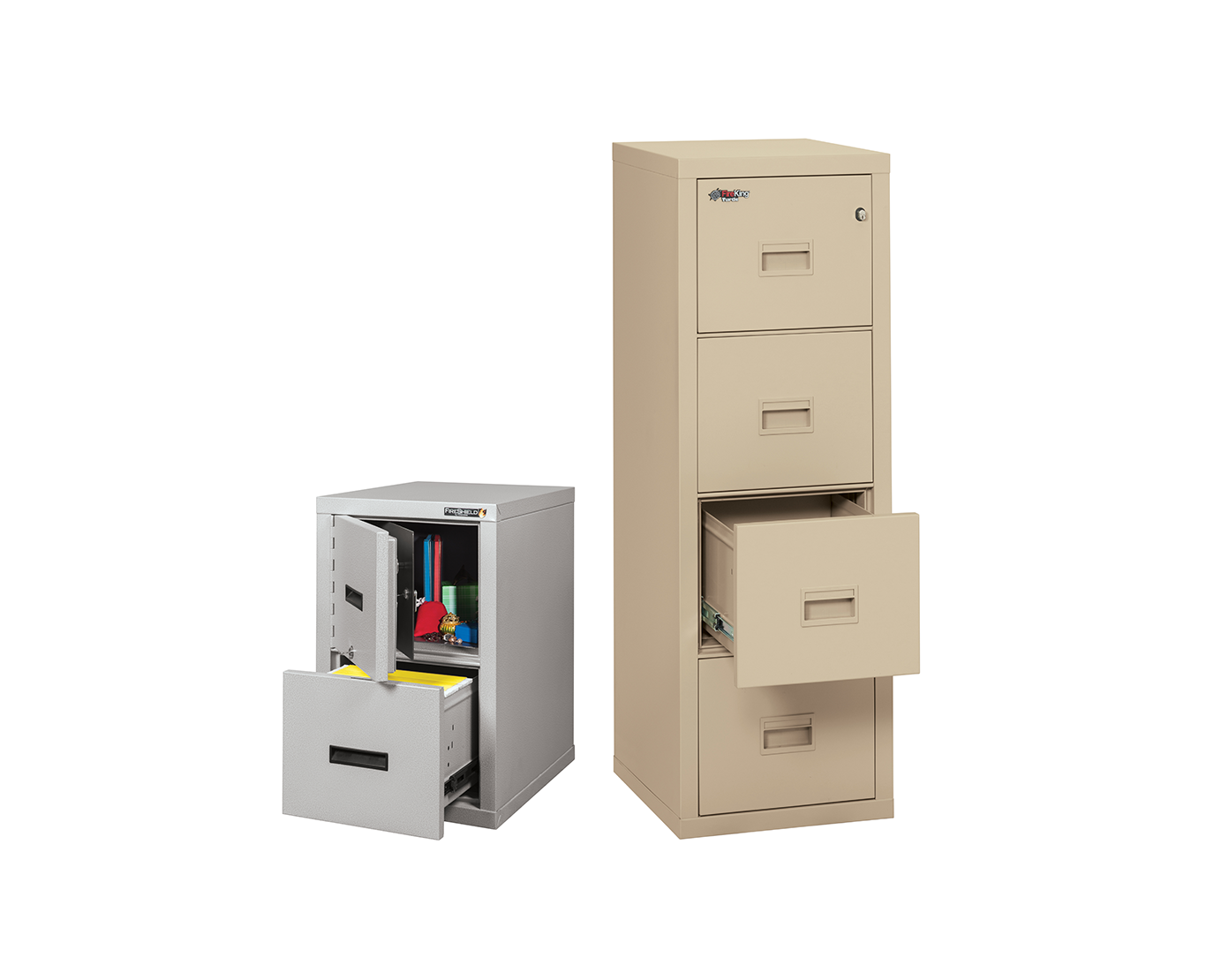 It's also scratch and corrosion-resistant. This filing cabinet has an electrostatic powder coating finish that protects the steel from rust and abrasions. And not just that each drawer has insulation. So each drawer can function as a separate insulated unit. 
Another unique feature of this filing cabinet is its locking system. Sometimes a one lock system may be convenient, but it doesn't give any protection to the valuable documents stored in other drawers. Instead, this cabinet makes use of a unique lock bypass. 
This means that you can gain access to some drawers but can keep the other drawers locked. So you can be assured the other confidential files in other drawers are kept hidden. 
As a whole, it's highly recommended if you're looking for a heavy-duty, solid, and fireproof filing cabinet. It can also address your storage needs with sufficient space for your legal and leer sized documents. This is a great filing cabinet for bigger offices.
Pros
Fireproof, durable, and corrosion-resistant

Has a scratch-resistant finish.

Can accommodate hanging folders

A unique locking system that protects your important documents

The drawer can be fully extended
Cons
This heavy-duty filing cabinet is made for the bigger league. It's a fireproof and burglar-proof filing cabinet.
If you're looking for a total solution that could protect your holy confidential files from calamity and thieves, this is a great investment.
Let's see what it has to offer.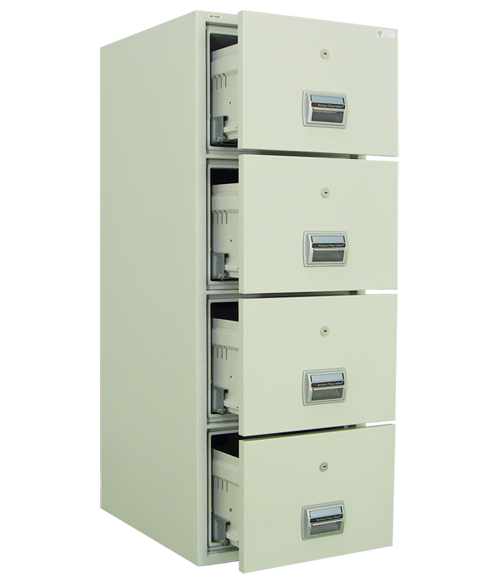 First, it has locking bolts on each drawer that are very different from other mid-range metal filing cabinets that pros can easily tamper with the keys. The deadbolts are almost thief prof. And even the most experienced one will still have a hard time manipulating the locks to open. Each drawer can be locked separately
But it provides you with an option to lock all the drawers using just one key. So you still have a choice on the locking system that is most applicable to your needs. But when you choose the latter, the top drawer has to be slightly open to access the remaining bottom drawers. It's like the powerhouse of the lock. 
Two, the fire-resistant steel construction can protect your confidential document in case of an emergency. 
All in all, it's a high-end filing cabinet that has a sturdy construction and a more extensive locking system. The locking system used by this cabinet is quite similar to the ones used in safes. So it's a perfect storage space for your highly confidential files.
Pros
Fireproof

You have options on the locking system to use 

Comes with legal-size file hangers

Sturdy and solid construction

Has steel rollers 
Cons
Some may find the locking system quite confusing because you need to key it in first
Conclusion
Our list of the best 4 drawer filing cabinets has a combination of both affordable and high-end filing cabinets. These are filing cabinets that you can use for your home office or for biggers industries that require more extensive security.