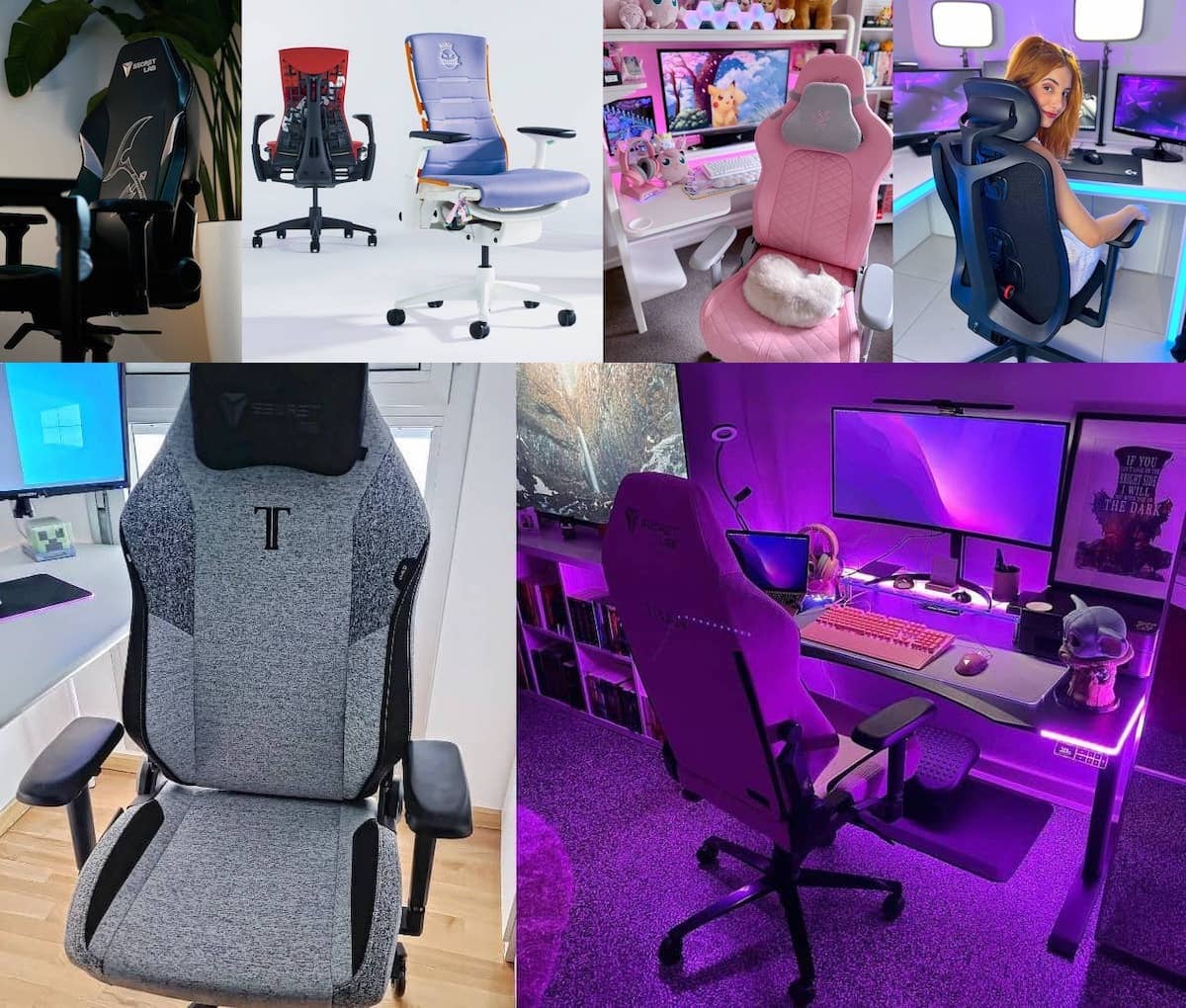 No more Bad Back for the Master Gamer
If you are playing from dusk till dawn, you need something more than just the heavily padded chairs we are all used to. You need something that can offer more support. Thus, these notoriously obtrusive gaming chairs will not suffice. We've just got the list for you.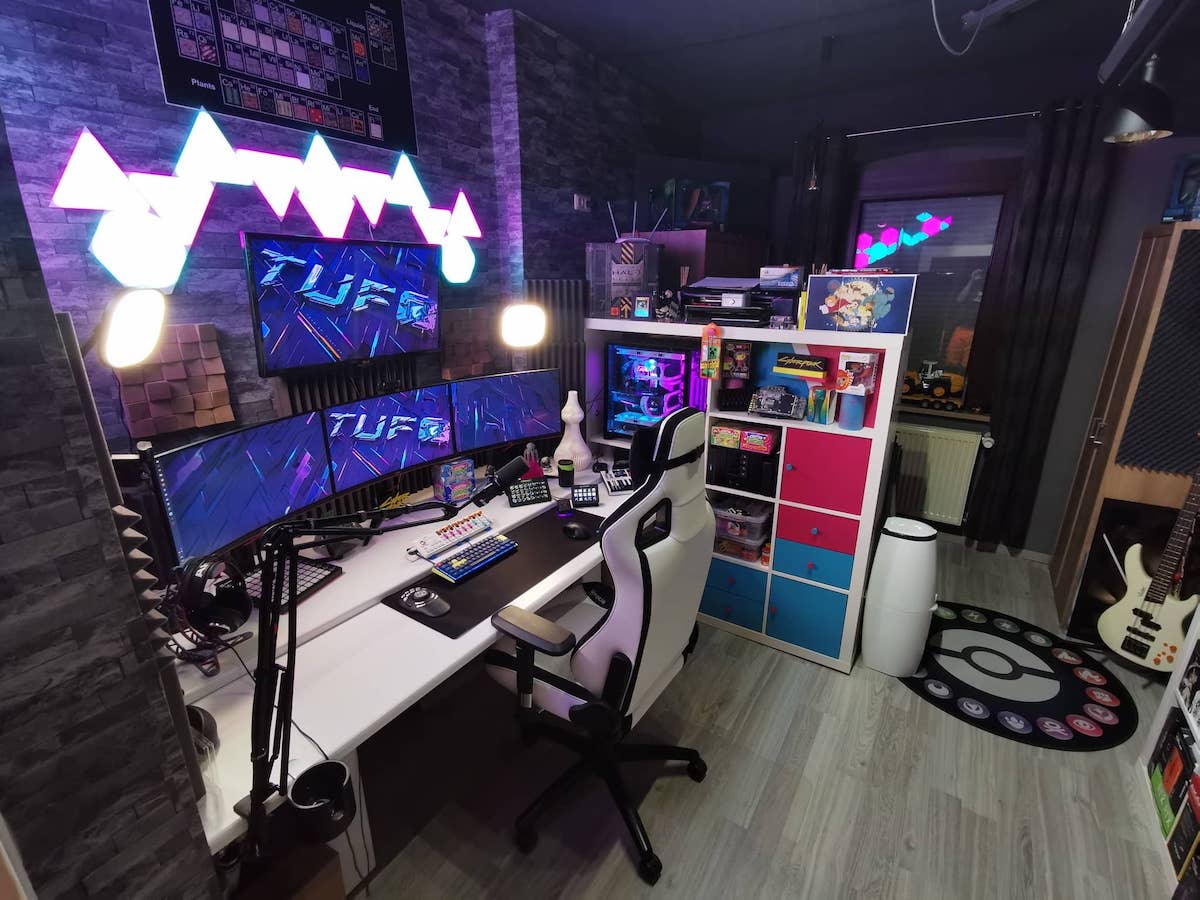 The 10 Best Gaming Chairs for 2023
Herman Miller Embody
Given the steep price, most may not see the value of this chair at first glance. It looks like an office chair, much like the Embody chair everyone is used to. But this chair will prove itself wrong, it can find its palace in the gaming arena.
It may mirror the design of the chair it was named after, but it has tons of features that make it game worthy. After all, the band collaborated with Logitech. So we can see some swoon-worthy features for gamers.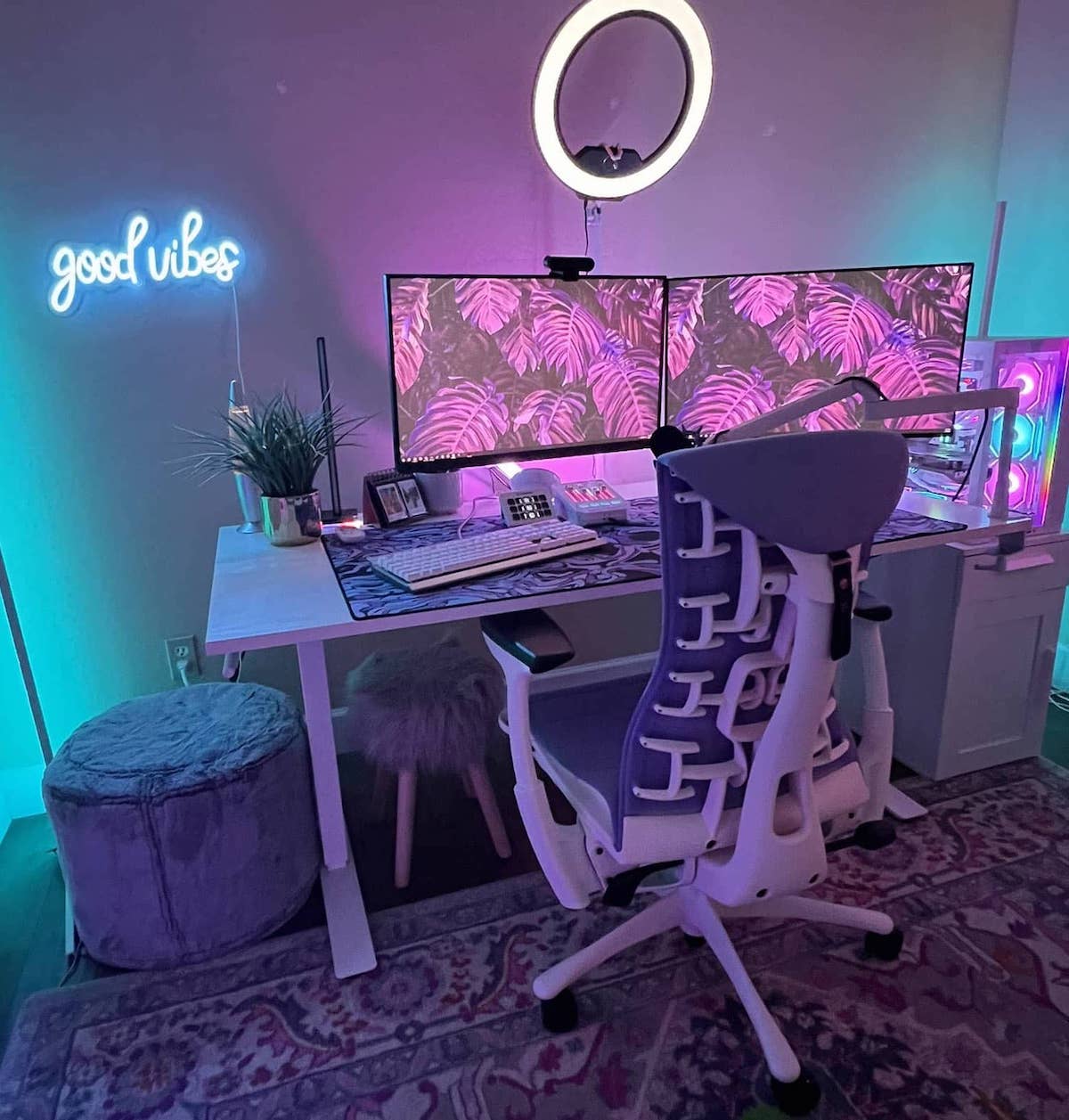 At first glance, this is ideal for those who hate how bulky premium gaming chairs look and feel. It does not have that traditional racy brand that's why it's not everyone's cup of tea. But when you like it, you'll love it. 
This is a pretty flexible chair, we have to tell you. The backrest feels very supportive, it moves with your spine. Remember the pixelated back system you get from the Embody office chair? You get that same luxury.
It also has multiple adjustable options for all the features of the chair. So it can conform to users of varying heights and dimensions. 
The seat has a combination of mesh and fabric, which is commonly found in most office chairs. So this may be the most mundane part and some may hope for a cushier one. But when it comes to spinal support and flexibility, you can't complain. This chair is pretty comfortable in all areas, but it does take a while to get used to the type of comfort that it brings, especially if you have been accustomed to heavily padded chairs.  
That's the downside, it might need time to get used to the chair for some gamers. Also, if you're taller than 6'2", then you might find the backrest too short. But if you're looking for a non-obtrusive gaming chair that has your back for hours and hours, we highly recommend this one.  
Andaseat Kaiser 3
If you need a little more room for a bigger tush, then this is a great option. We were ecstatic when we found this. It's a big and tall gaming chair that can seat those who stand 5'11" up to 6'9". So bigger dudes need not force themselves into a gaming chair that feels like a teeny weeny child's chair. 
This also comes in several sizes, you can also get the XXL seat if you have a bigger need and more room for those hips and thighs.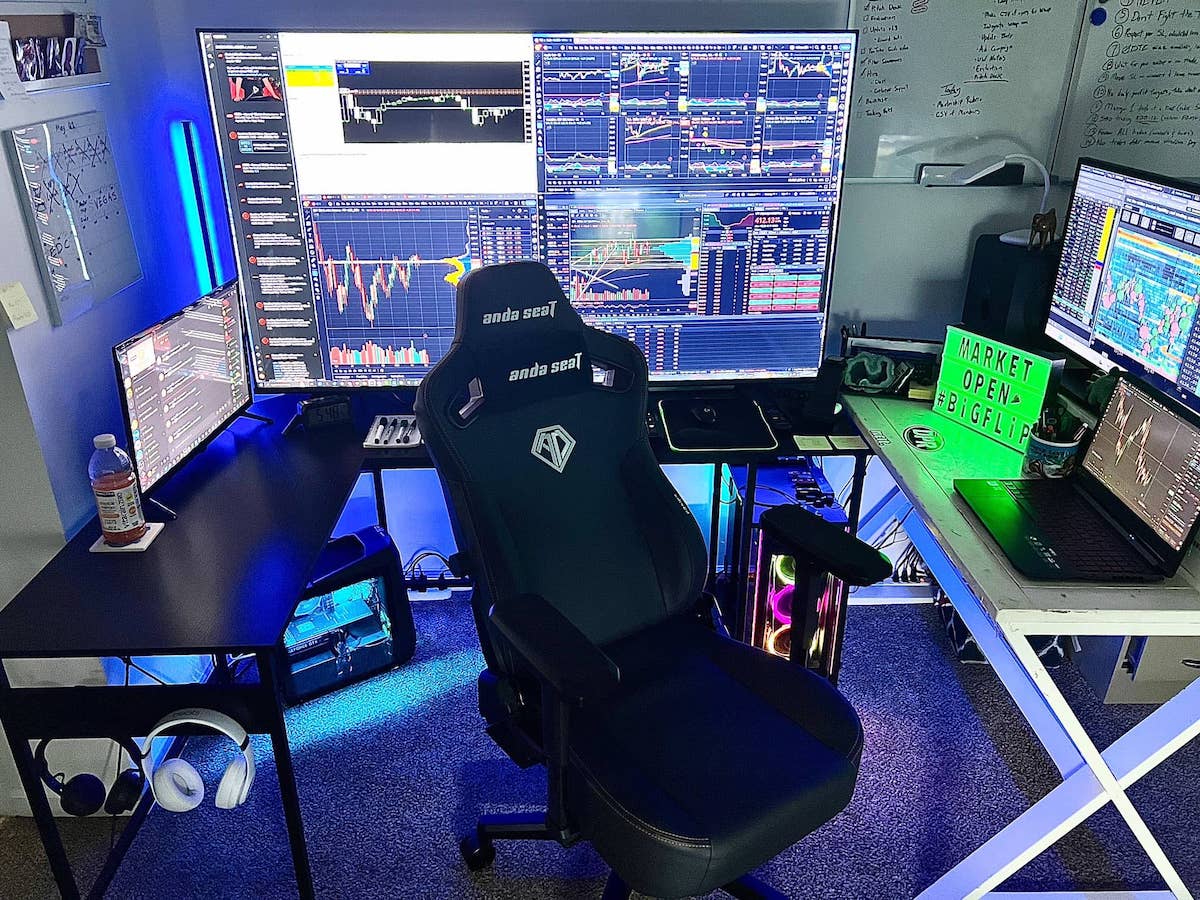 It has an adjustable lumbar so you can customize the comfort and make yourself last longer in the chair. 
Going further, it is a very hefty and solid chair. Albeit the heavy load that it can bear, you will be able to recline up to 165 degrees. So you still get to enjoy that relaxing step back during a long and exhausting game. It will be able to hold itself up with no worries, you will not fall and the chair will not squeak or make any noise. 
We also love the 4d arms. This makes it easier to find that sweetest comfort when you are reclined back. Despite the chair being reclined or tilted back, you'll still be able to get the perfect angle for the arms. 
The downside is a bit of a small nuisance. But if you hate fidgeting around options or adjustments, then you might find it irritating. The knobs for changing the settings are found in a rather awkward place or not positioned intuitively. You have to slightly get off the chair to be able to adjust it correctly. 
Respawn Spectre
Initially, this might look like a supportive gaming chair. It may not even look like a gaming chair at all. But the thing is, it is more comfortable and more useful than it really seems.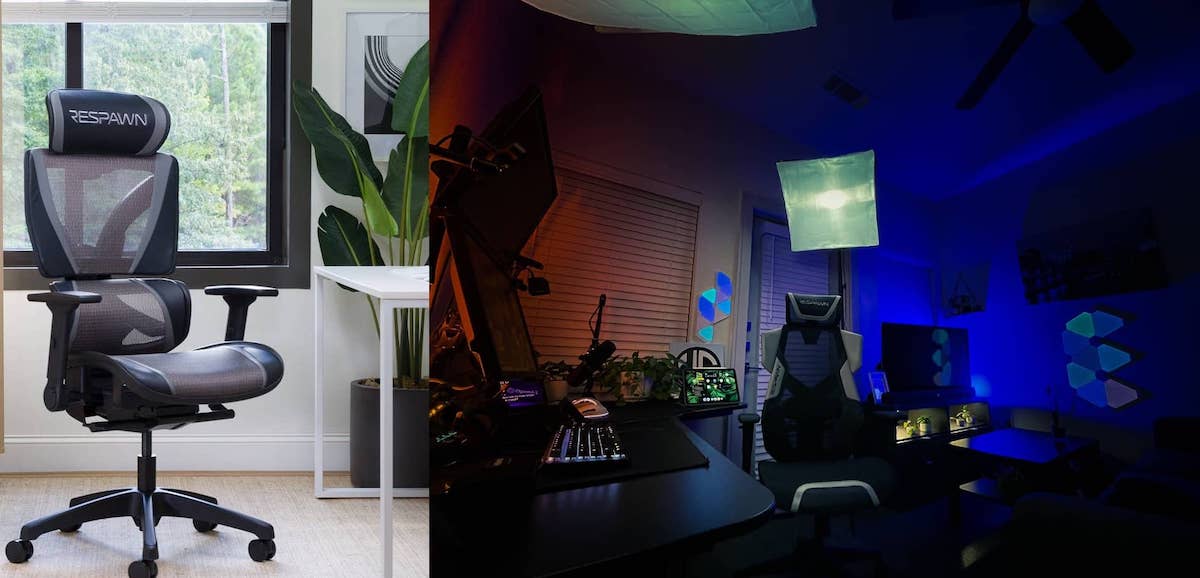 Thus, this is a great option if you are looking for one that is very lightweight and has a small footprint. You can still squeeze it into your small gaming room, but you don't have to compromise comfort and ergonomics. But you will, however, be limited a bit on the aesthetics.
It's also mesh, so this is perfect for the hot and sweaty season. Our favorite perhaps is the lumbar support, it's one for the books. It feels very sublime. 
But with the small footprint of the chair, it also comes with a handful of limitations. Thus, making it a very specific chair for a specific group of people.
One, it has a rather low weight capacity so those who weigh up to 250 lbs and bulkier will not fit into this chair. Another is the recline function, you will not be able to recline the chair as you would with other padded gaming chairs. But you may still be able to tilt it back a bit, just not to a full extent. 
The shape of the backrest fits the back perfectly. It nicely conforms to the small of your lumbar. It feels very supportive and quite solid too. And this can be a game-changer for a lot of gamers who end up having a sore and tired back from playing all day long. '
Razer Iskur X
Despite the lack of adjustable lumbar support, this affordable gaming chair can be pretty comfortable.
It sits at a very affordable price, so you would not complain. As long as you do not have an advance or specific need for your lower back, then this is a very good option, especially if you are tight on the seams.
This is also a spin-off of the steeper-priced Iskur. It may lack some of the adjustable features, but it still feels decently comfortable for several hours of play, so you will still be able to get the most out of your very affordable purchase.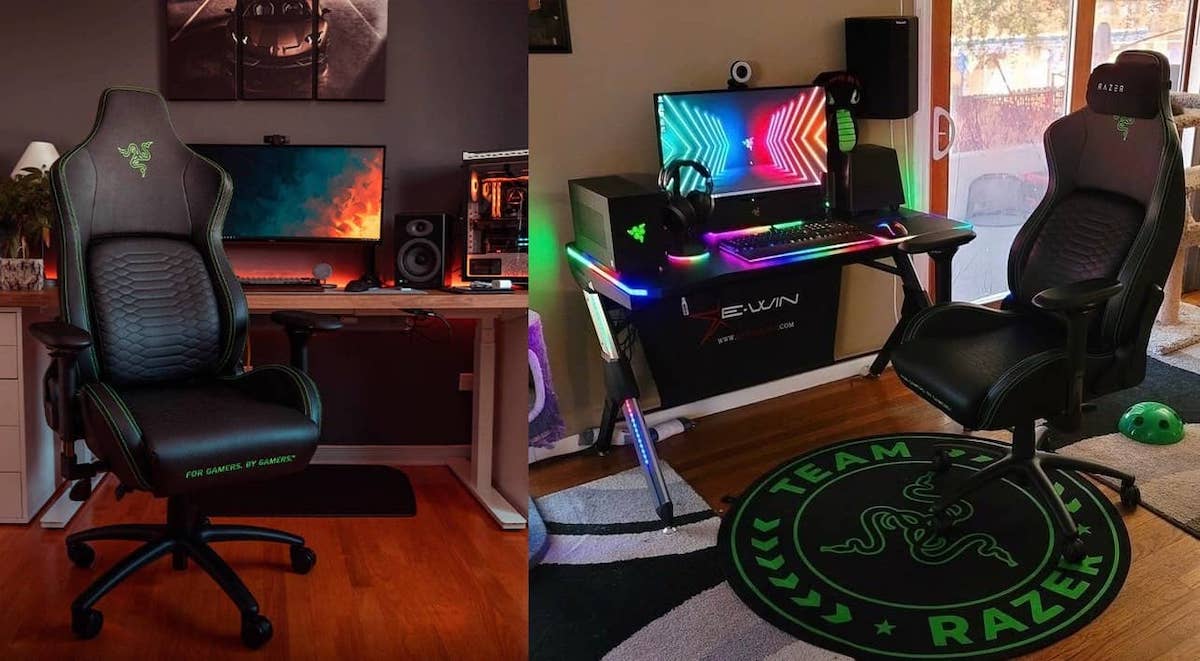 We love the decent foam cushion that lines the side of the chair. This cradles the gamers and makes them feel like they're sitting in a racing car. The foam does feel soft and luxurious for the price. But what makes it comfy for some may be limiting to others. If you have larger hips or sides, you might find the higher side flaps limiting or even pinching your hips. So this is not for bigger folks.
Secretlab Titan Evo
This is perhaps a very familiar favorite of most gamers who want a luxurious and comfortable gaming chair. It's not hard to see why, and it's one of ours too.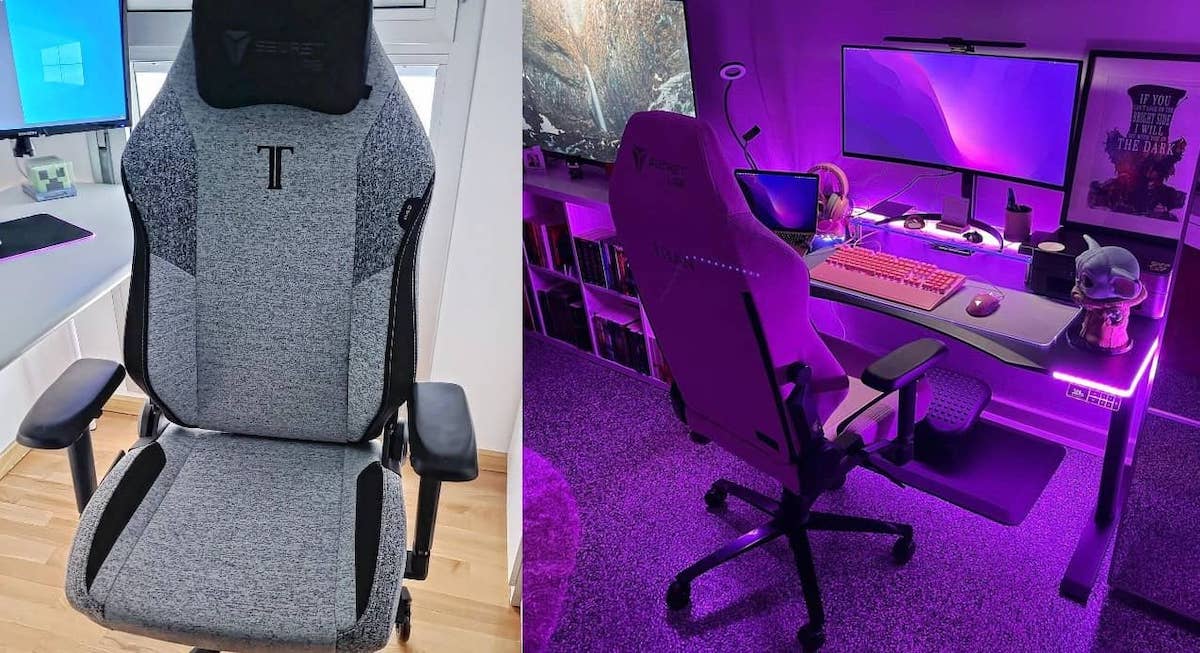 This Secretlab chair is solid, very muscular;y built and perhaps has one of the best builds in gaming chairs that you can see in the market. Everything about this chair is solid. It looks impressive from afar. And when you sit on it, you will further be impressed at how solid and durable it is. 
This is a notch higher since it combines the design of two great chairs of the brand, the Titan and the Omega. So you're sure to get sublime support for your back and entire body. The recline is also smoother and feels more fluid, compared to the other chairs of the brand. The seat is also improved. It has this pebble seat that feels dreamy on the tush. So you will also be able to sit on this Secretlab chair for the entire day.
It combines support and comfort in one. It rids of the usual bucket style most seat gaming chairs are expected to have, which is quite restricting. This chair does not have side flaps, thus it can be used by those with wider hips. You may also be able to rest one of your legs on the chair and lounge even further. 
The fabric is also more breathable than the Titan. So this is perhaps a better and upgraded version. You can also completely recline the chair back and it will be able to hold itself rather well, you will not have any hesitations that would fall on the floor. The adjustable lumbar support can be changed via a knob that is more intuitive to fidget through. So it's easier to find the sweetest spot for your lower back. The tons of adjustable options, however, may be too overwhelming for some. 
DX Racer Air
Like the Spectre, this Air gaming chair promises to provide you with a different experience. It's mostly mesh, so not a lot of gaming chairs are made of this material. This is rather a fresh breath of air.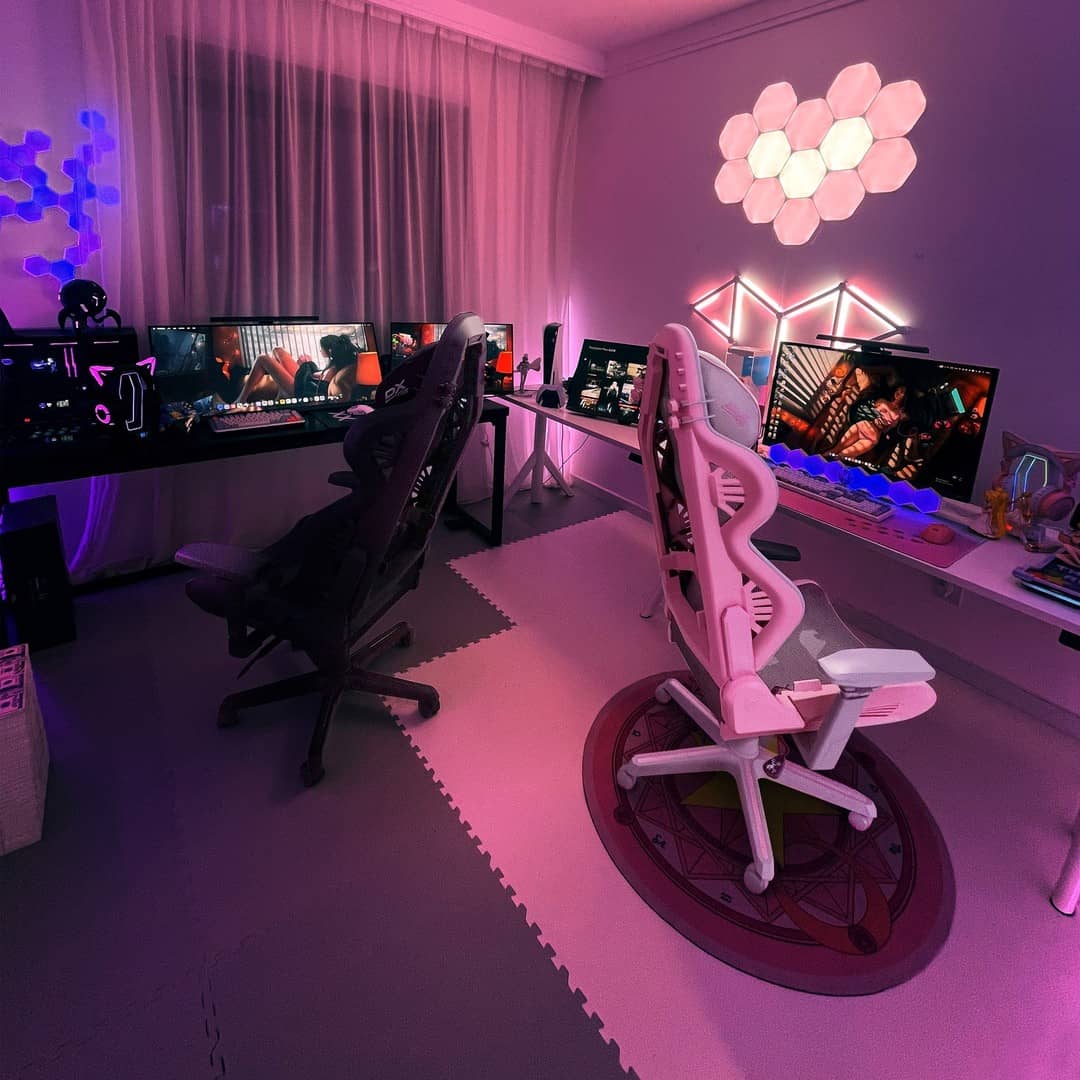 The chair may seem unexciting with its plain all-black exterior and simple slim profile. But it makes up for the ergonomics. The 4D arms of the chair are also one of its best features.
It has a rather wide range that you will surely find the best spot for your arms, even if you tilt the chair. 
But the catch is, you may not be able to recline the chair further back, but it does entice you with a 135-degree recline. It may be sufficient for some who do not need to sleep or nap in their chair, so this would be sufficiently fine. The levers for adjustment are also situated in a convenient area. You do not need to reach further back to adjust the chair. You can sit comfortably and you'll still be able to fiddle through the settings. 
It also has adjustable lumbar support in the presence of a plastic bar at the back that you can adjust. Though not much, it will be enough if you have just basic needs for your lower back support. You may, however, outfit your chair with a lumbar pillow to make it more comfortable. This can be a caveat for some since pillows can be inferior when we're speaking of support. 
But built-wise, you will not be disappointed.
Vertagear SL5800
This feels and looks like your standard gaming chair. It does feel pretty comfy, solid, and supportive.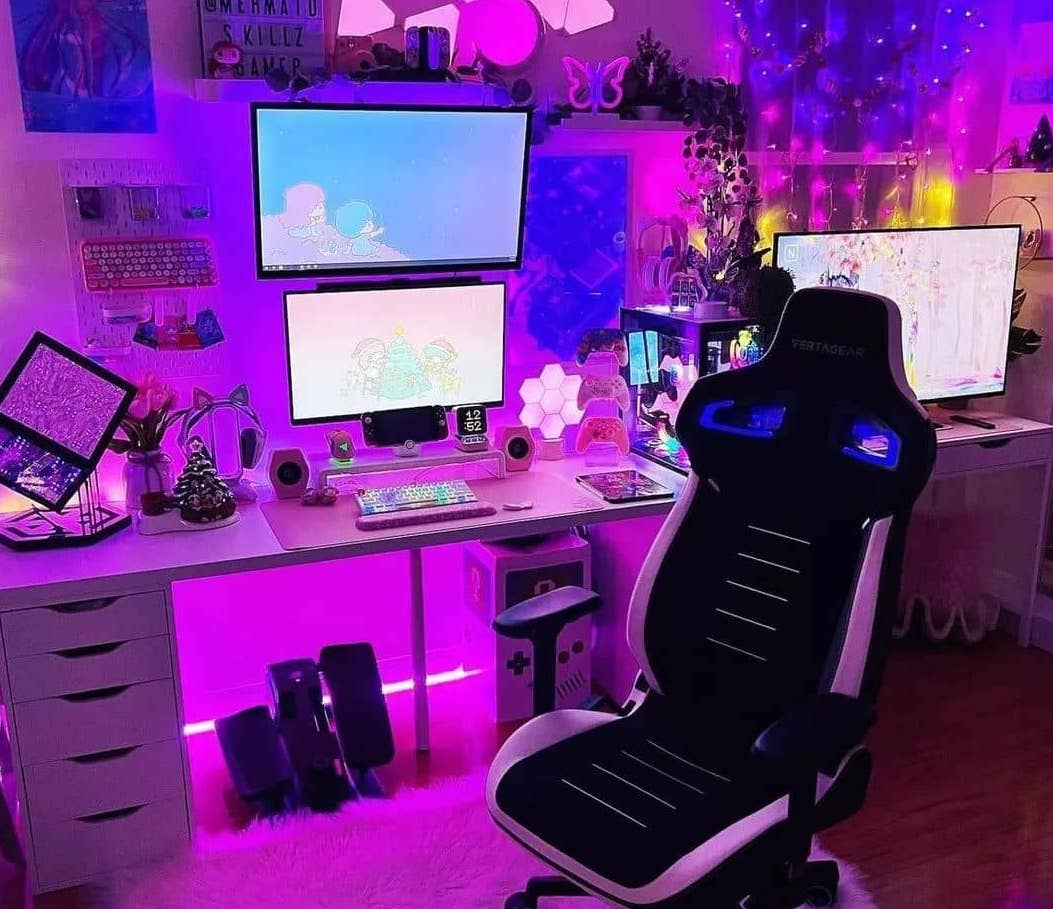 The raised edge of the seat cradles you. It feels overall more supportive and fluid than other models of the brand. So this is perfect for those who love the traditional feel and look of a gaming chair but need one to be more flexible. Thus if you love the encased feeling of a bucket-style seat but need more pronounced lumbar support, then this is a great option.
What makes it more ergonomic is how the backrest was designed. The structure conforms to the shape of the spine rather well. You can get much-needed support for your lumbar. Albeit lacking an adjustable knob for the lower back, it will be sufficient for those without a pronounced need for lumbar support. Also, this design allows for more air circulation. So even if it looks very similar to heavily padded gaming chairs, this is way cooler and more breathable. 
NobleChairs Icon
The icon may still have the racy car look, but It doesn't have the raised edge that some may find constricting. Thus, this is for those who want a more supportive, yet racy and edgy chair, but at the same time, will still allow more room for the hips.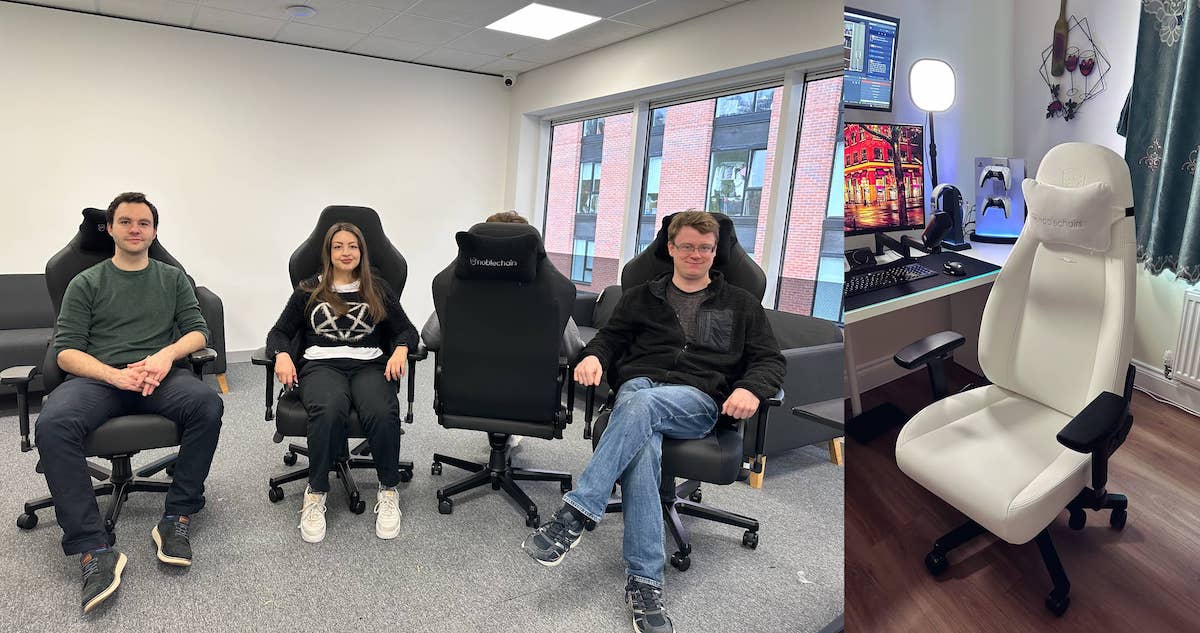 This chair can give you added support without the feeling of being confined to the edges. 
We also love the rocking mechanism. You will be able to lock it at any angle. You can also set the resistance depending on your weight. That feels very lovely for the back.
The multiple adjustment options allow you to fiddle through the settings to find the optimum position for comfort. 
Apart from that, the 4D arms are heaven. It gives more room to wiggle your way through a more comfortable spot, especially for longer gaming hours. 
The backrest also has a sublime shape that can give more support. It is also nicely and sufficiently cushioned. So you might not need to use the lumbar pillow at all. 
Razer Enki
Another stubby and solid chair from the brand promises to be more accommodating to larger gamers. While the Iskur and Iskur X are no doubt solid and supportive gaming chairs, they can be too constricting for larger gamers.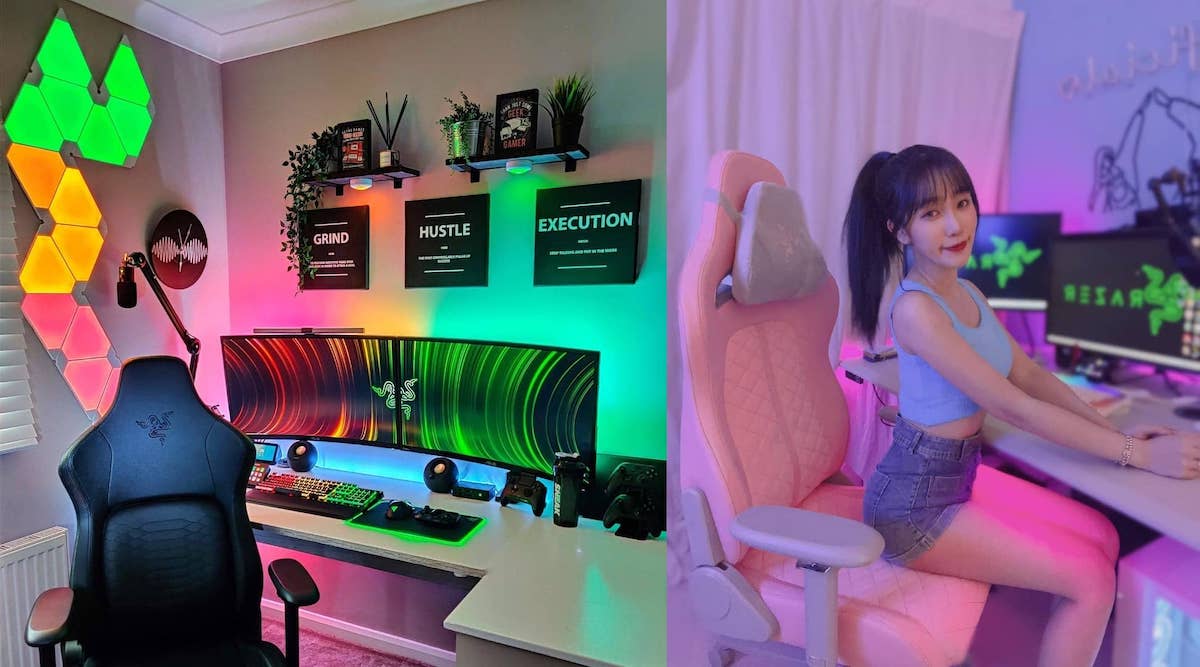 Everything else is pretty much the same, but the Iskur models have a more robust construction. But that of the Enki is also impressive. Though the Isur is a more durable option, it's not far behind. And this is the solution if you find yourself too crampy in an Iskur chair. 
The lumbar support and backrest design of the Enki is rather supportive. You will be able to play all day and not complain of a single backache. But if you want to fine-tune the lower back comfort, it is fixed and cannot be adjusted. So if you fit into the chair, it will be very indulgent. Otherwise, you'll find the lumbar support not hitting the right spot.
Noblechairs Hero
The Icon is already quite an ergonomic option, with its 4D arms and superb rocking function, you can stay longer in the chair while incorporating micro-movements during the game.
But it does lack adjustable lumbar support. Though the curved backrest is still supportive, you'll not be able to fine-tune it to get the most comfortable spot. And this is where the Hero can be a better fit.
This NobleChairs model has adjustable lumbar support for the pickiest of them. You can fine-tune to your preferred setting for back support. But keep in mind that when it can be more ergonomic, it feels firmer overall. The Icon has a bit more cushioning.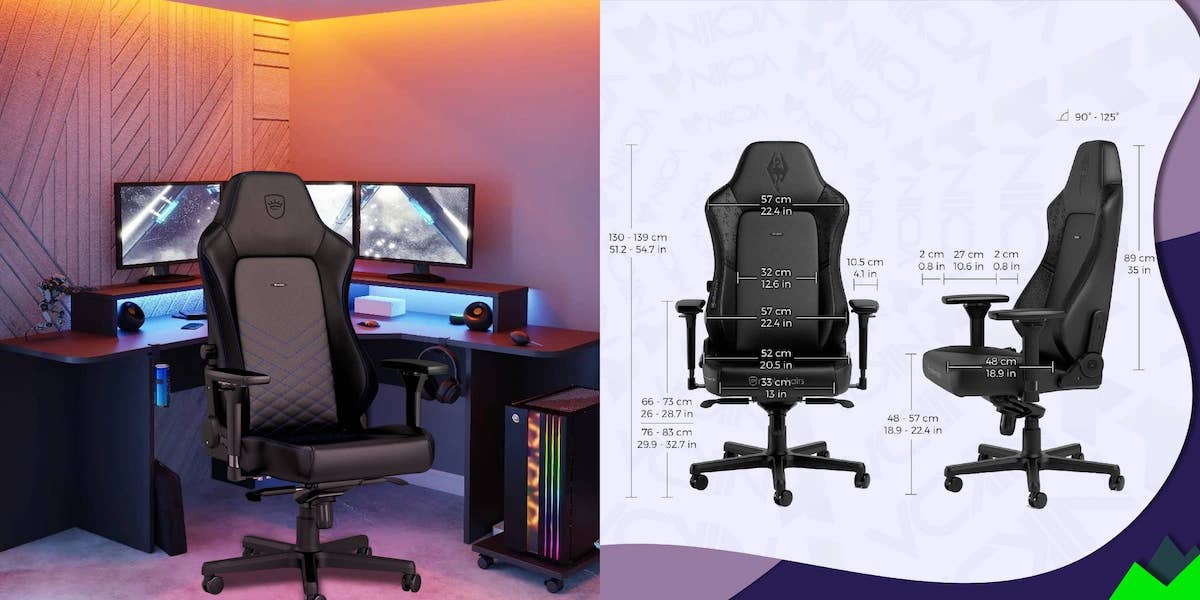 Gamer's Buying Guide
These are the more ergonomic gaming chairs on the lot. But should it mean that you have to get the one that offers the most liberties? Let's see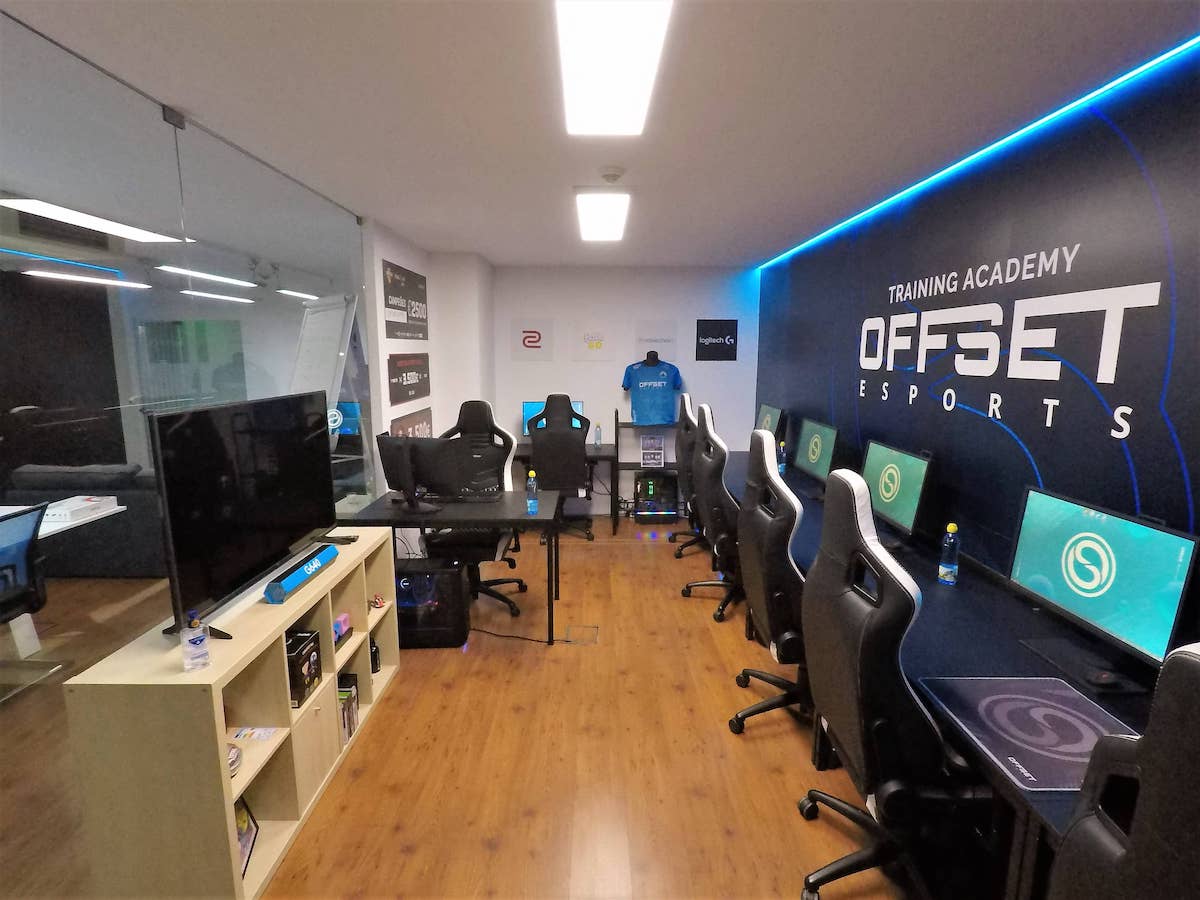 Adjustable features vs the price
While having more adjustable features seems like the perfect chair, it is not true for all. You have to weigh in other factors such as the price. For most, the more knobs for adjustments there are, the higher the price. So it will not be sound if you are to invest in a chair with the works but you don't really need all of them. They can even be counterproductive, you might get overwhelmed. You can be better off with a gaming chair with a fixed back support as long as you fit right into it.
Adjustable features vs the learning curve
Some love it when a chair has lots of knobs and levers to figure out. But some hate it.  It can even be troublesome for others. And when you get overwhelmed you will find it hard to figure out which is the best setting for you. 
Adjustable features vs the positioning
This also perhaps marks the thi one between a truly ergonomic chair and one that is pretending to be. Ergonomic chairs should have most, if not all knobs and levers situated in a way that makes it easy for you to adjust. 
Adjustable features vs the weight capacity and dimensions 
This one's a no-brainer. Choose one that can support your weight. Trying to squeeze yourself into a cramped chair can result in body aches and a chair with a shorter lifespan.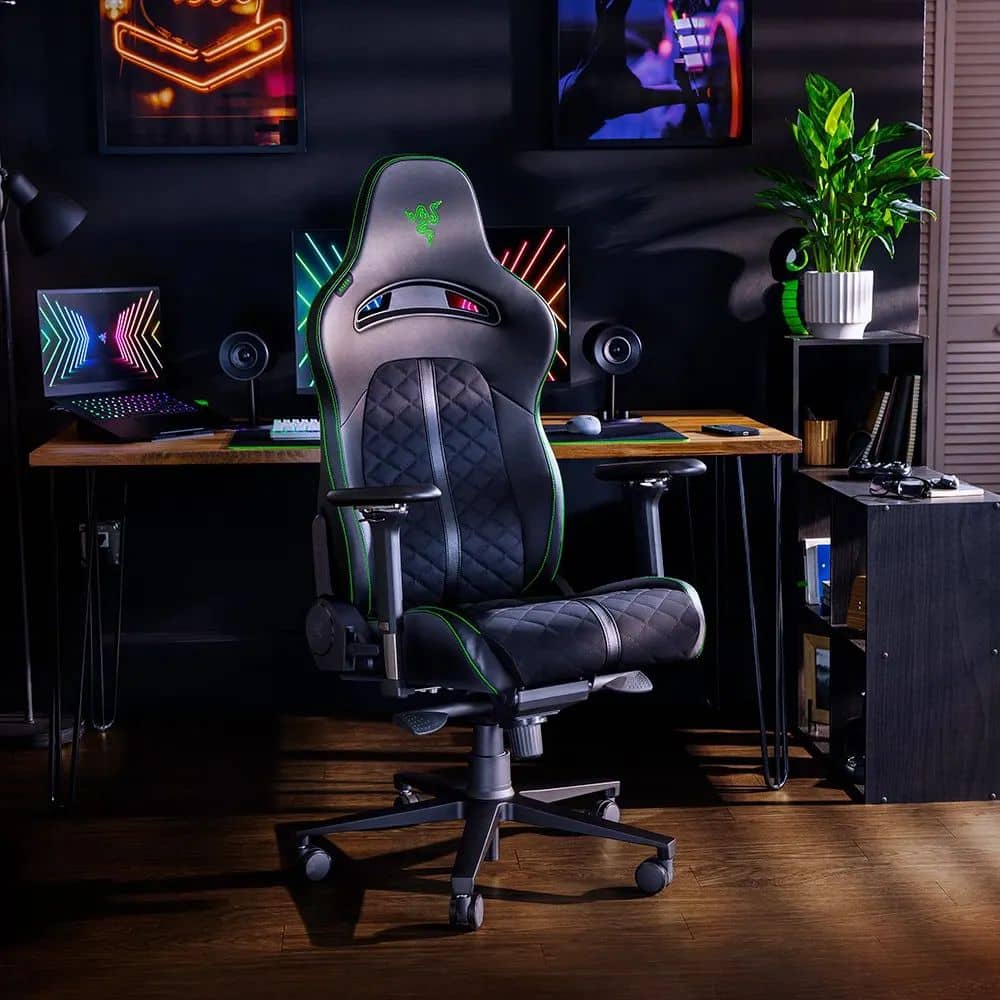 Gaming Must Haves and Where to get best deals
Snazz up your gaming cave with the season's latest. There's something for everyone, even if you are on a budget.
Cool gaming accessories
The true gamer recognizes that need for accessories. This can spark up additional joy during the game. They can also make you better at play. That's why it is important to somehow invest in these nitty gritty additions. They aren't just for show, though they can be eye candies themselves when chosen wisely. 
And what are the top six must-haves for your gaming setup?
A regular mouse will not suffice, especially if you are playing demanding titles. A gaming mouse offers higher precision and sensitivity than regular ones. They do not just have an edgier look, they are also more ergonomic. They are also easier to grasp, thus you can use this all day with less pain in your wrist
A dedicated headset will keep you more immersed in the game. Though regular headsets may also have noise-canceling features, gaming headsets have more upgraded sound technology. This also makes it easier to communicate with the other players in the game.  
Games can take up a ton of space in your hard drive. That's why it's crucial to invest in additional storage. This also gives you the liberty to install more games to your fancy. 
What is a game without superb sound? Though regular speakers can add up to the quality of the sound, they are not at par with what gaming speakers can offer. These have the most upgraded sound technology. 
Pairing an excellent mouse with a subpar mouse pad can bring all the efforts down the drain. You will be able to maximize the features of your gaming mouse if you use it together with a dedicated mouse pad. This ensures that the movement of the mouse is more precise and accurate.
Can you use a regular keyboard for playing demanding titles? You can try to but it will not perform as with a keyboard designed for gaming. These have quicker responses and more precise timing. Not to mention, most keyboards come with RGB lights for a more fancy and immersive play. 
Prime Day Everywhere
Dolling up your gaming haven can run a dent in your wallet. You would want the best accessories, the latest titles, and the best that you can get your hands on. 
What if you are on a budget? Does that mean you have to settle on subpar ones? The best route is to get your hands on the value deals in the market. 
For instance, Prime deals offer a multitude of the latest titles, accessories, and gaming needs that are at a very low price. And now it's not just limited. Many merchants are following suit and they have their respective Prime gaming deals. So you can expect a smorgasbord of affordable yet quality gaming must-haves
Black Friday deals
This is perhaps the biggest sale of the year. And it's the perfect time to overhaul your gaming setup. You can get the snazziest gaming items at a very fair price. So if you don't want to splurge but want a gaming haven fit for the kings, it's not impossible.
Play all day without worries
You never have to bear a day with a sore back. These ergonomic gaming chairs set the bar up a notch. You can add micro-movements during the day while seated. You can adjust the chair to fit your needs. And yes, we're still speaking of gaming chairs!