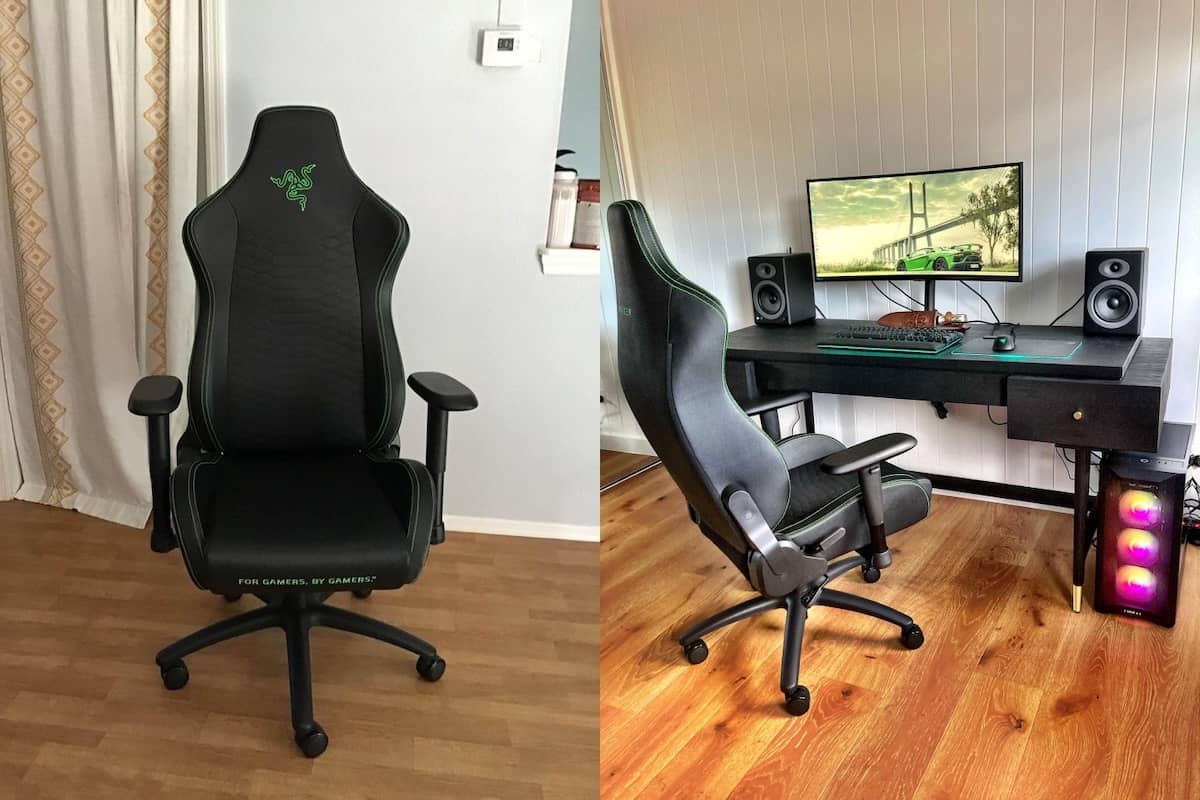 One look at the Razer Iskur and you can fall in love with it. It has this sharp, straightforward and brazen look. It  has both a posh and sophisticated and a gamey aesthetic at the same time. It can suffice those who want the gamemaster vibe without calling in too much attention themselves. 
But do not be confused, there's an Iskur X and the original one, both looking exactly the same. So let's explore what the other one lacks or may offer more. 
Gaming Chair
Iskur Original
Iskur X
Upholstery
Synthetic and fabric
Synthetic only
Arms
3D
2D
Lumbar support
adjustable
fixed
Chair height
Medium: 53.98"
XL: 57.1"
Medium:54.18"
XL: 55.95"
Chair Width
Medium:26.0″ – 29.35″
XL: 30.54″ – 29.55
Medium: 27.97″ – 25.02″
XL: 31.13″ – 25.61
Check price
amzn.to/3uimi83
The X is lacking some extra features
Aesthetics wise these are like two peas in the pod. Among the differences is in the upholstery options. you can get a fabric version with the original Iskur but that is not available in the X version. There may be small changes, but let's dive into each one so you'll not buy the wrong Iskur chair for your needs.
The X version lacks some features that the original one has. So we can say that it is a junior version, toned down from the original Iskur. That's also the reason why the price of the X version is cheaper, you get what you pay for.  Though it's not lacking by much, these can be important if you have a particular need for say, an adjustable lumbar support.
The original has a built-in adjustable lumbar support. 
This is one of 'em gaming chairs that provide a very nice support for the lower back. It may even be more comfortable than the Secretlab for some people. So if you need more pronounced support, then you have to be willing to spend more money. The X doesn't h]offer this indulgence. It also lacks an adjustable headrest. Instead, the chair was constructed with a curved lower back that can conform to the shape of the spine, it is also backed up by a memory foam pillow so you still have that bit of luxury there. It's just that there is a possibility to adjust it to your needs, aka less ergonomic. So is this a lot?
Now this can be a deal breaker for some. The adjustable built-in lumbar support of the original Iskur is the chair's main selling point. It's why gamers are going gaga over this posh expensive gaming chair.  But the price difference between the two Iskur chairs can be quite a lot. But on the other hand,  that lack of ergonomics can be filled up by the still luxurious The X is still a very comfortable chair to sit on for longer hours. But if you have struggled a lot with back pain and have tried a lot of gaming chairs, even an expensive Secretlab ( it can be too firm for some), the Iskur original may be better suited for you.
The X has less adjustable arms
Let's compare the 4D arms of the original versus the 2D arms of the X chair. So you'd already guess that there is a lack of ergonomics or liberty to fine-tune the chair to your needs with 2D arms. There is a lack of customization in this part.
But built-wise, they feel the same, you get that nice support and you feel that both chairs can hold up pretty well for a long time. It's just a matter of weighing the cost of a more expensive chair versus the real need for more adjustable arms.  
But the X version has more height and width
And this is where the game becomes intense. The original Iskur proved to be the more ergonomic one, and the level of adjustability is superior compared to the cheaper alternative. And when you combine these two elements, the high level of adjustability and how well put together every part contributes more to the value of the chair, then it makes up a very comfortable gaming chair. It's actually one that you can use for longer hours
But when it comes to the dimensions, the X version has the upper hand. It is wider and has more height. Therefore, it can accommodate taller users and those who want more room to be able to lift one leg on the seat. Thus, making the X, despite having less adjustability,  can still make you comfortable for longer hours.
The X version was made for this purpose, it was created for serious gamers who take longer to play. With more width, it can allow for movements here and there, which is essential when playing for longer hours.
Is the additional price of the Iksur justifiable? 
The price difference is significant, so you might be wondering if it is justifiable. With all the inclusions and the added comfort level brought by a more ergonomic chair, the Iskur original's added price can indeed add more value to the chair. As mentioned, the chair's top feature is the lumbar support, so adding a few bucks to get the coveted feature can be justified for most gamers. 
 But of course taller players and those who want a wider seat can find the Iskur original lacking in height and dimensions, that's when you have to go for a less ergonomic Iskur but a fairly comfortable one too.