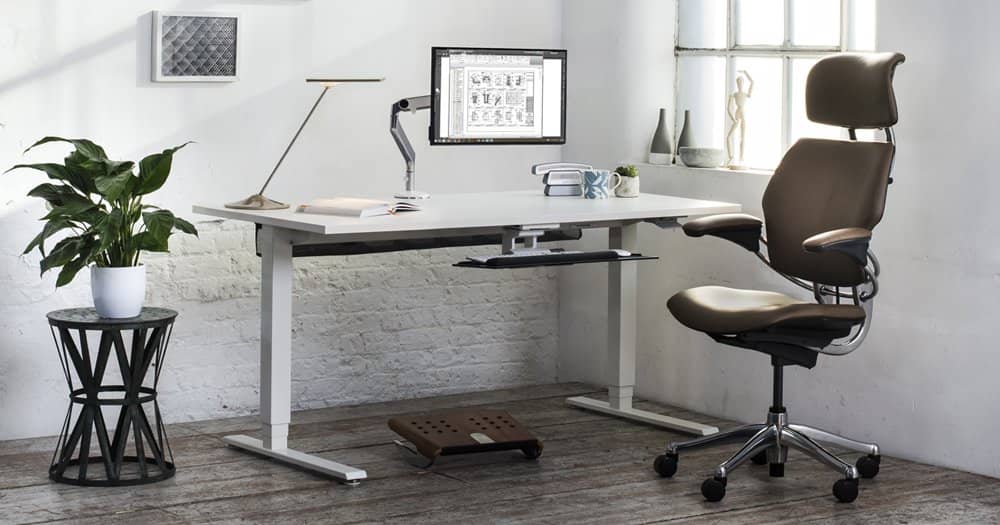 Not all office chairs can glide smoothly along with carpeted floors. And if you insist on using one with wheels that aren't rated for carpets, it can be frustrating.
You might be compelled to just stand up and carry the chair yourself. It can also drag and ruin your carpets. That's why you should also check for what type of caster wheels a chair has before purchasing. 
And we have listed the best one that can roll smoothly on your carpets.
Brand
Material
Height range (inches)
Max weight limit  (lbs)
Seat depth (inches)
Seat width (inches)
Who'll find this comfortable
NOUHAUS Ergo3D

ElastoMesh backseat with soft PU leather seat

18.1" to 21.9"

275 

16.9"

19.7"

5'-6'2"

Herman Miller Aeron 

Elastomeric suspension seat, aluminum frame and base,leather-upholstered or standard foam arm pads

B: 16"-20.5"

A

14.75"-19" 

C:

17"-22.3"

A: 300

B & C:350 

A: 16"

B:16.75"

C: 18.5"

A: 15.75"

B: 17"

C: 18.25"

A :5'4″ or less

C: 6'3″ or taller

B : Everyone in between

TribeSigns T18

Premium pattern nylon mesh, 3D PU Armrest, saddle seat cushion 

17"-21"

300 

16"

21"

5'-6'2"

Steelcase Leap V2

Polyurethane foam, steel, Polished aluminum frame and base, textile

15.5 to 19.5"

500 

16.75″ to 18.75"

22.75

5'-6'2"

La-Z-Boy Delano

Memory foam, banded leather

22-25

350 

21"

22"

6' above

Humanscale Freedom

Aluminum, gel  seat

16-21

300

20"

19.5"

5'0-6'4"
There are a lot of office chairs in the market. And to narrow down the choices you have to make a list of what are the functions that are important for you. 
So in this article, our primary goal is to get the best ergonomic chair that will roll smoothly over your carpeted floors.
And we'll also toss in several features of each chair that make it worth the buy. 
NOUHAUS Ergo3D ergonomic office chair
This is a mid-range mesh office chair that costs less than 400 dollars. It's an all-mesh chair making it popular with those who are living in warmer regions.
The chair is made up of a 5 point aluminum base and dual castor wheels. It comes with standard black plastic wheels and blade wheels. 
The blade wheels can run smoothly over any type of floor- concrete, hardwood, and carpet.  
Albeit having a universal function, we find that the wheels do not get stuck in between the grooves of the carpets. But if you want the chair to roll sublimely, the plastic wheels are your best bet.
There is no friction whatsoever, and it will not make any marks on the floors too. It will not also get caught in between your carpet.
Now let's take a look at some of the other features.
the NOUHAUS Ergo3D offers more adjustable features than some of its competitors. It features an adjustable headrest and the arms are 2 way adjustable too. 
And though the lumbar support doesn't have levers and knobs for adjustment, it's quite the intuitive type. It's made of 2 parts that are made of a pliable and flexible material. 
So even with the lack of adjustment, it can move with you.  
The lumbar support feels a bit like what you can find in a SIHOO M90 or a Freedom chair. 
It also has a good tilt and recline, so even gamers will find this chair very comfortable. The height range is 19-22 inches. So it can pretty much accommodate those who stand and 5'1 to 6'2. Though this is a decently durable chair, bigger and heavier folks might not find the seat width not accommodating.
And oh, the arms are a bit flimsy. They move and don't seem to lock in place. 
Herman Miller Aeron
This iconic ergonomic chair tops almost every type of list, whatever the priority is. With its quality parts, engineering and design, it's no surprise that it also has wheels that can roll smoothly on your carpet.
When you purchase an Aeron chair, it already comes with the standard carpet casters. These wheels can roll smoothly on any type of carpet, low to high pile.  
These are made of hard plastic material and do not have any soft threads. Thus, it will not get stuck in the grooves of your carpet.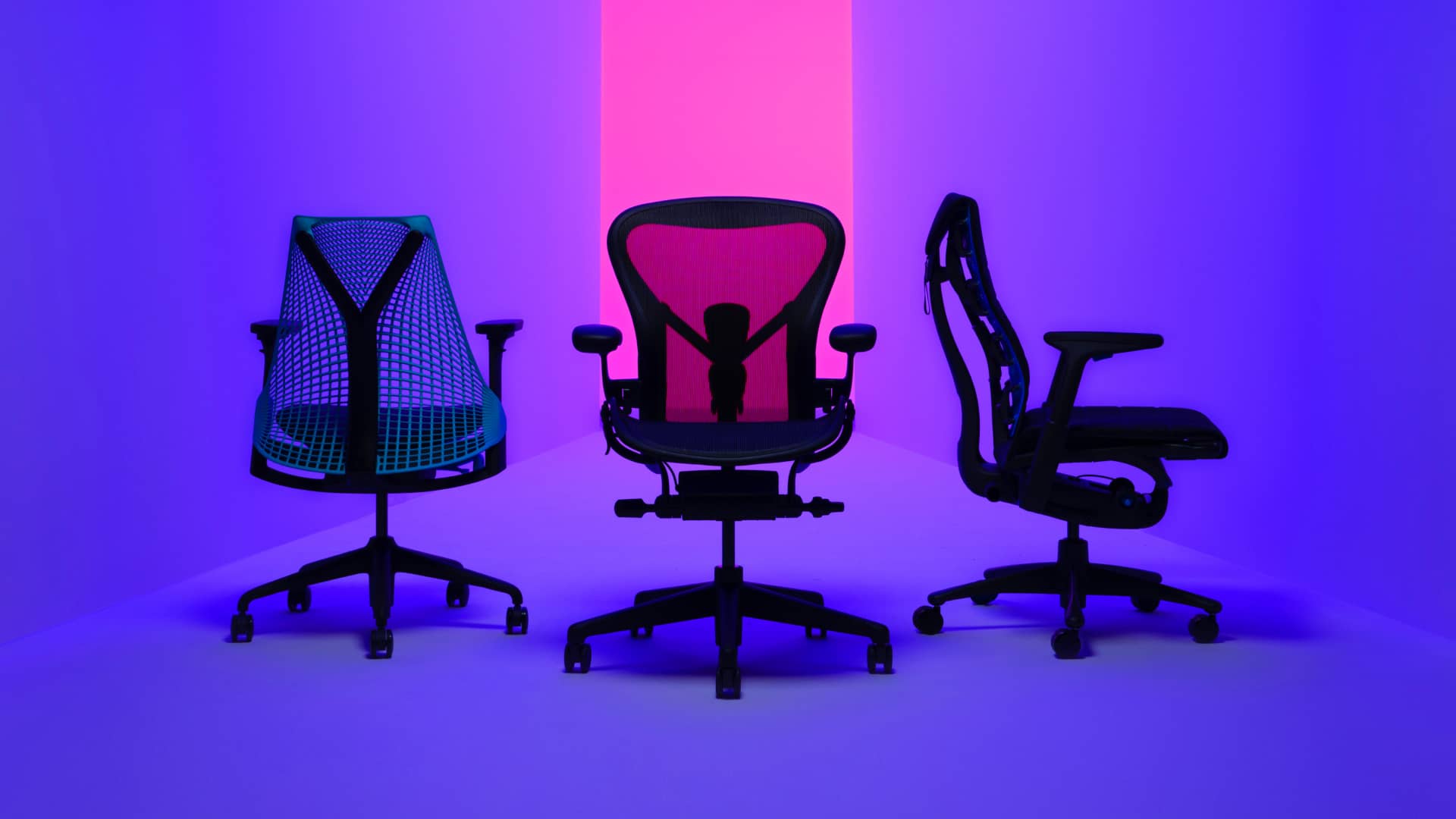 Aeron offers two types of wheels, the standard carpet caster, and the hardwood caster. You can opt for the latter if you have hardwood floors. The soft threads strengthen the wheel's grip on concrete or hardwood floors. 
The carpet casters of Aeron are indeed a yay. You can use it even without chair mats. These wheels can also fit other models such as the Embody, Mirra, and Celle.
To the other good bits, Aeron is still one of the best mesh chairs that offer aggressive lumbar support, medium to medium-firm. 
We have reviewed this iconic chair in the past and a lot find it very comfortable for the back. 
But people who have a slouchy posture may find the Aeron too aggressive. It tends to push you too forward. 
And since it comes in three sizes-A, B, and C, the scope of the user becomes wider albeit the lack of an adjustable seat pan
It also has several adjustable features. But in terms of the number of adjustments, it's not that much compared to the cost of the chair.  
But what makes it stand out is the lumbar support, it's very unique and the materials are quite flexible.
Tribesigns T18 PRO
This entry-level mesh and cushion chair has been tagged by some as one of the best affordable mesh chairs for back and neck pain. It can go head to head with Nohaus since they look and function the same. And even have the same style and same adjustable features.
Now, what about the wheels?
It has a 5-metal base with 5 large rollerblade wheels. These wheels can roll smoothly on carpets and will not thug or damage them. It's also a bit bigger than most of its competitors. That's why even if you are sitting on it, you'll still find that it is very easy to glide along the carpet. 
The wheels are encased in a soft polyurethane material. That means that apart from carpeted floors, these wheels can also roll with ease on almost any type of floor.
It also has a decent number of adjustable features. From an adjustable headrest, two-way arms, seat height, lumbar, a tilt, and recline, you can find the sweet spot of comfort.
It also looks like it's made of stronger material, so we're vouching that it can indeed last longer. 
And oh, we also love the edgy look of the mesh.
The cons? Though the cushion is made thicker compared to the previous model, those who are bigger will find that it can sag easily. But if you are of average weight, you'll find it very comfortable.  
And the arms could have been better too. It does not seem to move in line with the backrest. So when you recline, it will not be at an optimum position.
Steelcase Leap V2 comes with a standard carpet caster. These roll out nicely on medium to high pile carpet. It rolls smoothly so that you will not be able to use these wheels on hardwood floors or mats. 
And you also have the option to upgrade it to a hardwood caster. The thing is, even the hardwood caster can roll easily on low pile carpets too. 
Moving over to the other features, the Leap is one of the best chairs to sit on for the entire day. It is made of a lot of aluminum, but it is strong and heavy-duty,
But some do not like the look of it as the abundance of plastic material made it look less than premium. Well, it does cost premium so some were irked by this. 
But here is when it gets all good. 
The back support is sublime. It hugs your back nicely. Though the material can get hot during the warmer season. 
But in terms of support, you will not feel tired even after sitting for the whole day. The back support is called the LiveBack technology and it moves with you. So you can get the ultimate type of back support. 
And in terms of adjustability, it is highly adjustable, even more than the Aeron. You can adjust the seat pan to get the most comfort.
Though one of the gripes is that it does not have a reclining lever, it somehow made up for it with the lockable tilt function. 
Also, it has a wider seat range from 15.5 to 20 ", it can go lower than most premium ergonomic chairs. So even petite users will find this chair comfortable.
La-Z-Boy Delano
You'll get standard PU caster wheels with your purchase. And this type of wheel pretty much rolls smoothly on any type of surface. Well, as per the brand
But we find that it rolls more nicely on carpets than on hardwood floors. You might need to buy a different type of caster if you like it to roll better on concrete or hardwood floors. But if your chair is sitting on the carpet, you'll be very happy with it.
Let's see what else is in store.
This Is a big and tall chair that looks enticing to take a nap. 
The memory foam material is cushy and gaming-ready too. But it tends to get too hot during the summer. 
This type of chair lacks adjustable features and the seat height also offers a limited scope. 
But this chair is not going to compete with other ergonomic chairs because it's already a king in its own game- for gamers so to speak. 
It is also easy to tilt and recline, which can offer a sweet spot for resting. You can also use it for work if you don't need many adjustable features and favor a more cushy type of seat. 
The Freedom chair comes with standard casters that can also go smoothly over carpeted floors.  
The base of the wheels is metal and polished. So it only looks extra, you can be sure that these are pretty heavy-duty wheels too.
It is also a well-constructed premium chair. The chair has a lot of aluminum parts that add up to its strength but this also makes it look plasticky. 
So it's either you love it or you don't. 
Another advantage of the Freedom chair is that it has a wider scope of users. Anyone from 5' to 6'4" will find it comfortable.
As for the back support, it has a very prominent lumbar support. But it does seem intuitive and can move with you. Albeit that, some still find it too aggressive.
One of the best features of this chair is the recline. You may still be able to do work even in a reclined position, it's very stable and holds its post well. It is also easy to recline, you don't need to push or pull levers, you just lean back.
The seat pan is also very easy to adjust.
As for the overall comfort, it's either a yay or a nay. You'll love it if you want a more aggressive push. 
Conclusion
Though you also have an option to buy wheels that are rated for carpets should you choose another brand, but that will be an additional cost. 
So these office chairs will also save you money since you do not have to buy a special type of wheels for your carpets.