These two Humanscale chairs present a very different type of comfort. One is firmer while the other one has a somewhat floating-in-the-air kind of comfort. So let's see which will serve you better. 
Office chairs
Liberty 
Freedom
Available versions
– Task chair (check price)
– Task chair (check price)
– Headrest (check price)
Seat height range
16.5-21″
16"-21"
Seat width
21.25"
20"
Seat depth
16.5-18.75″ 
17.5-19.5″
Arms
1D
2D
Weight capacity
300 lbs
300 lbs
Warranty
15 years
15 years
Weight
34 lbs
Task chair: 30 lbs without arms, 34 lbs with arms
Headrest chair: 34 lbs without arms, 38 lbs with arms
Humanscale Liberty provides a great seating experience for tall people
The Liberty is perhaps one of the few mesh ( all mesh or combined mesh and cushion ) chairs that taller people will find very comfortable in. Naturally, taller people will weigh more.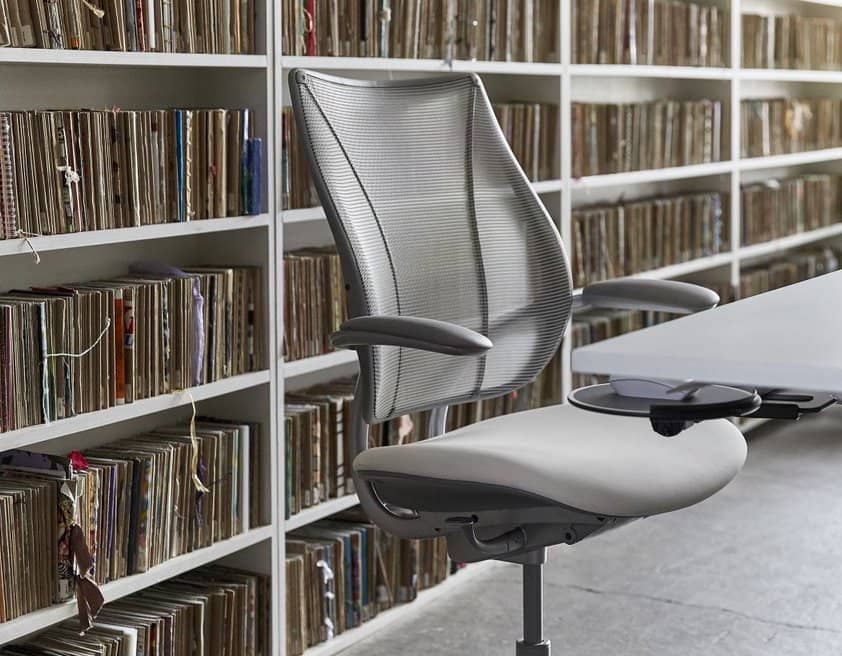 That's why, if you stand taller than 5'10", the extra weight can put added pressure on the backrest and seat, and this can somehow be uncomfortable in the back and/or butt. And the longer you sit in the chair, the more you'll feel the plastic frame underneath. This rings true with most mesh chairs, but Liberty is very comfortable for taller people. The mesh material is just sublime. And though the chair looks very simple and almost mimics a task chair, it is more intuitive and more comfortable than you think. 
But this Humanscale chair is not for shorter people, if you stand below 5'10", you will not find it comfortable specifically because the arms are too wide apart. We'll dive into that one later.
The Freedom, having almost the same height range as the Liberty, can also be a great seating option for taller people up to 6'4". Also, it can be used by those who are slightly petite. The seat and backrest are also comfortable and can be cushy if you get the gel seat option, but it has a firmer type of support.  
The lack of adjustable features of the Liberty is not necessarily a disadvantage
One clear difference between these two chairs is the lack of adjustable features.
You can instantly tell that Freedom has more options to manually fine-tune the seating experience. It has almost all the bells and whistles that you can tinker through to find the sweetest spot.
The Liberty may look like a simpler chair, it may even be referred to as a task chair. But you will be surprised once you sit on the chair. The backrest will not even hit your back, so you will really feel like you're floating yet fully supported. So for most, the lack of adjustable features is not going to be missed.
You can adjust the seat height and the seat dept of the Liberty, and oh, the 2D arms.  but that's it. Surprisingly this did not render the chair rigid or fixed. 
One, the lumbar is not adjustable. But the Liberty has a weight-sensitive pivoting lumbar. So the lower back support, like the backrest, adjusts to the weight of the user. Thus, there is not much need for knobs to adjust the lumbar.
And sans these levers for adjustment,  you may still get personalized lower back support because of this intuitive feature. It also has a self-rocking recline system that offers a different type of recline function. But we can't say that this is 100 percent yay. We'll talk about that further later. 
These unique features allow the chair to be ergonomic sans a few adjustable features. You can move while seated and you will not feel that the chair is rigid, it is rather the opposite. You will feel that the chair can support you fully without being too pushy. 
The lumbar function of Freedom is also very nice. It also has adjustable lower back support, but the feeling will be more pronounced and firm.  And you will be able to manually fine-tune it. 
Which of the two can provide better lumbar support?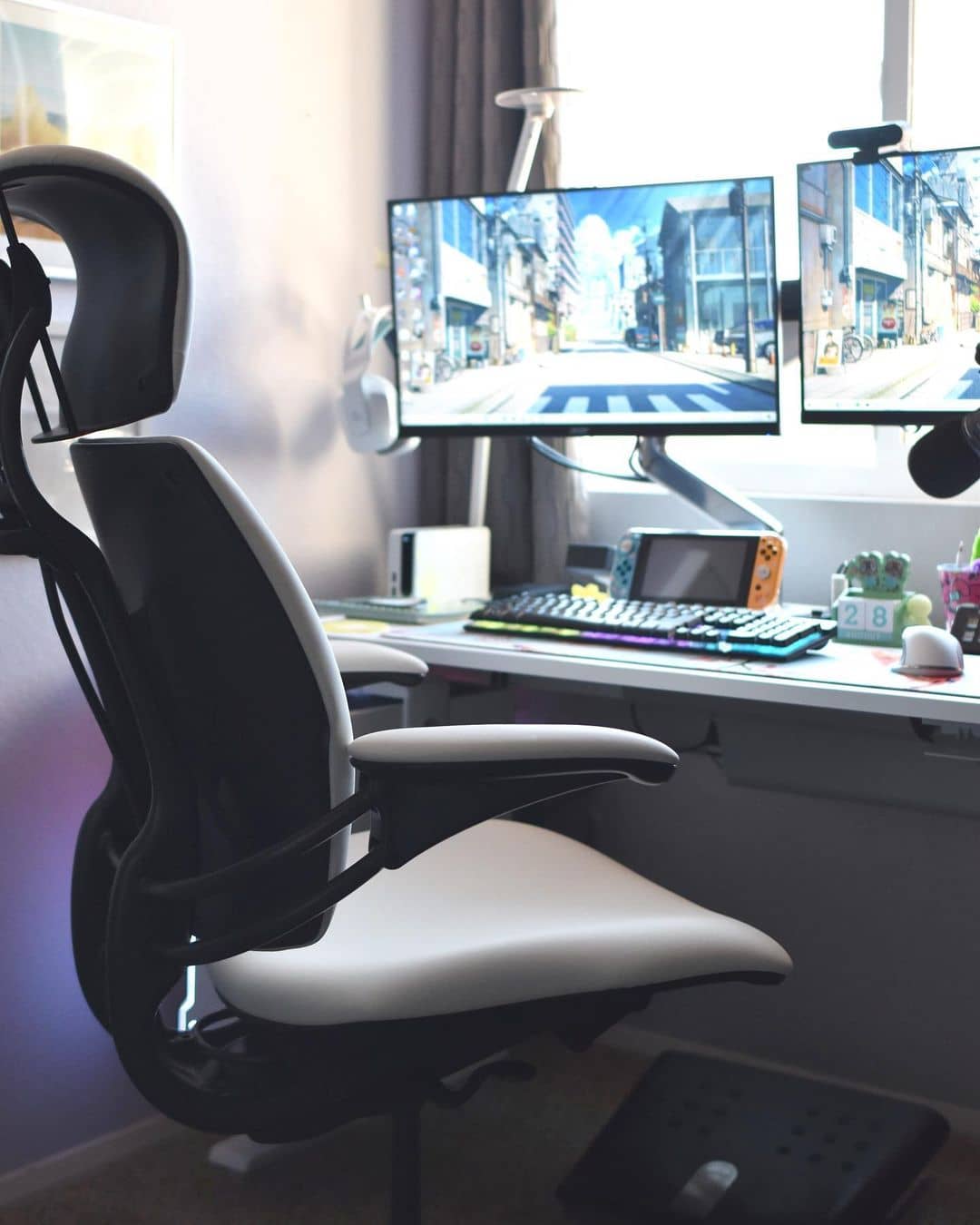 So since both chairs have sublime but completely different types of lower back support,  the question is, which of the two can be better? Our answer to that depends on your needs and references. 
That of the Liberty feels more aerial and it feels like you're floating. And what Freedom has is more firm and can be pushy at times. So the freedom will be able to support you more in an upright position. It can be a nice ergonomic chair that you can do for tasking.
The Liberty, with its more aerial-like back support and a backrest that can recline further, can be suited for general use. But not for taking or when you need the chair to be upright. 
It's also a nice chair to work for long hours, though you can also sit in the Freedom for the whole day. What differentiates it is that you can recline the Liberty more, and you can do it with less effort.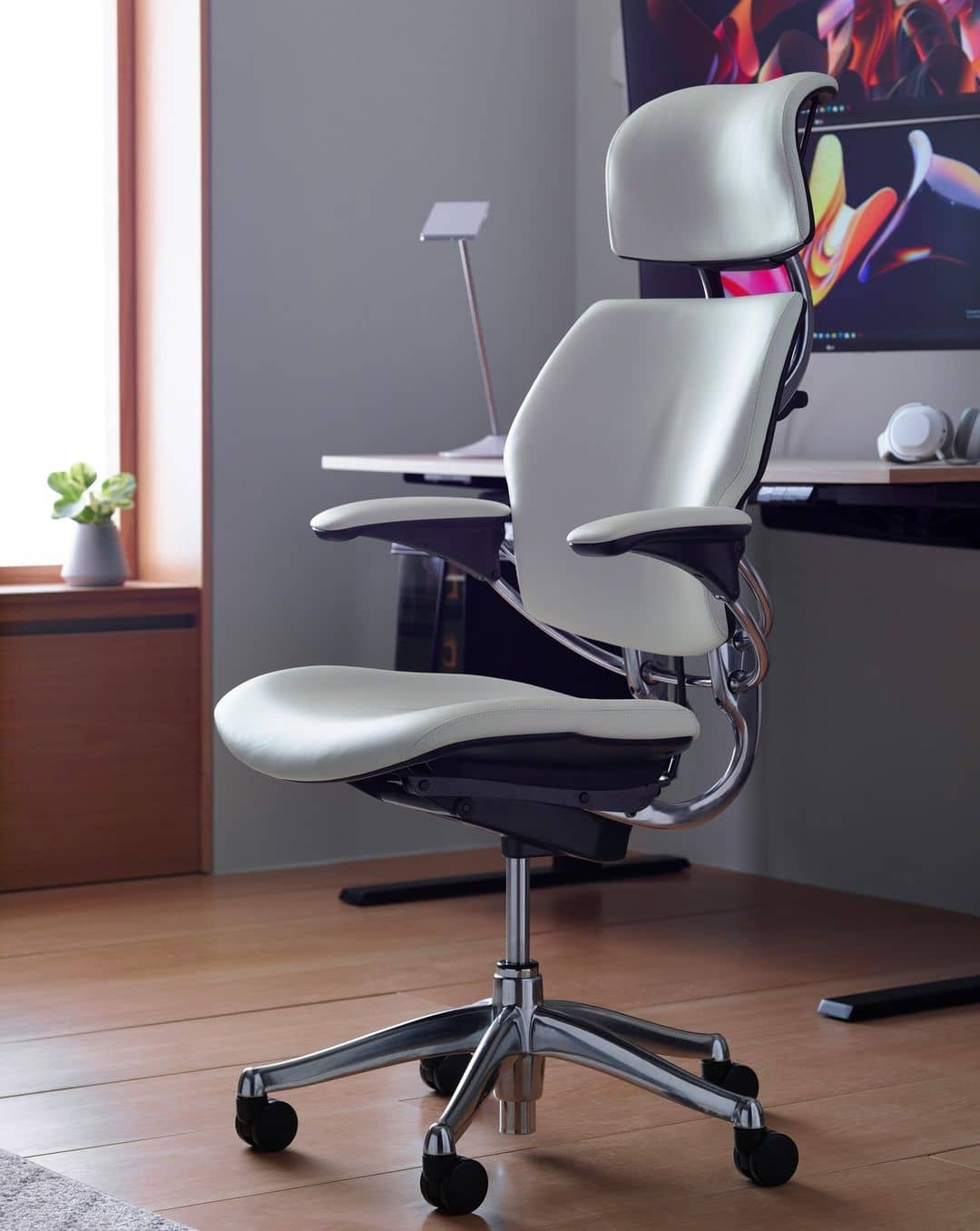 What's not to love about Humanscale Liberty then?
Well, what makes it outstanding is also what can make it not suitable for other people. We've mentioned above that this is not a chair for task work since it will not allow you to sit upright. It lacks a tilt lock, same with Freedom. But Freedom's default position is nearer to an upright position compared to Liberty. 
And you have to remember that this Liberty's default setting is a bit reclined. So you have to consider. So if you need a chair to be upright from time to time, the Liberty is not for you.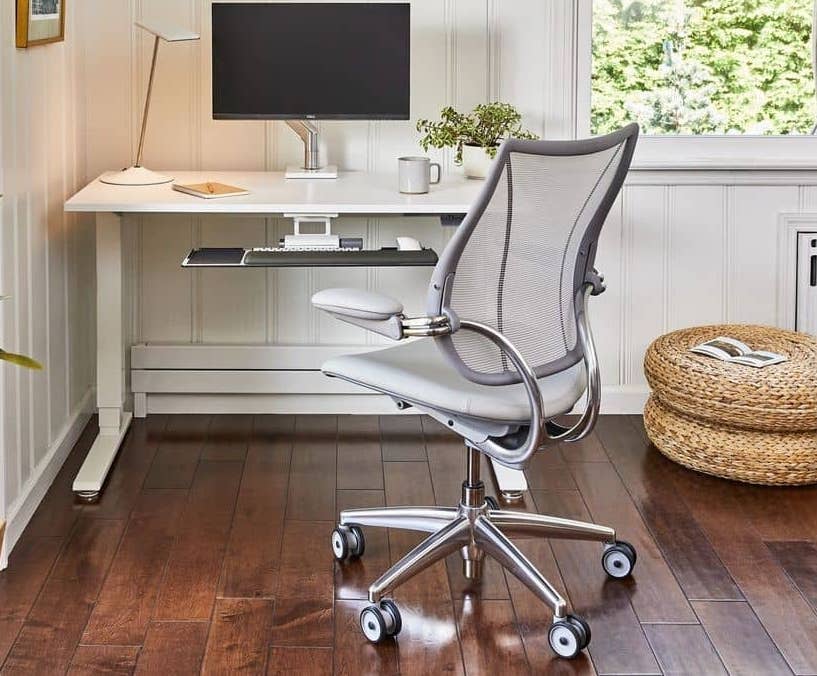 Also, the lack of adjustable features may be a blessing for those who do not want to fidget through the settings of the chair. But as intuitive as it can be some people would want to be able to manually fine-tune a chair to their liking.  
The counterbalance recline mechanism is a nice feature of the chair and allows you to have your body fully supported even if you are declined further back.  And it does not function like other ergonomic chairs. The backrest of the Liberty pivots as it reclines, so there will never be a moment when you'll feel that your back is not fully supported, no matter how you move.  
This mechanism may be divine and can be even used for gaming. But it can also be a disadvantage for some people.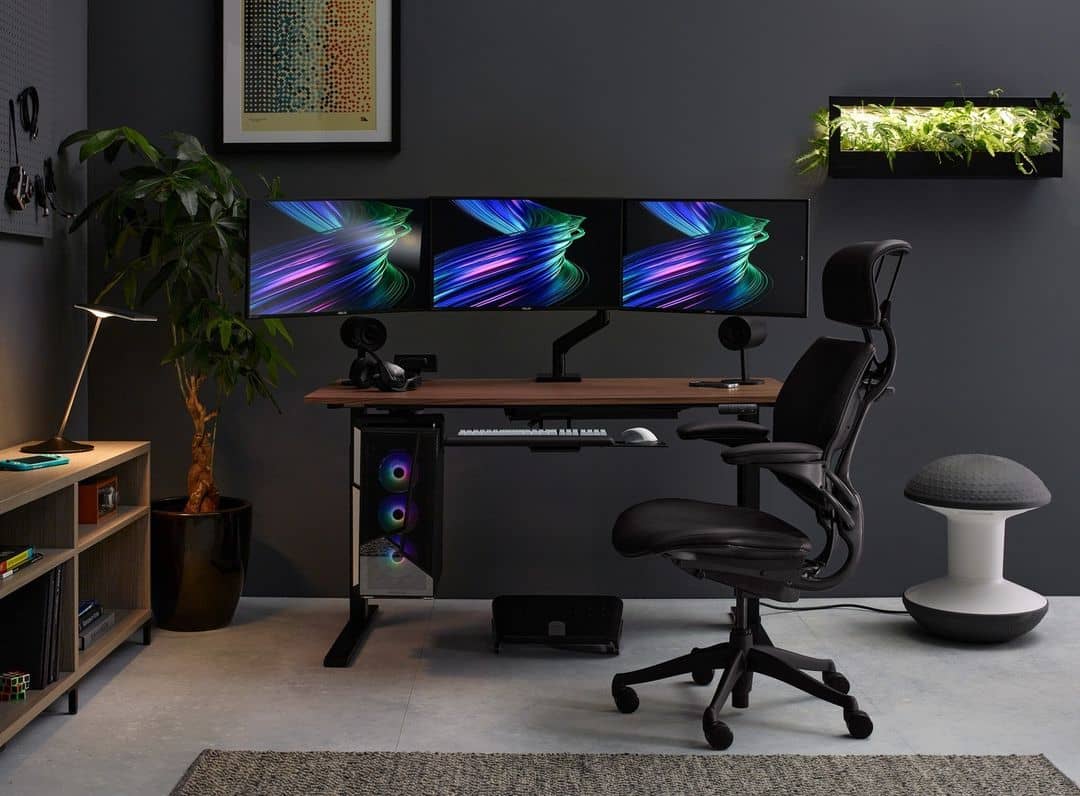 As you recline the chair, the arms also recline. This can result in the backrest possibly hitting the end of your elbows, more if you are shorter than 5'10".
That's why it's not going to be comfy for those of average height, at least shorter than 5'10". The dimensions of the arms are built for taller people. They are set at 19" apart. ft. Also,  the arms are only 2D, so there's another limitation. 
This is one thing you have to pay attention to since it's one of the chair's main features.
 It does not recline like how other ergonomic chairs do. 
So this results in still having your eyes forward while you are in a recline. And this sort of comfort we find to be subjective.
It may help you remain in a semi-tasking position while you are in a recline. But it can also be a bit uncomfortable for some since it is, in a way, an unconventional seating position. So think about this before opting for Liberty. It is very unique, and not all are comfortable in a unique chair. 
The recline feature is not for everybody. Not all will love how the chair reclines easily too. Also, this is not a chair that can give you a traditional rocking motion.  
Freedom vs Liberty: Who will find them more appropriate?
Freedom can also be used by taller people since they also have the same height range as Liberty.  But keep in mind there is still a risk of feeling that plastic frame underneath. And since it has more knobs and levers for adjustment, it's for those who want to be able to control the level of comfort. 
Also, the chair is better for tasking works compared to the Liberty. It is also a firmer one, so that's one of the important things to keep in mind when choosing between these two Humanscale ergonomic chairs. 
Also, Freedom is one of those posture-correcting chairs. It may not be the firmest,  but you will still have the chair pushing you forward. 
The Liberty, with less adjustable features but a more intuitive design is better for people who want to be comfortable without having to fiddle through all the settings.  This chair is also better for those looking for a cooler option. 
The mesh backrest is not just cooler, the mesh comfort of the Liberty is beyond words. It has this more liberating type of comfort, and hence might be the namesake of the chair.