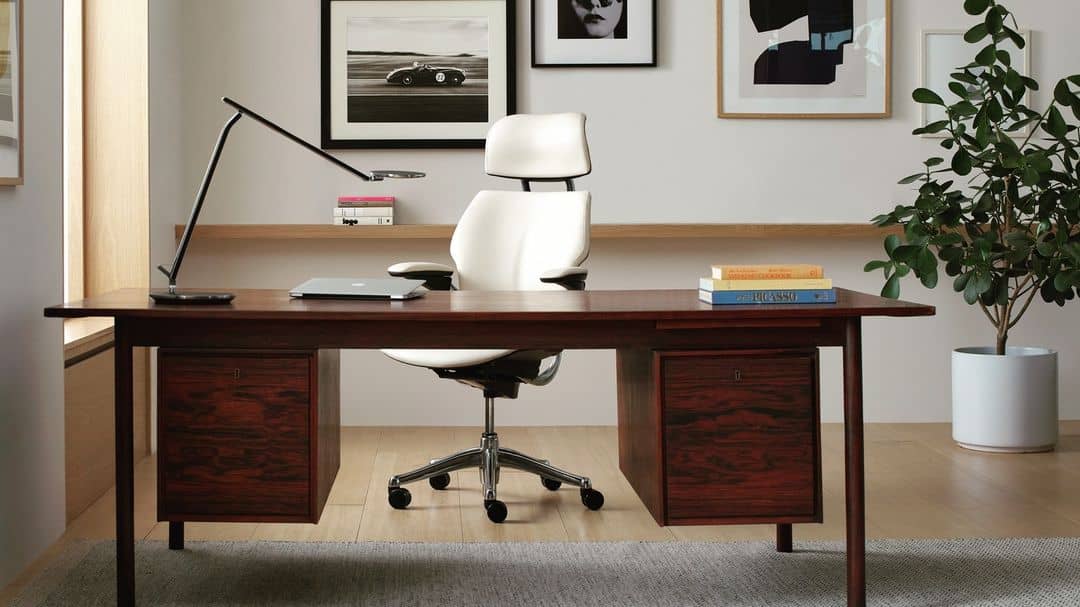 Herman miller Cosm and Humanscale Freedom, these two office chairs belong to the higher ranking brands.
And with that tag comes a steeper price.  But of course,  both promise a more ergonomic and comfortable seating experience.  We've tried both chairs and they have rather unique offerings that are not present in any other brands.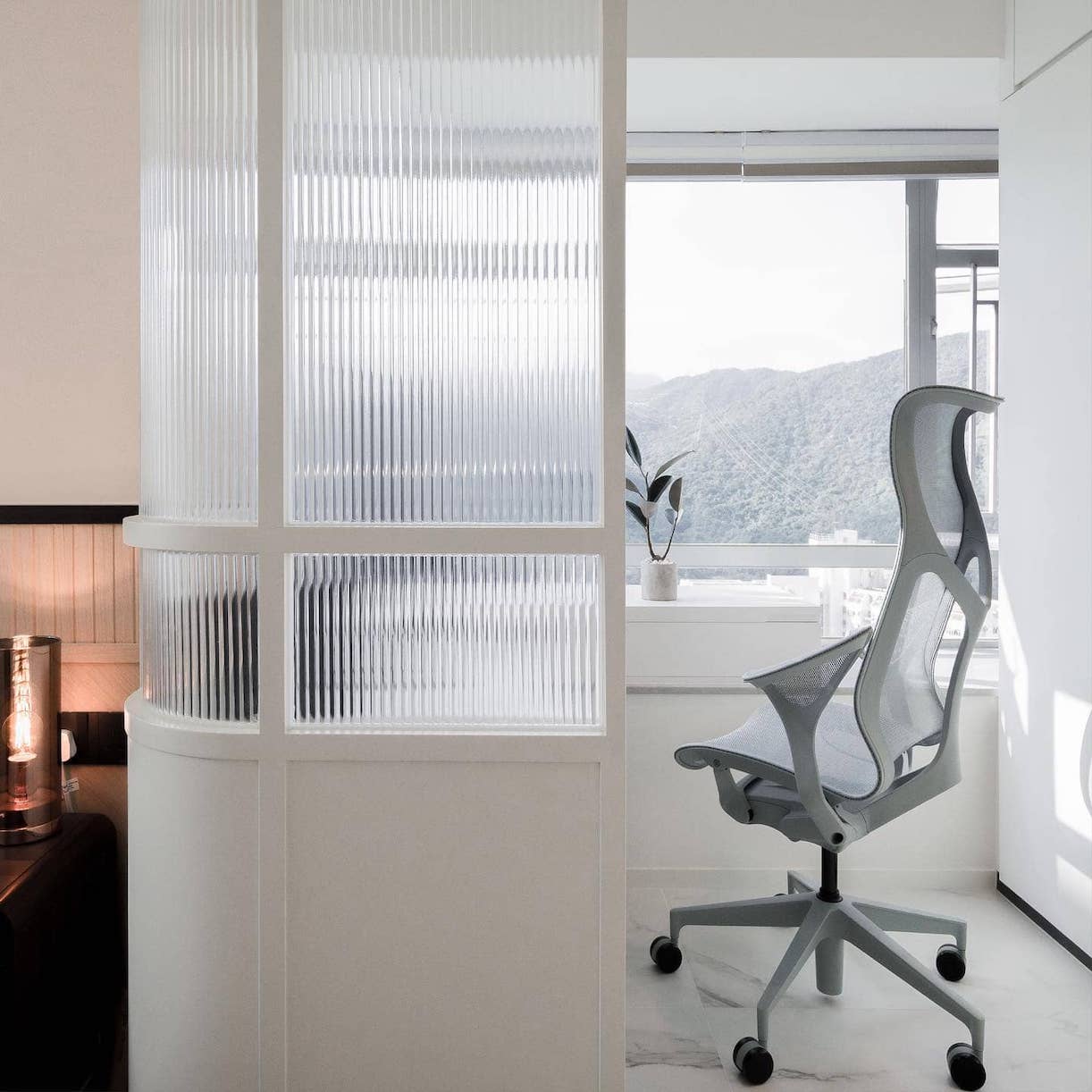 We'll see which chair can be more comfortable for long hours. And which can provide better back support?
Office chair
Showdown
Herman Miller

Cosm

Humanscale

Freedom

Seat height range
14.8"–21.4"
16"-21"
Seat width
20.5"
20"
Seat depth
15.9"
17.5"-19.5″
Weight capacity
350 lbs
300 lbs
Armrests
Fixed leaf arms
Height adjustable
Warranty
12
15
Price
Check now
Check now
Herman Miller Cosm vs Humanscale Freedom: Which is more intuitive

?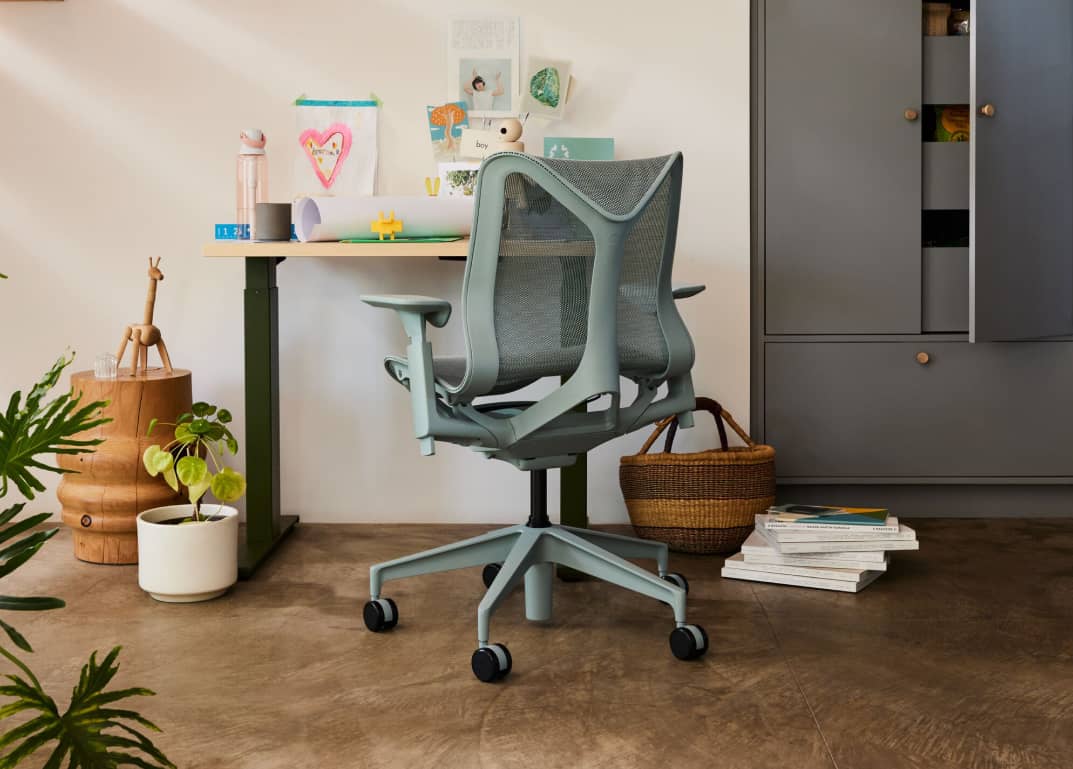 At first glance, you'll notice that the Cosm lacks the levers and knobs that you'd need to fine-tune the chair to your specifics. And this is perhaps where the Cosm may excel or may lack. It maintained its sleek and slim profile albeit bringing comfort to a large broad of users. 
Instead of adjustable features such as a tilt lock or a recline, the chair is equipped with an auto harmonic tilt that adjusts itself to the weight of the users. 
So you do not need to push the chair with your back or turn a knob to make the backrest conform to your liking. 
It's intuitive as it can adjust itself to the needs aka weight of the users. As mentioned above, this can either be a nay or yay.
When we mention intuitive, it seems like a delight isn't it? But keep in mind that this voids the chair of a tit lock. 
So if you want to keep it in a recline or upright position you cannot, unless you keep exerting the same amount of pressure on the backrest. 
It's not a task chair that will push you way too forward.  Nor will it indulge you in a recline.  But can follow you as you move, so to speak.
And this is where we'll see a notable difference from the Freedom chair. The Freedom has this nice reclined and a tilt lock. And what makes it stand out is that you can do computing work even if you are reclined. 
The headrest also moves as you recline the chair.  
This allows the chair to support your entire body even if you are in a reclined position. 
Also, the Freedom chair has levers and knobs that account for the multiple adjustment options. You can fine-tune the chair according to your needs. 
But it's interesting that despite the Cosm lacking adjustable features, they do share something common. 
The backrest of Freedom and Cosm can move with you. It's more flexible and can support you with whatever position. 
But that of the Cosm is designed to be more intuitive since it lacks options for adjustments. 
They have a unique design but the Cosm is more responsive to the weight of the user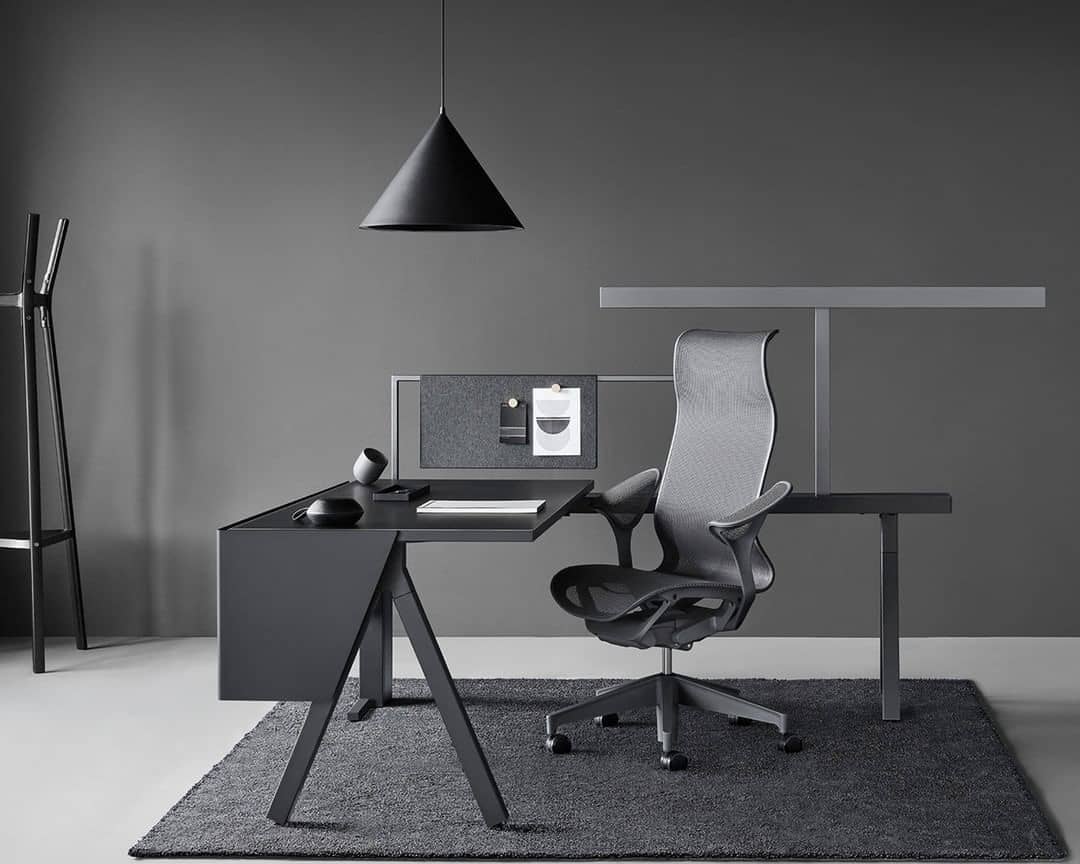 Both units have a unique design that works well for them
You can instantly see that these two premium office chairs are designed in very different ways. Both are also thoughtfully manufactured.
The Cosm is like a single unit. It has a more sleek and fluid design. The backrest and the seat are like one single part. And they entirely mesh but feel softer than the iconic Aeron. Though the support is still gearing towards firm since it is still an all-mesh chair, it will not push you way too forward as Aeron does. 
But albeit being softer than Aeron to both the back and the bum, you may still feel the plastic frame underneath had you been sitting on it for too long. And this is likely to happen if you are on the heavy side.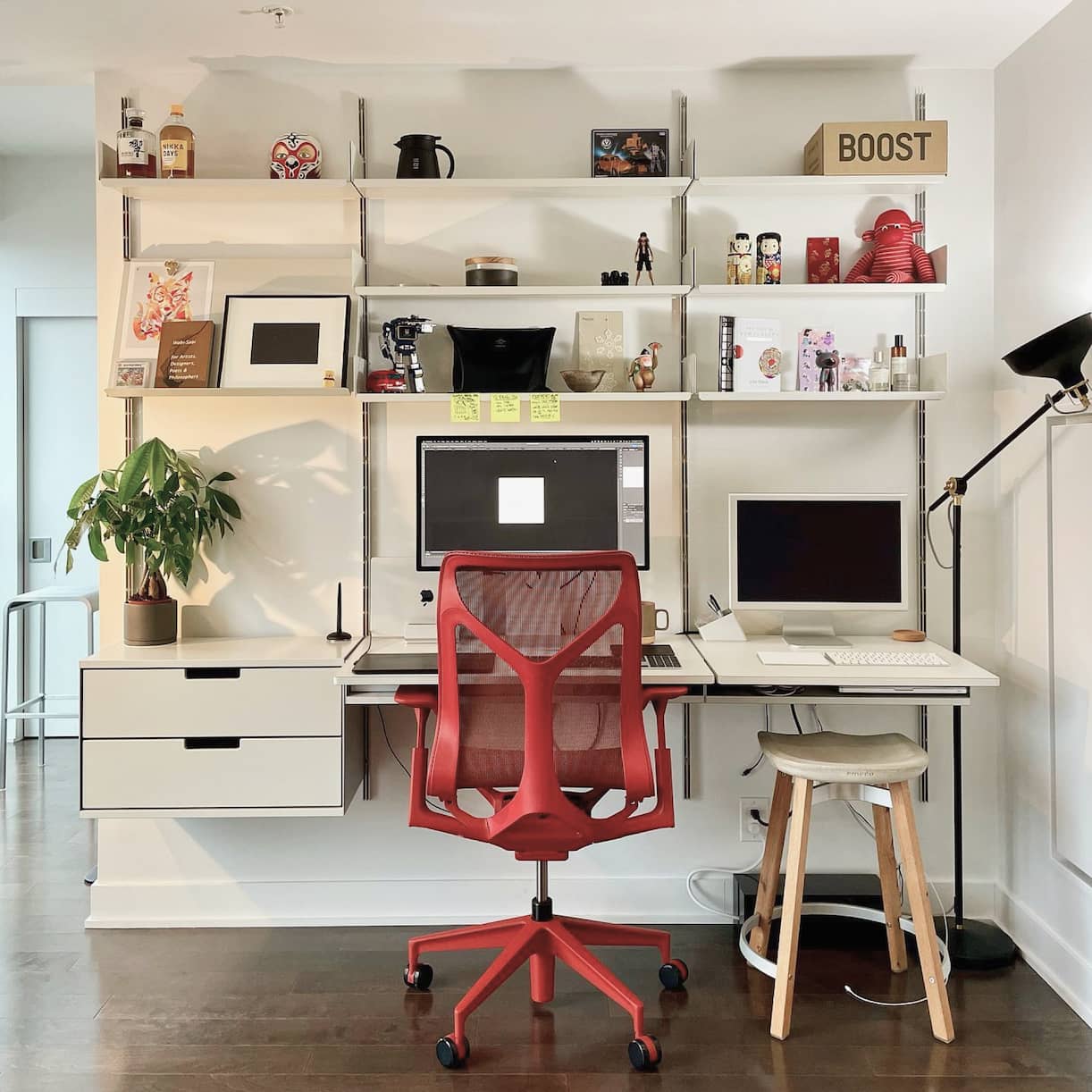 So we see the Cosm lasting longer for those of average weight, even if the chair is rated to hold heavy weight. And with the construction of a Herman Miller chair, it likely will be able to hold its post.   
But that may cause the mesh to lose its strength over time. Not that it will rip or something, the plastic frame underneath will just be more noticeable over time.  
Freedom, on the other hand,  looks like it consists of two parts.  The backrest and the seat are separate and connected via aluminum and metal, so you can still see the gap. You have an option to get the backrest and seat with a gel material and that makes it cushier and more comfortable. So this can be a better alternative for those who find mesh too stiff. 
Both offer great back support 
Both these chairs offer great back support. But there may be a slight difference in how each chair feels, especially on the lower back.  it can be in a different way since they have different designs. But both can move with you so it's interesting to see what each one is like.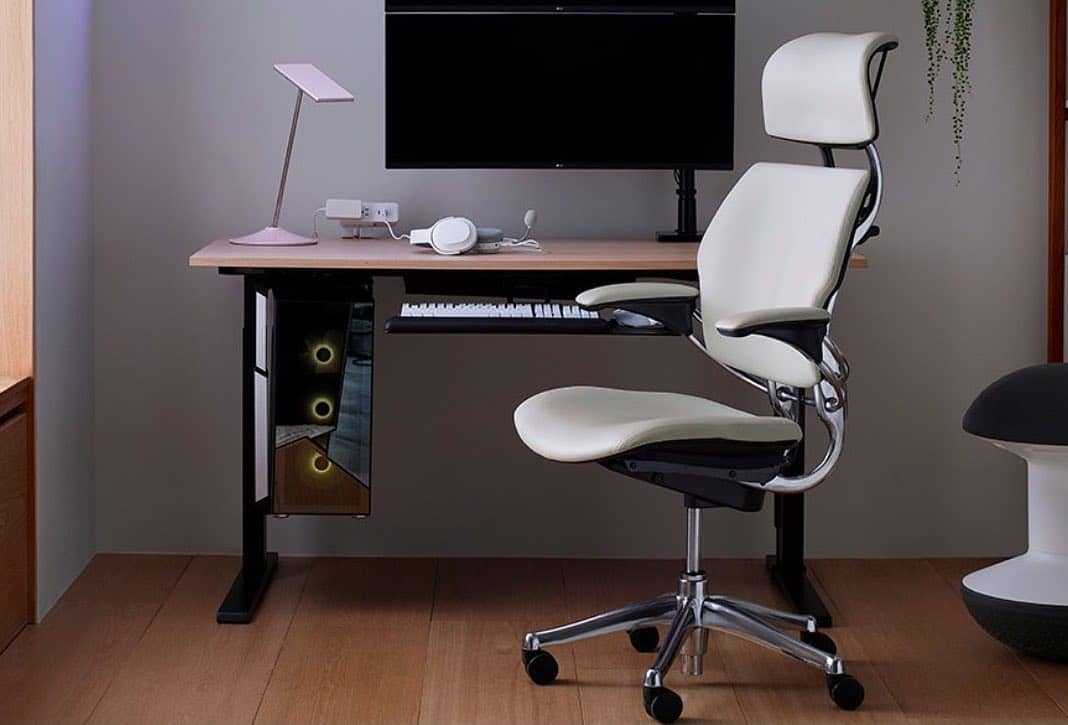 That of Freedom feels more pronounced.  It also has pivoting lower back support, and that's what also made us love this ergonomic chair. You'll be able to sit in the chair longer and not feel any back pain or numbness. 
So far the Cosm also has nice back support since it is an intuitive chair and can adjust itself to the weight of the user. 
But it may not be as pronounced as Freedom. And since it lacks adjustable features, not all will be able to find it comfortable for sitting for long periods.  Thus, it can still be okay for longer periods, it's just not for everyone. 
The lack of adjustable features still made the chair selective seating. And some may still find it too hard given that it's all mesh. 
And those needing a more pronounced lumbar support may find it lacking. 
Also, it does not have an adjustable seat depth, and it is quite narrow. So even if the chair has a high back option and can go higher for tall people, it might be too shallow. Taller people will likely need a chair that has multiple adjustable features because of its long legs. Well unless the Cosm has a deeper seat, then it may be used by taller people.
The Cosm can be then seen as a chair for generic use. This means, it can be used by multiple persons, but only for a shorter period. Thus it's great for conference or meeting rooms. It can, however, be comfortable for long hours for a select number of people.
The Freedom chair, on the other hand, may serve more people for a longer seating time. 
The arms of the Cosm and Freedom are not their strengths 
One of the more notable features of the Cosm is its leaf arms. It is made in a way that it cradles the arms. Not to mention, it looks beautifully crafted too. But it can be a mixed bag. Some may like it while some may not.  It may cause discomfort for some since the arms are also too wide and skinny people may find themselves trying to reach each end of the arms. 
Also, the leaf arms are best for shorter periods of use only.  They are not okay for practical tasking applications. 
The hard frame around the arm prevents one from being able to bend the arms down toward the keyboard. Thus it forces the forearm to be on a hard edge. But the good thing is, you can opt to have your Cosm outfitted with adjustable arms instead. 
The arms of the Freedom, on the other hand, are adjustable and uniquely designed too, But they are a little bit flimsy for our liking.  
Some even opted to remove the arms entirely. They are connected to the chair in a rather different way. You can see this semi-circle ring that connects the arms to the backrest. 
Who will find the Freedom chair better? 
Freedom is best for those who stand  5'0" up to 6'4". Those who are needing more lumbar support may find it a better option than the Cosm.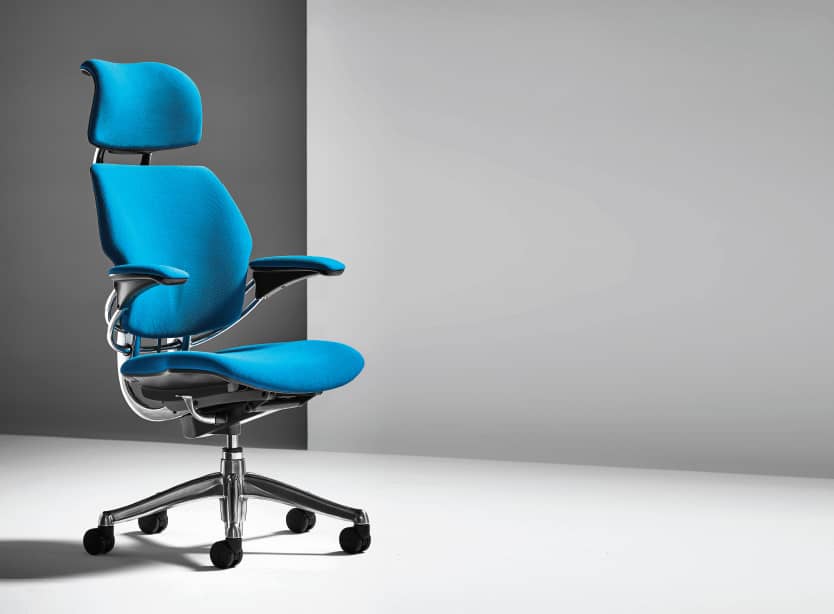 The backrest also has a pivoting function so as you move back and forth in the chair, the lumbar moves with you.
This is a fine choice if you need to work on the chair the entire day. You'll find your back supported throughout, especially for the lower back region. 
If you also need more recline, then this is a better option than the Cosm. But remember it also depends on how much pressure you put on the chair. it doesn't easily recline compared to a Humanscale Liberty. But it will be more amenable compared to a Cosm.
And if you can do without robust arms then you'd be very happy with the Freedom chair.
Though the cushion with gel can be very comfortable, it can be toxic to pets. So if your furbaby scratches the seat or the backrests the gel can ooze out and can be harmful to them.  So this is one thing to consider.
Who will find the Cosm chair better?
When you need more firm support and a breathable seating option, then go for the Cosm. It is softer than the Aeron so it may be a great alternative to it. 
And others may love the sleek and fluid design, but the intuitive back and lack of adjustable features may make it comfortable for a select number of people, especially when used for longer hours.  
And the subtle rocking motion of the Cosm is also indulgent, it can inject micro movements within the day, and it rocks naturally too.  But keep in mind that it is, as we have mentioned, subtle.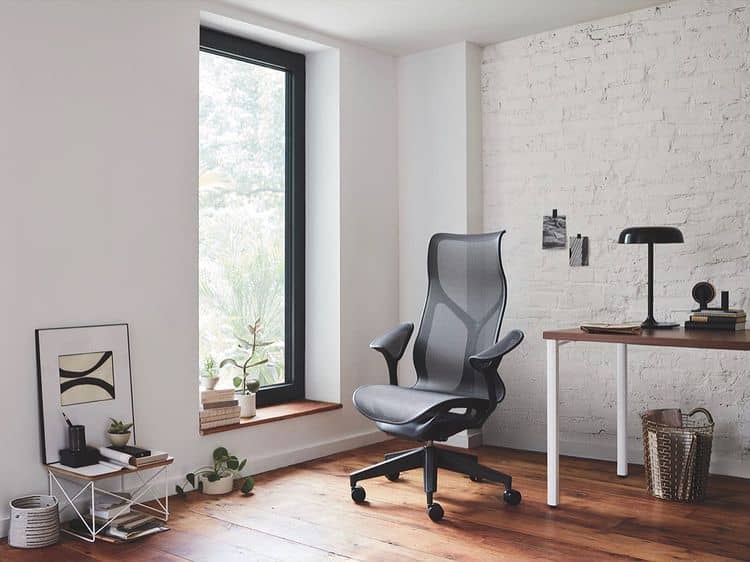 You will not be able to rock it back and forth or recline it.
With this said, this chair will not be able to keep you upright or locked in a recline.   It will, however,  softly move you back and forth. 
And this can be good or bad. If you need to do task jobs, then it's a no-no, for you will not be able to keep yourself upright. It will not also indulge you in a relaxing recline. But this chair is fit for those who move in their chair within the day. 
 Also, the sleek design may make it look enticing for tall people, given the high backrest. But as we have mentioned above, it is not for taller users as the fixed seat depth is too narrow. Thus it's best used by those who stand until 5'9". If you are 6 feet above, your legs will not be comfortable. 
Conclusion – Freedom may appeal to more people
Both chairs have unique features that you may find in only steeply-priced units. But more people will find the Freedom chair comfortable for long hours. It may have a more universal appeal and usage.
The Cosm, on the other hand, can also be comfortable for a full day's work, but it's not everyone's cup of tea. But if you do find it suited to your needs, you'll see it as a gem.