Standing desk mats, also called anti-fatigue mats are the perfect match to your standing desks. These mats can reduce sore and tired feet. Thereby, it can increase your productivity. You might even forget that you've been standing for hours already. 
Standing desk mats are of two types- flat and non-flat mats. We have reviewed 5 of the best standing mats that can make your working environment more comfortable. Our list contains a combination of flat and non-flat mats.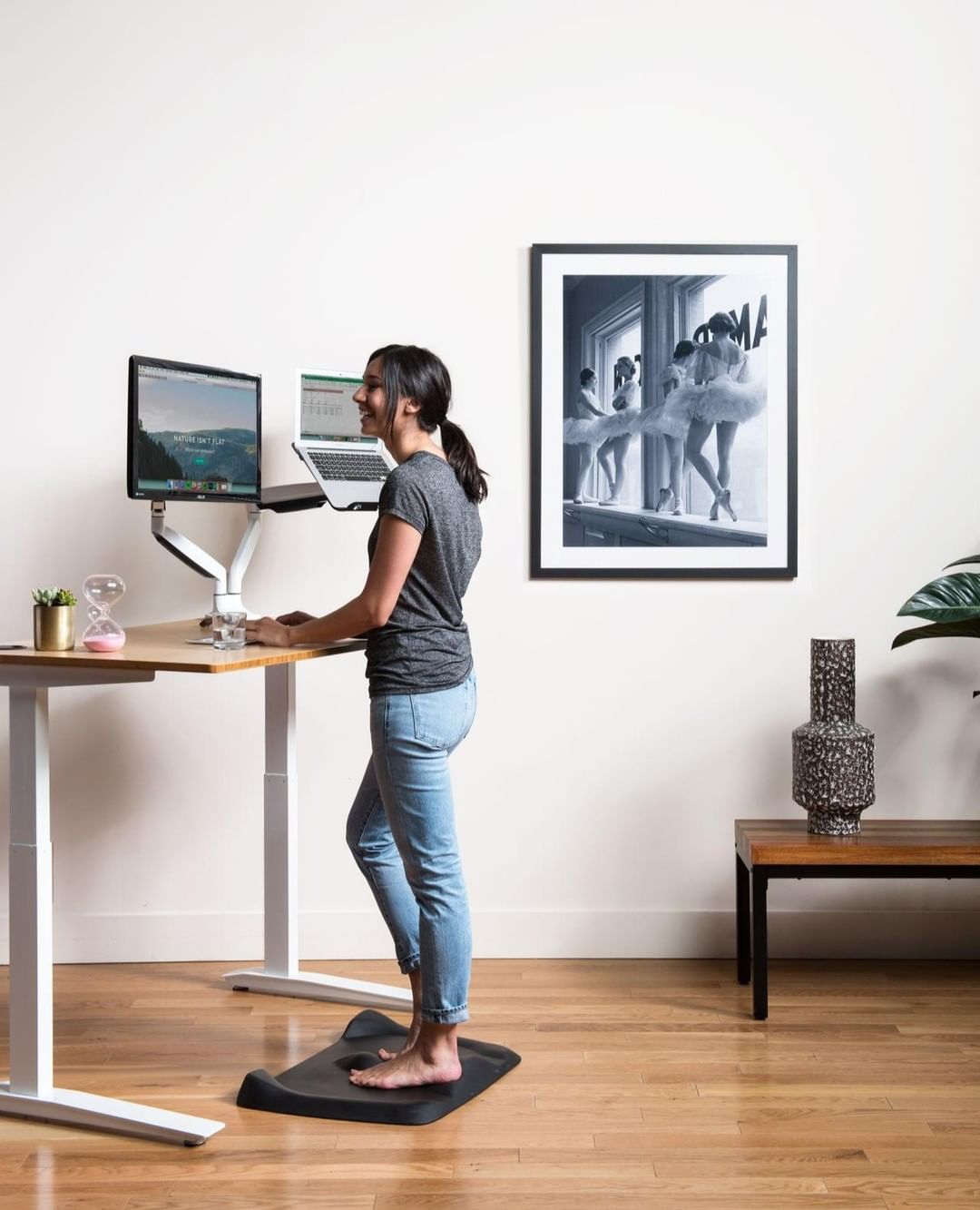 So let's dive into the details & see what brands made it to our top list.
These anti-fatigue mats can provide the utmost comfort for your feet and legs. Consumers often compare it to standing on clouds. It's quite soft but it can still give you the support you need for your feet and legs. And it has every convenient feature that you might be looking for in a flat mat for a standing desk.
For one, it's made of a skycore PVC foam. The thickness is about 3.4 inches. This will provide your feet and legs the needed support. And it has the right thickness.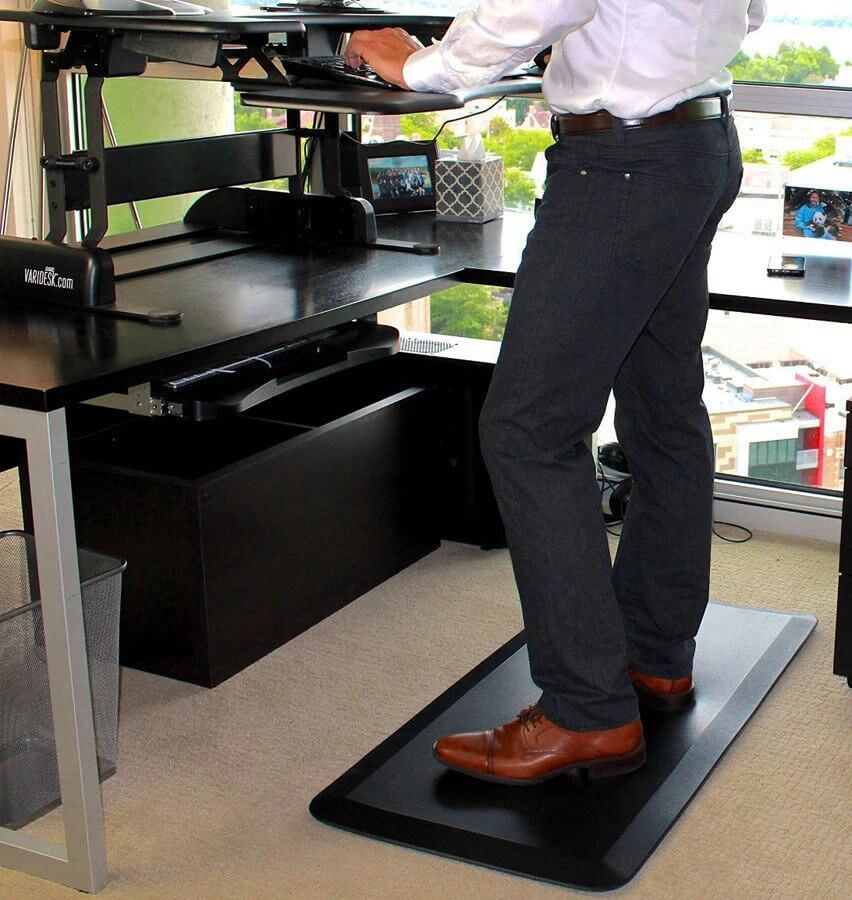 In addition, it's a super comfortable flat mat. You can stand on it even without shoes or socks. Also, it can soothe your aching feet and legs.
Furthermore, this product has several safety features. First, the seamless low beveled edges allow you to step on and off the mat without tripping. And secondly, it has a non-slip base. So the mat firmly attaches onto the ground. Slipping is a common problem for most mats. And this product minimizes, if not, removes that danger.
In addition, you'd also be getting more value for your money. It doesn't curl up at the sides and it can retain its shape even after years of use.
Overall, it's an affordable flat mat that's really comfortable. And it has several safety features too. It's perfect for those who tend to trip over their old mats. The tapered edges of this product will lessen the risk of accidents. 
Pros
Soft but can provide support at the same time

Easy to clean

Sturdy and thick

Low beveled edges

Anti-slip base

Affordable

Has a lot of color options and sizes to choose from
Cons
Not puncture-proof

Some users find it too firm

Has a strong chemical smell
Where to buy
The Gel pro-Eco anti-fatigue mat can help you lessen the compression on the spine by enhancing flexibility.
This product is made with  ¾ inch thick polyurethane foam. This type of material has a bounce-back memory. Thus, it can increase flexibility and lessen the risk of injury.
Another advantage is that it's made of high-grade materials. So this mat will never wear down.
In addition, it has a great cushion that can relieve your aching feet and legs. And if you're accident-prone, rest assured that this mat has your back. The non-slip backing and beveled edges reduce the risk of accidents. 
In a nutshell, this is one of the best flat mats that can give you that almost perfect amount of bounce. Though it may have one of the highest prices for a flat mat, you're paying more for the quality that you're going to get. So if you have extra dough to shell out, this is a great option for you.
Pros
Made of high-quality materials

Doesn't wear out easily

Bounce-back memory
Cons
Expensive

The short warranty period for its price
Where to buy
If you're looking for more functionality, a non-flat standing desk mat can be your next option. The Terra Mat standing desk mat is perhaps one of the most comfortable and functional non-flat mats in the market today.
A personal trainer and engineer designed this product. So all the 3D features have special functions. First, the full balance bar at the front helps you work out your core while you're working on your report. 
Second, it has acupuncture pressure peaks and massage mounds. These features stimulate your feet. And thus, taps your body's natural healing process. So it can effectively help relieve the tension that results from standing all day long. And it also has a support tack. It helps you maintain stability by stretching your hip flexors. 
And lastly, it has a power wedge. This allows you to stretch your calf hereby releasing the tightness and tension. All of these features allow you to work comfortably while standing. And it lessens the risk of injuries too.'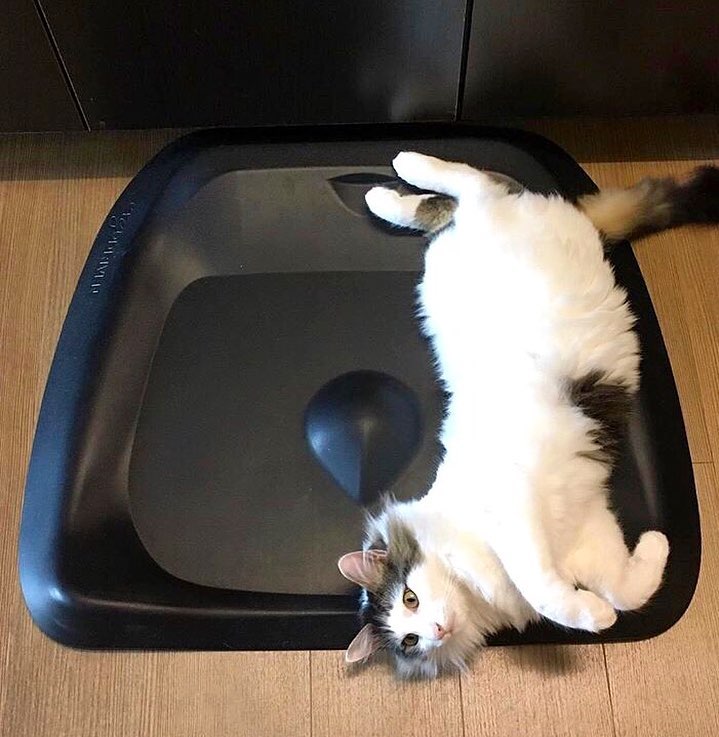 You'll also be happy that it has a wider mat than the competition. So you have more options for changing positions. Hence, it makes you more comfortable and productive at work. 
In conclusion, this is a durable mat that's best used barefoot. You might want to take advantage of all the benefits of its 3D features. It's perfect for prolonged standing. And the varying topo features allow you to stretch and relax your feet in between conference calls
Pros
Has 3D features

Larger surface area

High-grade polyurethane material

Super comfortable when used barefoot

Can massage and stretch your feet at the same time
Cons
Expensive

 May be too firm with shoes on
Where to buy: 
This butterfly non-flat standing desk mat may be the most ergonomic mats in the market today. It comes in a butterfly-shaped mat that can give a quirky twist to your working space. Hence, it surely lived up to its name. 
One of the biggest advantages of this non-flat standing desk mat is that it has several massage points. It's like a built-in foot massager, this relaxes your feet and stimulates blood flow. On top of the various massage points. It also has a teardrop-shaped hump at the center. You can give your ankles a nice massage.
Furthermore, it's a treat for your tired feet. It's even perfect for those who are suffering from plantar fasciitis. The various ergonomic positions will massage your feet. You won't even notice that you've already been standing for hours.
It's easy to slip this mat under the desk too. You don't need to hold it. It has a hands-free design. So all you need to do is lightly push it under your desk with your feet.
All in all, this is a great product for those looking for a more ergonomic position. It's also highly recommended for those dealing with plantar fasciitis. Standing for an extended time won't feel like pins and needles anymore.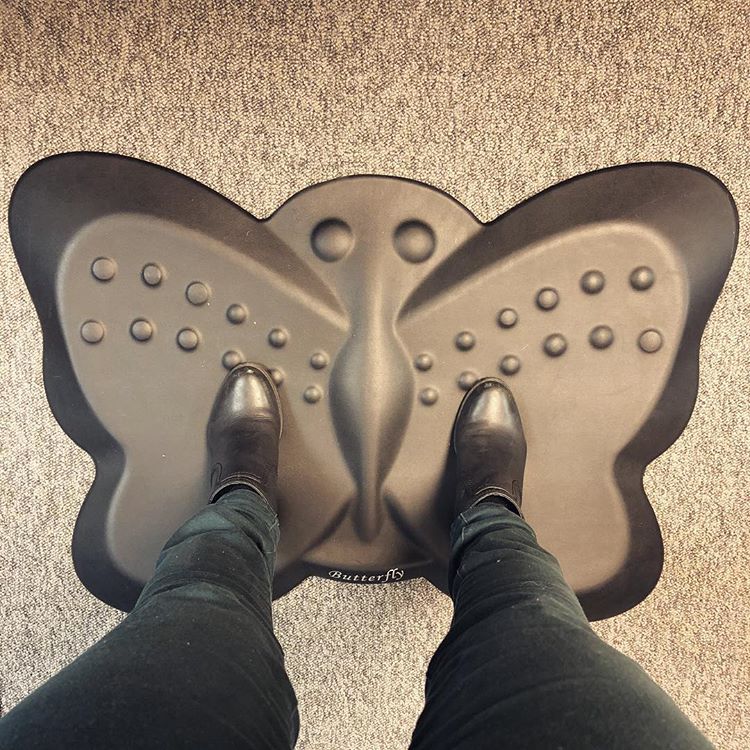 Pros
Perky butterfly-shaped design

Beveled edges

Lots of massage points

Various ergonomic positions

Hands-free design
Cons
Not for those who are on the heavy side

The massage points may not be for everybody
Where to buy
The CumulusPRO is one of the most comfortable standing desk mats if you do not want to remove your shoes. It's free of bumps, massage points, and ridges that could feel a bit awkward when you have your shoes on.
It's 97 percent thicker than the regular mats. So that makes it durable and perfect even with shoes on. One of the biggest advantages is its cushion core technology. It reduces stress and foot fatigue. So you can work longer hours without sacrificing comfort and your health. 
One more advantage is that it's made of eco-friendly materials. It won't reek of any chemical smell or fumes that can be harmful to your health. 
Moreover, the beveled edge designs keep you safe from tripping. In fact, it has been certified by the National Floor Safety institute Chiropractic Association Partner. So you're assured of the quality of the cushions. Nothing but the best for your tired feet and legs.
In conclusion, it's a basic mat that's recommended for those who don't want to take their shoes off. It provides a very nice but firm cushion for your feet.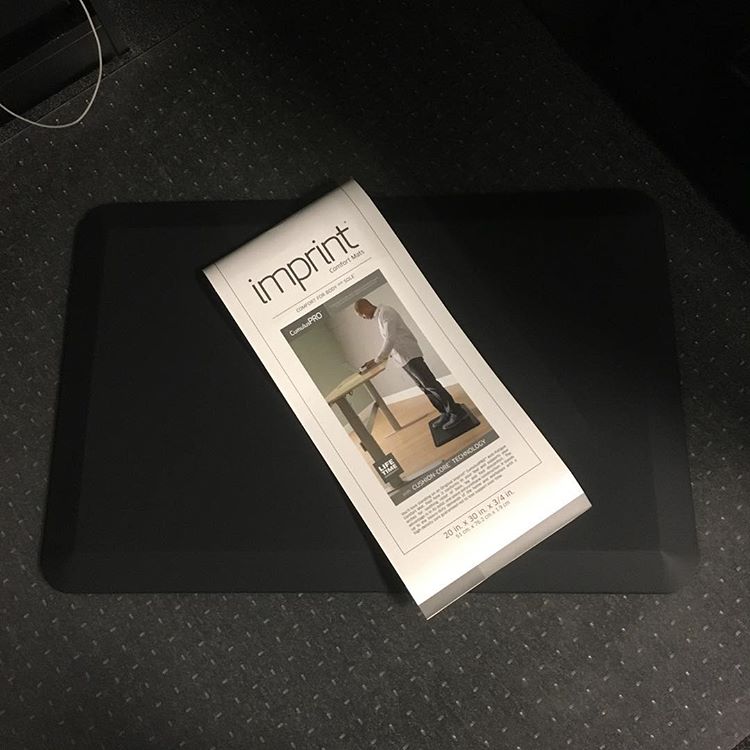 Pros
Comfortable cushions

Easy to clean

Made of eco-friendly materials

Puncture proof
Cons
Where to buy
Conclusion
We hope you found the best match for your standing desk! These anti-fatigue mats can level up your working environment. And your feet will thank you for it.