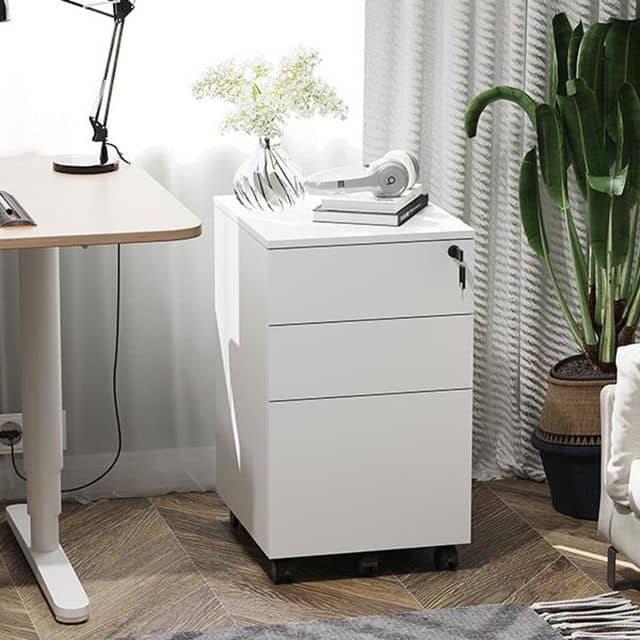 Devaise is a filing cabinet that may offer more muscles. Despite the reputation of China-made products, we were surprised that it can have more going for it. Though it does not belong to the premium tier of filing cabinets, some of the brand's units have some heft to them. So it can be a good choice for your home office. Let's see now, shall we? We will also enumerate some Devaise filing cabinets that might interest you. 
The brand manufactures an array of different types of furniture and gaming desks. Though it's more known for its range of filing cabinets. The brand's key mission is to manufacture functional home and office furniture. And at the same time, their units and models are also thoughtfully crafted. And some can be durable too.
Devaise Slim 3 drawer cabinet – Best for small documents
This is a compact and sleek filing cabinet that can easily fit under your desk. It's an easy and convenient solution for storing your important files near your desk. If you need an efficient workstation, this filing cabinet will give you easy access to your paperwork.
It has two types of storage. The first compartment is a stationary tray where you can keep pens, pencils, and other small things. But you also have an option to remove the tray and use it to store more files instead. While the two drawers can hold your letter-size documents and A 4 size folders. 
And this cabinet is equipped with locks so you can safely keep more valuable files. And it will not tip over because you will not be able to open two drawers at a time.
Design-wise, it looks sleek and well made. This cabinet is pretty hefty and looks well made. And we love that the edges are closed. So tiny critters will not be able to gnaw at your papers and files.  
Also, the drawers can be pulled all the way out, so you can use the back part to store more files and still have easy access to them. It closes snuggly and it's also very easy to open. And it comes with hanging rails. But you might need to reinstall or install a different one depending on the type of folder if it's a traditional or a legal one. 
The downside is, you will not be able to store your files horizontally, it's short by 2 inches. This filing cabinet will only allow you to keep your files lengthwise. So this can be a great concern for some.
Overall, this Devaise cabinet is at the perfect height to be placed under your desk. It can also be used in your living area where you can keep some of your more important things. This file cabinet is not just all about the looks, it is pretty durable too. That's why it was also able to hold itself properly during the shipping.
Features
Interlock Key system

Comes with two keys

2 utility drawers and one stationary tray

Made of alloy steel

Weighs 38.6 Pounds

Comes with 1 hanging-file drawer with a removable hanging bar 

Suitable for legal and A4 size file folders.

Has 5 caster heels

Max capacity of 330 lbs

Measures 11.8″W x 17.7″D x 23.2″H
DEVAISE 3-Drawer Wood File Cabinet – for those with larger storage needs
Now let's go bigger. Go ahead if you find the number one Devaise file cabinet too small and need more space for your files and other things. This mobile 3 drawer wood cabinet from the brand may fit your requirements.
It doesn't only come with 3 drawers, this model consists of 2 open storage located opposite the drawers. It also has a rather wide space on top where you can put your printer and other stuff.
It consists of two small drawers and a larger drawer at the bottom. So you have more space to keep your large documents and files. 
And this can be quite big, but we did find it very easy to assemble. We do love the entire look of the cabinet. But when we took a closer look at the material, the particleboard or MDF material is quite thin. Though the cabinet can hold a printer, we recommend not to overload it too much because of the thin MDF material and a lower weight capacity of 150 lbs. 
Durability-wise, it can last for some time But it will suffice for light duty or medium duty requirements. But when it comes to storage space, this Devaise cabinet will have more room than you might need. 
It's also quite versatile and can even be used as a bedside cabinet. Overall, this is a decent and large drawer that provides extra storage. Though the material is not the most durable, the price is of a fair play,
Features
Weighs 56.45 Pounds

Made of particle wood and MDF

Weight capacity of 150 lbs

Equipped with four wheels

Measures 32″W x 16″D x 26″H
DEVAISE Lateral File Cabinet with one large drawer – Best lateral filing cabinet with more storages
If you find our number 2 options still lacking storage space, this lateral file cabinet will indulge you. It offers not just three additional storage spaces, it has four. The open storage spaces are located at the top. And it has one bigger closed drawer at the bottom where you can file your larger docs. 
In addition, as the Devaise cabinet number 2 has, it also has a space on top where you can put more office supplies. But this has a higher weight capacity so you can store more
Also, this is one gorgeous filing cabinet. It even looks too lovely to be confined in just your home office. It will also be a lovely centerpiece in the living room. So despite having only a single large drawer, you'll find it suitable if you don't need to categorize your bigger files and just need a big and deep drawer to hold them. The drawer is pretty deep and measures 9.4 inches too.
The downside is, it's not easy to set it up. Though you may find the directions easier to follow compared to an IKEA manual, it's not the easiest either. You may need more than two hands to set this hefty lateral filing cabinet. Some even commented that you have to really love doing DIYs to find the assembly fun and easy. 
Overall, this is a heavy lateral file cabinet with lots of open storage spaces. All the materials used look and feel premium and of high quality. 
Features
Has a cherry finish

 Large bottom cabinet with 2 adjustable rails

Suitable for letter, legal, A4 size files

One large cabinet and 4 open storage spaces

Made of eco-friendly and scratch-resistant wood

Measures 29.5 x 15.7 x 30.7in
DEVAISE 2 drawer mobile file cabinet – best heavy duty 2 drawer file cabinet 
Mobile cabinets are a thing nowadays. It doesn't only look sleek and compact, it is also very easy to move. So you don't have to drag around a big and bulky cabinet if you're moving rooms. 
As we have mentioned earlier, the Devaise 3 drawer mobile file cabinet is a perfect fit under your desk. The sleek and compact unit is also eye candy. 
But if you need a smaller filing cabinet this 2 drawer mobile cabinet is a great fit for you. It looks exactly like our number one Devaise cabinet, only that it has 2 drawers instead of 3. Also, it only has one lock that secures both drawers. 
This may be a small and compact unit, but it can hold a heavy 200 lbs. The two drawers are quite big and can be pulled all the way out. And oh, like the Devaise cabinet number 1, this also has 5 wheels. And this is what sets this model apart from the other cabinets of the brand. This also makes them stand out from the rest. The fifth wheel ensures that the cabinet will not tip over. 
Also, this unit looks durable and well made. The edges are also closed so you don't have to worry about insects, especially cockroaches. This cabinet may also come out with a steep price.
Features
Weighs 42.51 Pounds

 2 file drawers

Can accommodate letter, legal and A4 size

Comes with hanging folders

Weight capacity of 200 lbs

Has 5 caster wheels

Measures 15.4″W x 18.9″D x 26.6″H

Made of iron
Our thoughts on Devaise file cabinets
Devaise cabinets seem to hold up pretty well. We have reviewed Lorell cabinets earlier and we have discovered that they had lots of shipping problems. And with a not-so-hefty build like Lorell's, it's bound to incur some dents and damages along the way. Although a better shipping service can lessen the occurrences.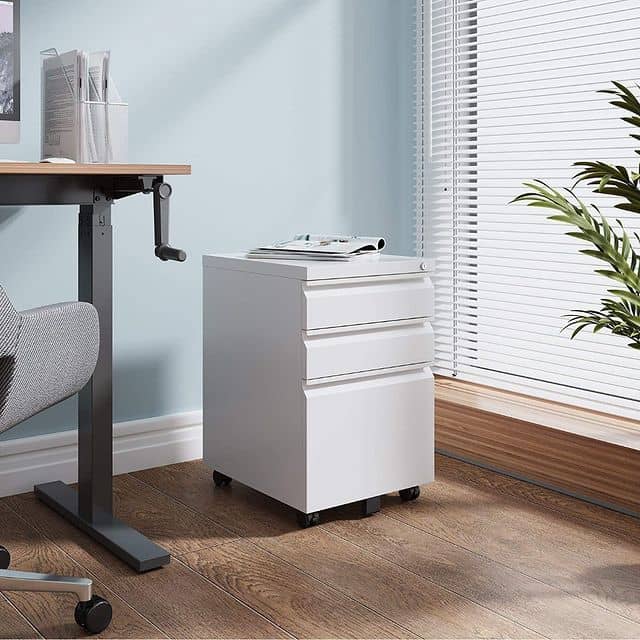 Devaise file cabinets, on the other hand, are more durable and sturdy. These units seem to hold pretty well during transit and ours came without any dents. Also, the brand manufactures a range of filing cabinets and offers more options. You can choose from metal filing cabinets and those that have open storage. Some models are quite gorgeous and can be used as a focal point in the living room. 
As for the price, it's a mix of things. There are affordable Devaise file cabinets but there are also steeply-priced ones. So the brand has an apple for everyone.