What are task chairs? These are more lightweight versions of ergonomic office chairs. These are chairs that you can easily slide underneath the desk. So you can expect that these will offer less adjustable and ergonomic features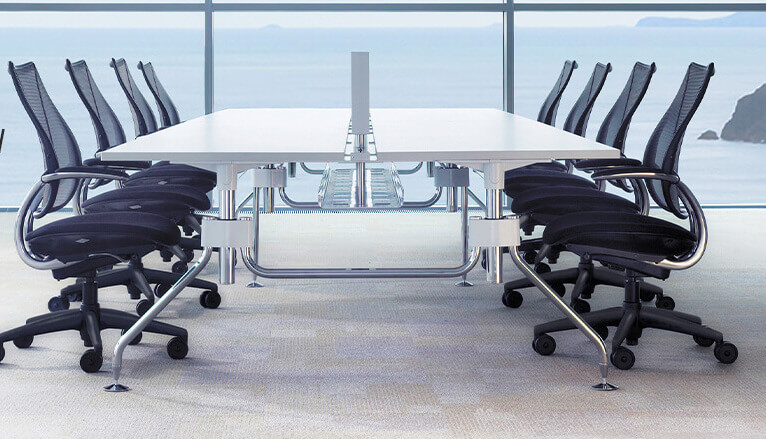 So why would you only want one? Because there are still very comfortable task chairs in the market. And you'll be surprised that some can even offer several adjustable features. And some may offer a better seating experience. So let's go ahead and see what we have lined up. 
Human Freedom Task Chair
Recently, Humanscale introduced their *newest* task chair made with recycled ocean plastics: Liberty Ocean. Each chair uses almost 2 pounds of reclaimed fishing net material. But in the market at the moment, the Freedom task chair still is the client favorite when it comes to the best task chairs with solid seats and armrests.
Mention the word freedom in a chair, and we are loving it already. The Freedom ergonomic chair is a very unique and intuitive self-adjusting chair. So can we expect the same uniqueness with a Freedom Task chair?
Yes indeed. Like its ergonomic counterpart, this task chair is designed to adjust itself. This chair readjusts itself to conform to the comfort of the user and not the other way around. But like the Freedom ergonomic chair, it either fits you or it doesn't. But if it does, you can find it very supportive on the back and it follows your every movement. 
It feels rather flexible for a task chair. Task chairs are often seen as the more inferior seating solution compared to an ergonomic chair. But you really will not feel like that when you're sitting on this Freedom task chair, well, for the price of course you will not!
And it does have a recline function, something that's not too common in a task chair. Also, the armrests are adjustable and it feels solid and stable. There are no wobbles and no shaking. Both the backrest and the seating area are made of sufficient padding foam. And we love how the backrest has this nice contour that feels nice and supportive on your back.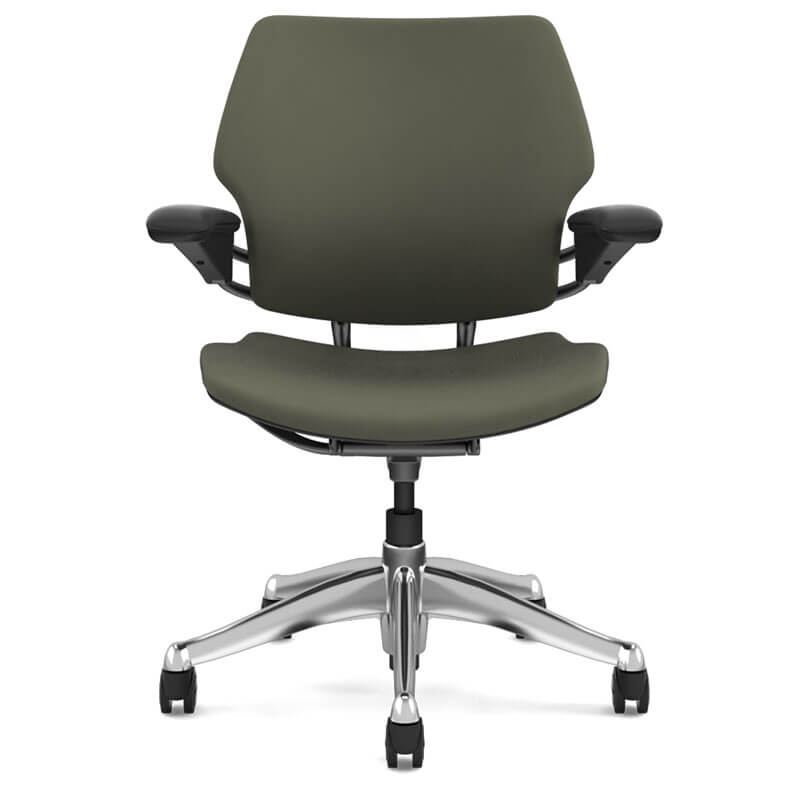 And oh, this is one of the more adjustable task chairs. Aside from the armrest, you can also adjust the seat and the backrest separately. And another unique feature of this task chair is that the padded seat and backrest have this different type of fabric. It has antimicrobial properties. So you don't have to worry if you sweat, the chair will take care of itself.
The downside, however, is that as the Freedom ergonomic chair, it's either a perfect fit or not. But overall, it ticks all the boxes on our list of what we are looking for in a task chair. The seat and the arms are very solid and can take on a hefty weight. 
Setu task chair
The Setu task chair is a lovely, simple, and lightweight chair from a renowned brand, Herman Miller. So needless to say this is a very gorgeous and minimalist task chair. It doesn't offer many adjustable features like the Freedom task chair. But we do find it very comfortable and it offers more customizable options.
The arms are fixed and it's made of a tough plastic material. And though it's not padded it feels decently fine on the arms. You also have an option to buy it without. Also, the seat and the backrest are made of a different kind of mesh material, Lyris. This is a more flexible and breathable type of mesh. So this is perfect for working in a hot office or where there is little ventilation. Though you also have the option to have it in fabric upholstery, we do over the Lyris material better and more worth the price. 
But despite the lack of adjustable features, the design and shape of the backrest lend very nice support for the back. The seat, though not padded, also feels very firm on the butt. We find this task chair very comfortable for working long hours.
The downside, however, is that the Setu is quite narrow. Actually, the entire chair is built for aggregate size to petite users. Those who are hefty will not fit onto this chair. Beautiful you do fit into it, you will find it very comfortable. 
HON Exposure mesh task chair
The HON Exposure task chair offers more adjustability options at a very affordable price. And it also offers a combination of a cold mesh backrest and a cushioned seat. The padding of the seat is between too firm and too soft. So it can be comfortable for more people because it does have a firmness to it. And though it does not offer a cradling hugging in kind of comfort, we still find it comfy for the whole day's work.
Also, the padded seat is a bit thick and we are happy at how well it can hold its shape. It doesn't seem to sink easily. So you'd be able to enjoy the firm cushioned seat for longer. 
As we have mentioned earlier, this is pretty adjustable for a task chair. You will be able to change the height of the seat, the seat width, and you can tilt it. It can even be reclined, and it features a synchro-tilt function, a more sophisticated type of tilt. Also, the arms are two-way adjustable. They are made from plastic and have a little bit of cushion on them. Though it's not the comfiest, it does feel steady and does not shake from side to side.
But the seat may be too high for petite people. So that's one thing to note.
Overall, this is a great budget-friendly task chair. It's pretty adjustable too. And the seat and arms are pretty stable and firm. Though do not expect a luxurious seating experience that you can have with a Herman Miller or a Humanscale task chair. It is not all indulging, but it will be comfortable enough for several hours of work. 
Flash Furniture task chair
This Flash Furniture task chair looks sleek and sexy. It has a combination of a curved mesh backrest and a decent padded seat. 
The arms are flip-up type. We actually find it very comfortable despite the lack of adjustability. The padding feels cushy and the arms are steady and will not sway. It is also a very functional task chair. It feels sturdy and strong for its price. You can even tilt it and rock it back. It also has great lumbar support. So this task chair can lend nice support for your back
The seat is firm but not too firm. It has a decent amount of giving. It can be a bit cushy and comforting. But what we love most about it is that it doesn't flatten easily despite that. We reckon the padding will be able to hold its shape for some time. It feels like it can spring back up once you arise from the chair. 
The downside is, the chair might be too short or too small for large users. Those who are of average size or even petite users will be able to find the Flash Furniture task chair the most comfortable.
SYTAS task mesh chair
The SYTAS task mesh chair looks very modern and streamlined. The all-black mesh backrest and cushioned seat just look more expensive than its price tag. And there is more to it than just looks and the sweet price tag.
It has a contoured backrest. And when combined with the lumbar support, you can find a more comfortable position for your back. The seat has cushioned padding and it feels quite soft. But at the same time, it doesn't sink even when 200 lbs grown adult will sit on it. The padded seat can hold its shape well, yet it doesn't feel too firm. So it can be a sublime comfort for your butt.
As for the arms, these are flip-up arms. They also have a bit of cushion. So though it's not adjustable, it is quite comfortable and pretty solid and steady. 
All in all, this is a great option if you're looking for a more cushy cradling type of comfort. The seat is just one of the best cushy comforts in a task chair. You also get to enjoy a few adjustable features, so it's a real value for your money.
Final Say
These task chairs can even replace your old ergonomic office chair. Tasks chairs nowadays are looking more and more like their superior counterparts. That's why they can really be a great seating solution for working long hours. 
The Freedom task chair is a premium choice and offers more adjustable options. But if you want a minimalist yet posh setting experience, the SETU chair from Herman Miller is a fine choice. Despite the lack of adjustability, it is very comfortable. Also, the HON Exposure task chair has 2-way adjustable arms and offers a more comfortable seating experience at a fair price. And lastly, the Sytas and the Flash Furniture task chair have rather affordable prices. And at the same time, they are pretty functional, and the seat holds itself up well. But you favor a more cushy seating option, the Sytas task chair is a great choice.