It's hard to find a decent office chair that will not break your back if you have a budget of under 100 dollars. 
Let's face it, it really seems like an impossible task. You might be able to spot a handful, but they share a common denominator. Most of these units are not for tall and heavy users, most are even for skinny ones with smaller dimensions. Mostly have defective or subpar wheels
But our top picks are the most decent out of them all. When used as recommended,  you'll still find value in them. 
Budget

Office Chair

Seat

height

Seat

width

Seat

depth

Weight

capacity

SMUGDESK

17.32-

21.46 

21"

17.5"

300 lbs

Max 21"

20.2"

16.5"

275 lbs

Furmax

16.5"-20"

19.2"

19.75"

265 lbs

DEVOKO 

Max 19"

18"

N/a

280 lbs

Warminster

Chair

17.5"-

21.5"

18"

16"

200 lbs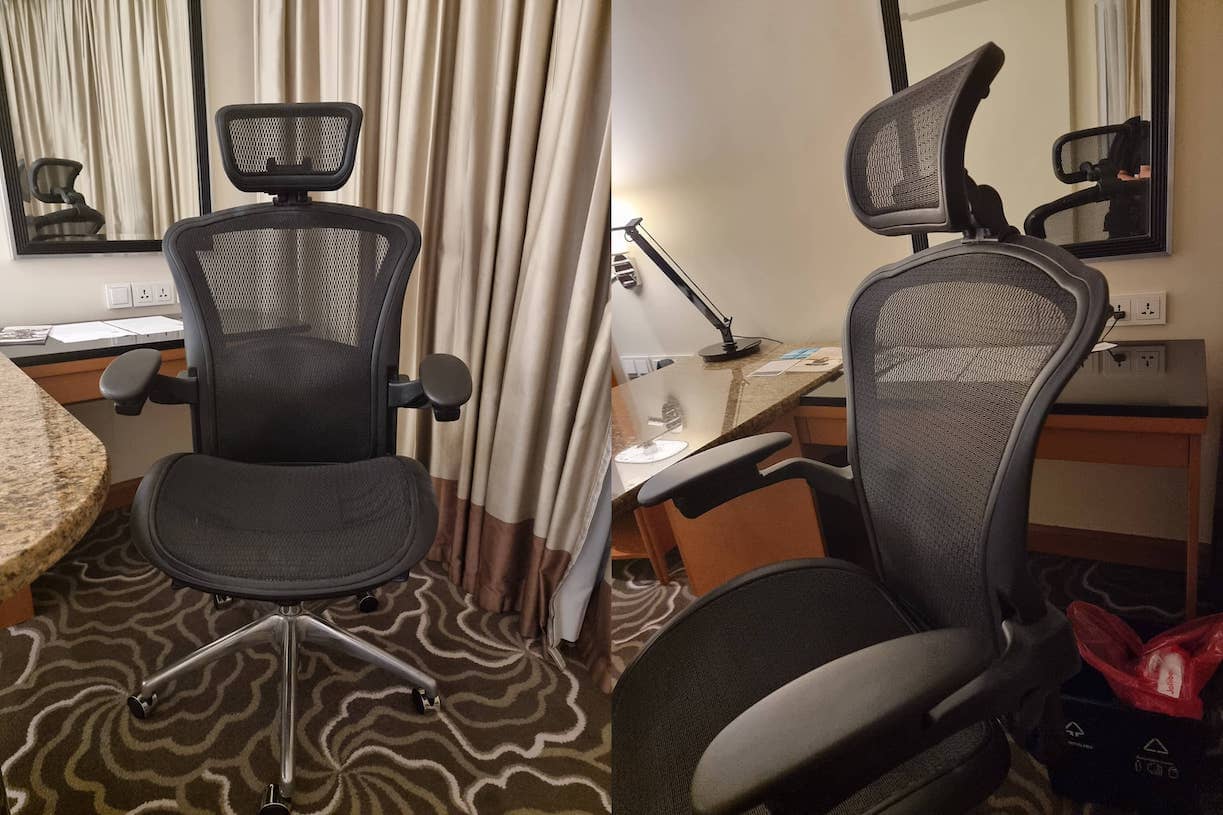 SMUGDESK Mesh
Coming in at a very affordable price, this has a nice set of ergonomic features. It's rare to find a comfortable, aesthetically pleasing, and cheap office chair that has multiple options to tune your seat comfort. 
It has a mesh backrest, so you will also find this cozy even during the hotter months.
And did we mention that it has a headrest? It's also adjustable and made of mesh. The mesh material is not rough and borderline soft, so it will not scratch your neck raw.
Let's see all the ergonomic features of this chair. 
It has a rocking motion, it has multiple tilt options, it has ergonomically designed lumbar. So we're pretty happy with the set of features that we get for the price. 
Even the cushioned seat feels nice too, it's just right, not too soft nor too stiff. 
For the limitations, you will not mind since the chair already offers a lot. You will not be able to recline it, but the rocking feature and multiple tilt options suffice.  
And though the entire build of the chair is acceptably durable, the wheels are subpar. So we recommend using a different set of more substantial wheels. That can amp up the integrity of the entire unit.
This also runs slim, so skinny individuals will find it the most comfortable. And it has standard height, so if you are taller than 5'8", this is not for you. The seat will not be deep enough for taller people, even those who have long legs.
AmazonBasics leather chair
This is a midback office chair great for petite users who stand 5 feet tall up to those 5'5". So if you're taller than 5'7", you'll not find this not comfortable. 
The back support piece only goes as high as the middle part of the shoulder blades for those who are taller than 5'5". So it might feel like you're an adult sitting in a kid's chair.  
It looks pretty decent but keep in mind that the cushion is not plush, it's not a luxuriously padded chair. Thus it has firmer support for the backrest and the seat. 
It does not have adjustable lumbar support, but the lower part of the backrest was designed in a way that it nicely cradles the curve of the back. So you can also find it very supportive for sitting for up to 4 hours.  
It can be pretty comfy for those who do not need pronounced lumbar support. But we don't see it that comfortable for sitting for the entire day since you tend to hunch forward once you're seated on the chair.  
Also, the armrests are a bit lower, so this is definitely made for petite people. 
Built-wise, it is rather sturdy and well constructed for its price. You will not hear any creaking sound when you're seated. 
Furmax office mesh chair
The best part is that the overall construction of the chair is rather fine. It does not feel cheap or flimsy even if the chair has mostly plastic parts. 
And it does offer subtle lower back support. The winged shape at the mesh backrest has a nice contour that pushes your back up in a more ergonomic position. You may also be able to tilt the chair at a decent angle. 
And here are the caveats. The padding lacks depth, it can be on the thin side. Using a cushion can be a solution if you still want this chair. 
But again, not for long hours of sitting. It can be comfy for, say 2-3 hours. The seat is a bit narrow, this is for skinny adults, teens, or young adults. 
We also suggest getting a different set of wheels, this will lengthen the lifespan of the chair. The wheels do have mobility issues and can get stuck.
It has almost the same height range as the AmazonBasics mesh chair. It will be comfy for petite users up to those who stand 5'7" or 5'8". 
DEVOKO
This is a sleek number that can look great in meeting rooms. It looks similar to an executive chair and it may even fool you from afar.
So let's see who will find this chair useful. For one, the seat is rather slim at 18", the slimmest out on our list. 
Therefore this is best for skinny individuals, teens, or young adults. If you have wider hips, you will not find the chair comfortable at all, you might not even be able to fit yourself into it. 
It does have a high backrest and it has a subtle S shape curve. We find it decent to sit on for a couple of hours, but not longer than 3 hours. After all, this is still a task chair with stationary arms. But it can be great for a short time or meetings. Longer than that and you will realize that it is starting to become too firm and stiff. 
That's why this can also be a great complimentary chair. Say, if you have a kneeling chair or one that you can use for active seating. You don't have to spend a lot to give your back a breather. Chairs of this price would suffice if used in conjunction with active sitting chairs 
The chair can go highest at 19", so even if it does have a high backrest, this will best sit petite users to those who stand 5'5" or 5′ 6″.
Warminster Chair by Wrought Studio
This may be a task chair but it does have integrated lumbar support. It may not have a thick cushion since it's not an ergonomic chair that is meant to be sat on for 8 hours, but it is rather comfortable for 3-4 hours of use.
It also rolls along floors easily. But due to the dimensions of the chair, this is best suited for petite and slimmer individuals. It may even be a pretty nifty chair for young girls. 
This is more of a fixed seating option despite the adjustable seat heath. But the integrated lumbar support functions as it is supposed to. This is not for those fidgety ones as the curved shaped seat may be restricting. But it is substantially durable.
These are cheap comfy seating solutions but not for longer hours
There will be limitations to a 100-dollar budget. 
You might not find a chair that can be comfortable for 8 hours of sitting. 
But we have picked models that are rather comfortable and decently strong for 3-4 hours of work.
And we favored those of mesh material or with thin padding. If you have a low budget, do not go for heavily padded ones. 
Trust us, you will not be able to sit on them for even 2 hours.