Fireproof file cabinets definitely cost more than the standard ones. But in terms of protection from fire, these heavy-duty units can provide you with peace of mind. And the best brands can also survive the impact of falling to the ground. So after the ashes have fallen, you may still find your confidential files in good hands.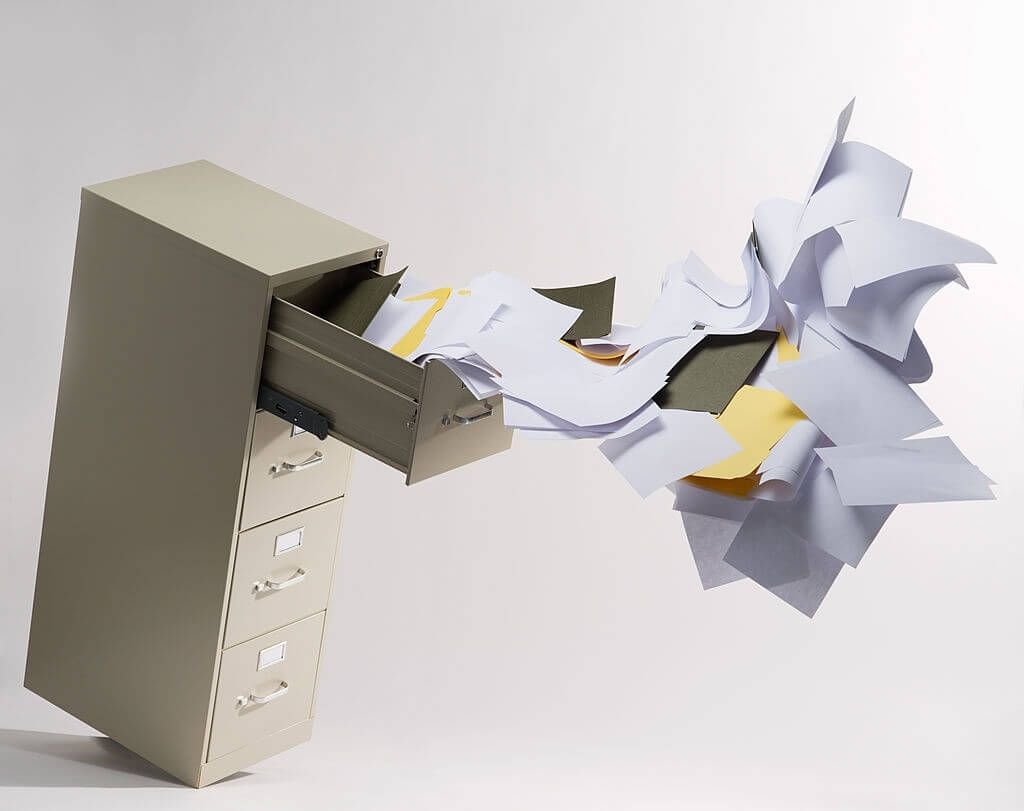 We'll list down 5 of the best fireproof file cabinet brands. our reviews will help you see what brand can best suit your needs and budget too.
FireKing Patriot 2P1825
FireKing is one of the known brands for fireproof file cabinets. It offers a wide range of filing cabinets that can suit your needs. From a two-drawer cabinet to a four drawer cabinet, each unit has been rated to withstand fires and falling. And the brand makes use of dry insulation, which offers better protection for your files and documents compared to wet insulation
So let's take a look at one of its famous units, the FireKing Patriot. Now what we love about this two drawer filing cabinet is that it doesn't look too bulky. Most fireproof cabinets tend to be massive and bulky. The Fireking Patriot looks just like an ordinary cabinet. So it has a solid and sturdy construction without a bulky appearance.
It looks more streamlined than the Sentry filing cabinet. The Patriot is more expensive than the Sentry. But We chose the extra moolah over the convenience of having a well functioning filing cabinet. The Sentry tends to have jammed locks most of the time. 
The lock is perhaps the most important feature of the Fireking Patriot. It's fully functional and it works very smoothly.
We've no complaints about the lock. Also love how each drawer is insulated. So every drawer is a fully insulated unit in itself. This offers more protection for your files and documents.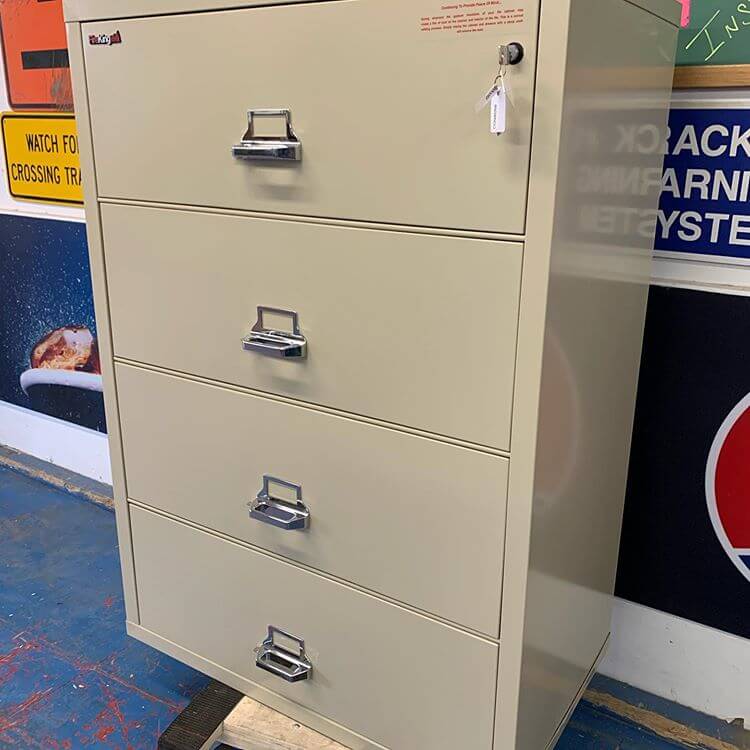 Another FireKing unit worth mentioning is the FirKing Turtle. It's a two drawer filing cabinet that can hold legal and letter-sized documents. It's a great alternative to the patriot if you're looking for a smaller storage solution. And you get to enjoy the same technology.
And FirekIng has perhaps the widest range of fireproof filing cabinets in the market. 
Hirsh Industries manufactures a range of storage solutions for your office and homes. The brand offers both metal and wood cabinets. 
One of their more popular fireproof cabinets is the SOHO 3 drawer file cabinet. What we love most about it is that the drawers are aligned properly. Though the 3 drawers have different sizes, each glides smoothly. There's no friction or cranking sound whenever you access them.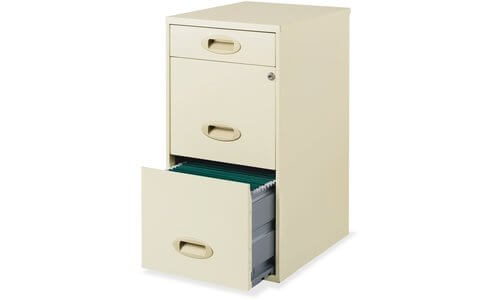 And it offers a large storage space that can accommodate more files. And for 200 dollars, it's quite affordable. It offers almost the same storage solution as the FireKing Fireproof 3 Drawer Vertical Filing Cabinet. Except for the top drawer which costs around 2000 dollars. The top drawer of the Hirsh is quite small. But for the price, it's worth it. 
One feature that we can't say if an advantage or not is the placement of the handles of the drawers. It's positioned at the bottom of each drawer. This one is quite subjective as some people may want to have the handles positioned a bit at the top. We'd prefer if it was anywhere between the top or the bottom
Another slight con is that you can only lock the top 2 drawers. So you can use the top two drawers to store your confidential files and have the bottom for some office supplies. If you want a fireproof cabinet that has more security, you can get one with a central locking system such as the Burton or the Fireking filing cabinets. Though these two brands score a lot higher.
Chubbsafes Fire File Cabinet
Chubbsafes is a manufacturer of vaults and safe deposit boxes. It's one of the known brands that provides secured storage solutions and has several stores across the globe. It also manufactures entrance security for commercial buildings and establishments.
This brand has been in the loop since 18181. And since then, it has been consistently evolving and innovating. The Fire File range of producers is a collection of fireproof filing cabinets. 
What we love about this file cabinet is, of course, number 1, the brand. Coming from a strong trademark, you'll only expect one of the best filing cabinets. It can provide a safe storage solution for your confidential files.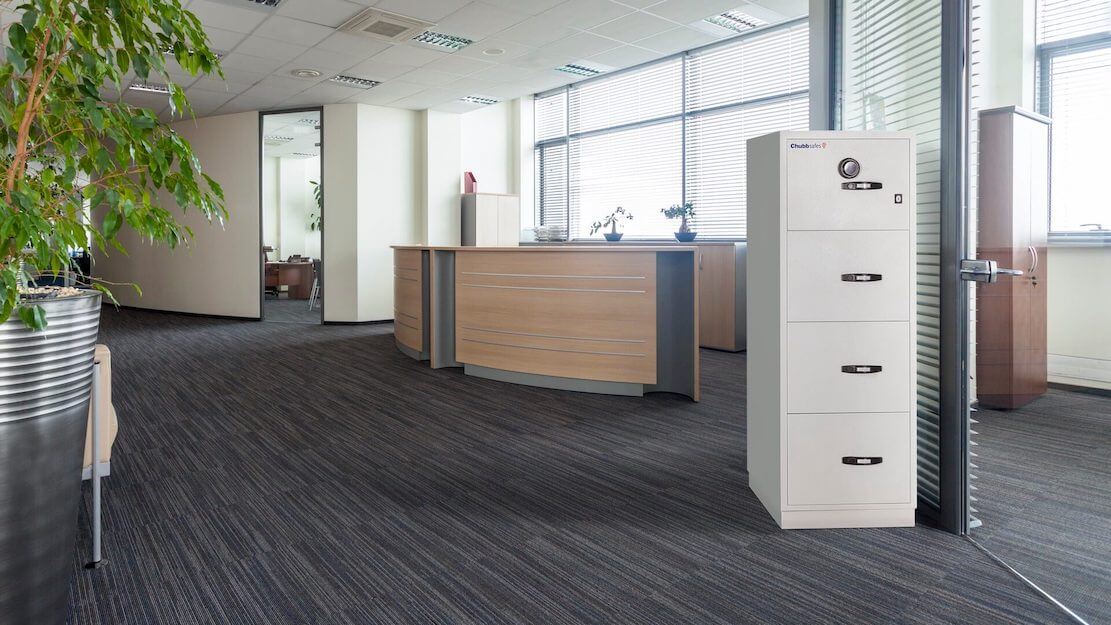 The Fire File range is made of heavy-duty steel, but it's lightweight compared to other durable filing cabinets such as the FireKing patriots. It eases transport and easier to move around the room.
We also love the wide storage space that it offers. And each drawer is insulated. So even if you've left one the drawer open, the others are still protected from fire. Each drawer is pretty much insulated like the FireKing range of filing cabinets. 
And you don't even have to lock each drawer to ensure fire protection, it just has to be closed. 
Its interlocking system serves as a safety feature. Once one drawer is pulled open, you won't be able to access the rest. This prevents the unit from tipping over. There are other lightweight fire-resistant cabinets in the market but it's not as heavy-duty as the chubb safes.
The 6-Drawer Vertical Filing Cabinet from Bisley also boasts of very light construction. But it's not sturdy and has a risk of tipping over. But it sure does have a lower price tag below 300 bucks. 
Chubbsafes has about 5 fireproof filing cabinets. These are 3 drawers and 4 drawer cabinets that have a different orientation. 
All in all, the Chubbsafes might be over your budget, but you're getting a premium filing cabinet. 
From the Phoenix Safe company comes a modern and pristine looking filing cabinets. 
What we love most about this unit is that it looks different from the traditional filing cabinet, It's void of metal handles and it looks so modern. And each drawer has a plunging lock. So you can open one of the drawers but keep the others locked. 

So it can provide more security for your files. And like the Chubbsafes, it's also lightweight and allows for easier transport. And as for the durability, it can survive falling from 9.1 meters. It almost has the same durability score and construction with chubb safes.
You can choose from a three drawer, two drawers to a single drawer filing cabinet. And all have a modern and simple design. It is perhaps one of the most stylish and posh filing cabinets you can find in the market. 
Honeywell is a very large company that manufactures a variety of products. It's also a household name when it comes to air conditioners, safes, air coolers. and a lot more. 
So let's take a look this time at its fireproof filing cabinets, namely the 4 drawers vertical cabinet. Aesthetically speaking, it looks almost the same as other additional filing cabinets with the recessed drawer pulls. But what welike most about it is that each drawer is insulated. It's considered as one insulated unit. It offers almost the same protection per drawer as the Chubbsafes and Phoenix.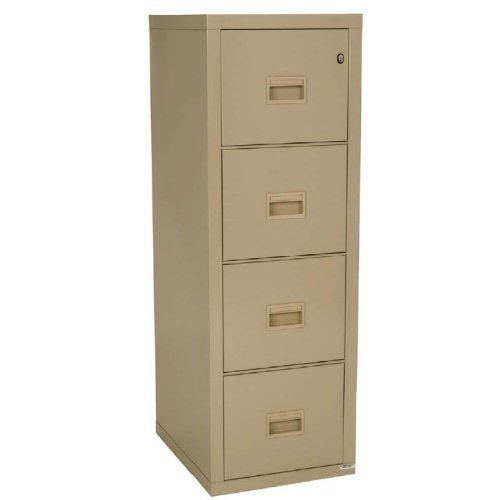 And it's pretty much in the same price range too as the two above mentioned brands. But what sets it apart is that it's also waterproof from sprinklers and hoses. While the Chubbsafes and Phoenix are water-resistant from sprinklers. So Honeywell may offer more protection from water damage. 
But in terms of protection from the impact of falling, the Honeywell doesn't seem to have much of an advantage over the two premium brands
The drawers are fully extendable too. And as for security, it has a 4 pin lock security. So these three premium brands are pretty much in the same playing field. 
Conclusion
The best fireproof filing cabinets don't come cheap. And so are your confidential files. Unprotected documents and files during a natural disaster can mean bankruptcy for our company. So it's really an investment. That's why you often find these heavy duty filing cabinets in big offices and even in large homes.
 Hope you find the best match for you from our reviews!