Even the top office chairs can benefit from a little bit more help. Those who require extra support on their tush may still find these ergonomic chairs lacking. And this support may come in either memory foam or gel. They offer additional amp and comfort when needed.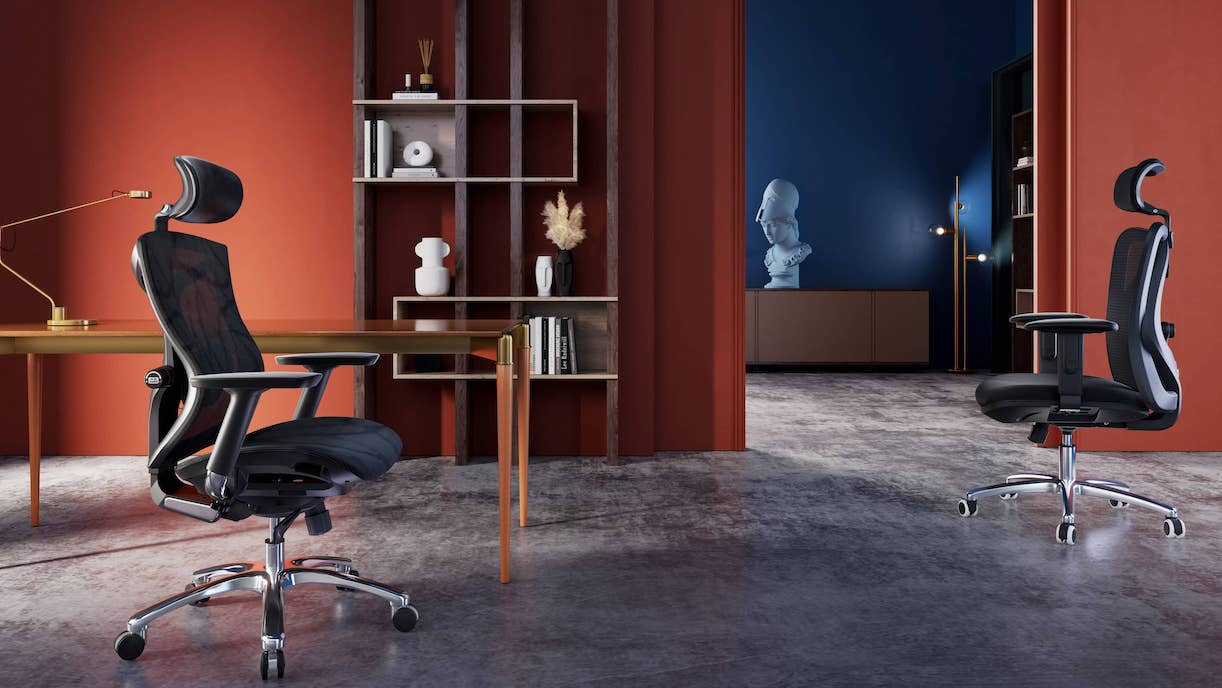 But it can be quite tricky to choose between the two. It can be either you'll do it or you'll hate it kind of situation. Thus, to make the best out of it, you have to either try both or do your due diligence in research. 
Buying both options may not be viable for everybody's budget. And doing more readings can be tiresome and time-consuming. That's why we're here so you don't have to do either if you're not up to it!
Memory foam – the best option for that hug-in-a-mug sensation
This material is one of the comfiest and softest ones that you can put on a seat cushion. Remember the raves on the memory foam mattress when it first came out? 
Everyone's wanting to trade their traditional mattresses for the soft and squishy memory foam feel. And albeit the more expensive price, many have jumped into the bandwagon. Besides, having a good night's sleep is a luxury.
Memory foam is softer and cushier than average foam. It can also provide decent pressure relief. So you can also expect the same type of comfort you get from the memory foam mattresses.
Memory foam can be a great option for those looking for something softer to sit on. But at the same time, it should still be able to provide ample support for your back. 
There's more to it than just the luxurious softness. It can also give better support for your spine. Sit on a very soft cushion that doesn't have enough support, it can cause pain and discomfort, especially if you've been sitting for the entire day.
This is what sets memory foam apart from traditional cushions. It can give you the best of both worlds.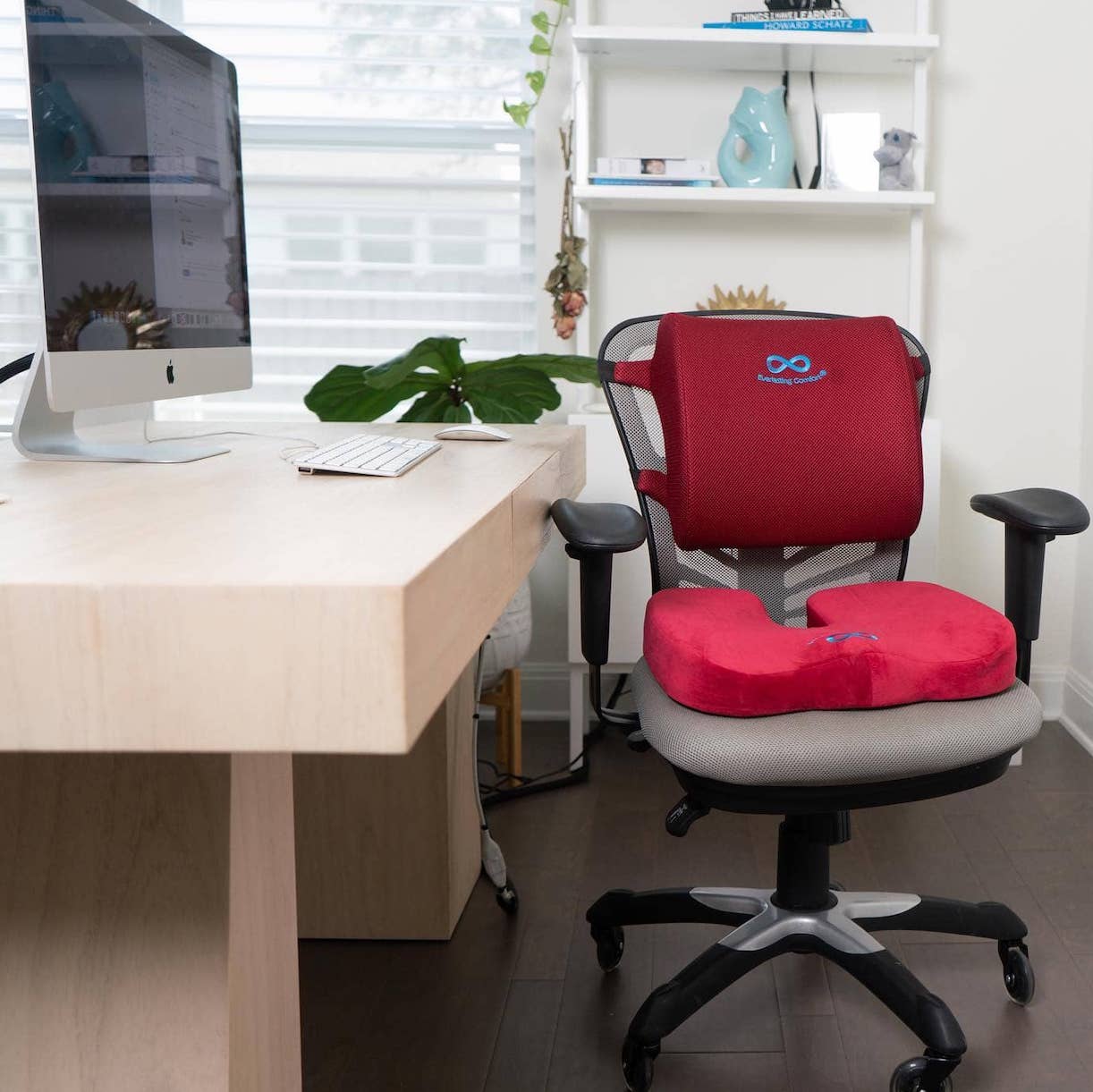 Who else will love a memory foam cushion and who will not?
Aside from being cushy and supportive, there are other instances where it can bring you the utmost comfort. 
If you want to feel warmer
Memory foam is notorious for retaining heat. That's why if you want to feel warmer, it will surely keep your butt toasty and comfy. That makes it great to use during the colder seasons namely winter. It may also be able to adjust to your body temperature, so even in the not-so-cold weather, you may still find it suitable. 
But of course, there are still heavy sweaters. And if you are one of these, memory foam cushions will not be suitable, more so during the summer. 
It's perfect for those who move a lot
Memory foam hugs our butt in the right places. Also, it has sufficient support and can provide that even if you shift your body weight. Thus, it can help prevent pain, especially for those who tend to move a lot in their seats. This material can also help prevent you from incurring a bad back, especially if you've been sitting forever in front of your desk.
It is resistant to allergens
Unlike your traditional office chair cushion, memory foam can deter dust mites and allergens. 
That is why it is also a better option for those who have acute and chronic allergies. Having mites on your seat will be the least of your worries. 
Our favorite memory foam seat cushions
Let's narrow down the best handful. So if you're on the hunt for a memory gel seat cushion, then look no further.
Tempur Pedic Slic
This brand is perhaps one of the household names for memory foam seat cushions. It's slimmer but it already has this contoured shape that your butt will find very comfortable. 
We find that it helps keep your spine aligned at the same time too. So it is a notch higher than standard memory foam cushions. It can give better support and prevent pressure points.
But keep in mind that it does not go as high as other memory foam cushions. So it will not raise you higher than a standard seat cushion would. 
And since it is a bit thinner, this is great for those who are just looking to add a little bit of padding to their seat. 
Xtreme comforts
Now those looking for a thicker seat cushion will find this brand a delightful one. It is a tad thicker than our first option and is great for those looking for a more extravagant seating experience. 
It is also quite thick and wide. But it lacks that type of contour the Tempur Pedic has. So this will be better suited for those who have wider dimensions. 
Expect a more sinking sensation with this. Albeit that, you will still be able to have decent support, though less firm compared to the thinner Tempur Pedic. 
But of course, with a cushier and more hug in a mug sensation comes a hotter temperature. 
This tends to feel more warm compared to the Tempur Pedic. And it might not be able to provide the same level of support for spinal alignment. So we do not recommend this to those who tend to slouch a lot. 
Milliard
The shape of this cushion is quite similar to Xtreme Comforts, except that it is narrow and best for those with standard dimensions. When compared to Tempur Pedic, it is 3 inches thick. So this is more of your average joe. Or so more people may find this type of comfort more suitable to their needs.
This is also quite affordable and easy on the pocket.
The downside? It doesn't feel as supportive as the Tempur Pedic and Xtreme Comforts.
This is perfect for those who are looking to add a few inches of cushion but do not have a great need for the spinal sport. So those with tailbone issues and sciatica may find this not appropriate. 
Why should you get a gel seat cushion?
On the other side of the coin, we have a gel seat cushion. These are often made from ultra-flex polymers. So this veers away from the type of comfort that the memory foam offers.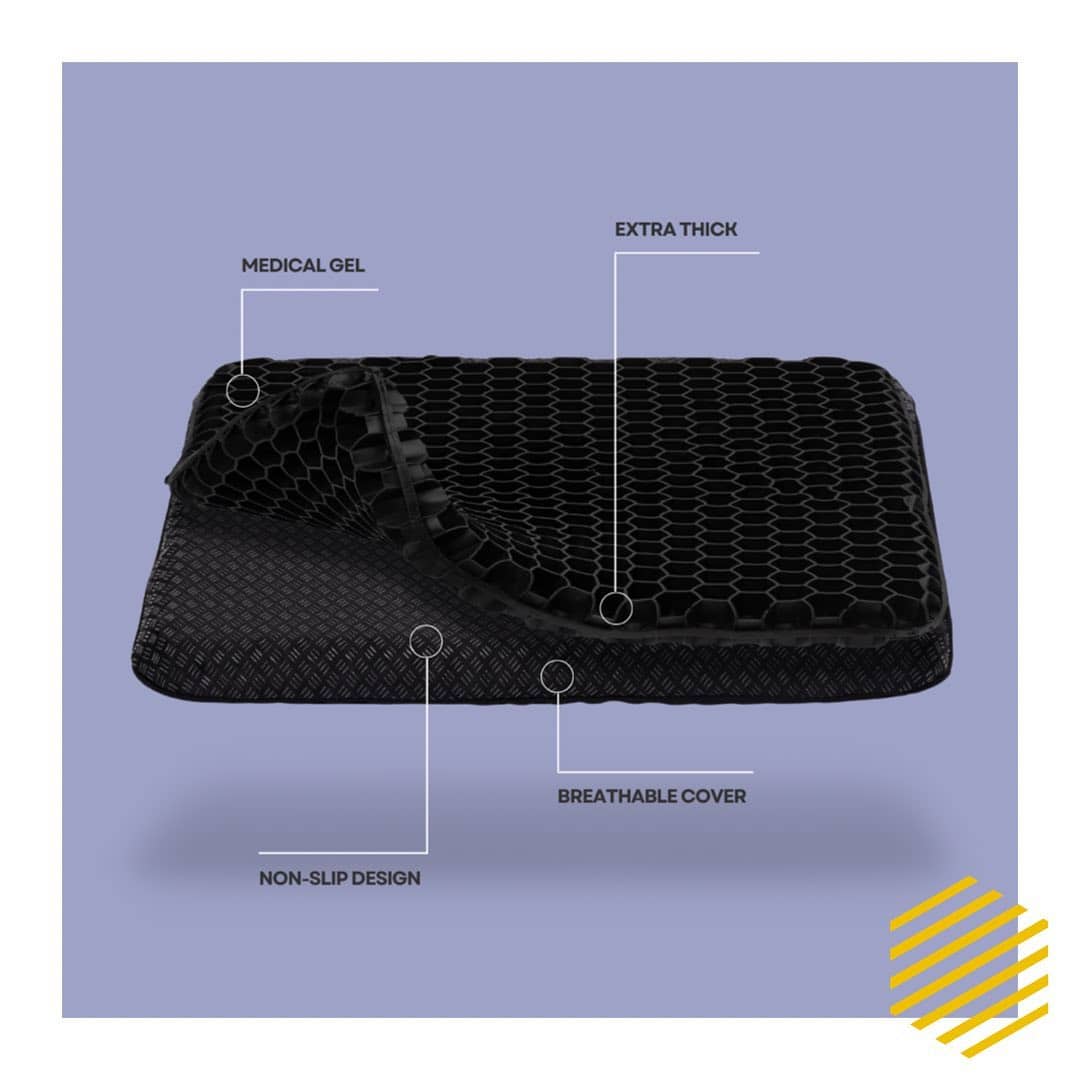 This Is not by any means cushy so it will not give you that hug-in-a-mug sensation.
But what it lacks in cushiness, it makes up for the amount of support that it can provide. 
Memory foam can give your tush a decent amount of support to prevent butt and back pains. But when you need a whole new level of support, gel cushions seem to fare better. 
This material contours the butt and feels great on your tailbone. And these can absorb pressure better than memory foam. 
Who will love gel cushions over memory foam?
If you need greater need for spinal alignment and relief from pressure points, gel cushions are more advisable. 
Thus, this is better for those who are not used to sitting properly in an office chair. The gel will be able to push you more to a better sitting posture compared to a memory. So if you are a sloucher, it will be more comfortable.
Those with sciatica and tailbone pain will benefit greatly from gel cushions.
The gel is cooler than memory foam too. The design of these gel cushions also allows the exchange of air. So heavy sweaters will find these more comfortable. It can also be a great option for summer, should you sweat a lot in your memory foam seat cushion.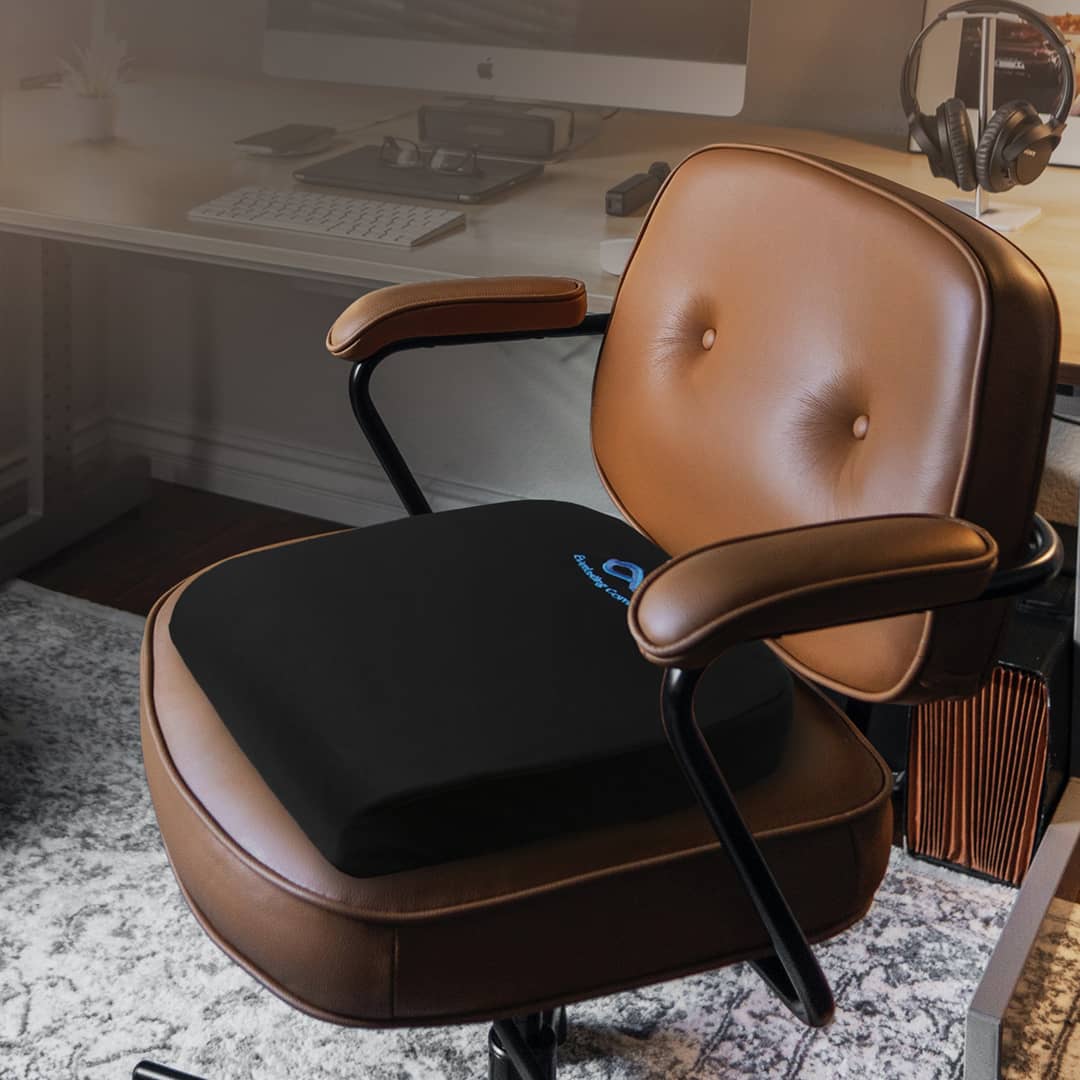 Our favorite gel-type seat cushions
Purple double seat
Tempur Pedic is to memory foam and Purple is to gel. Both are the more popular brands and these are for very good reasons.
Purple offers more versatility compared to the standard gel cushion. You also have the option to switch between a firm and a soft surface. And you'll be able to enjoy that luxury of having options with the two sides of the Purple.
It offers great tailbone support and allows your body to bounce back. But at the same time, you have the option to go for the softer or a firmer seat. That's why it can appeal to more users. 
But albeit that, there are those that do not find it near comfortable. It can be a love-it-or-hate-it situation. 
It can also be too thick for some office chairs. So you have to ensure it fits the dimensions of your chair. 
Fomi
This is the more affordable version of the Purple seat cushion. It had a very similar style, design, and shape but at a fraction of the cost.
Like Purple, it can distribute your weight evenly and avoid sores and pressure points. It also seems to relieve hip pain significantly. 
But unlike Purple, this can trap more heat and tend to feel hotter.
Secureguard
This brand has been gaining raves for being a cooler option in the market. But at the same time, it is still able to provide great support for the glutes, and hips and prevents pressure points. 
Though we find the Purple doing a better job in this department. But if you just need average support, then this can still be a viable option. 
Which side are you on? Gel or memory foam?
With the nest brands, it can be challenging to choose between these two comfortable seat cushions.
But here are some things you can keep in mind.
Most memory foam seat cushions offer a hug-in-a-mug kind of sensation while at the same time giving decent support for your spine and butt.
But in terms of spinal alignment and preventing you from slouching on your chair, gel cushions work better

Gel cushions also offer more breathability.