When you want to inject leg movements into your day, under the desk bikes sound like a pretty good idea.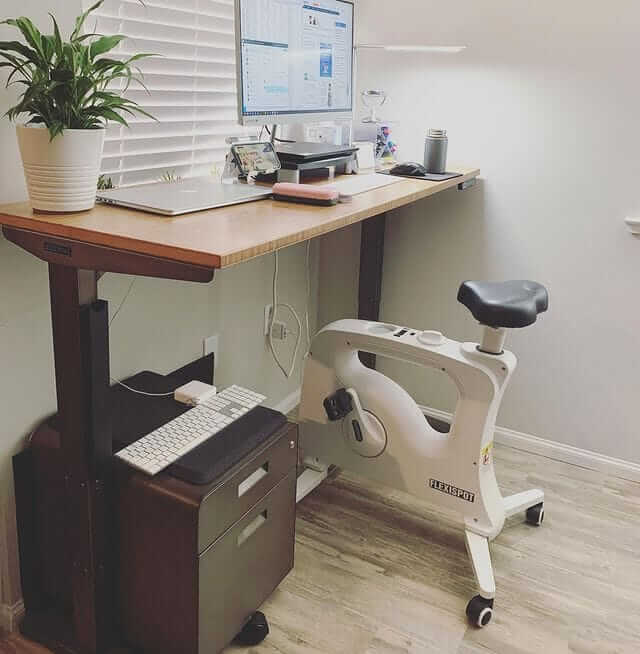 Having the chance to move your legs even if you're in the middle of beating a deadline sounds like a luxury. And it does sound like it's beneficial. So we've come across two Flexispot under the desk bikes, the V9U and the Sit2Go. While they promise a rather good seating slash exercise experience, there are a lot of things to consider before we can consider it a good buy. 
Flexispot products
V9U
Sit2Go
Seat height
range
29.6''-37.1''
22.4''-31.5''
Weight capacity

(lbs)

300
220
Backrest
no
yes
Price (great deal)
Check
Check
The V9U is a more solid option
Most would see the Sit2Go as a more cost-effective option since it costs less and has a backrest. But there are other things to consider aside from the liberty to have something to rest your back against.
The added cost for the V29 is for a reason. It is a heavier unit so it could discourage those who don't want to flex some muscles. You'll find that the Sit2Go is easier to roll along the floors, and it's easy to move from one room to the other. But if you're looking for a more solid option, the V9u is a better choice.
Also, the V9U can go higher than the Sit2Go. So taller users will be able to use this desk bike more. 
There are wobbling issues with the Sit2Go
This desk bike, at some point wobbles. Though the brand recommends tightening the bolts and connections to get rid of the shaking, not all have been successful in this troubleshooting.
And we think it has something to do with the load capacity. This desk bike has a weight capacity of 220 lbs, but we think it's better used by young adults and teenagers who weigh less than that. With a lighter weight, you'll be able to not notice the wobbles. You'll also be able to preserve the integrity of the chair so that it can last a bit longer until you can get your money's worth.
And since it has a backrest, it's definitely a better option for teens rather than the V9U. Especially if you are not that mindful or don't know how to engage the core better. You might have a challenging time balancing yourself on a V9U. The Sit2Go is also lighter so you can easily move it from one room to the other. 
The Sit2Go seems to have more features but…
Looking at these two desk bikes, you might think that the Sit2Go has more features thus it can offer more value. Yes, it has a backrest and a cup holder, which the V9U lacks. The baskets are also in mesh material, so that can be an advantage.  It will not get too hot and you can still use it during the summer season.
But the cup holder is quite shallow, so you might not really find much use for it. 
Also, there are a lot of disputes over the longevity of the bike. It seems to be irreparable. Though the pedals are smooth and feel great on the legs, once it gets broken, you will find it hard to find a replacement. Even if you find parts for it you will not be able to repair it. It seems to be irreparable.
The customer service too is not much of a help. So you might get stuck with a desk bike that will not serve you anymore. That's why it's best used by someone lighter or of average weight. This will help preserve the integrity of the bike.
Who will have the best use for the Sit2Go?
Amidst having more features and a backrest, the Sit2Go offers less value than the V9U. It's also not heavy duty. In addition, the pedals cannot be used with bare feet. It could hurt your toes and your skin. And there are wobbling issues, especially if you are going to use your mouse and when the bike is used at the highest setting. So this bike is best for young adults or slimmer users.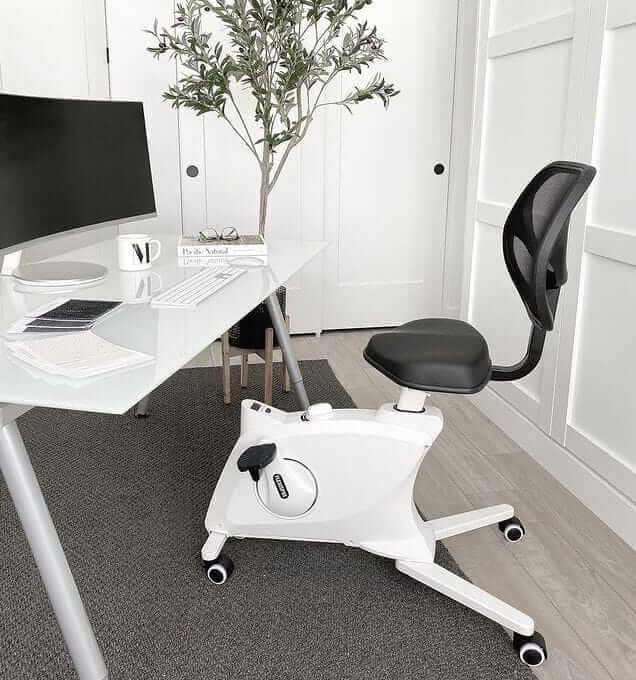 This unit is sleeker and lighter than the V9U. so it will suit those who have limited space and don't want to lift heavy things. Though the V9U also has wheels, it is still heavier and bigger. You still need to flex your muscles to move the bike.
It also has 8 resistance levels and the pedals are smooth at all resistance options. So you won't have any problems in this department. 
And keep these in mind if you fancy this desk bike.
It is wobblier at the highest seat height and the LCD does not have any backlight. 
And though the Sit2Go works quietly, it tends to make noise after several months. We think this is the bike's way of letting you know that it is slowly deteriorating.
It's all better if you try the desk bike yourself rather than just buy it online. You have to be able to try it out first and see if the settings fit your body measurements. 
But despite the wobbling issues, this can be a  decent find for those who are of average weight, best if they are lighter. It is a part chair and part bike, and there aren't a lot of desk bikes that look simple yet have adjustable features. 
But keep in mind that this is not a heavy-duty unit. So even if used by someone lighter, it is not meant to last for a long time. 
Who will find the best use with the V9U?
This desk bike can also be used by taller users since it can go higher than the Sit2Go. And as long as you don't mind the heft and a bulky unit then you'll be happy with it. Like the Sit2Go, the pedals are also smooth like cream, you will not have any problems in all of the 8 resistance levels.
But this is a desk bike without any backrest, so you do have to be mindful when using it. You have to engage your core more. That's why this might not be a great pick for young adults or those who are just venturing into active sitting. 
Also, the V9U works simply but it does serve its purpose. It also feels decently stable and solid. There are other desk bikes available in the market, but it doesn't feel as solid as the V9U. So this unit could last longer too. 
It also looks simple yet elegant, it doesn't look like a rugged bike or gym equipment like how most desk bikes look like. 
These Flexispot desk bikes can stand out
Despite the limitation of the Sit2Go, this under-the-desk bike can still shine from the crowd. A lot of desk bikes that are sold in the market are not easy on the eyes. They have exposed parts, belts, and all. So that is one selling point of these Flexispot units, especially the V9U which is a more solid one.  
So yes, both units are more than just a hype, it's just that the Sit2Go is more of light duty, non-repairable option.
But these two bikes look clean, simple, and well put together. They will easily blend in any setup, even a minimalist one. Your home office will not look like a gym.